How to Create the Perfect Study Room – It's September and to millions of us, that can only mean one thing – back to school (or college) with a bang. As well as getting the school bag packed and the uniforms ironed, you need to make sure your office room is ready to roll for the stream of schoolwork and revision that will be coming home.
Of course, home offices are great for all the family: for freelancers who work from home, for catching up on household bills, or just sitting back and doing a spot of online research for next year's holiday.
So clear your desk, get your storage sorted, and embrace the new term…
How to Create the Perfect Study Room
1. Buy a big desk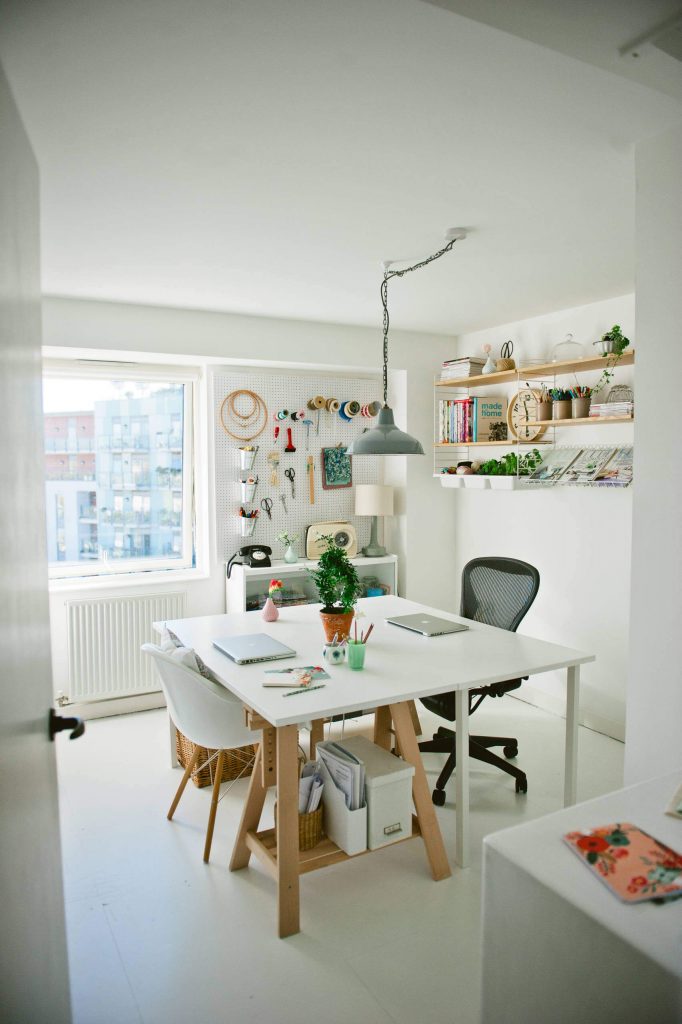 If like me, you relish the idea of spreading out your papers, laptop, stationery, and books across a large surface, you'll need to invest in a sizeable desk or table.
A robust, square-shaped kitchen table with an easy-clean melamine top can double up brilliantly as a place to do homework. And you might even be able to fit in two chairs so two people can use the desk at the same time.
2. Be light and bright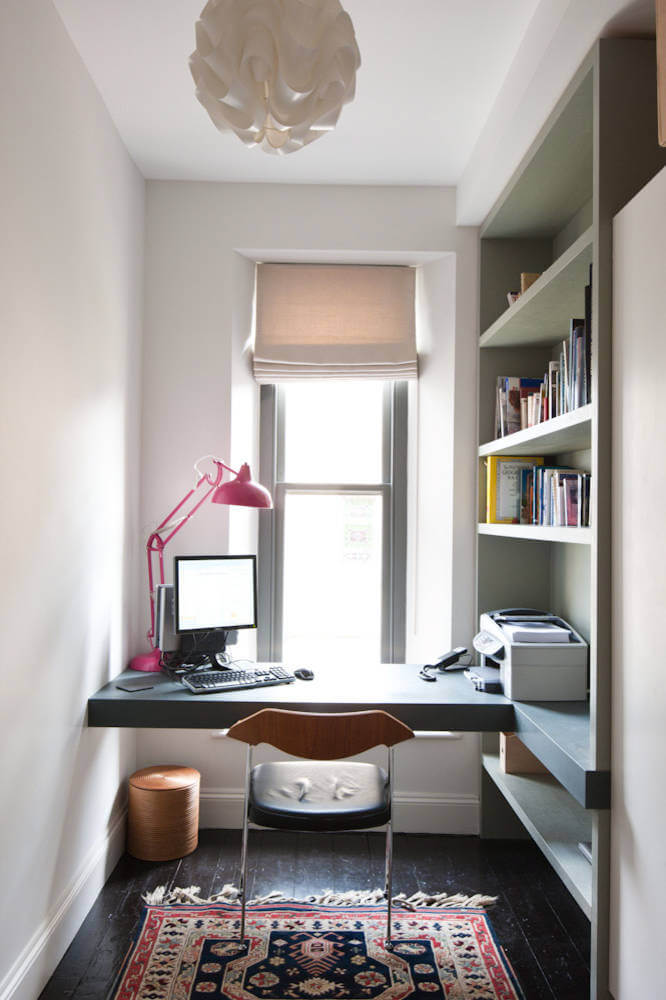 Good lighting is key for homework, making office notes and time spent staring at a computer screen – especially once the clocks go back. If you are working in the smallest room in the house, you probably won't have the biggest window, but you can always beef up the natural light with an adjustable, Anglepoise-style desk lamp and a peppering of spotlights too, built into the ceiling if you're starting from scratch.
An effective mix of focused task lights and all-round general lighting will make sure you get on with the job in hand (just make sure you take regular screen breaks to minimize eye strain and headaches!).
3. Fit wall-to-wall shelving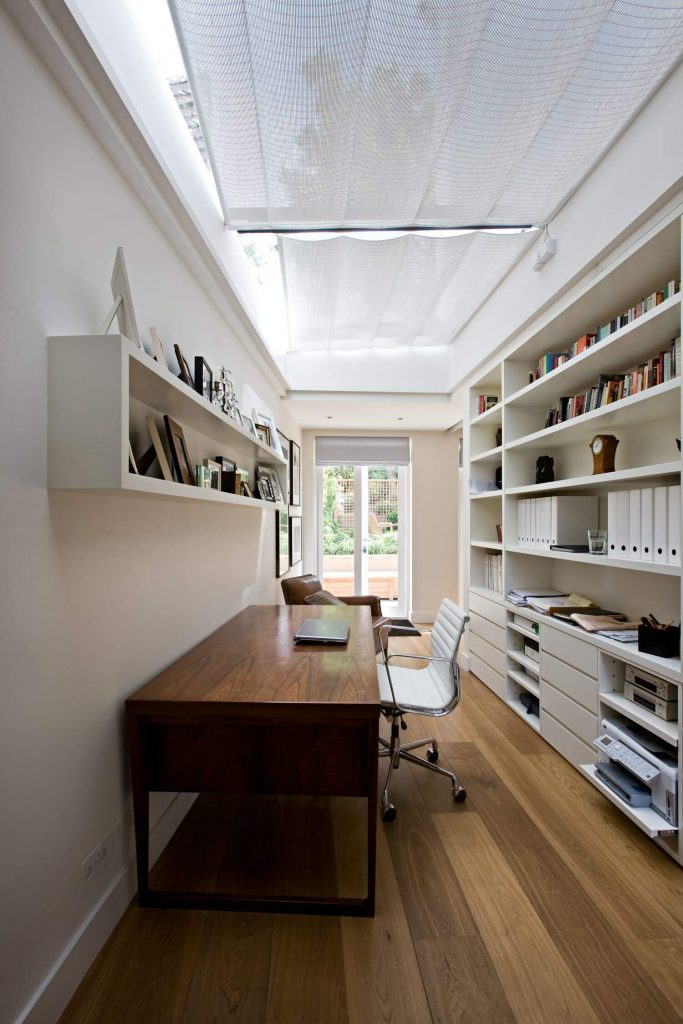 If you have stacks of books, paperwork, notes and office paraphernalia to store, you can't go wrong with long rows of built-in shelving.
Max out a skinny, narrow room by covering an entire wall with shelves, running corner to corner, and up to the ceiling. Or opt for a modular system with closed drawers and countertops to create masses of practical storage.
Units and shelving in the same color as the walls will blend unobtrusively into the architecture, and make a study room seem bigger.
4. Crush on color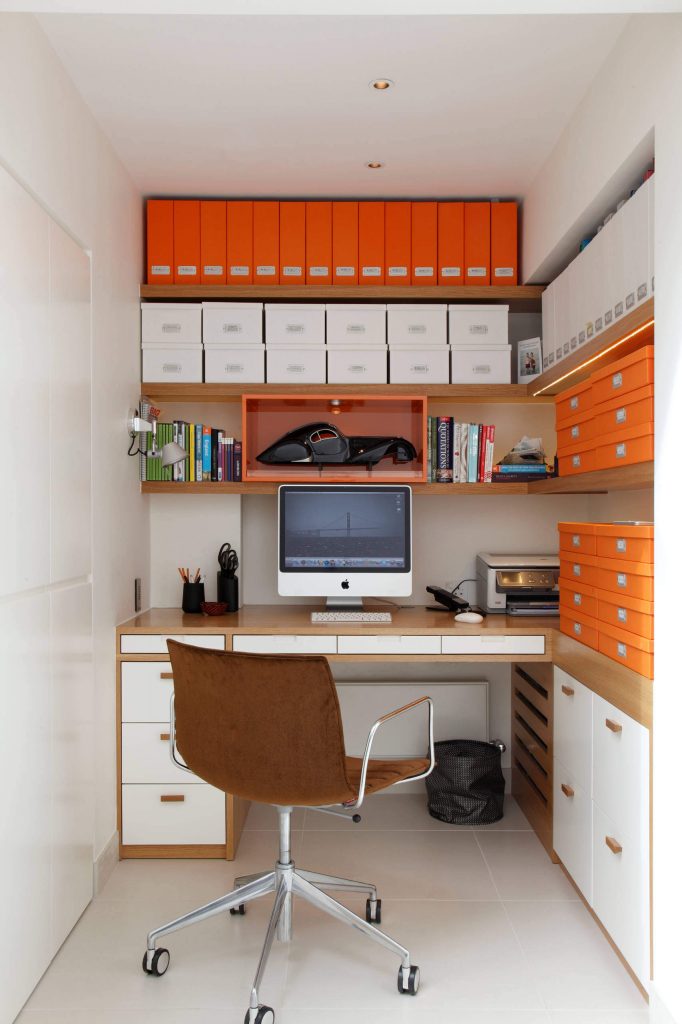 Don't leave your study room languishing in an insipid sea of black, grey, and white. Add in some bright, juicy color and let a happy atmosphere seep in.
No need to repaint: try box files, drawers and shelves in a bold tangerine, citrus yellow or lime green, and even go for color-coded storage if you want to be a complete teacher's pet…
5. Look for a light-filled location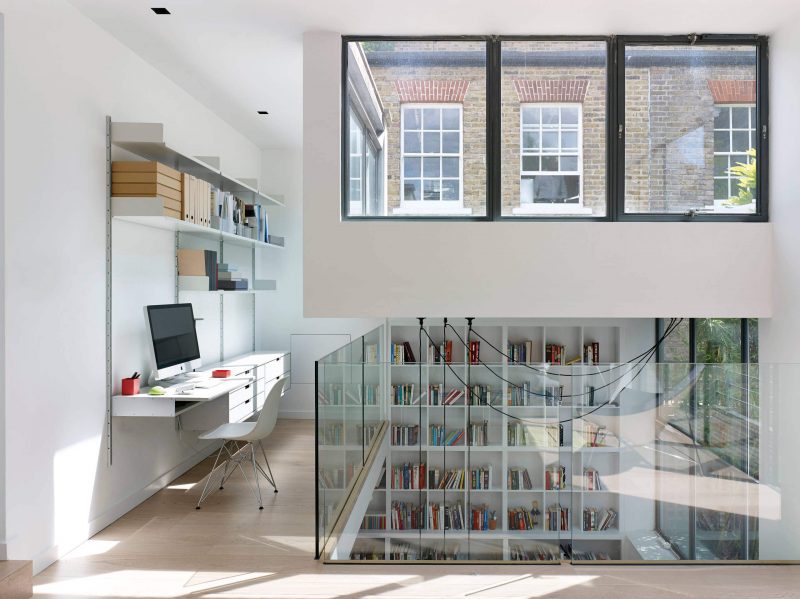 If at all possible, site your work station in a spot filled with uplifting, natural light. This modest hallway office area is sleek, minimal, and supremely efficient, with the glass windows and balustrade allowing sunshine and light to pour in.
Stick to clean lines, wall-hung storage and a neutral palette to maintain the minimal aesthetic and sense of study room.
6. Love your work zone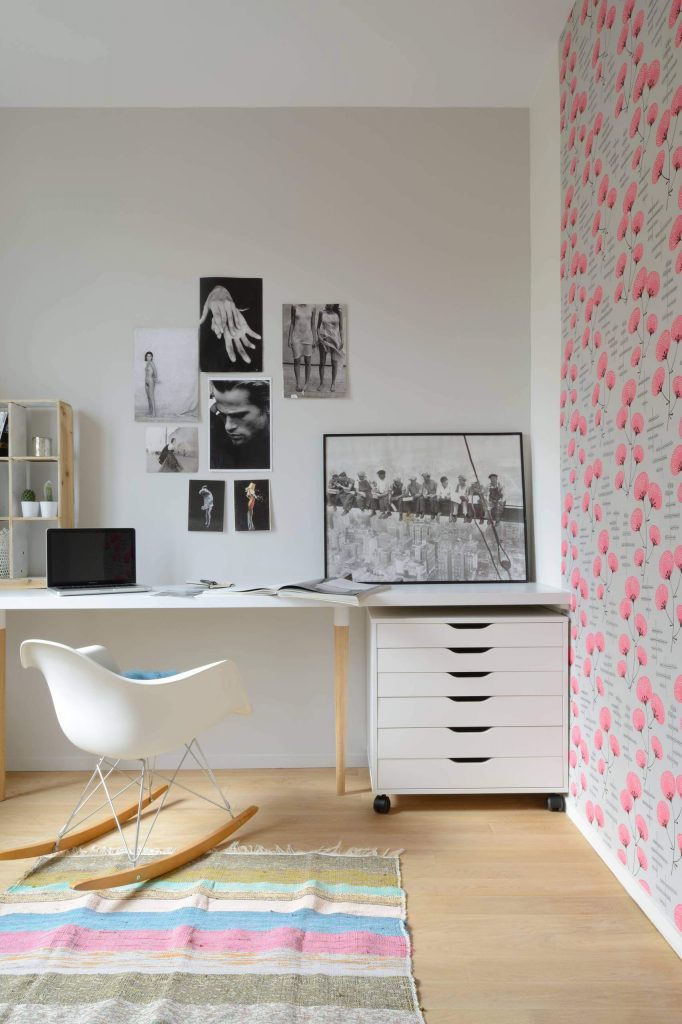 There's nothing worse than a drab, uninspiring study room. To get you in the mood for work, pick out furniture and fixtures you love: this Eames rocker paired with bright, floral wallpaper makes a welcoming study room for catching up on homework.
Instead of wallpaper, you could also decorate walls with a few paper pom-poms (cheap and readily available), or simply add pinned-up pictures and postcards that will make revision and tax return a joy (well, that's the plan anyway).
7. Channel a vintage vibe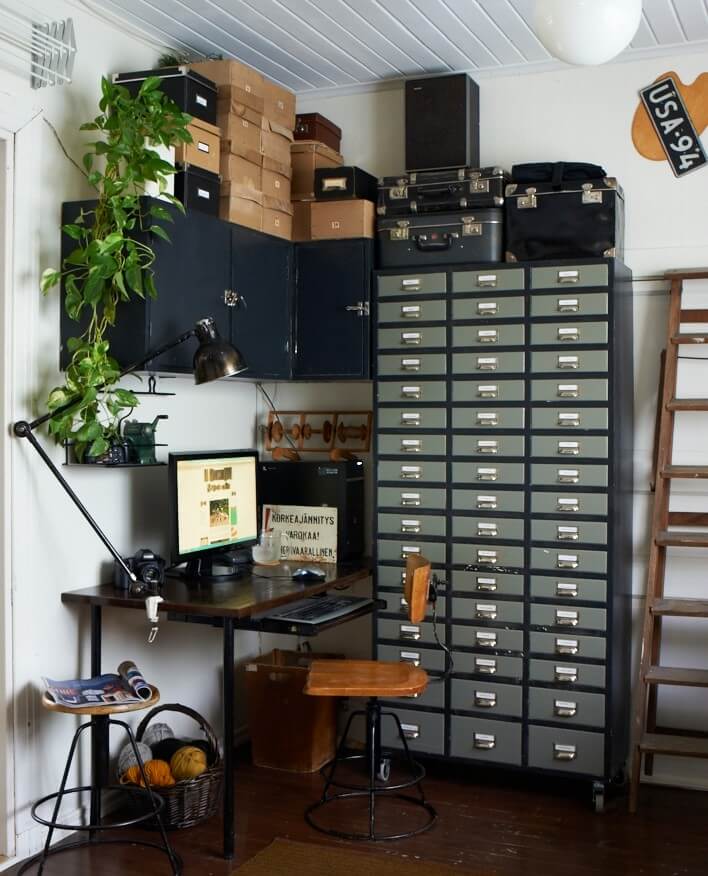 For a functional look that's characterful rather than corporate, go for a vintage, industrial look, packed with warm timbers and rugged metals. Perfect for a teenager-friendly homework hub.
Scour car boot sales and flea markets and keep your eye open for warehouses or offices having a refurb and getting rid of original fixtures and fittings. Old-school filing cabinets, locker units, and desks are full of potential, while more modern, less stylish office cast-offs can be improved, too: drab metal furniture is easy to spray paint, while a staple gun and some fresh fabric can work wonders for tired chairs.
No need to build in storage or buy a set of new matching box-files either for this look: cardboard boxes and retro suitcases do the job and really look the part.
8. Pin it up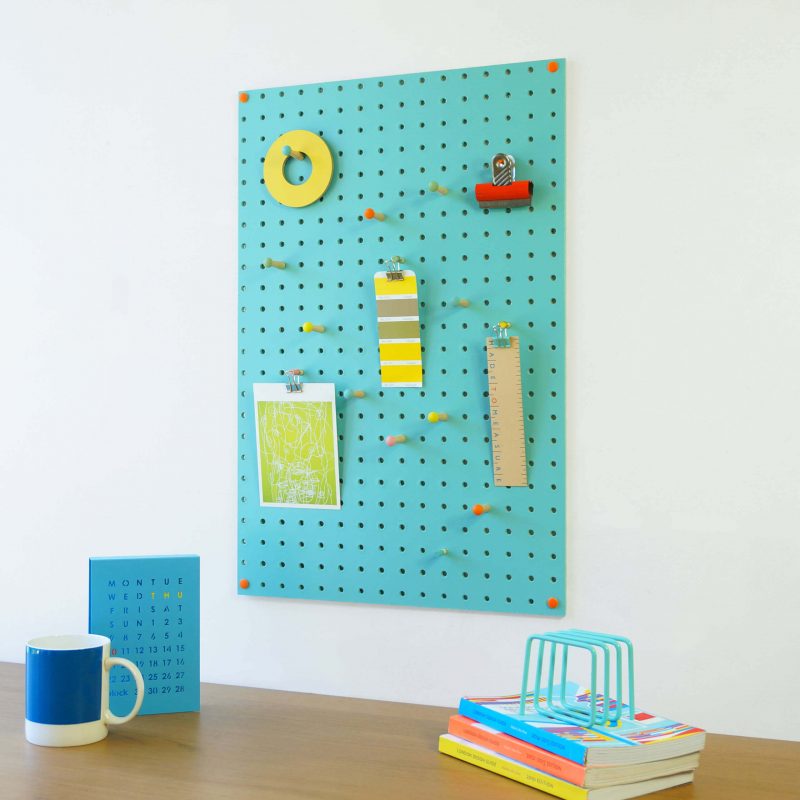 Handmade or shop-bought, big or small, a pinboard is perfect for clipping up notes, postcards, photos, images, and inspirational words. All of which can boost tired, uninspiring study sessions.
Choose plain corkboard and pins for a functional, Scandi feel, or sheets of metal and magnets for industrial chic. Or go for a multi-functional pegboard, as seen here, on which you can also hang desk paraphernalia.
Help crafty children or teens to create their own DIY versions. To make your own pinboard, pad out a sheet of plyboard with a thin wadding of foam, and cover the whole lot with your favorite fabric swatch. Finish off with a criss-cross of thick, grosgrain ribbon to slot cards, photos, and other bits and pieces in to.
9. Pick a comfy seat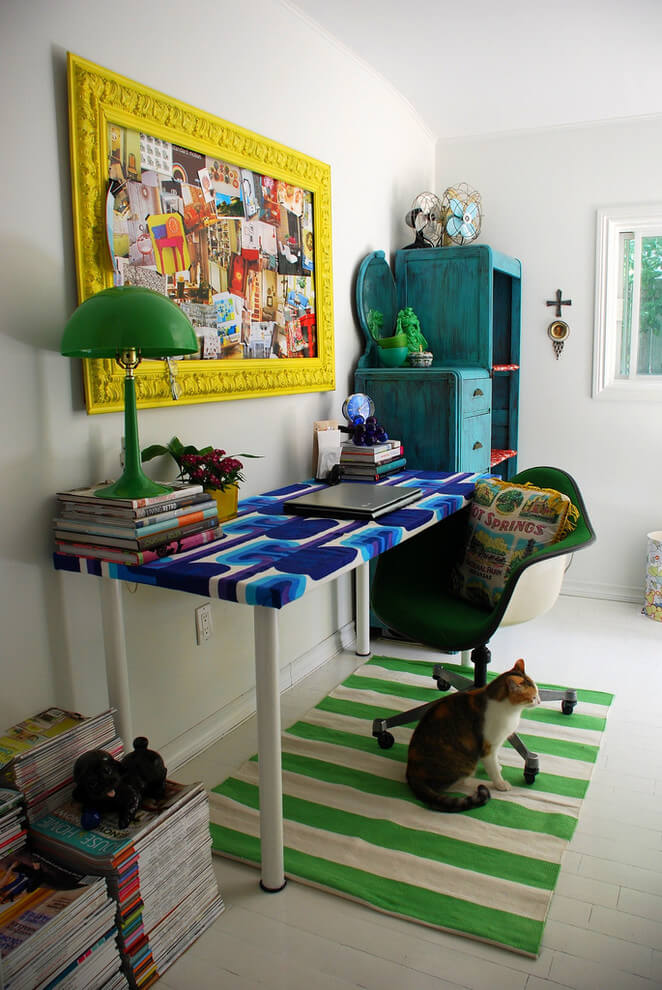 A comfortable, ergonomically-friendly chair – pitched at just the right height and angle – is a must-have for a well-used study room or home office.
You can't go wrong with a dedicated office chair, but if that's too functional for your tastes, go for a design classic in a funked-up color. Just make sure you try before you buy to ensure maximum comfort – through adding a colorful cushion could seal the deal.
10. Black it out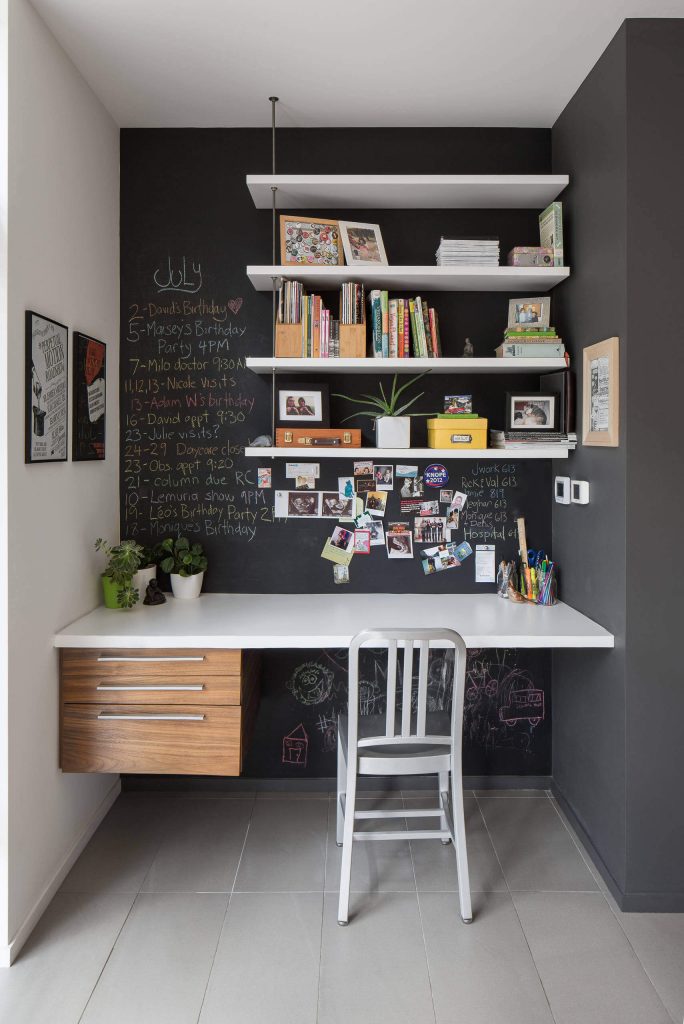 If you haven't got room for a pinboard then why not cover one wall with blackboard paint?
Transforming an entire wall into a blackboard will create a practical and re-usable area for scribbling anything from Shakespeare's quotes to mathematical formulas and to-do lists. And to please design-loving parents, the black backdrop here also adds striking punctuation to the white shelves.
What are your top tips for creating the perfect study room? Share your tips or photos in the comments below.