Bathroom Tile – The style of tile you use can transform the feel of a bathroom. But with such a huge choice out there, how do you decide what to go for (and will you still love them tomorrow)?
Take a look at these ongoing trends in tiles: all have been around for a while now and are guaranteed to give your bathroom the chic factor.
1. Dive into the blue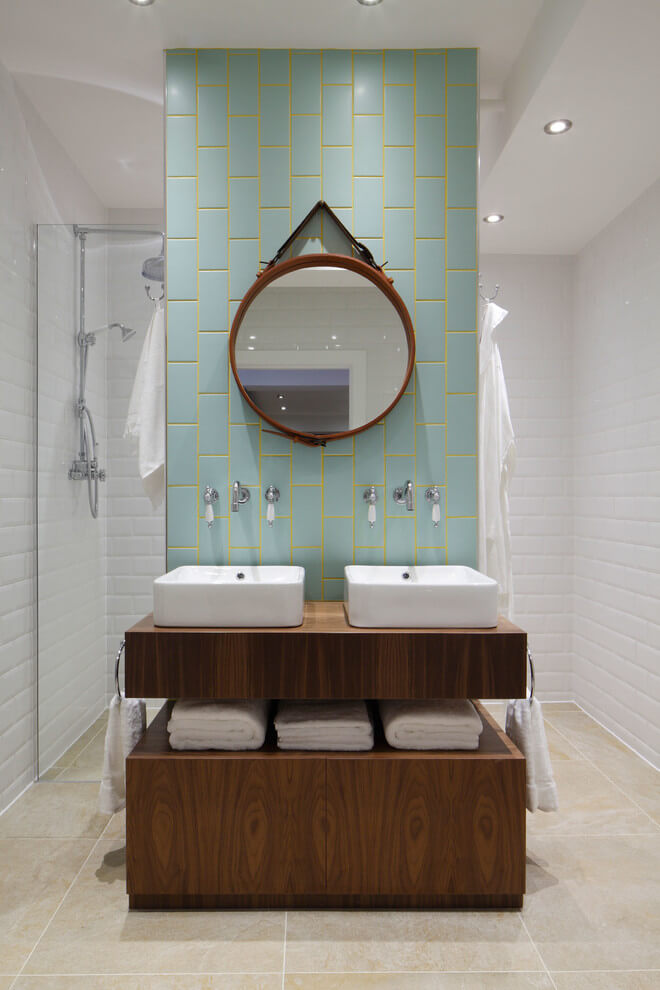 Perhaps it's the association with water and cleanliness, but blue and bathrooms are still a combination that has legs. You don't necessarily have to embrace a full-on nautical trend or a whole wall of blue tiling, though.
Here, the splashback above twin basins has been covered with metro tiles in a soft baby blue and, unusually, grouted in yellow. The effect is cool, modern and eclectic.
2. Go for grey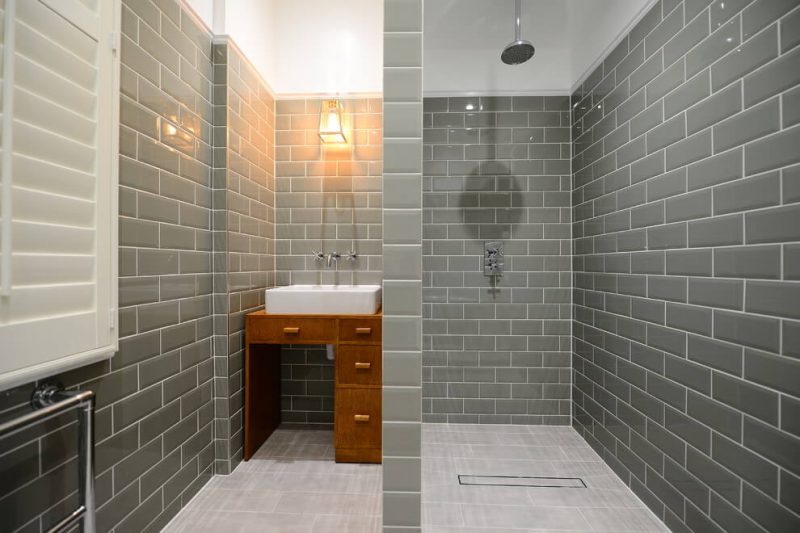 Grey is still a hot trend in paint, and it works as a bathroom tile for the same reasons. It's calming, neutral, sophisticated, even glamorous, and a versatile alternative to white. A long-running classic? Quite possibly, when the effect is as good as this.
3. Say yes to marble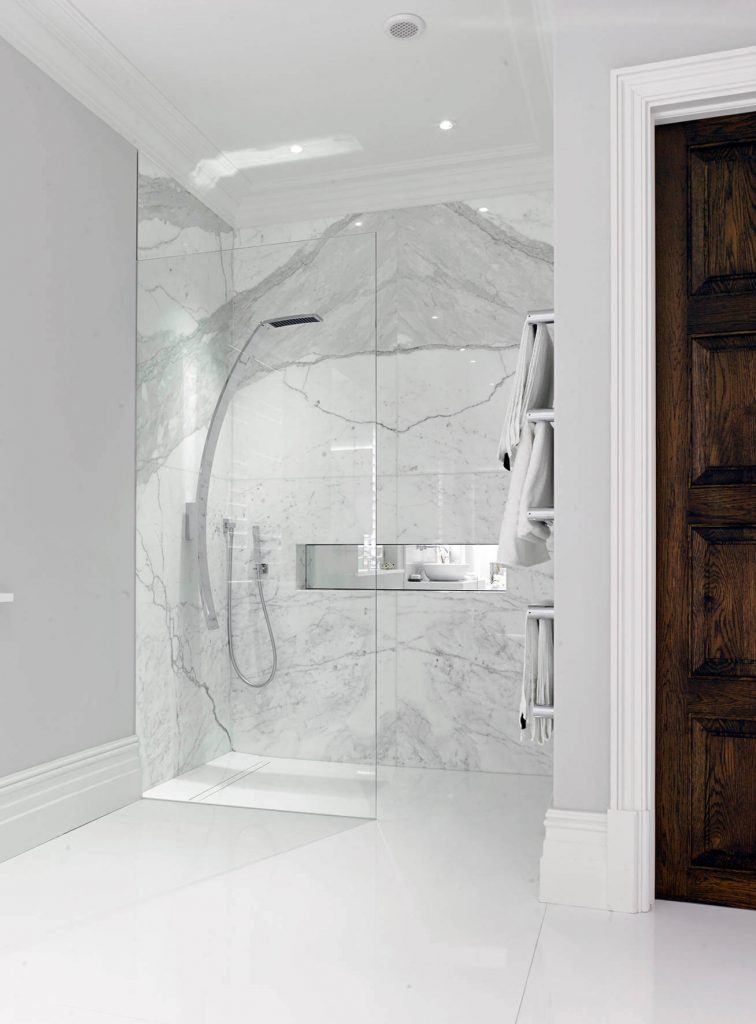 Nothing says luxury like marble tiles. They're a forever staple in hotels and exude class and glamour, plus they'll last a lifetime, treated well. Choose oversized veined white tiles, as seen here, for a cool, classic, five-star look that you hopefully shouldn't get bored of.
4. Make them Moroccan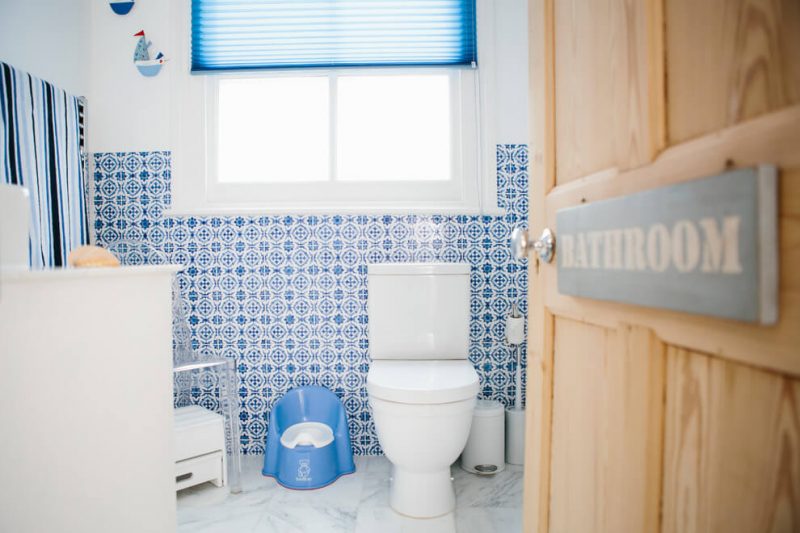 The trend for modern Moroccan tiles looks set to stick around. They add colour, pattern and a touch of holiday exoticism in an easy-to-use format that simply feels right at the moment. The fact they're inspired by designs that have been around for centuries is proof they're no flash in the pan, too.
If you want to break up a conventional white suite, they're a perfect way to do it – these lovely blue and white versions add an airy feel to this bathroom.
5. Choose super skinny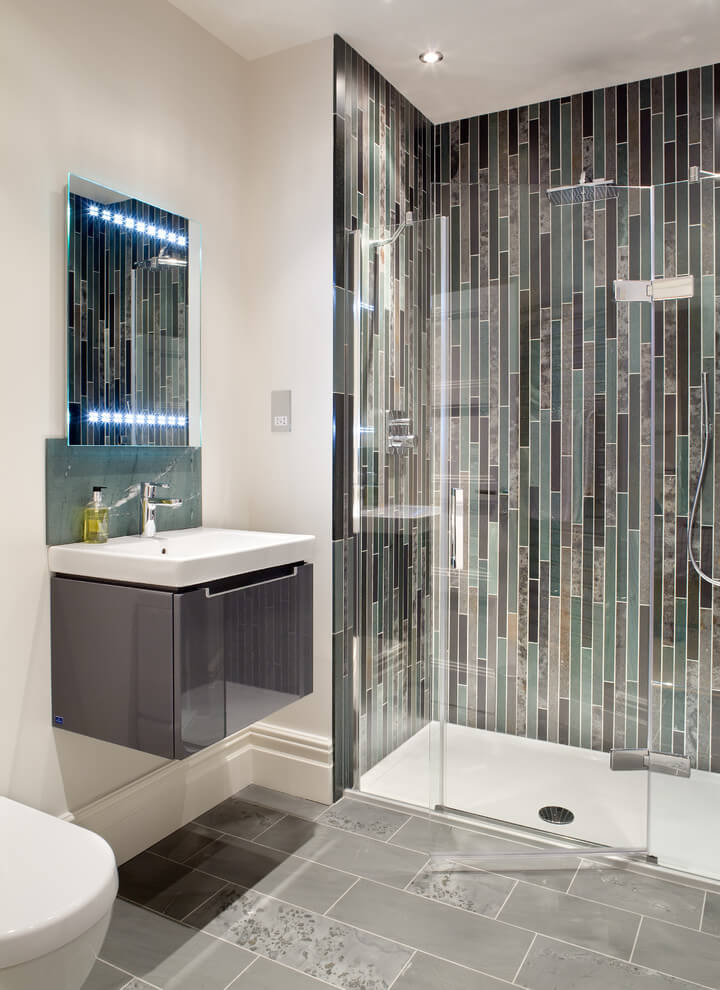 The skinny rectangular tile has become a surprisingly effective modern bathroom device. It's a cool design detail that's a contemporary alternative to the more ubiquitous mosaic.
In this smart shower, the tiles also have subtle colour variations that add extra interest and a touch of wow factor.
6. Plump for mosaics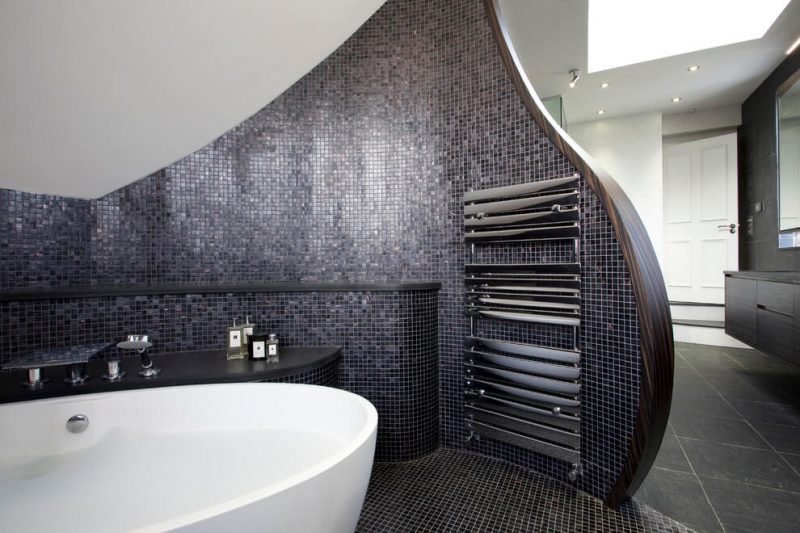 OK, this tile trend has been around for quite a while now. But actually, done well (and grouted neatly), mosaics can still look awesome in bathrooms and have become a bona fide classic.
There are lots of glamorous glittering glass designs and rich, jewel-like colours around, so if you choose mosaics, why not be creative? For an indulgent, modern look, spectacular tiles, like these beautiful dark purple ones, are hard to beat. Mosaics are also a great option for tricky curved walls.
7. Keep it classic with white metro tiles
It's the trend that just keeps on giving. Metro or subway tiles still somehow manage to appear modern, utility chic, timeless and retro all in one – and white goes with everything.
They work in just about any style of bathroom, too. Using dark grout, as here, gives them extra definition so the brick shape stands out.
8. Reboot with a black border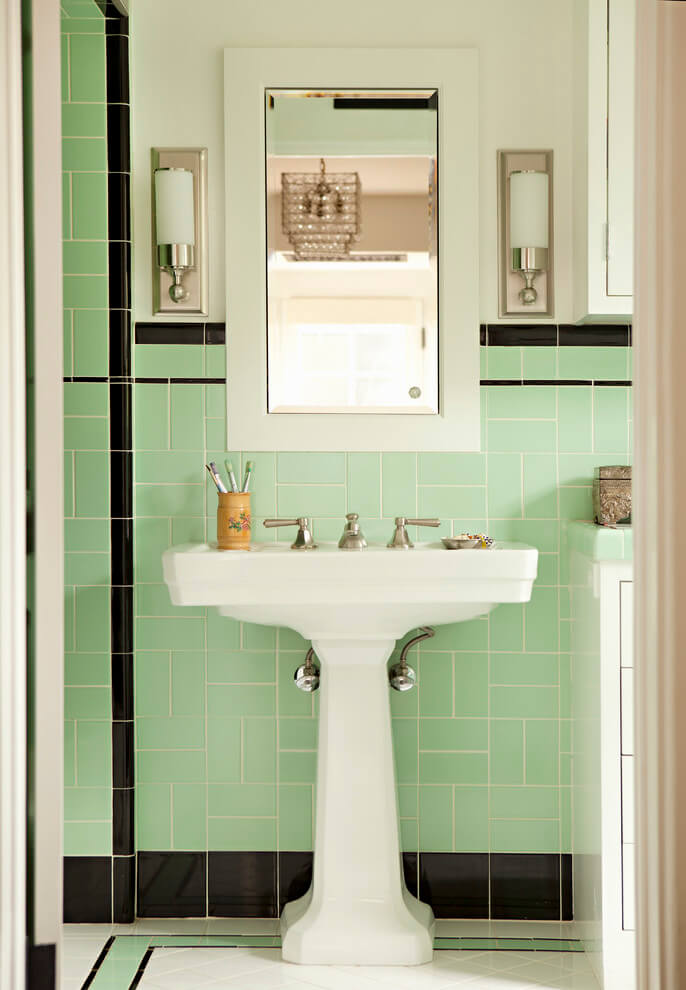 The black pencil tile border at the top of an expanse of tiles in another shade (often white, but here in a gorgeous pale green) is an oldie but goodie.
This timeless trick instantly creates an upscale, period feels – it's perfect alongside a traditional pedestal basin like this one. It also breaks up a plain room. Here, black tiles have also been used in a vertical column and at floor level.
9. Exploit honey stone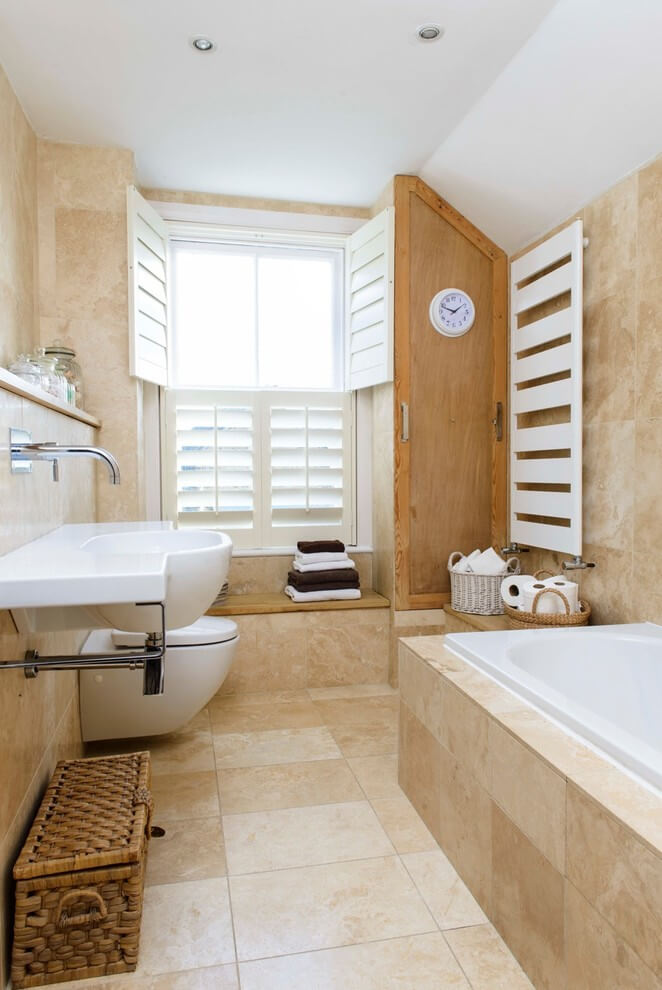 The trend for bathrooms tiled in large, honey- and sand-coloured stone tiles has been popular for a while, but still works. It's largely because they're warm, look organic and natural, and are more restful (and forgiving of dirt) than sometimes-clinical all-white.
This bathroom has been tiled in natural travertine, a limestone alternative that's affordable and hard-wearing. Also try textured porcelain, natural limestone and beige marbles.
10. Experiment with slate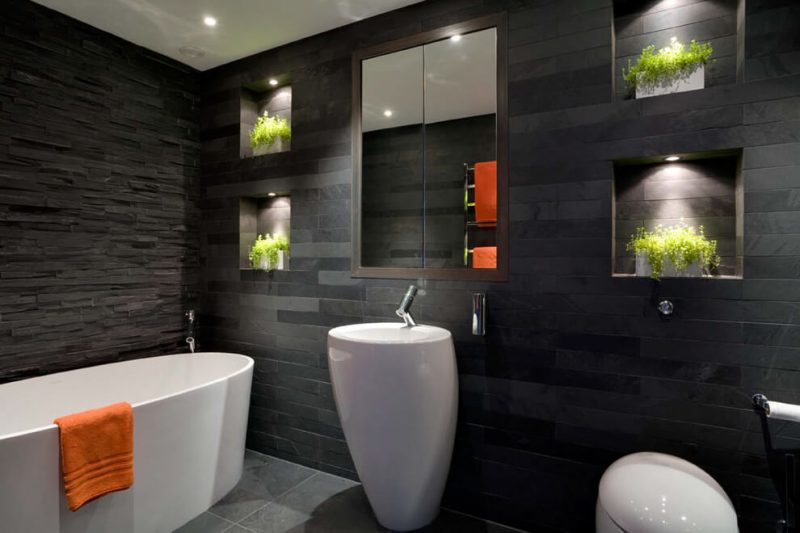 Slate is smart, durable and naturally good looking. It's a staple on floors, but if you're in the market for a darker alternative to everywhere-white, its charcoal tones also look interesting and upmarket on walls. Slate tiles come in a variety of shapes these days, too, including these slim numbers.
11. Dabble with rectangles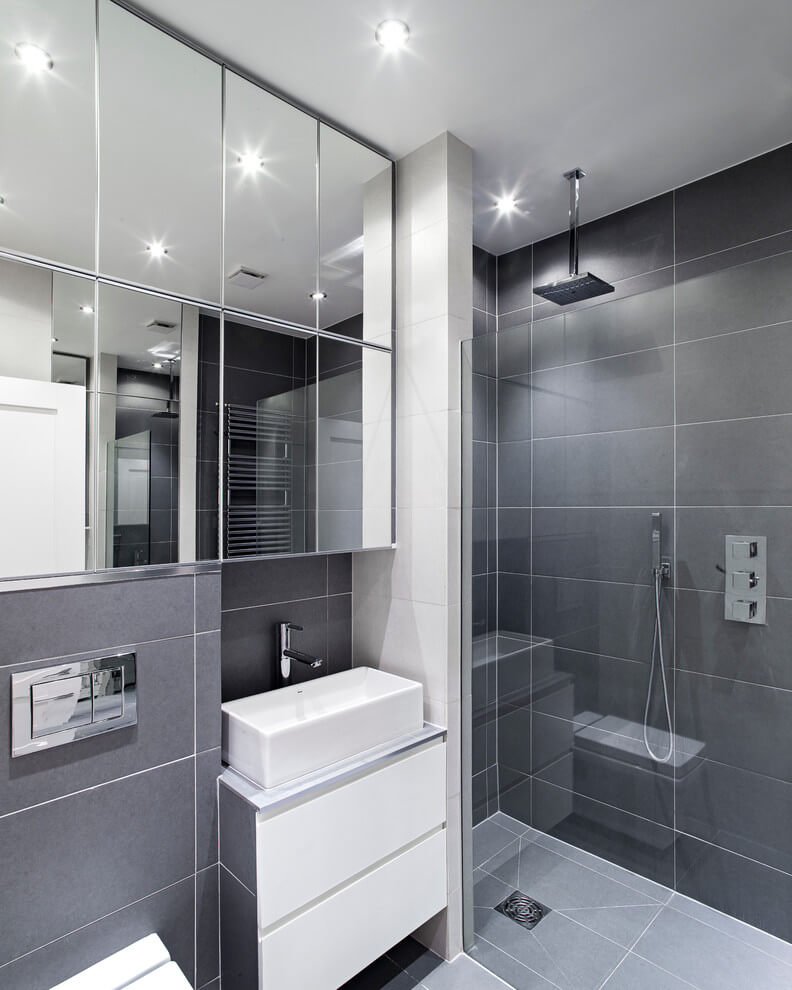 The large rectangular tile, in a neutral shade such as grey or cream, has become the new staple of the tile world, and the grid-like effect works on either walls or floors.
This style comes in many materials, from stone to porcelain, but the effect is to help make small spaces feel larger, while reduced grouting is easier to keep clean. A modern classic.
12. Square up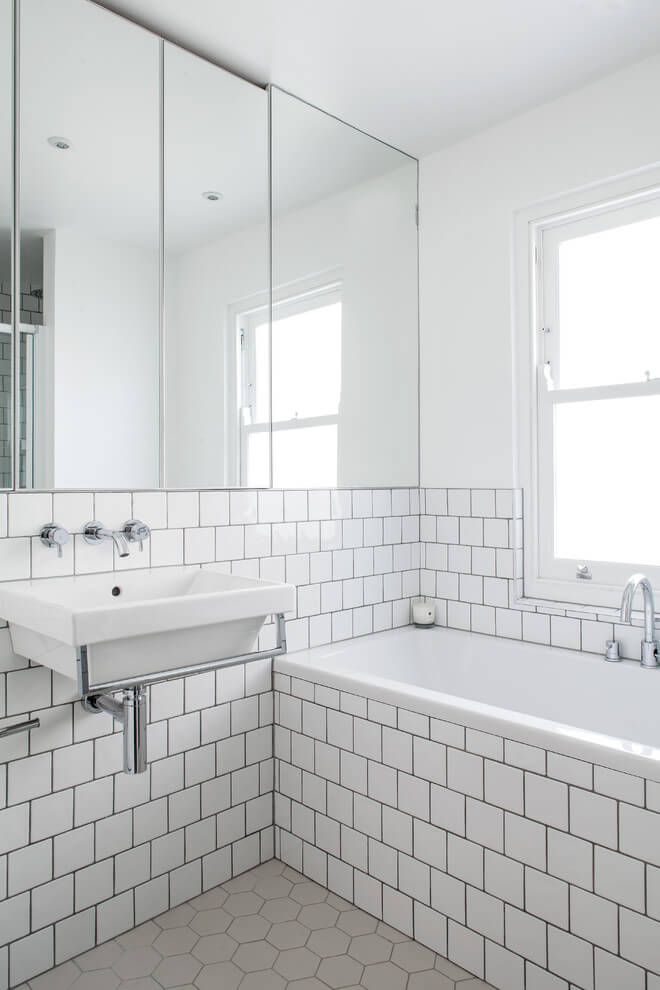 The rectangle has ruled for so long now that the humble square tile almost looks strange these days.
Actually, though, a medium-sized square tile is still a timeless alternative to the ubiquitous brick shapes all around us and, as in this bathroom, can be a smart alternative to the metro tile.
Which tiles have you going for in your bathroom, and do you still love them? Share your thoughts in the comments below.