It's time for fall shopping, and you know what that means: Lookout, closet; there's a whole lot of new stuff coming your way!
Here are 15 creative organizing ideas ways to max out your storage options and create eye-catching displays for everything in your wardrobe.
Accessories
Hats and scarves organizing ideas.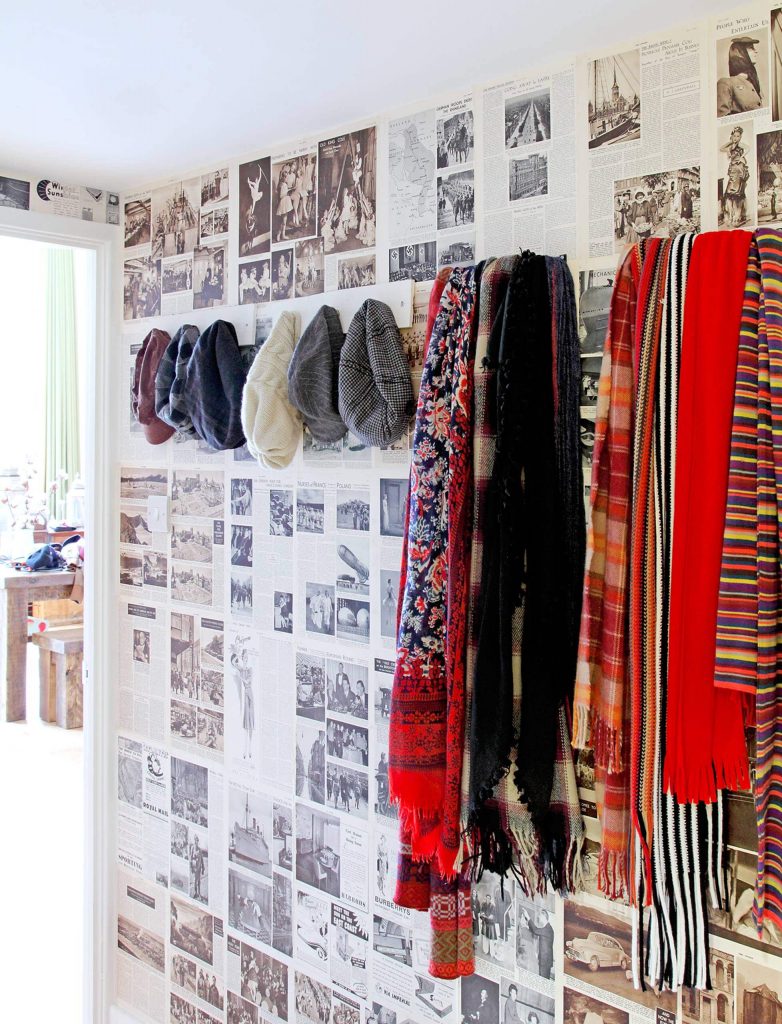 Simple hooks and pegs on a wallpapered in vintage magazines make for a fun entryway display. To keep the area neat, place scarves on one side and hats on the other, and stow coats in a closet or on a freestanding coat tree.
Ties organizing ideas.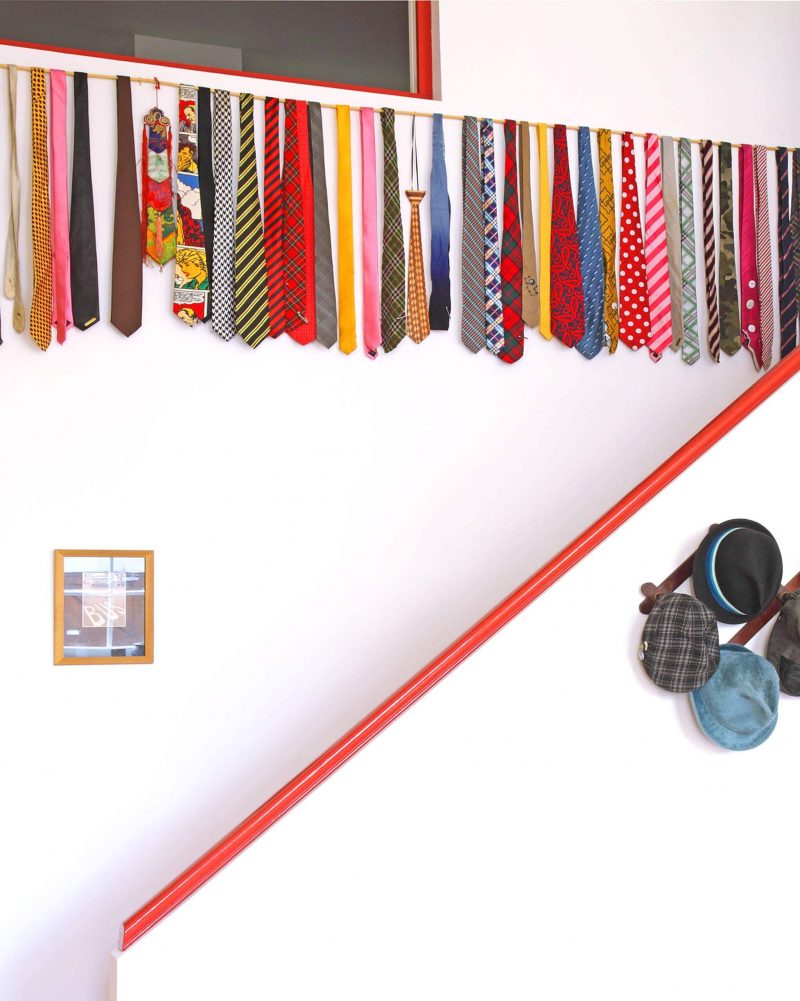 Draped over a rope, colorful ties are accessible and lend graphic punch. Place a peg rack below to hold hats at the ready.
Bags organizing ideas.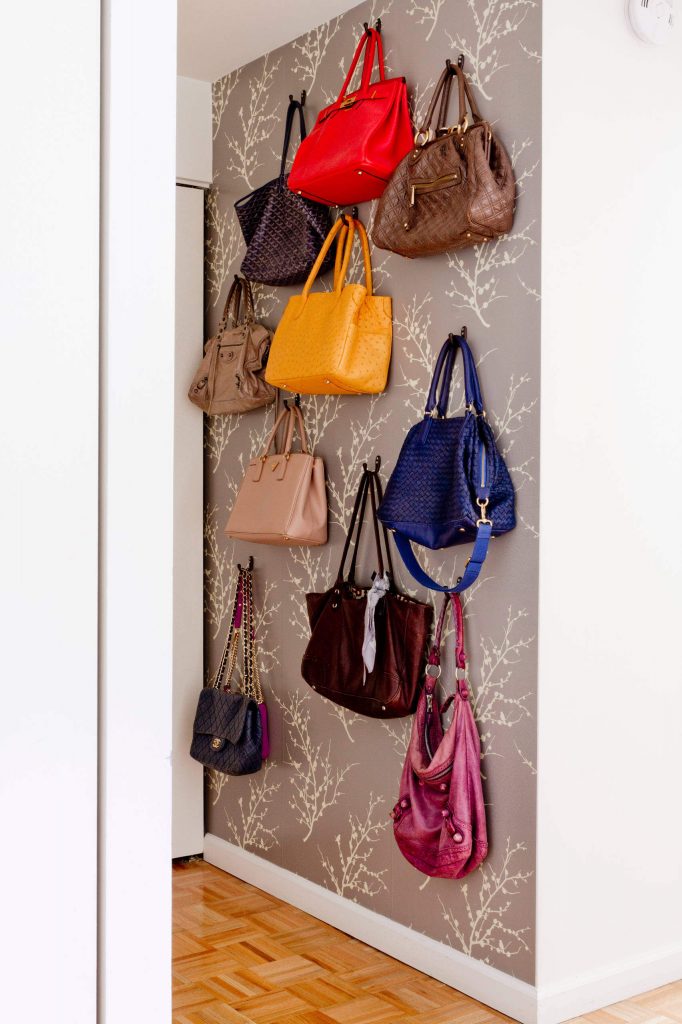 Keep bags visible on wall hooks instead of cramming them in the back of a closet. Hold your bags up to the wall to get an idea of where the hooks should be before you make any holes. For extra oomph, add wallpaper.
Miscellaneous accessories organizing ideas.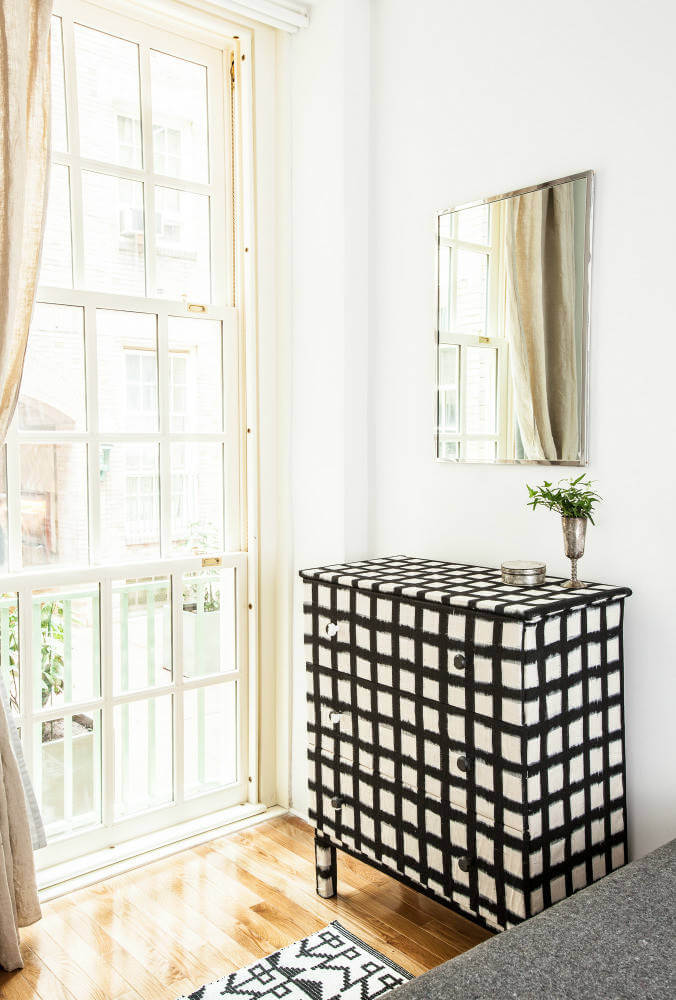 Transform an ultrabasic Ikea chest of drawers into a chic accessories station by upholstering it in graphic black and white fabric. Store scarves, clutches, gloves, belts, and other odds and ends inside the drawers.
Shoes
Heels organizing ideas.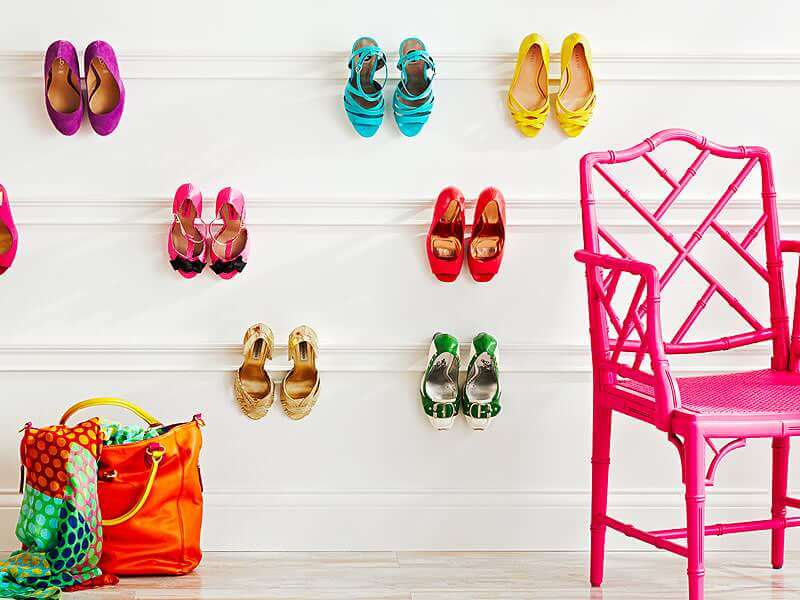 Mount a few rows of crown molding low on the wall to create a sneaky storage spot for heels. The bright white wall shown here looks great, but to avoid scuff marks on the wall, consider going with a deeper hue … or keep a Magic Eraser nearby.
Flats organizing ideas.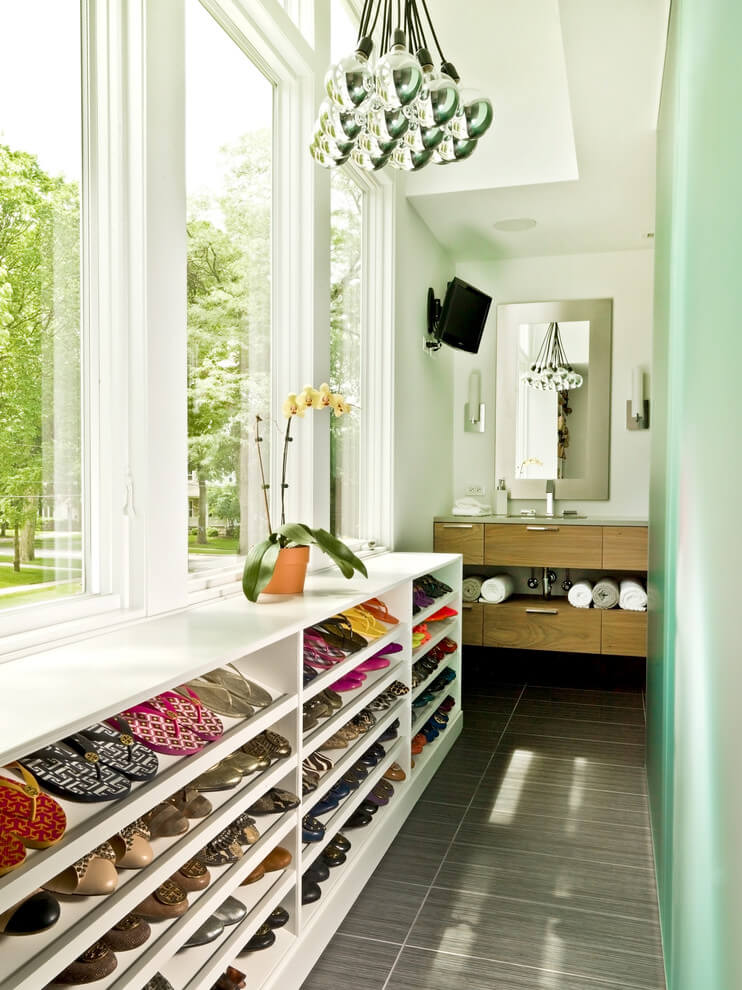 Love flip-flops, flats, sandals, and low-cut sneakers? You can squeeze many pairs into a small space with a shallow shelving unit.
Favorite shoes organizing ideas.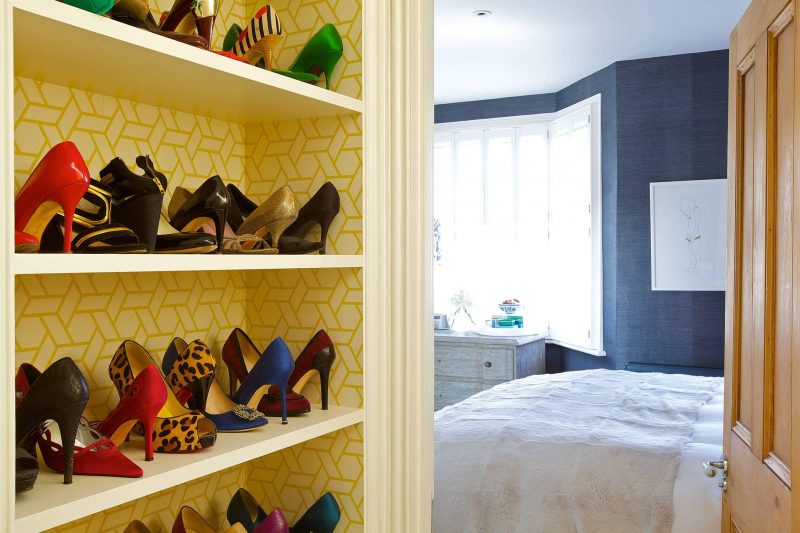 An alcove hung with graphic wallpaper and shelves becomes a handy display and storage space for favorite pairs of shoes. This arrangement would also work well for bags, trays of jewelry, hats, and other accessories.
Shopworthy option.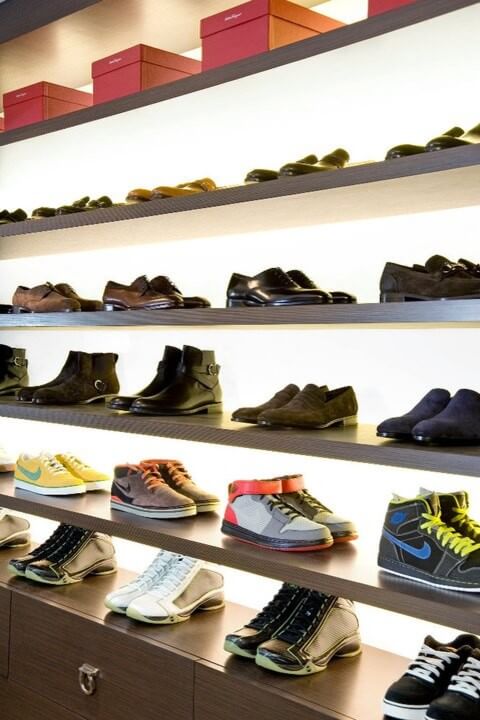 For the true shoe head, backlit shelves make it easy to find your favorite pairs and make for a display you might find in a store.
Jewelry
Favorite jewelry organizing ideas.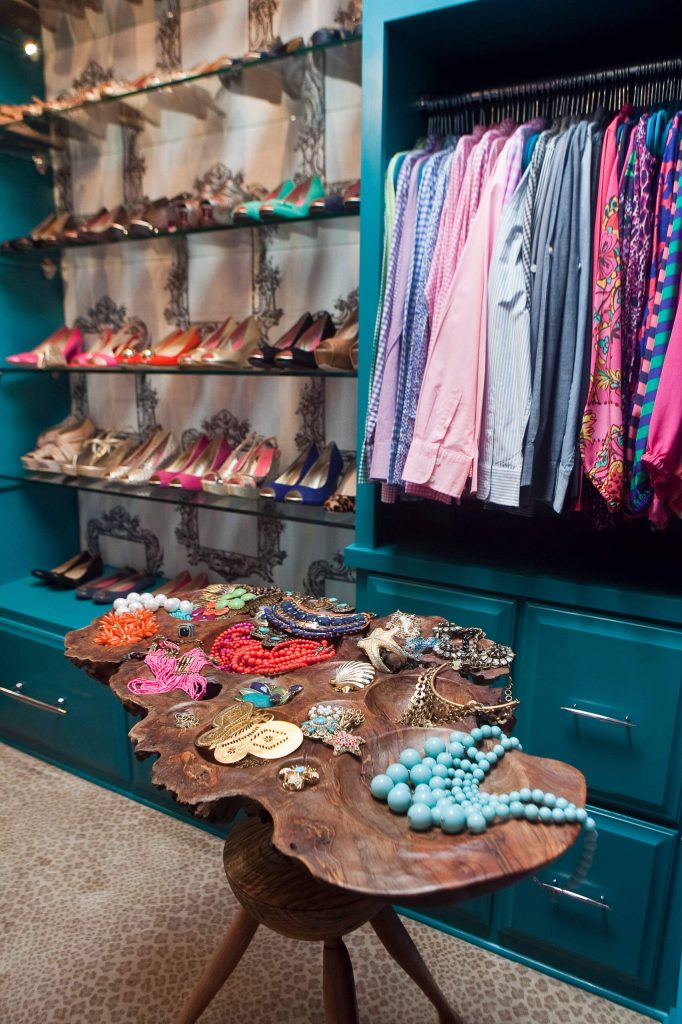 A petite wood table with an organic shape and gentle divots make a lovely display area for favorite jewelry. You could also top any small side table with a pretty wooden tray of jewelry for a similar effect.
Bracelets, rings, and watches.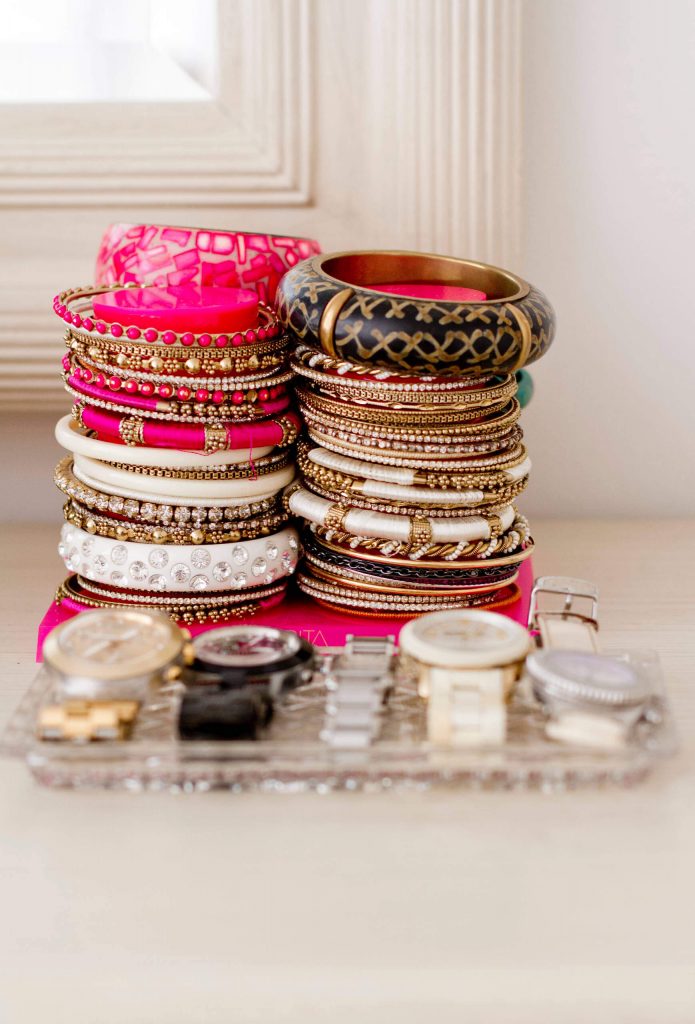 Racks made specifically for storing bracelets and rings are one option. Treat stands, candy dishes and pretty trays borrowed from the kitchen are another. Get creative and see what else you may have hiding around the house that could be repurposed to hold your baubles.
Necklaces and earrings.
A fabric-covered bulletin board in a pretty frame is an elegant and space-efficient way to store necklaces and earrings. Bonus: Pieces won't get tangled up in a drawer.
For a twist on this idea, try hanging a painted pegboard on the wall. Hang necklaces from pegs or S-hooks, and attach a few baskets to corral small items, like sunglasses.
Wardrobe
Hidden gem organizing ideas.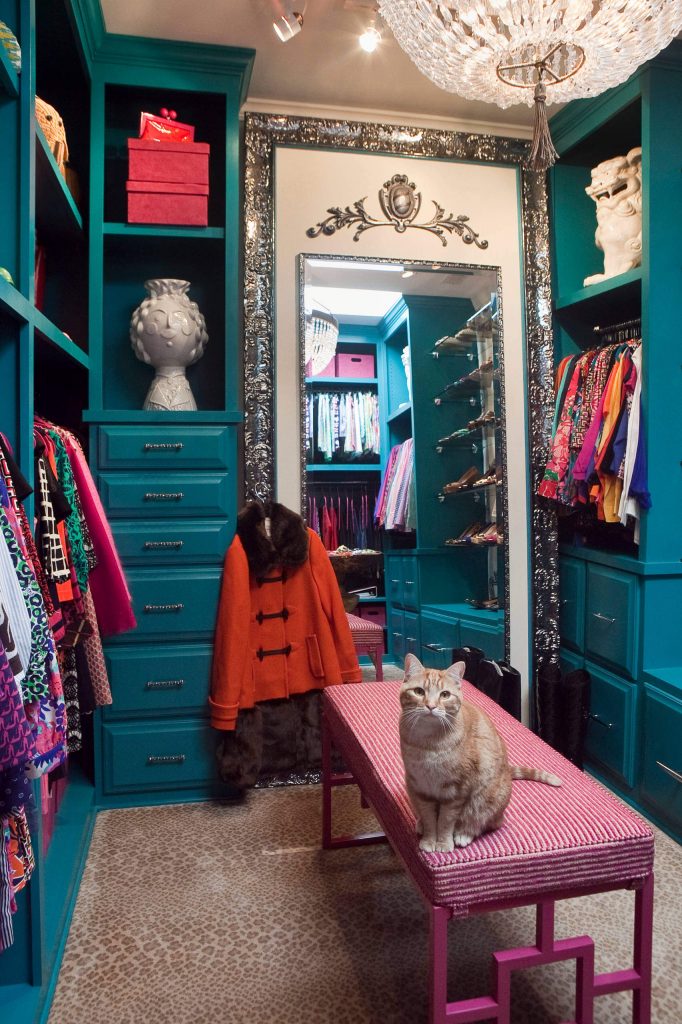 Paint the interior of your closet a rich jewel tone, and add a light and a mirror to make it glow. If you don't have a walk-in closet, create your own closet corner in the bedroom by propping a full-length mirror against the wall beside your dresser. Add some open shelving or an extra chest for accessories, and a place to perch.
On display.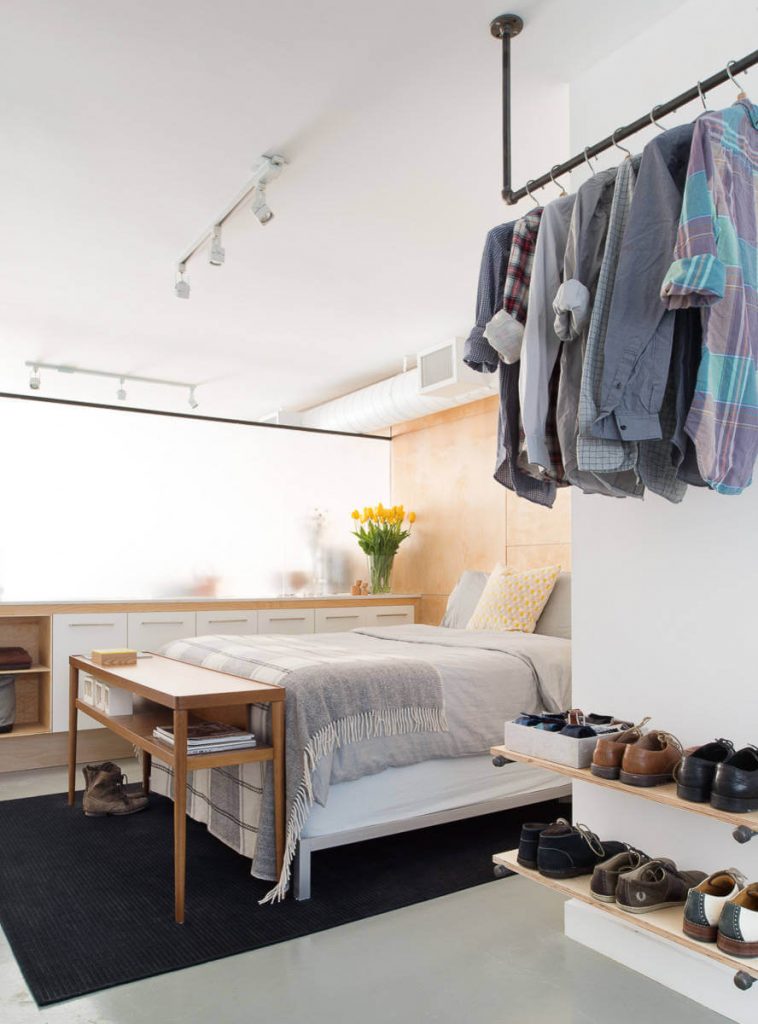 For the utilitarian at heart, this setup is rugged and functional. Plumbing pipe and fittings were used to create an overhead hanging rack for clothes, and simple wooden planks rest atop more pipe fittings to create a floating shoe rack below.
Extras.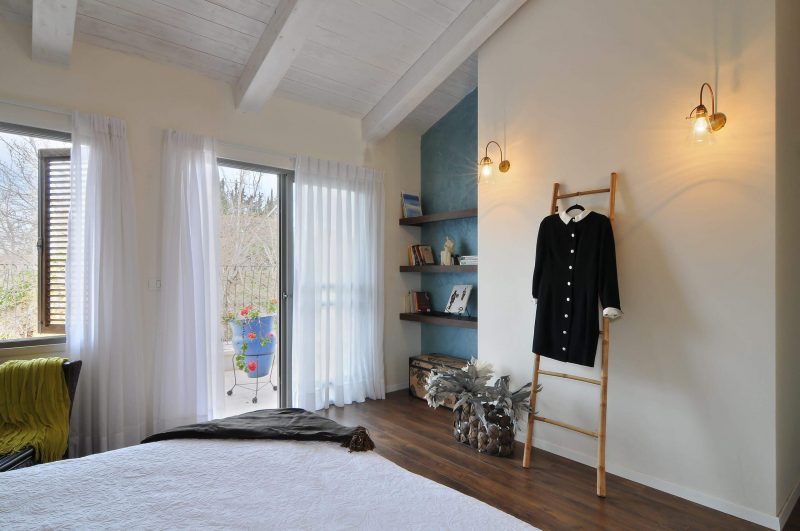 Prop a ladder (a nice-looking one, not the hardware store variety) against the wall in your bedroom or closet to hold those extra items that otherwise would end up on the floor — for instance, that favorite pair of jeans you always wear more than once before washing. You can also use the top rung to display your outfit for the next day.
Laundry
Sorting.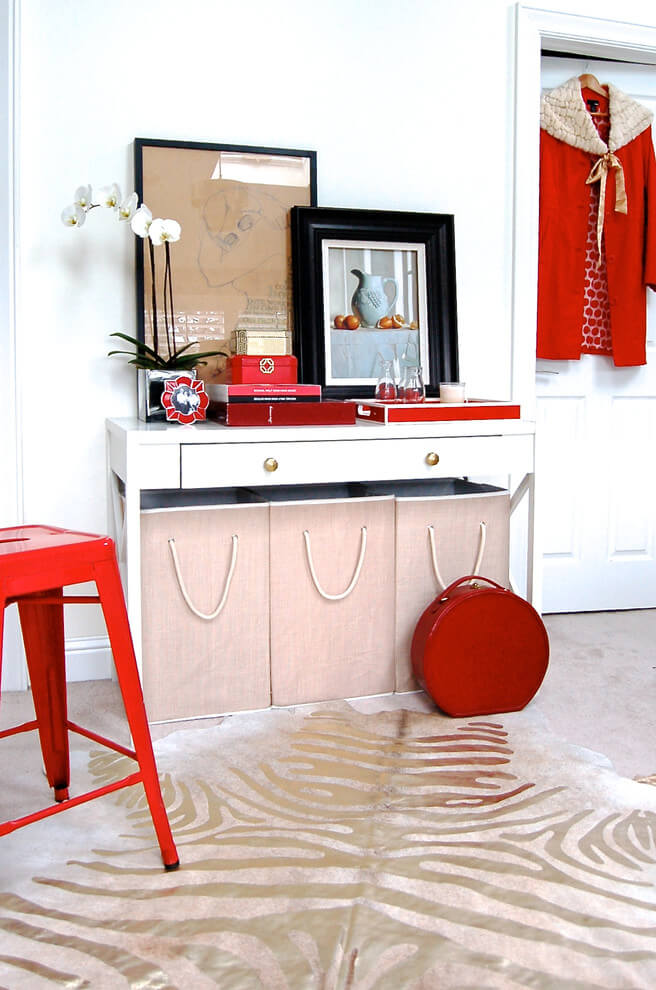 A trio of baskets with rope handles tucked beneath a console table makes a chic laundry sorting station. Pull up a stool, like the cherry-red one here, and it doubles as a dressing table.
Tell us, what clothing or accessory item gives you the biggest organizing headache?
Source: houzz.com/magazine