Renovating a midcentury house to suit today's modern needs while honoring the architecture requires finesse.
While the original bathrooms have their charms, they often lack updated conveniences such as improved storage options, more comfortable heights for vanities and toilets, low-flow plumbing, and energy-efficient lighting.
However, when you're working these needs into a renovation, the midcentury modern spirit can be kept alive with thoughtful nods to the era. Here's how five designers did it.
1. Choosing a Midcentury Modern-Style Vanity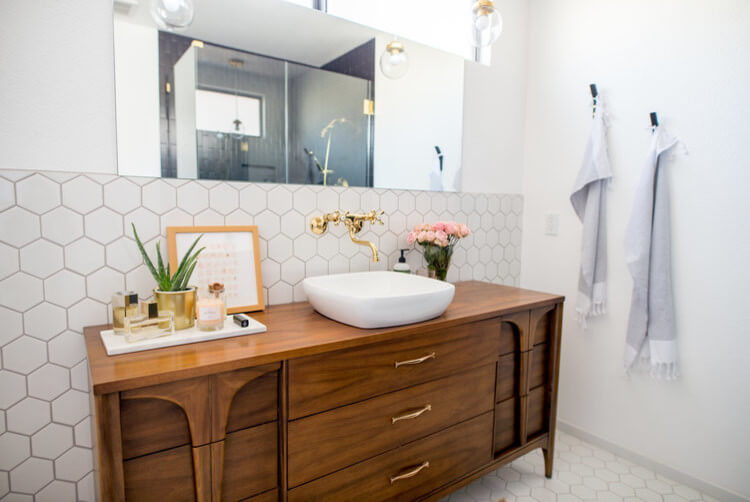 The vanity is often the only piece of furniture in a bathroom, and its style sets the tone for the room. Las Vegas homeowner Ivana Jorgensen had always wanted a vanity made out of a piece of furniture for the master bathroom she shares with her husband, Sean.
The couple was on a tight budget, but research and elbow grease helped them achieve a smashing midcentury modern look.
Ivana found this vintage mid-century modern dresser online, and the couple transformed it into a vanity. They added a vessel sink to the top and polished up the original brass hardware, and now have scads of storage and a strong midcentury piece to carry on the style.
Other nods to midcentury: The Jorgensens kept the tile simple and geometric. While square was the most commonly used shape for tiles during the era, today some designers are opting for hexagonal tile for an updated take.
2. Using Materials That Have a Midcentury Modern Look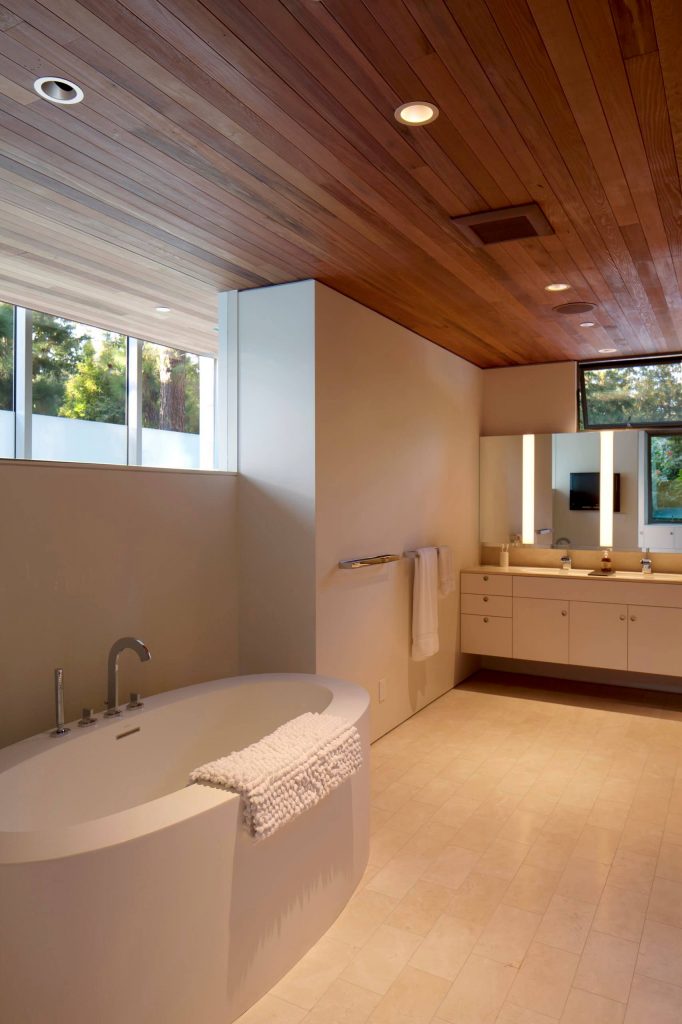 Warm-tone woods with interesting graining patterns were a midcentury modern go-to, particularly on ceilings.
When adding a master suite to the 1953 California home seen here, designer Greg Crawford of Bilden honored the original architecture with materials and by enhancing connections between indoors and out.
His use of clerestory windows, as well as redwood planks on the ceiling and shower wall, tie the house in with the naturalist principles of midcentury modern architecture.
Crawford also specified polished-chrome plumbing fixtures, another commonly used element in mid-century modern bathroom design, to carry on the look.
Other nods to midcentury: "The vanities are definitely midcentury modern in inspiration — floating off the floor and spanning wall to wall. They also have a flat-panel design, simple geometry, and a minimal recessed pull," he says. "The countertop has a simple three-quarter-inch eased square edge flush with the cabinet below that reinforces the aesthetic."
3. Paying Attention to Small Details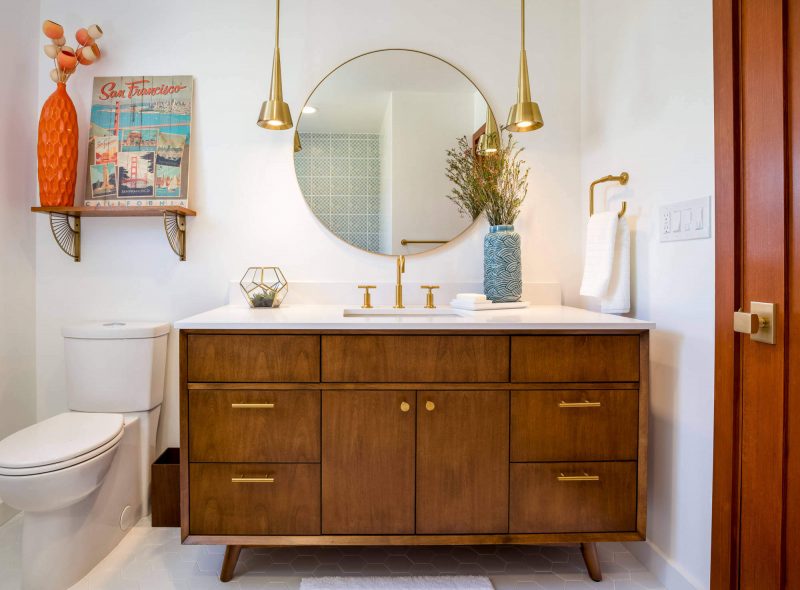 Small details can make a big impact. While interior designer Natalie DiPiazza of Custom Design & Construction hoped to find a midcentury piece she could repurpose into a vanity for a client's midcentury modern home, it was more practical for her to design a custom piece to fit the space.
Elements like the brass hardware, angular tapered legs, and distinctively grained wood all give the vanity midcentury flair.
Other nods to midcentury: "The homeowners knew they wanted gold finishes to get that midcentury look," the designer says. Square tiles in the shower and vintage artwork also evoke the era.
4. Embracing Playfulness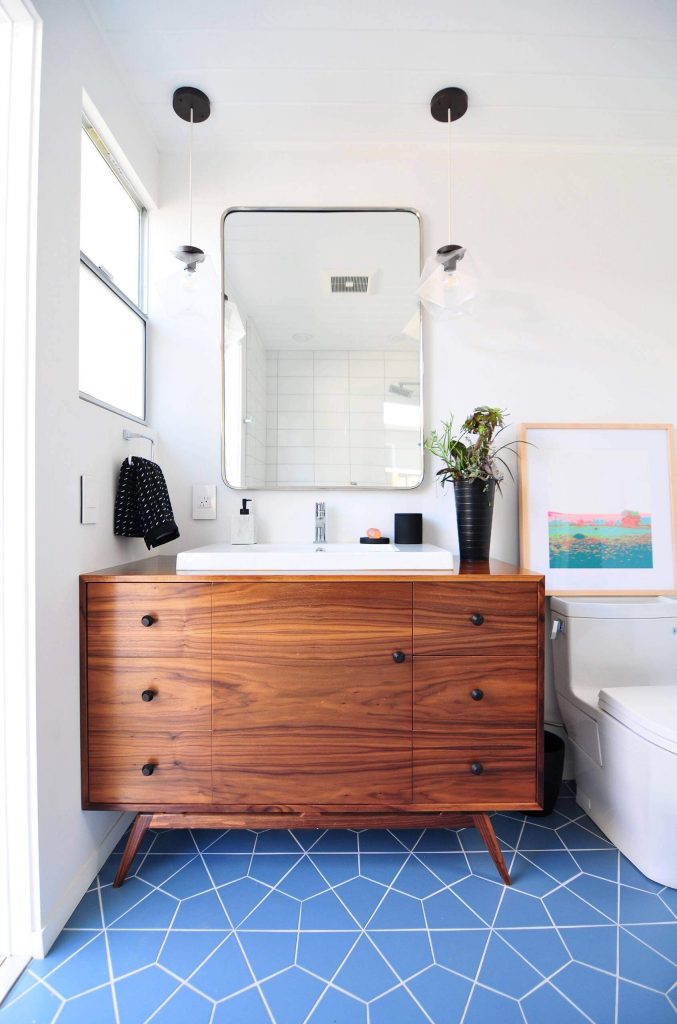 Many midcentury modern designs celebrate bold color, geometry, and a sense of fun. In this California Eichler house, designer Pamela Lin of Urbanism Designs brought in all of these things.
The most impactful way she did so was with the floor — striking blue clay tiles in a large-scale hexagonal pattern. "In small bathrooms, people can end up wanting to go neutral with everything to make it more spacious," Lin says. "But having a strong feature, as this floor, can be really cool in a small space."
Other nods to midcentury: Lin, along with the homeowner and North Coast Modern, came up with a vanity design that nods to the era with its walnut wood and angular tapered legs. Rectangular tile in the shower also nods to the era.
5. Finding a Favorite Inspiration From the Era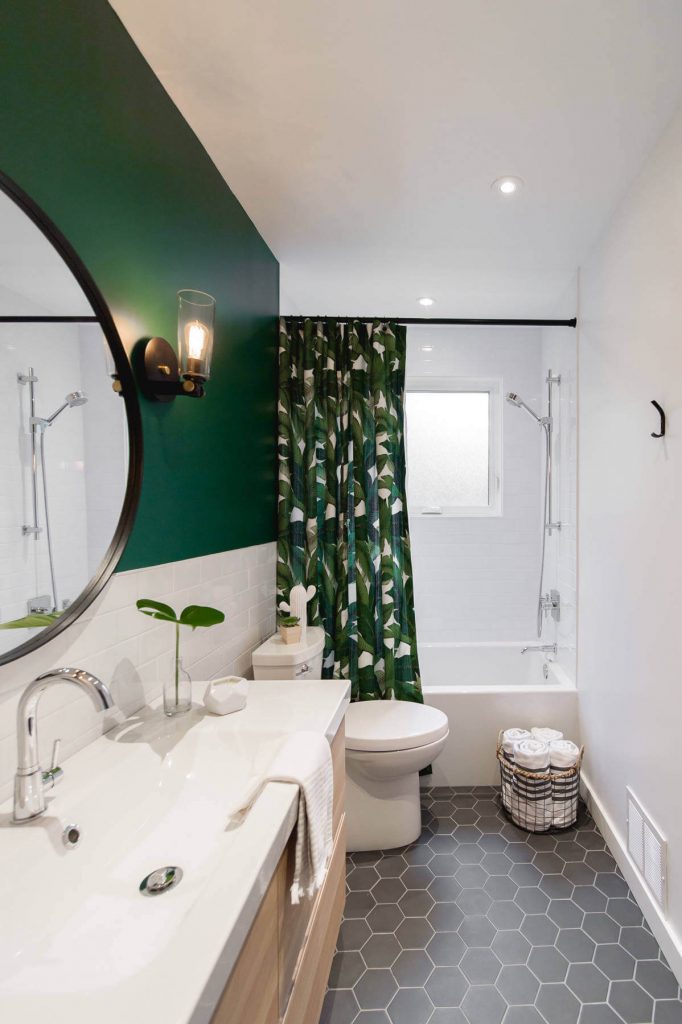 Midcentury modern style is certainly not one-note. It has a wide range of expressions, from organic to atomic, and different regions of the country also have their own distinctive takes on it.
In the Montreal bathroom sen here, shared by a couple and their two daughters, Stéphanie Fortier Design captured the essence of quintessential chic midcentury modern homes in Palm Springs, California (think Frank Sinatra's place).
The rest of the house has some midcentury modern elements, but Fortier's clients also like the farmhouse style. So she kept the permanent fixtures neutral to suit a wide range of styles.
The easy-to-swap-out elements, like the tropical shower curtain, wall paint, and circular mirror, will bring in the midcentury Palm Springs vibe for as long as the owners like. And should they ever tire of the look or need something more neutral for resale, it could be changed for a minimal amount of money and effort.
Other nods to midcentury: The era also inspired the geometric floor tile, clean lines, and polished chrome plumbing fixtures.
Wall paints: Wedding Veil and Celtic Green, Benjamin Moore
Source: houzz.com/magazine