If there's one thing I've learned from bathroom designers, it's that successfully designing a tiny space often means shedding one's fears and inhibitions.
Whether you're remodeling a compact guest bath or updating your pocket-size bathroom to include more modern fixtures, the designers below will likely teach you a thing or two about stretching every square foot of space — and every ounce of design courage — when it comes to your small bathroom.
When it comes to a fearless choice in color and pattern, the small-bath designers for the 2012 DC Design House went all out for bold color and pattern with Farrow & Ball wallpaper. Designers Christopher Patrick and Kaitlyn Andrews-Rice maximized previously unused storage space by creating a custom vanity and building shelving inside the wall.
They incorporated the bathroom's existing pinwheel tile into the design. "We fell in love with the unusual and rare burgundy pinwheel tile and couldn't believe that it was in such good condition," says Andrews-Rice.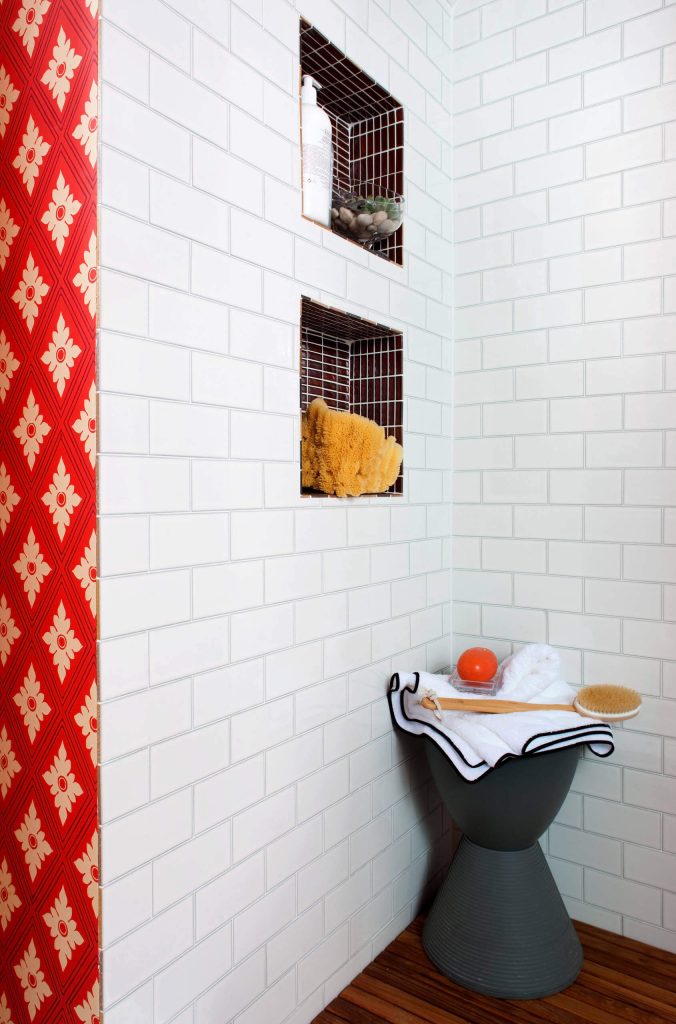 The designers also added niches to the small shower. "The shower niches eliminate clutter and make room for a beautiful shampoo, soap and loofah display," says Andrews-Rice.
Tip: Forget matching your small bath or powder room with the rest of your home. "It's really the place to go big, to have fun, and to take risks that you wouldn't ordinarily take in other parts of the house," says Andrews-Rice.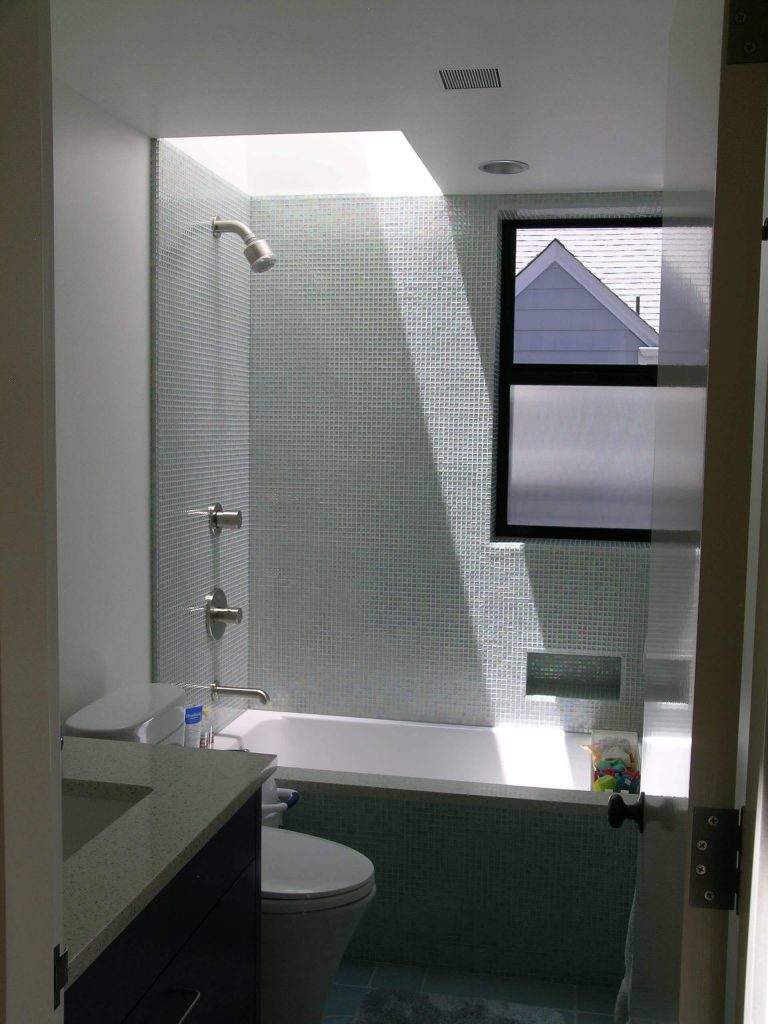 Architect Cathy Schwabe mounted the fixtures in this bath on the wall to save space. She also installed a Duravit tub that's shorter than the 60-inch width of the room, making it a great choice for a compact bath.
A floating toy tray eliminates the need for clunky, wall-mounted baskets or tiered organizing systems, which would only have taken up more of the limited floor space.
Tip: "It's not an option for everyone, but if it is, I highly recommend adding a skylight," says Schwabe. The skylight and the window give this small bath a feeling of height and expansiveness.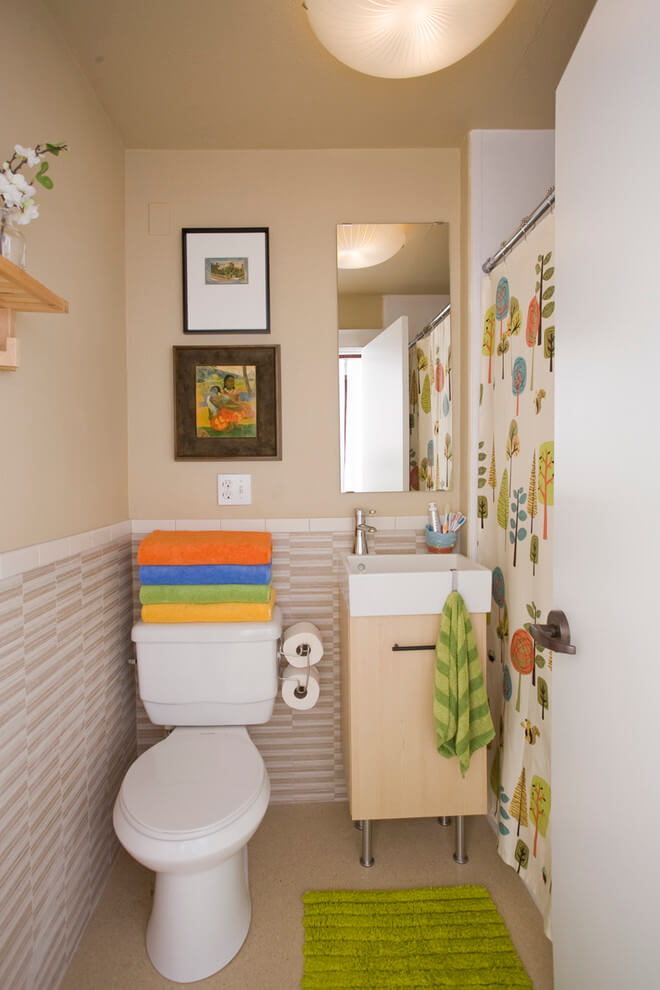 This small bath exudes joy. "The shower curtain, from Target, makes me smile each time I look at it," says interior designer Scott Neste. It's the ideal illustration to look at, at the start of a fresh day."
Tip: Keep wall, ceiling, floor, and tile colors tonal. Neste created what he calls a "controlled character" in this small bath by shifting from white to cream to tan. "The tone-on-tone colors create depth and help the room read much larger than 30 square feet," he says.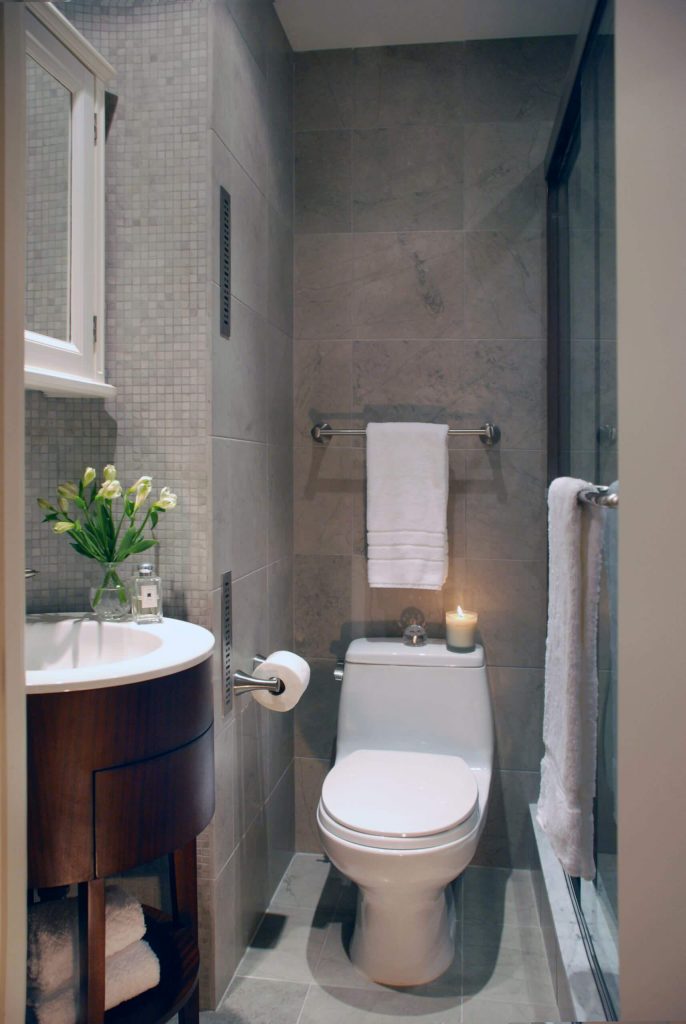 This 55-square-foot bathroom may not have a soaking tub, but it has everything else needed for someone to come out feeling fresh and clean.
In the simple and straightforward layout, designer Peter Balsam saved space by using a round vanity. "It fits perfectly within the niche and softens up the entire space," says Balsam.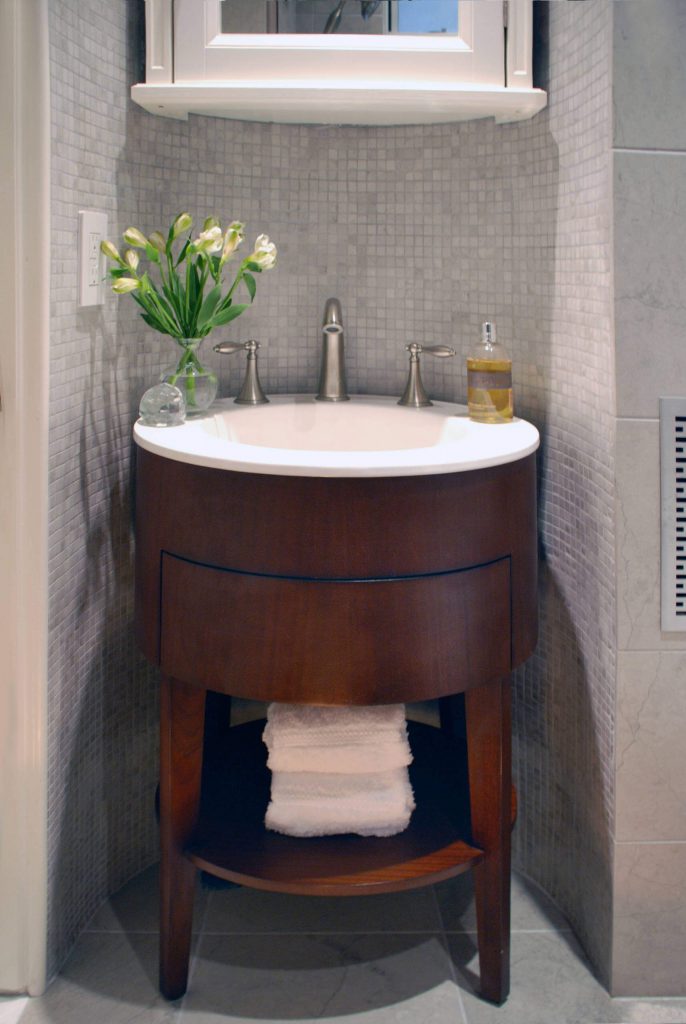 Tip: Figure out what you'll keep from your existing bath and what you'll replace in a makeover based on condition and practicality.
Balsam did away with the old vanity and embraced the curves of this new petite walnut piece.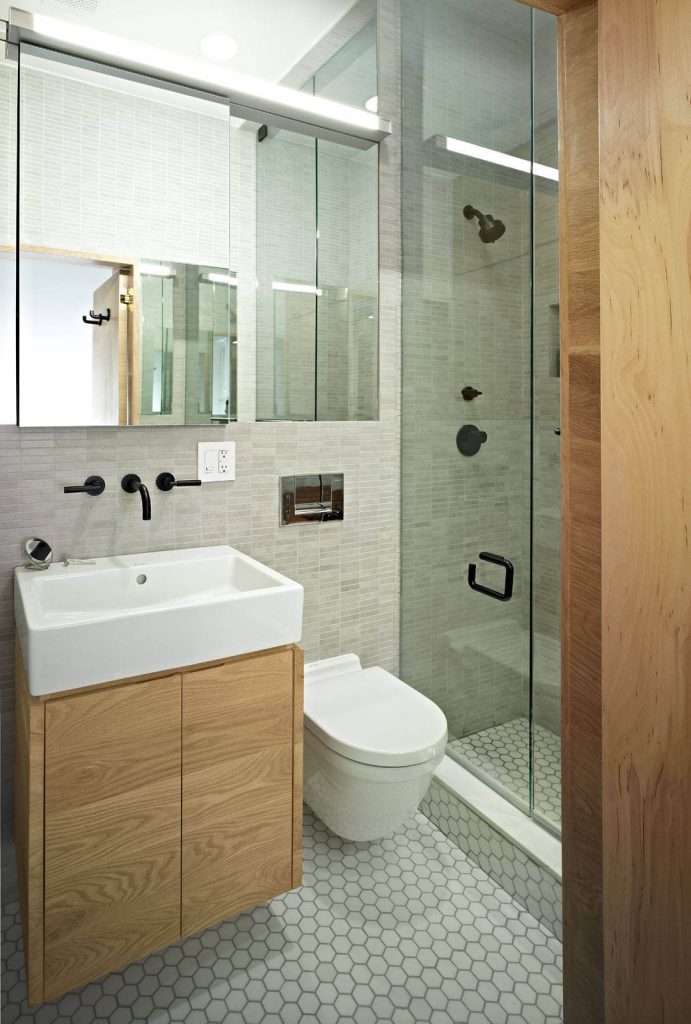 The marriage of mirrors and glass in this studio's bathroom gives the illusion of space — even though the area is no more than 24 square feet. The Stark 3 Duravit toilet and custom vanity float above the hex tiles, leaving the floor space open.
Tip: Continuity in design gives a small space a sense of cohesiveness. The wall-mounted faucet, the Duravit sink, and the shower fixtures all speak architect Jordan Parnass' contemporary language — and he even extended the mounted design right down to the Hafele toilet paper holder.
Source: houzz.com/magazine