Home Office Spaces – Working from home is definitely on the up, so to make your hard day's graft a little more pleasurable (and, hopefully, a lot more profitable), forgo the office furniture catalogues and create a warm, inviting, vintage-style space that fits in nicely with the rest of your interior.
Of course, vintage style can mean different looks for different folks. For some, like me, it's all about whitewashed furniture and pretty details, while others may prefer a simpler style decked out with retro classics and utilitarian design muscle.
Check out these 10 vintage-style home hubs and make Monday morning blues a thing of the past…
1. Clear the decks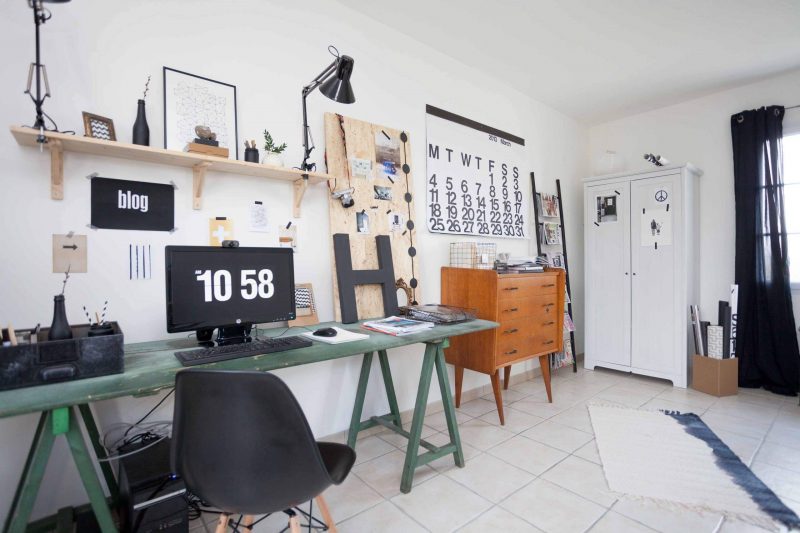 One of the most important fixtures for a home office is the desk. If you're a fan of the vintage look, you can't beat a wooden trestle table either left natural or painted in a soft, heritage hue.
These classic, no-nonsense tables are sturdy and practical and look fabulous paired, as here, with Anglepoise lamps, stripped timber shelving and oversized typography. This is simple vintage at its best and spot-on for a hard-working home hub.
2. Embrace the eclectic side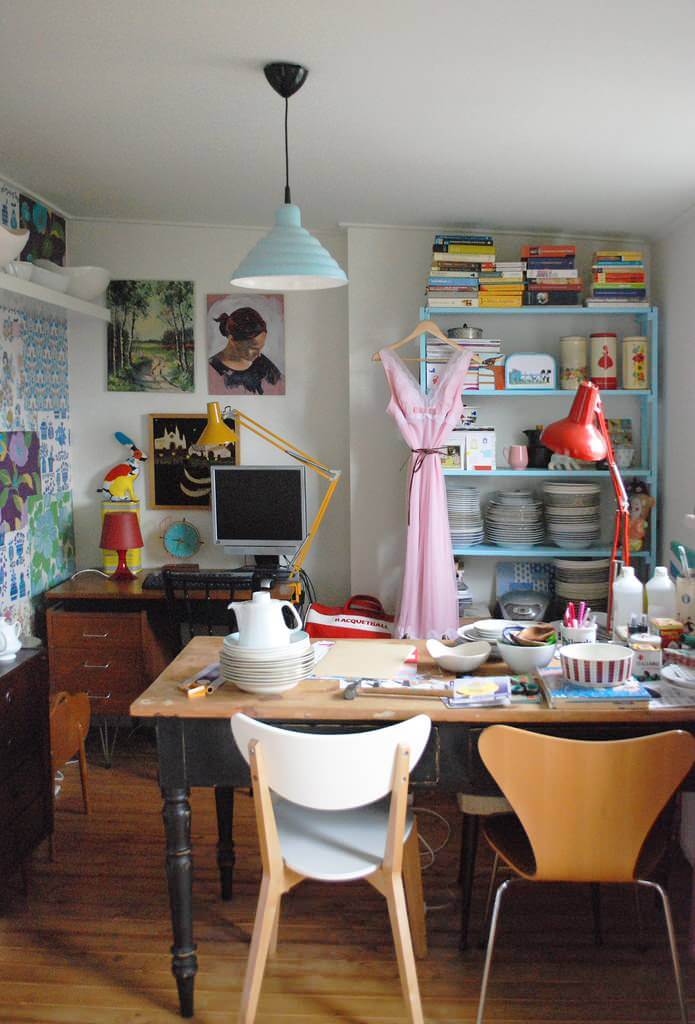 If you don't have space for a dedicated home office, never fear, as your growing enterprise can be squeezed into a corner of another room.
It's a design trick that works particularly well for the eclectic vintage vibe, where clean lines and slick surfaces are not at the top of your style agenda.
Instead, embrace the pick 'n' mix colours, inspiring artwork and considered chaos of, say, a dining room or kitchen, and let your desk, chair and computer become part of the homely and inviting look.
3. Create a vintage vista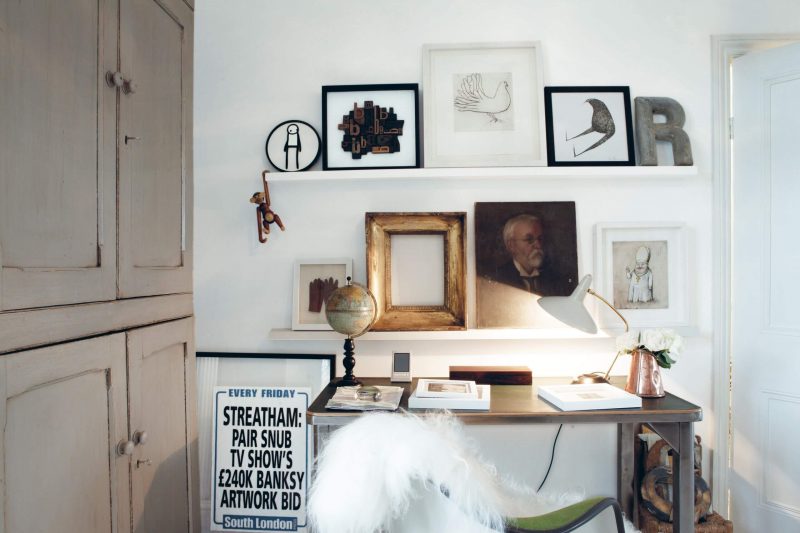 A wall of beautiful images and artwork might just be the tonic you need if you feel your creative brainpower slumping.
Prop up a hotchpotch of decorative vintage frames, pencil drawings and watercolours on rows of simple white shelves. Feel free to swap them around and add new pieces every now and again to keep the creative vista fresh and exciting.
4. Go for pretty vintage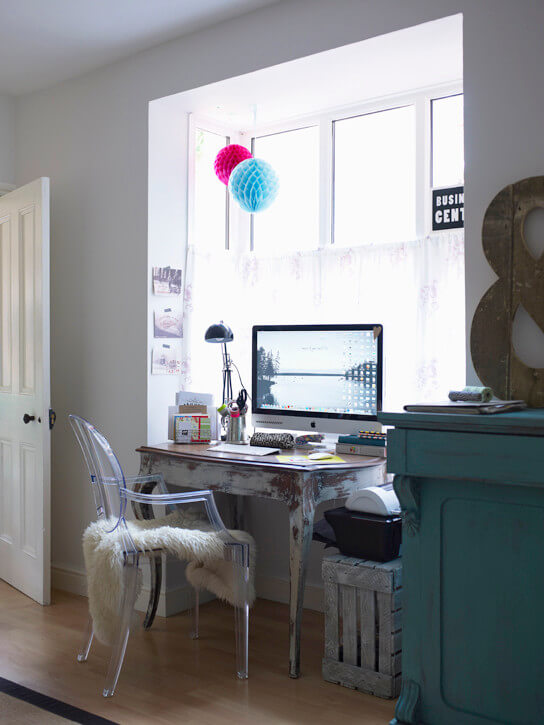 This is my sort of working hotspot – and proves you don't need dedicated office furniture to create a really inspiring place to get cracking for the day.
The distressed, whitewashed table slots perfectly into the bay window, where masses of energising natural light pours in. The transparent chair adds a pleasing contrast to the laid-back vintage pieces and ensures the small space doesn't look too busy.
5. Beef up storage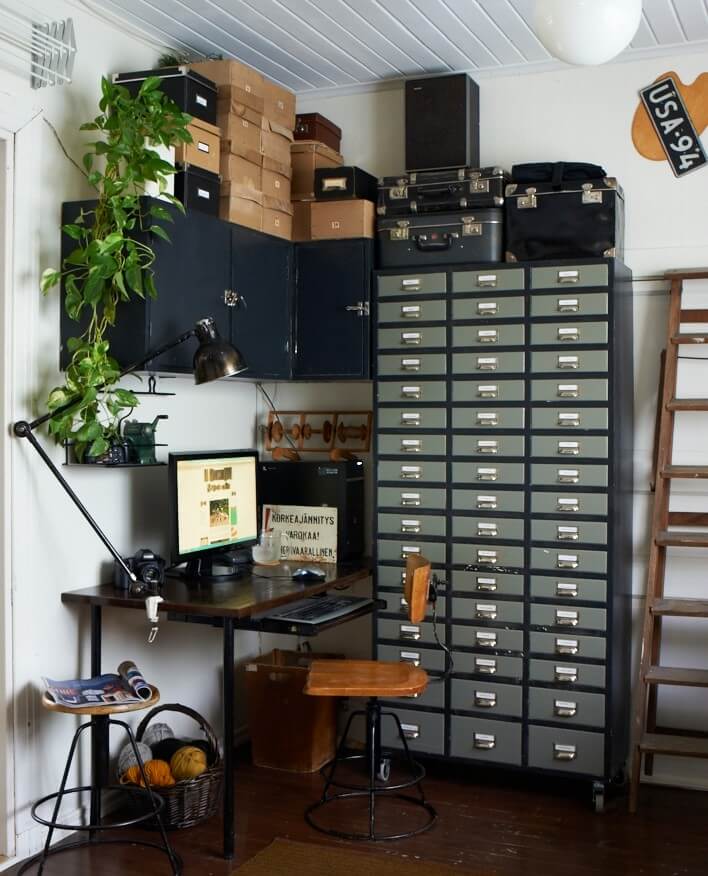 Vintage filing cabinets and lockers offer some of the best storage solutions for the home office – and will also instil your working environment with a charming, utilitarian mood.
Scour the internet for retro-style shelving, cupboards and desks salvaged from schools, factories and warehouses.
Be creative with your storage, too: a pile of old suitcases and plain, brown boxes make for an innovative and budget-friendly way to stash documents, files and paperwork you don't need to access on a daily basis.
6. Energise an alcove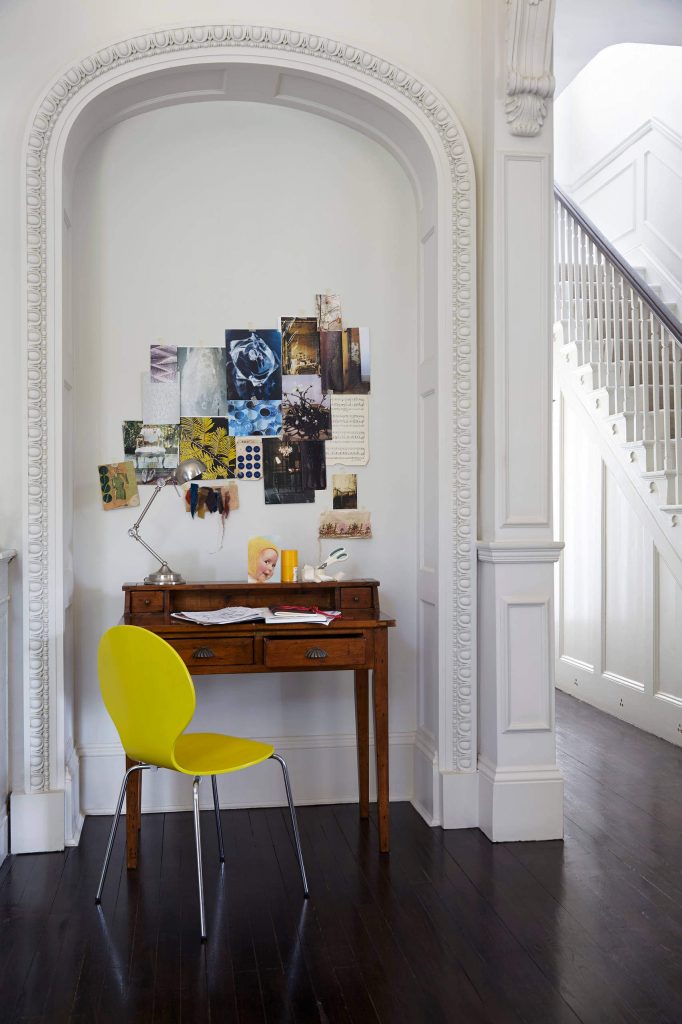 If you don't need a full-on office, an unused alcove could be the perfect place in which to set up shop at home.
Seek out an antique wooden desk and no-nonsense angled lamp for a relaxed vintage look, but don't be afraid to add more modern touches, like this chair in summer's colour crush, yellow.
7. Harness a Scandi backdrop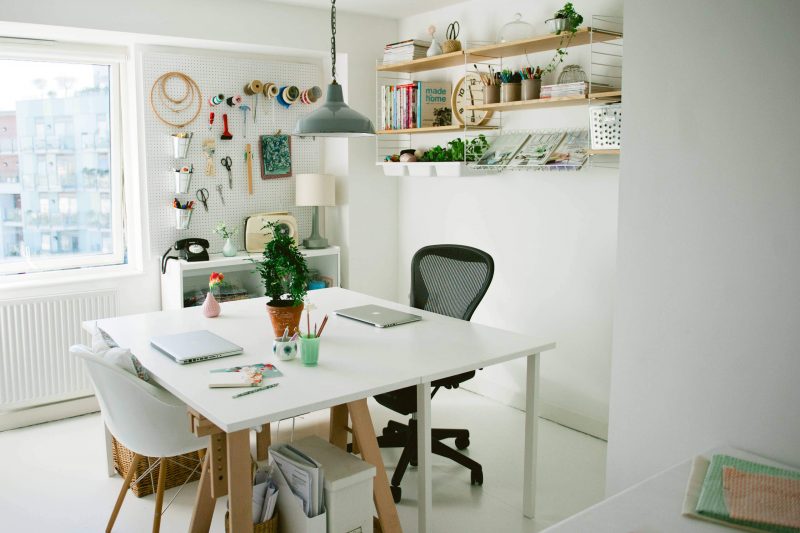 OK, so this London home office might ooze a certain Scandinavian cool, but it also has a delightful vintage buzz, too.
The wraparound white walls and floor are undeniably modern, but the classic chairs, plus the peppering of old-fashioned accessories (the retro clock and radio are gorgeous) offer up a warmer, more inviting space in which to work.
8. Big up bespoke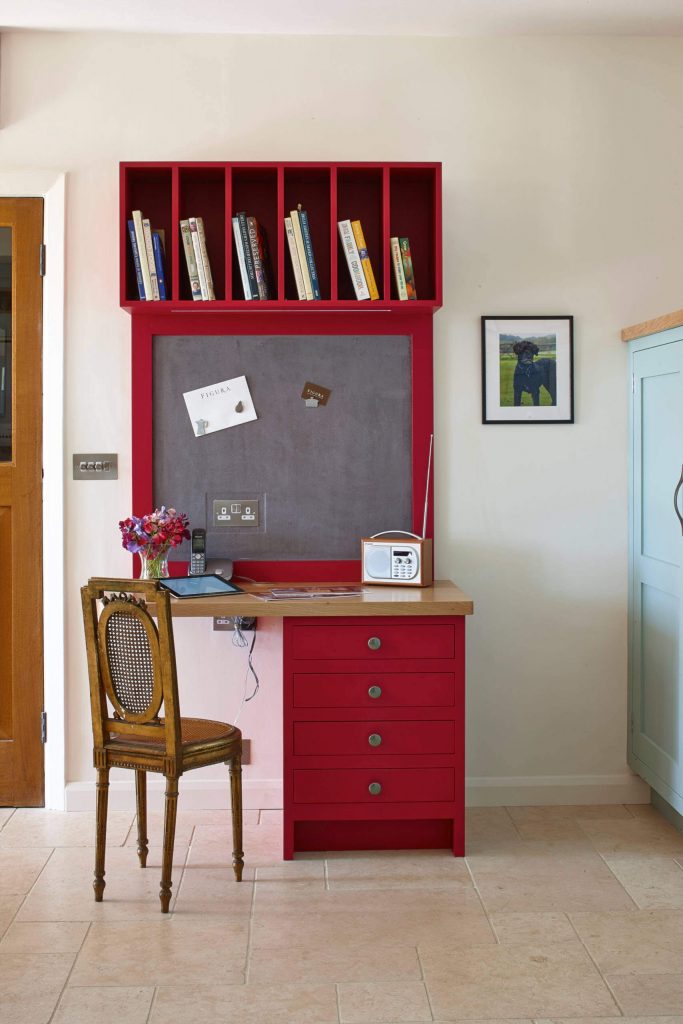 A handcrafted, open-plan kitchen might just offer up the perfect spot to sneak in a vintage-style office hub like this one.
The benefit of choosing a bespoke kitchen company is that you can get your desk and storage tailored exactly to your needs and space.
Plump for a classic, Shaker-style kitchen/office with traditional in-frame doors in a palette of heritage hues. And why not mix things up by choosing a standout colour for your office zone?
9. Bask in blue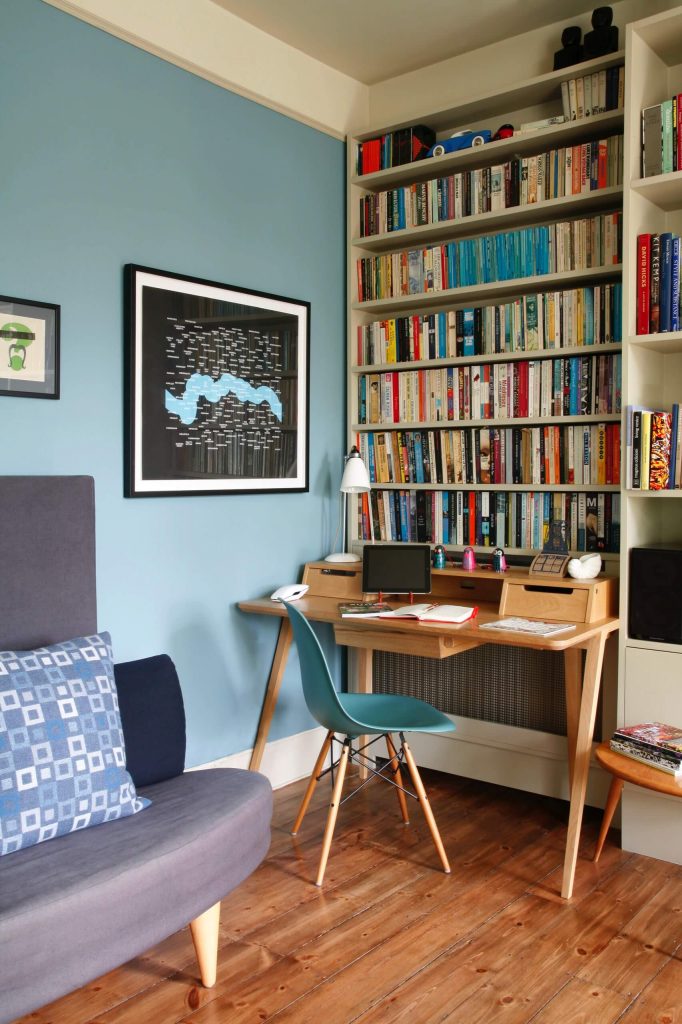 Blue is well known as a 'productive' colour to help stimulate the brain and get the most out of your 9 to 5.
This soothing, vintage blue is the perfect choice for a relaxed yet hard-working home office. The calm shade works well here with the Ercol wooden desk and ties in beautifully with the Eames DSW chair.
For a slightly prettier vintage vibe, why not try a floral wallpaper in a soothing blue shade instead?
10. Strip it back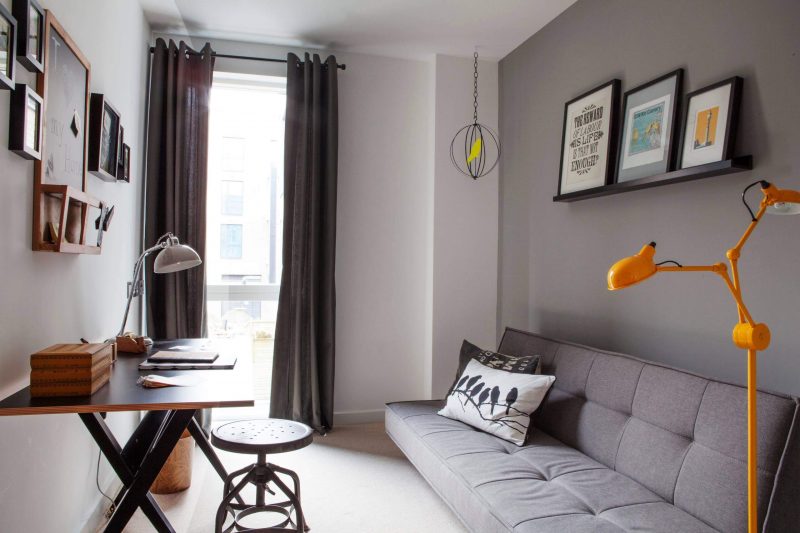 Don't feel compelled to fill vintage-style interiors with well-worn finishes and distressed furniture if that's not your thing.
This gorgeous, grey-hued space still captures the same inviting, feel-good spirit of the vintage look, but uses cleaner lines and a smarter silhouette.
Seek out heritage paint colours in practical, modern-day finishes, as well as timeless furniture and lighting, and add in the odd vibrant colour to show off your personality.
Source: houzz.co.uk/magazine