Outdoor Living Rooms – When I was growing up, "outdoor living" consisted of some aluminum folding chairs and a Weber grill. But with the advent of synthetic wicker, all-weather fabrics, outdoor lighting, and indoor-outdoor carpets, you can now live as stylishly and comfortably outdoors as you do indoors.
To make the most of alfresco living, look at your patio or porch the same way you might approach a room. Consider flooring, lighting, color, pattern, scale, and texture.
You might even give some thought to the walls, whether they're physical (as on a porch) or virtual (curtains or a planter filled with bamboo). Add an overhead heater or fan, and you might never want to leave.
1. Tropical Porch, New York
What makes a porch feel more like a room? The accessories. Potted plants can create a sense of enclosure in the great outdoors and also add a welcome touch of height.
Lanterns and bowls of fruit embellish the space here too. An overhead fan is a great way to get more use out of a porch in steamy climes.
2. French Country Patio, Santa Barbara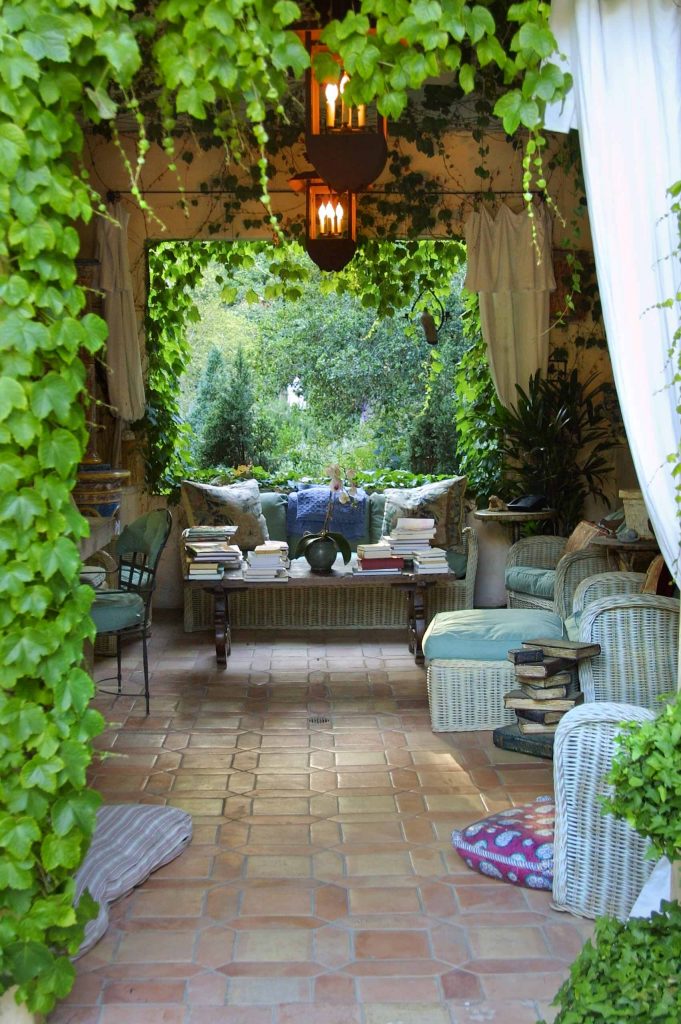 Walls — even if they're made of canvas — can help frame views and shelter you from breezes. Plus, they give you a cozy and protected feeling when you're out in nature.
Lanterns, potted plants, and antiques (such as the enamel stove in the corner) add to the cozy quotient here.
3. Traditional Patio, Salt Lake City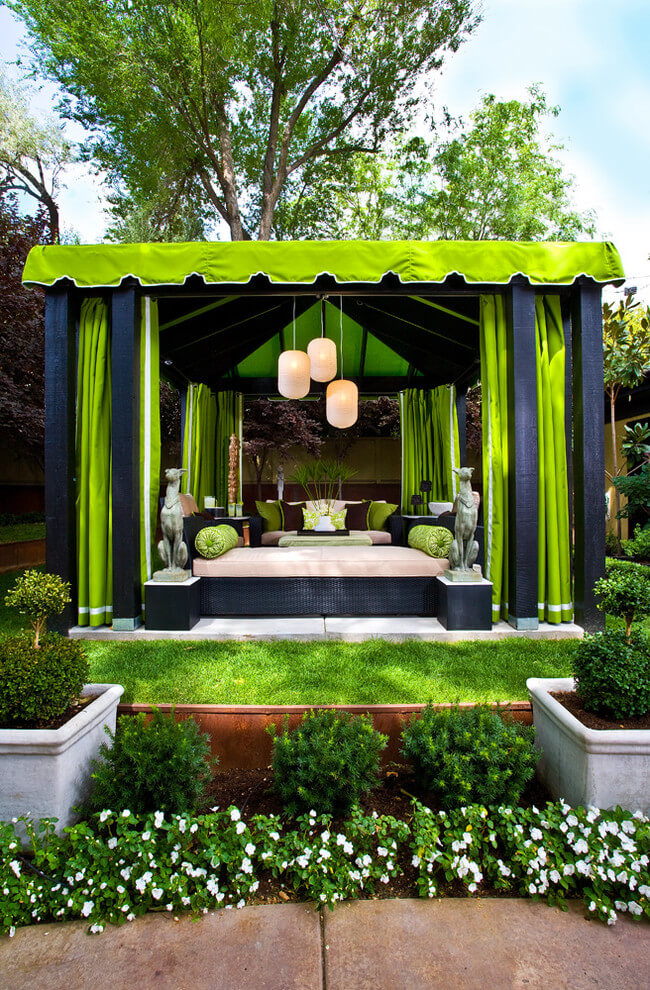 Beverly Hills? Think again. This cushy casbah calls Salt Lake City, Utah, home. Lime-green fabric is an unexpected departure from the usual white canvas and helps give this backyard Bohemia a piquant presence, while the wood framework echoes the color of the furniture.
You don't expect to see a daybed outside, but in this case it does a great job of preserving sightlines from the sofa — and offers a great spot in which to stretch out for a nap. To get this look, think in multiples (three pendant lights, two dog sculptures) and don't stint on the pillows (or the cocktails).
4. Asian Deck, Los Angeles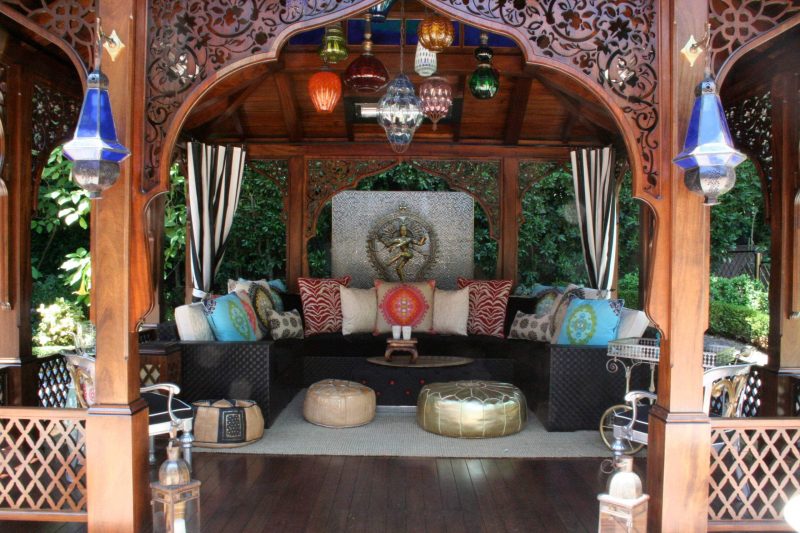 OK, so this one really is in Beverly Hills. What makes it especially noteworthy is the exotic theme.
After all, why can't a patio look Moroccan? Or French? Or Southwestern? We get so accustomed to seeing the same thing, we sometimes overlook the possibilities.
5. Mediterranean Patio, Orange County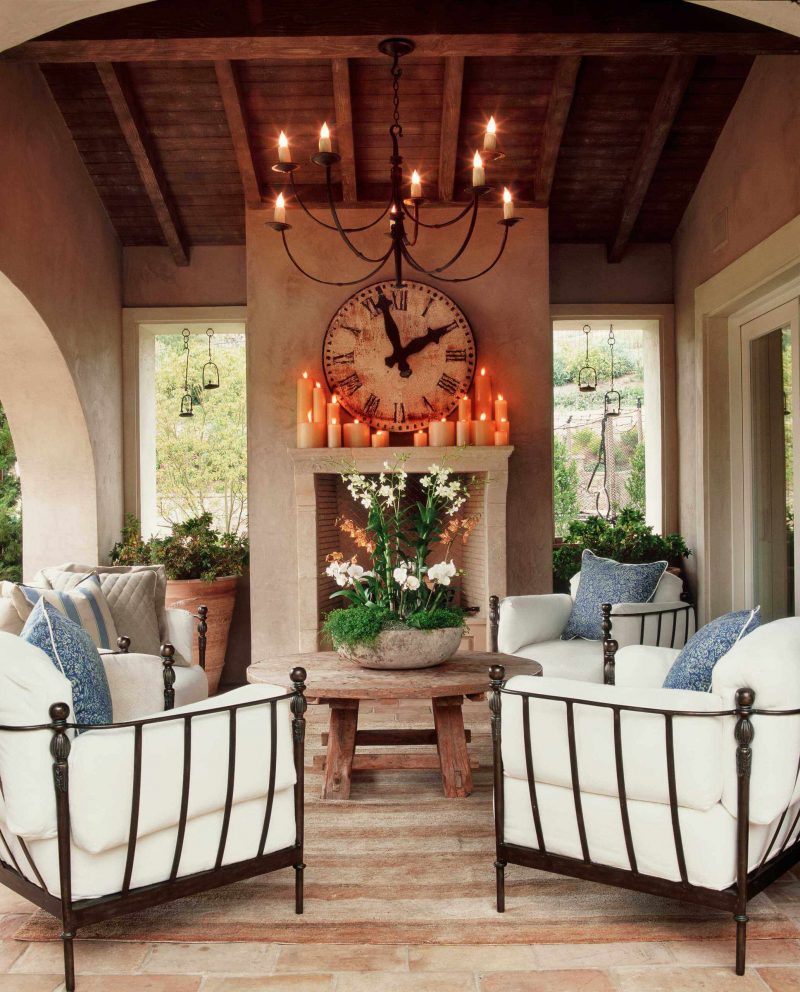 With today's all-weather upholstery, there's no limit to how comfortable your outdoor furnishings can be.
This grouping of four chairs inspires intimacy, while a timeworn table and vintage-style clock really add to the character. (Just as with interiors, it's always more interesting when you throw something old — or old-looking — into the mix.)
6. Contemporary Deck, Los Angeles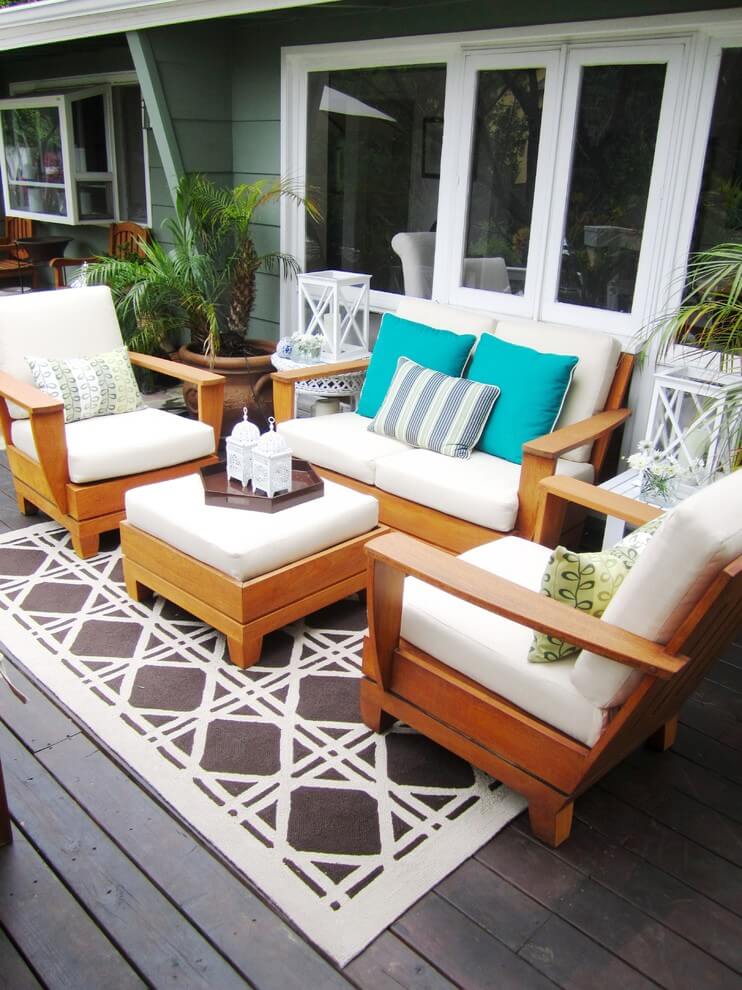 Outdoor living rooms need not be opulent. Sturdy upholstered seating, an ottoman that doubles as a coffee table, side tables, and a rug might be all you need to create a cozy, cohesive space.
7. Traditional Patio, Santa Barbara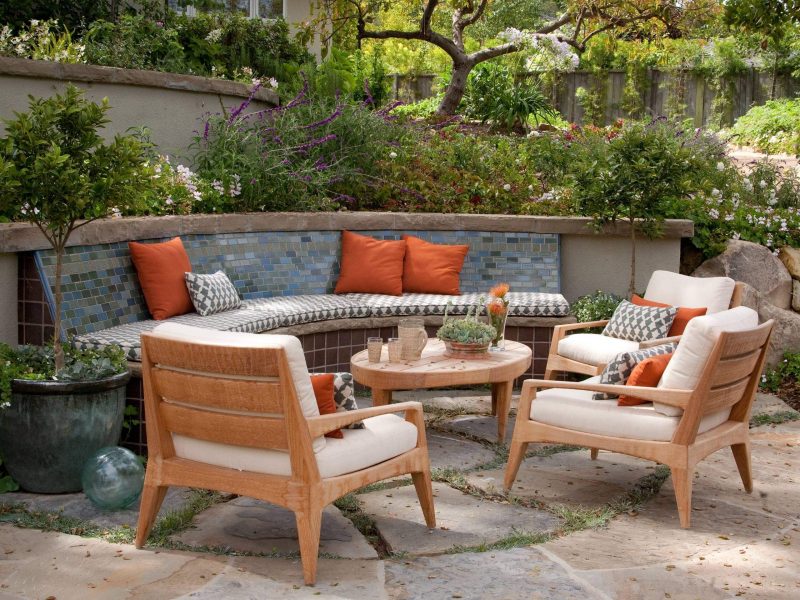 A built-in bench hugs the inside of a wall, conserving space on this terrace and maximizing seating when there's a crowd.
Notice how the houndstooth on the pad is echoed in the throw pillows, and how the simple presence of an oval table (how often do you see those on a patio?) makes the space feel distinctive.
8. Large contemporary deck idea in Other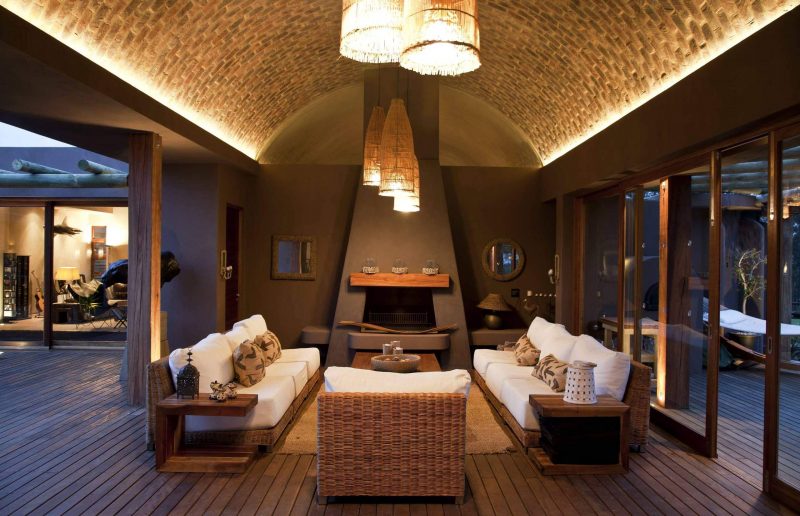 This marvelous semienclosed patio in South Africa is sumptuously appointed with a vaulted brick ceiling illuminated by cove lighting, and a sinkable soft seating group arranged in front of a sculptural fireplace.
Clusters of diaphanous lanterns enhance the atmosphere after dark, as does the moody wall color. (Outdoor spaces needn't always be pale.) The emphasis on natural materials in the seating, carpet, and lighting helps link the room to its bucolic setting.
9. Rustic Sunroom, Portland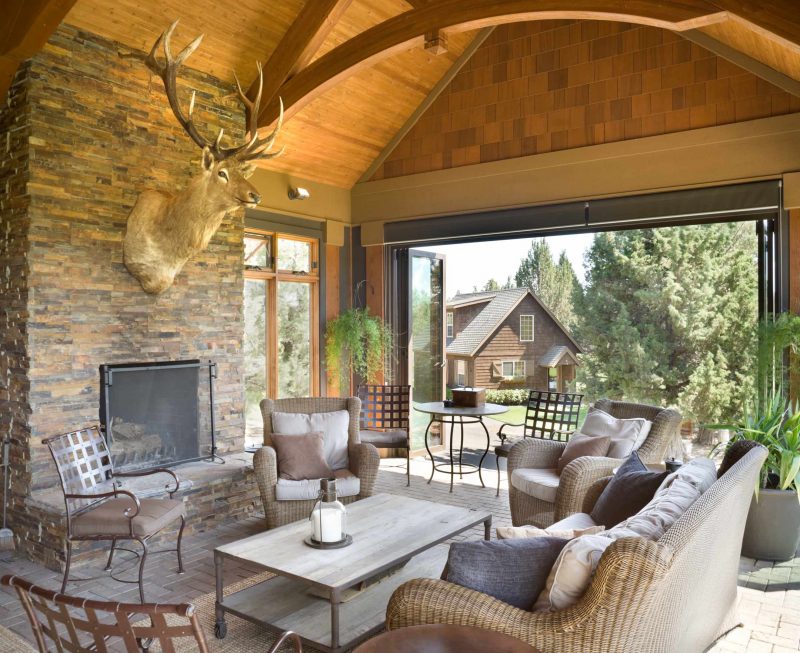 This semienclosed space offers all the comforts of home, including NanaWall doors that fold out of the way when the weather cooperates.
10. Mediterranean Porch, Atlanta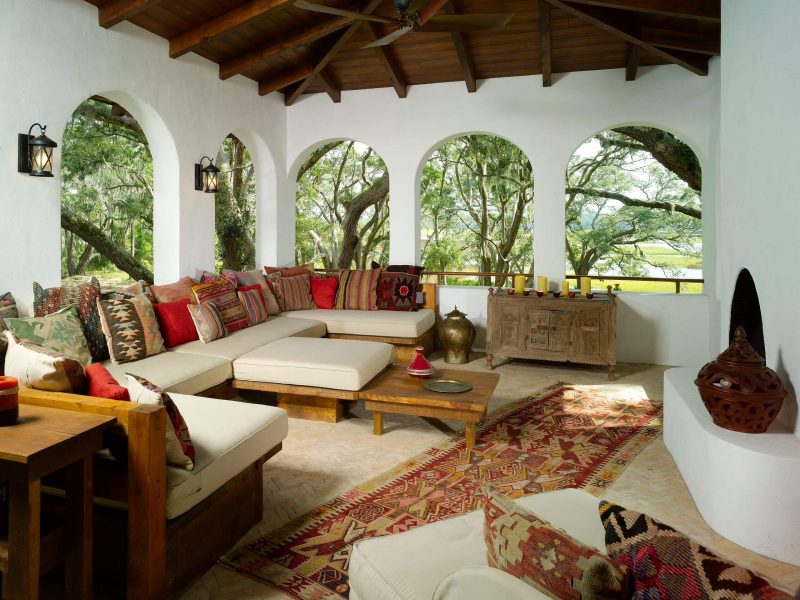 An arched fireplace echoes the arches surrounding this Georgia porch. The herringbone tile floor is topped with a kilim carpet, while pillows on the sectional repeat the motif, lending the room an exotic air.
11. Shabby chic Style Porch, St Louis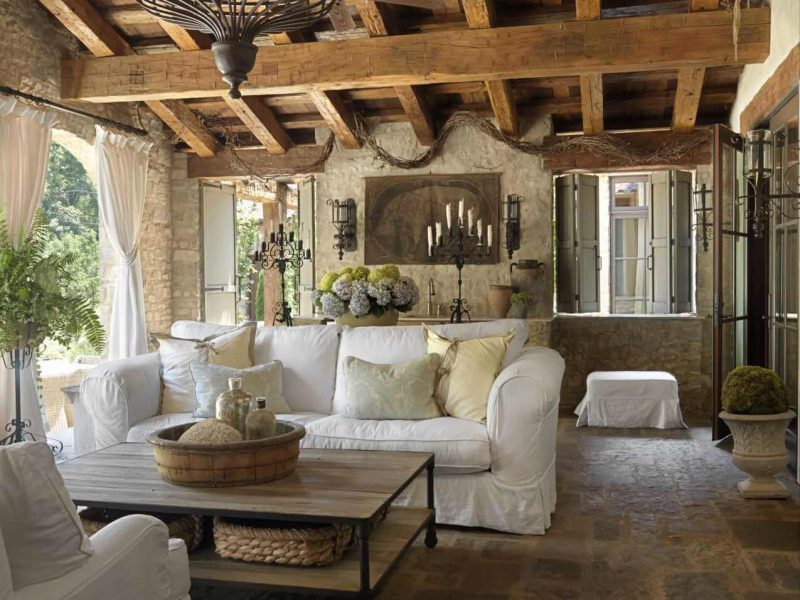 Here's a Missouri take on Tuscan taste, with Shabby Chic–style furnishings congregating under a rustic beamed ceiling.
A chandelier, wall sconces, and candles assure plenty of lighting options to set the atmosphere, which is enhanced by baskets, plants, and a telltale grapevine that meanders across the ceiling.
12. Mediterranean Patio, Dallas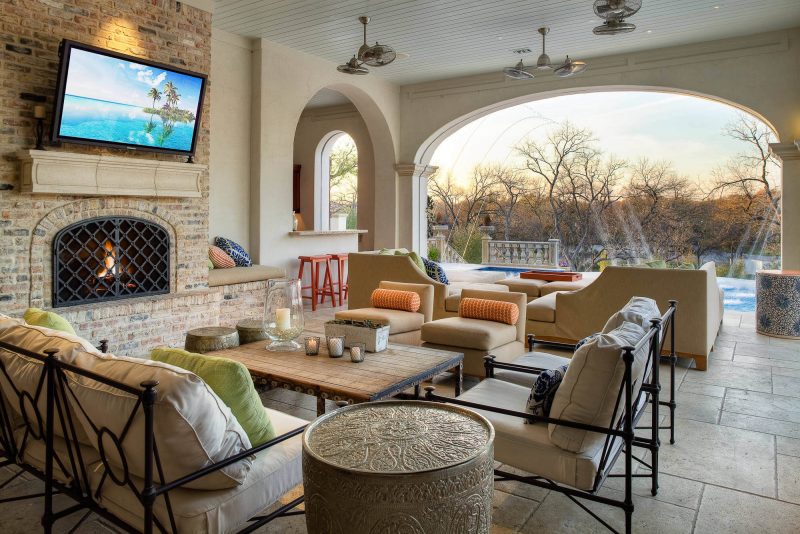 Who says patio furniture has to match? For a more residential feeling, don't be afraid to mix things up and introduce an antique or two for added visual interest.
Here a large space is broken up into two seating areas, offering greater intimacy in each (and an escape for those who don't want to watch TV).
In settings such as this, it's best to use a television specifically designed for outdoor use.
13. Transitional Patio, Miami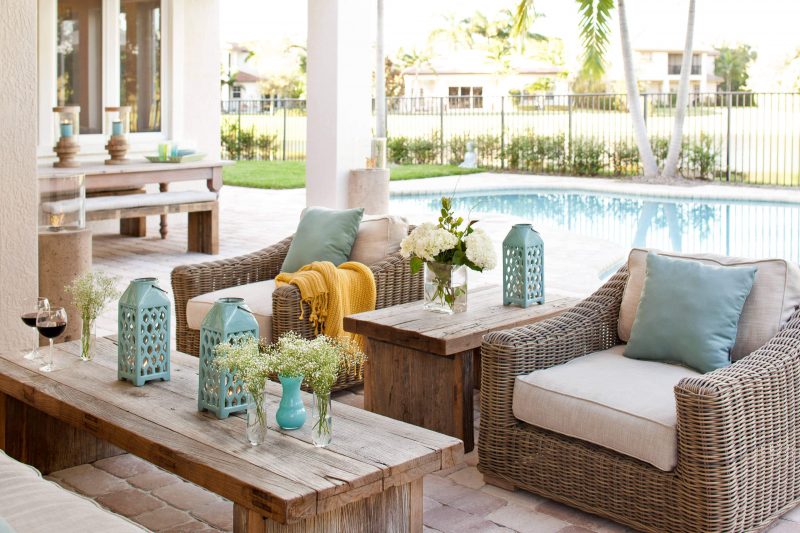 Rustic wood tables add a sense of age and texture to this porch that wouldn't be there if the tables looked like the chairs. The blanket is another nice touch.
14. Contemporary Patio, Toronto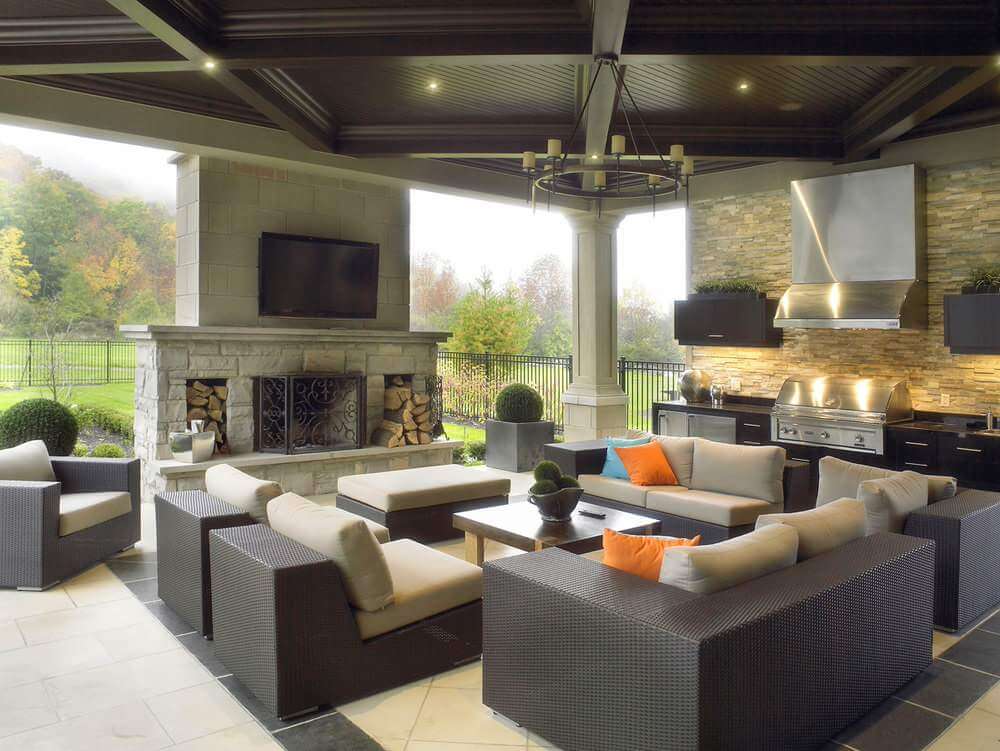 Changes in flooring help demarcate the seating area on this porch, while potted privets forge a connection between the foreground and background.
15. Traditional Porch, Atlanta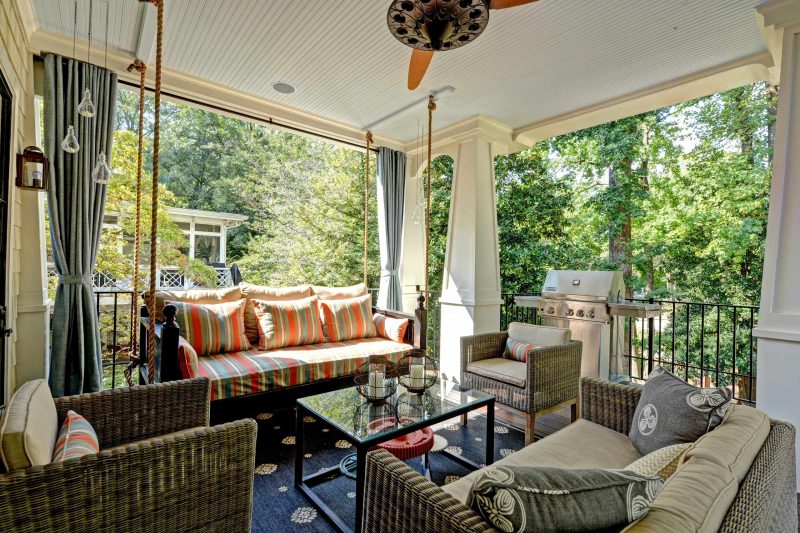 What makes this porch rise above the ordinary? Curtains made from Perennials fabric help domesticate the space, as does the carpet from Ballard Designs.
The daybed is suspended from the ceiling, like a swing, adding an irresistibly playful touch.
16. Traditional Porch, Dallas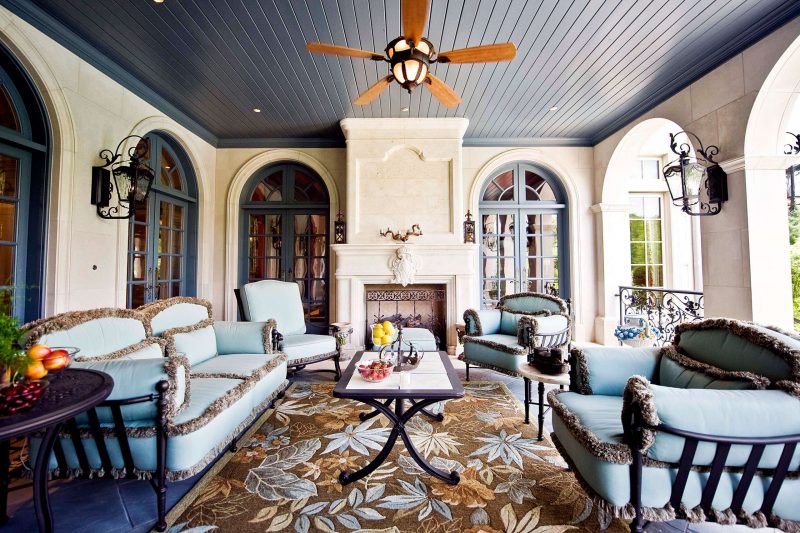 If it weren't for the arches on the right, you might not suspect you were outdoors.
The furniture looks like anything but patio furniture, thanks to the audacious use of trim and an area rug that refuses to take a backseat to anything.
17. Contemporary Patio, Omaha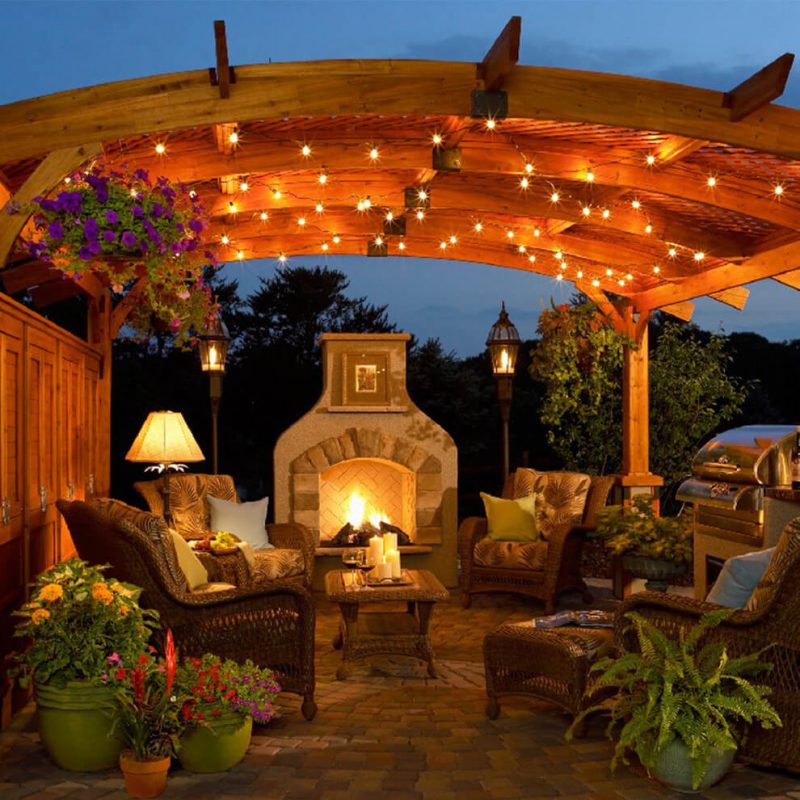 Add some punch to your pergola with a sheltering arch, then string it with lights for a veil of dappled illumination. (Outdoor string lights like these can be found for as little as $10 a strand.)
Notice the floor lamp and the piece of art perched on the fireplace "mantel" — domesticating touches that make this a space you'd hate to leave.
18. Traditional Porch, Charlotte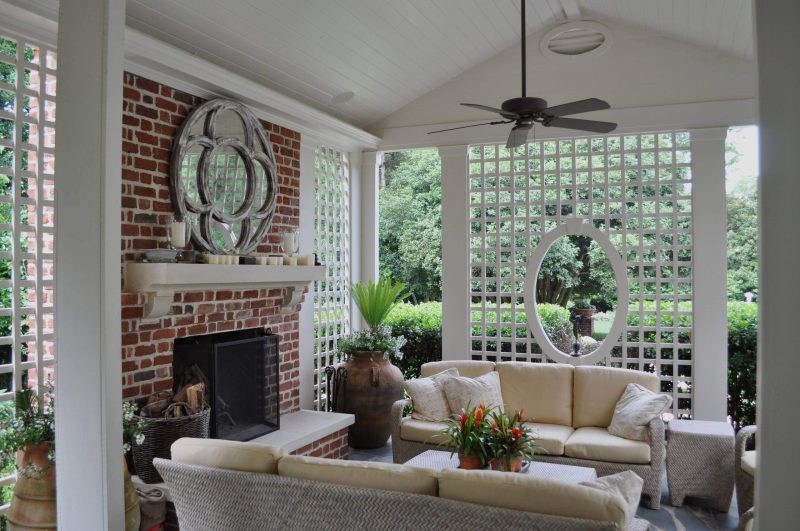 A trellis "wall" frames an oval-shaped "window," giving this covered patio the coziness of an enclosed space but the views and cooling breezes of Plein air living.
The decorative mirror over the fireplace lets the owners enjoy the blaze and the view at the same time.
19. Tropical Porch, Hawaii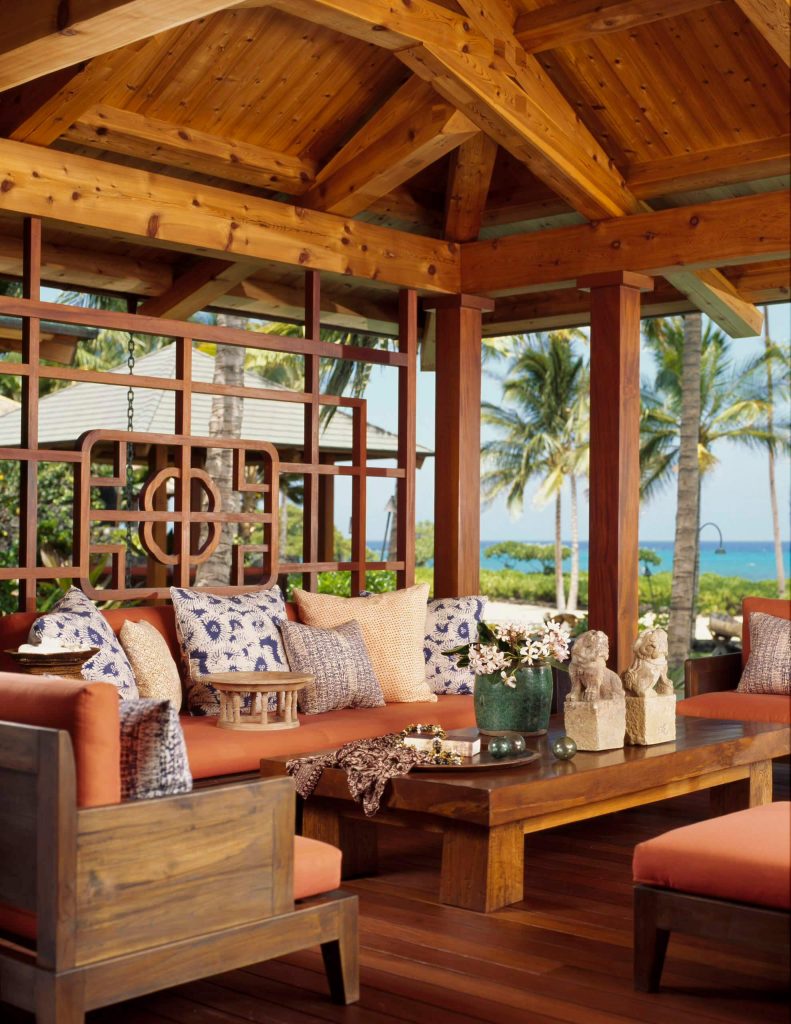 Here's another case of creating a wall where there wasn't one, instilling a sense of enclosure without impeding views or breezes.
Notice, too, how the table has been accessorized as if it were indoors.
20. Traditional Porch, New York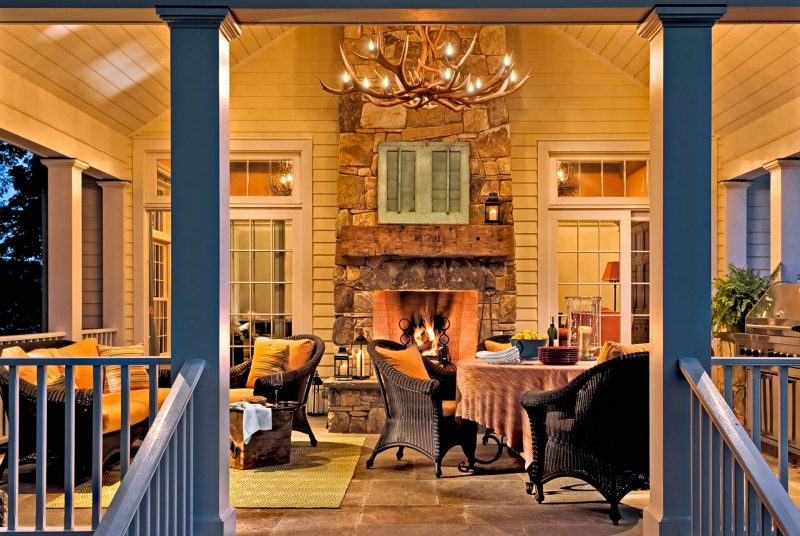 The antler chandelier brings this vaulted ceiling down to human scale, while the shutters are a nice touch over the fireplace.
Notice how the grill sits quietly on the sidelines — not dominating the space or detracting from its domesticity.
Source: houzz.com/magazine