Summer offers a lot for us to celebrate: vacations, long days, warm nights, and visits with friends near and far. Outdoor entertaining, from lunch on the deck and happy hour at sunset to dinner by candlelight and fireside gatherings under the stars, embodies the season.
If you want to bring the party outside this summer, or you're considering a backyard update, take a look at 20 great outdoor entertaining areas for ideas to help you get started.
1. Color celebration in Dallas.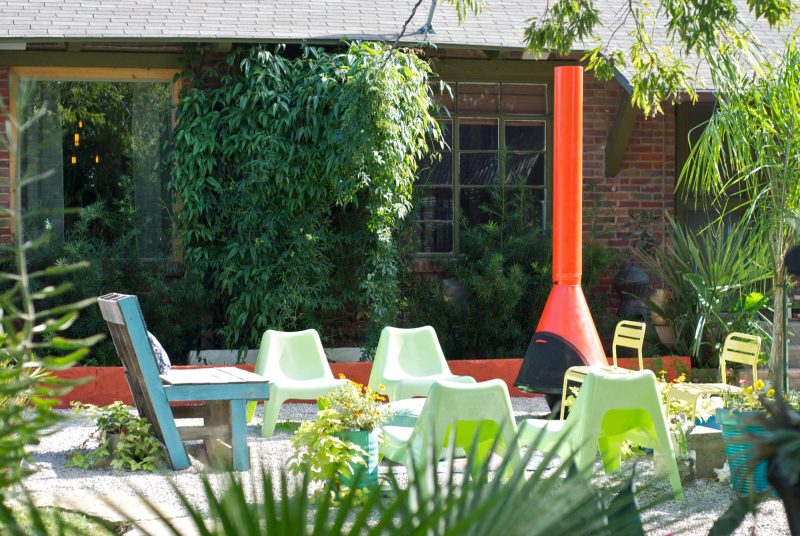 Landscape professionals Brianne and Trey Denton created a globally influenced destination in their backyard. Crushed limestone gravel, a mix of colorful patio furniture, and a bright orange fireplace entice guests to gather while allowing for impromptu rearrangements.
The couple also commissioned a local graffiti artist to paint a corrugated metal wall behind the fireplace.
2. Intimate and sophisticated in San Francisco.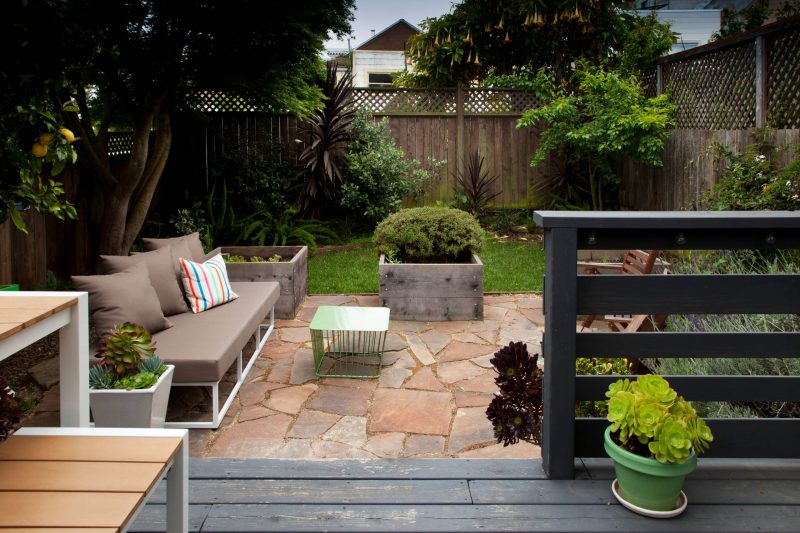 Interior designer Jennifer Jones and her husband, Angelo DiGiovine, knew this house in San Francisco was theirs as soon as they saw the finished backyard and patio.
The couple supplemented the existing backyard design with a patch of lawn for their 19-month-old son, Owen, to play on and placed potted succulents they had started at their last apartment. Raised beds and a perimeter of plantings soften the intimate outdoor nook even more.
3. Cooking enthusiasts entertain in Boston.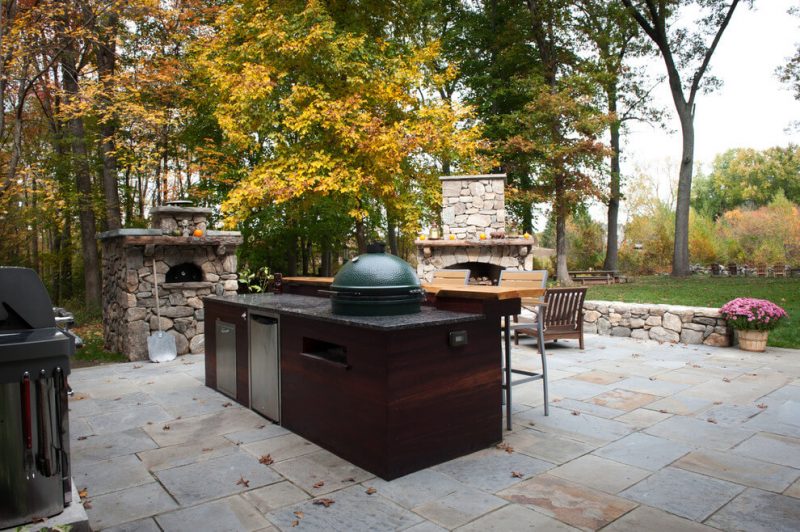 "We grill, smoke and bake just about everything out here, including chicken dinners, casseroles, bread, and pizzas," says Cheryl Grant about her family's revamped back patio.
This decked-out space includes a bar, pizza oven, grill and fireplace, and plenty of gathering areas so friends and family can join for holidays and backyard pizza parties.
4. Hidden clearing on the farm.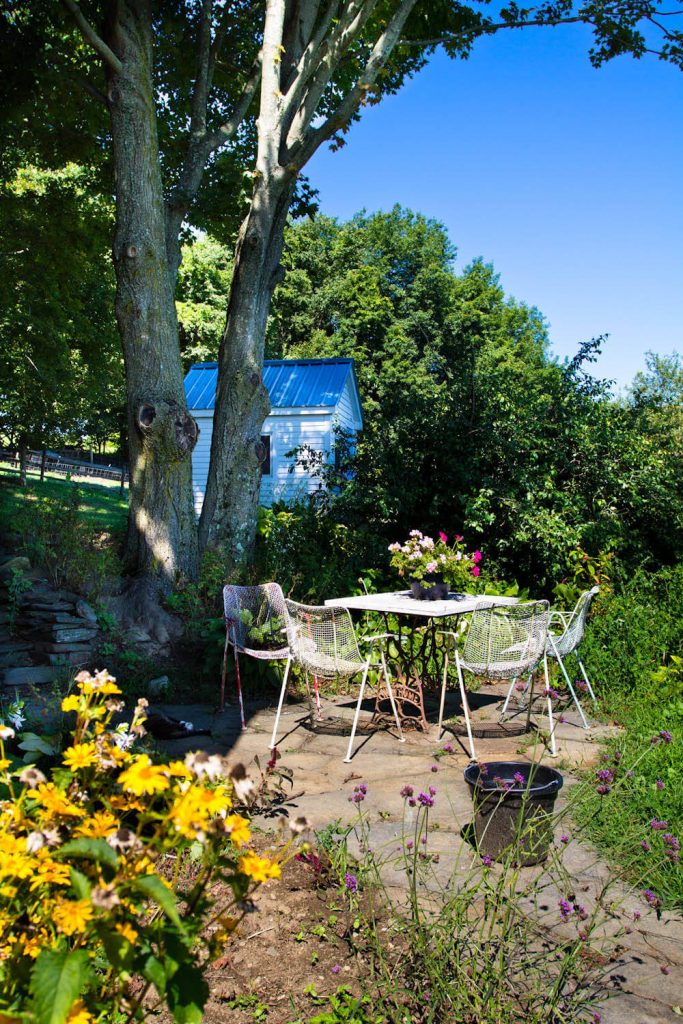 Kristin and Mark Nicholas have created opportunities to linger throughout their 1751 farmhouse and property on Cape Cod, Massachusetts.
This small clearing along the garden's main path breaks up the journey from the backyard to the front yard and allows visitors to stop, slow down and take in surrounding views.
5. Hand-crafted creativity in Texas.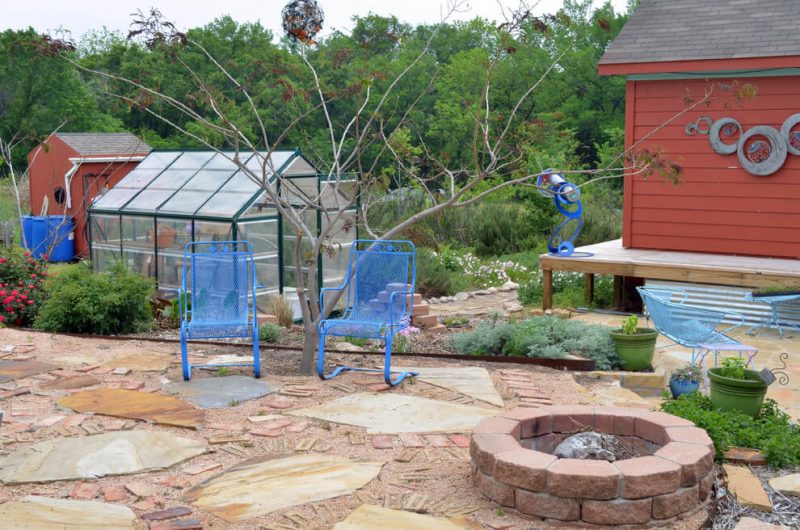 What homeowner Mary Phillips calls a "7-acre experiment in sustainability and creativity" includes a back patio that has been designed to host large gatherings that she and her husband, Eddie, hold in their Mansfield, Texas, co-op.
The couple recycled and repurposed as many materials for the house they built from scratch as possible. The custom-laid brick and stone patio shows their close connection to every detail of the house; the red and blue color scheme carries through many of their outdoor spaces.
6. Stone and fire in Amsterdam.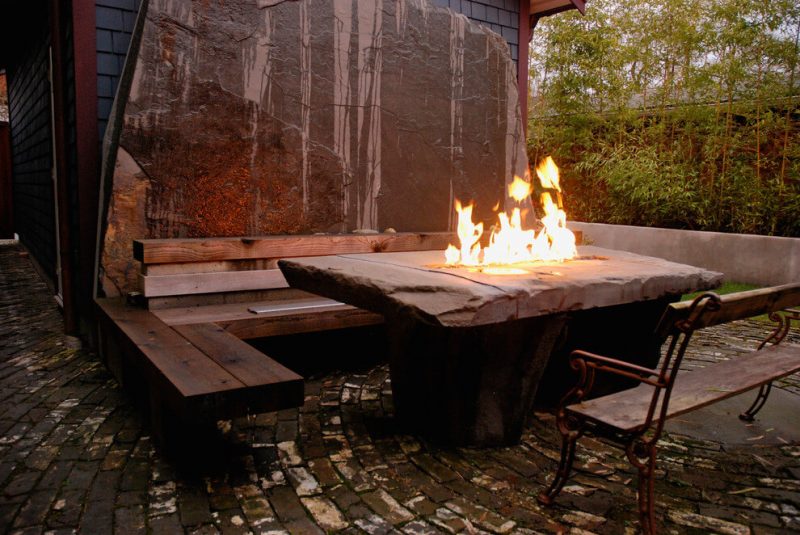 Connie and Nick Shaw tore down a large garage in the backyard of their Vancouver home to make room for a backyard.
They built this custom waterfall and stone fire-feature table — talk about a great place to park.
7. Backyard fire pit in a vineyard.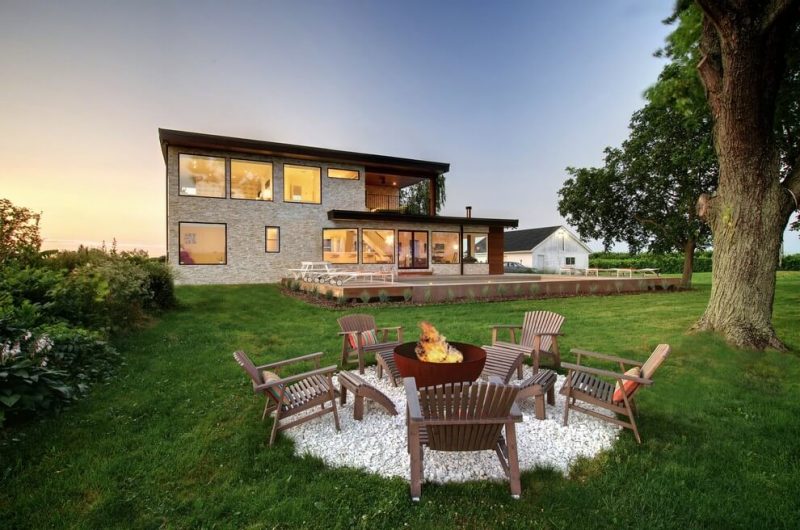 Tamara Woolgar, Dave Suydam, and their three daughters don't have to walk far to enjoy a campfire under the stars.
Located in a working vineyard in Ontario, this informal seating in the round gives friends and family a place to escape to once the sun goes down.
8. Three-season outdoor living in D.C.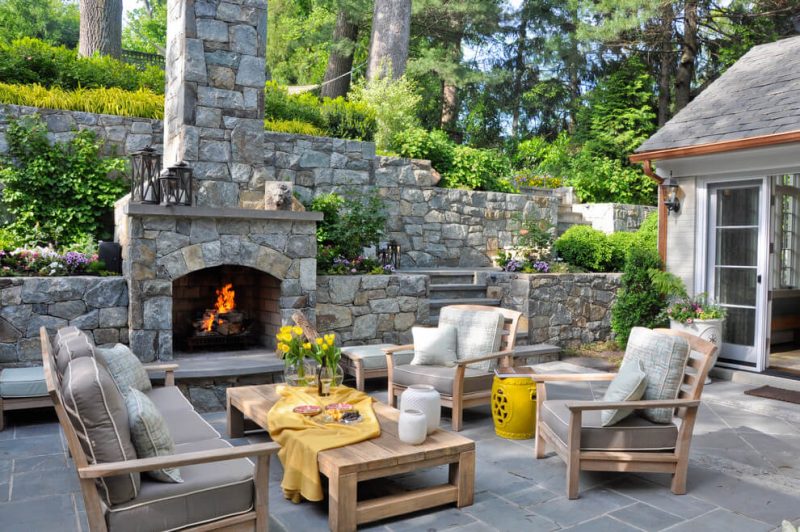 This outdoor living room gives homeowners Chris and Richard Cahill significant added space for the frequent gatherings and fundraisers they host.
A neutral color scheme matches the colors used in the rooms next to the patio, and multiple sets of French doors integrate the interior with the exterior. Patio heaters and an outdoor fireplace make this sunken space in Washington, D.C., usable for most of the year.
9. Waterside dining in Dallas.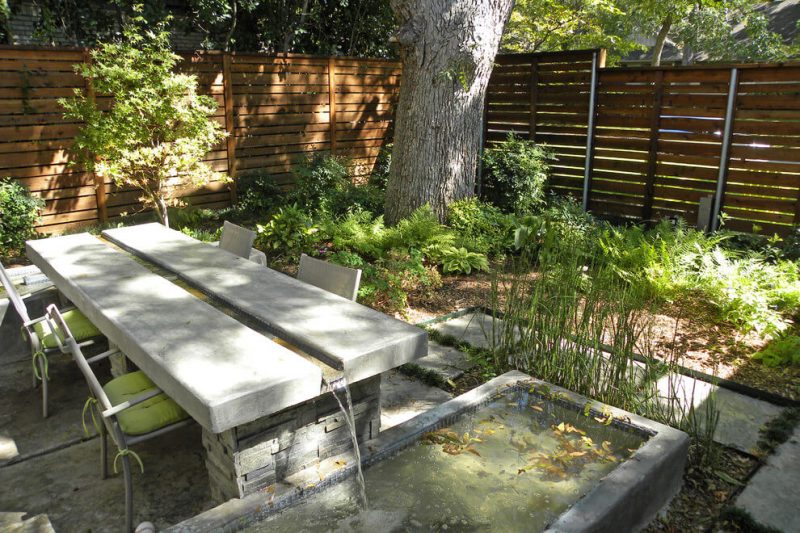 In a shady Texas courtyard, a concrete picnic table doubles as a water feature, with a pumped rill flowing through its center to small ponds on either end.
In surrounding rooms, visitors also enjoy hearing the sound of falling water as it runs through the system.
10. Rooftop privacy in Portland.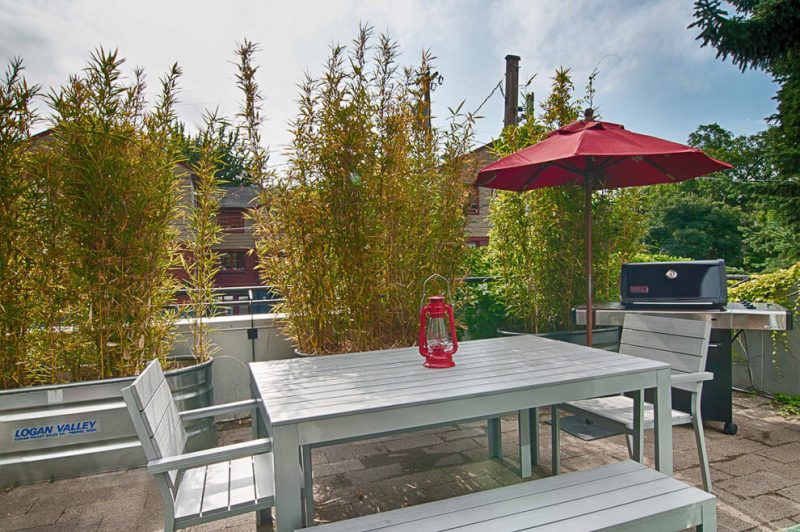 Potted bamboo plants provide privacy for the rooftop deck of this mixed-use space in Oregon.
11. Rooftop lounge in Amsterdam.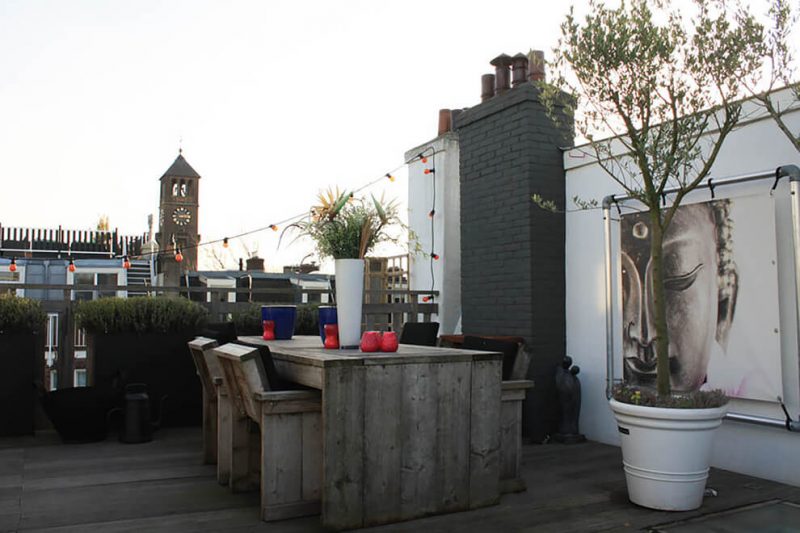 Any outdoor space in the city is coveted, and a rooftop deck with a view is even more desired. Michiel Leeser spends as much time as he can in summer tending the herbs and fruit trees on his rooftop in Amsterdam.
String lights and framed art turn this sundeck into a lounge once the sun goes down.
12. Cool blue escape in California.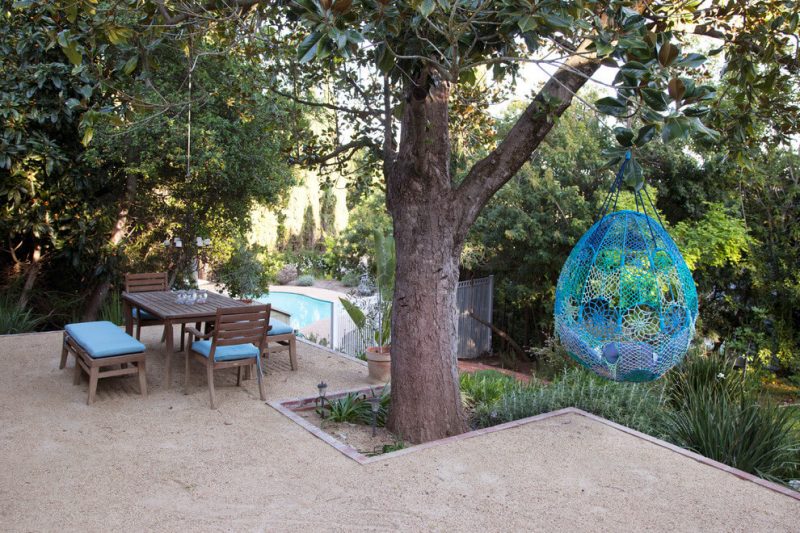 Beverly Harper transformed a "Sheetrock palace" in Woodside, California, into a comfortable and elegant home for herself; her daughter, Lulu; and their dog, Mojo.
The new side yard features low-maintenance and low-water plants and permeable gravel for the dry California climate. A turquoise hanging chair from Anthropologie gives everyone a fun seat to hang out in.
13. Slice of the Southwest with a side of funk.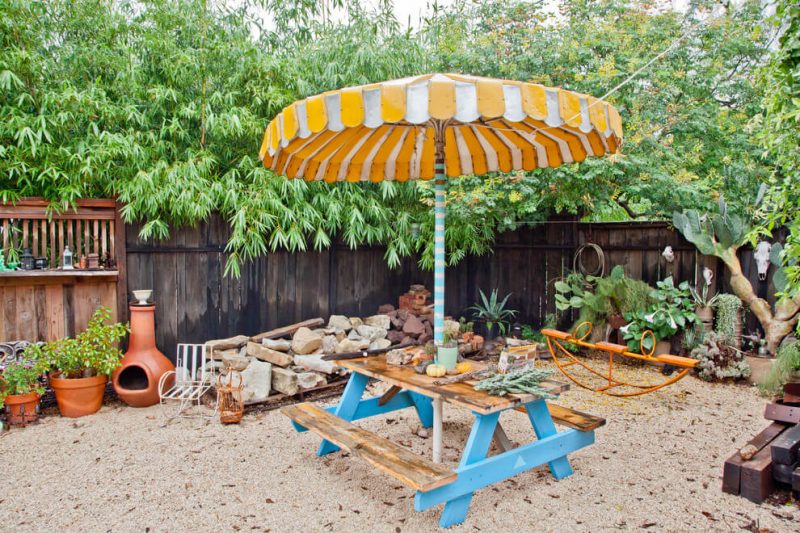 When the weather is nice in Austin, Texas, Chia Guillory and Javier Arredondo can escape to their private backyard. This corner of the yard features a gifted picnic table with a rebuilt top and a vintage striped umbrella. Crunchy limestone gravel keeps water bills down.
A tall wood fence covered in cacti and animal skulls contributes to the funky Southwest vibe the couple has crafted throughout their home while providing some privacy in the middle of the city. Now all they need is someone to fire up the grill.
14. Shady gathering in Australia.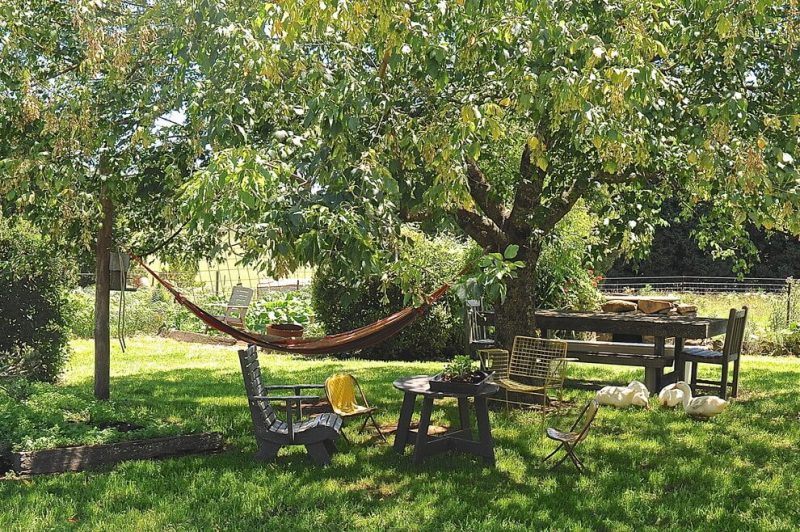 When Harriet Goodall and Mat Campbell aren't tending the 96 acres of pasture they're responsible for, you might find them gathering with friends and family in the shade of this lush box elder.
Nestled between an extensive edible garden and free-roaming livestock, this gathering area provides a casual respite from the Australian sun.
15. Farm to table.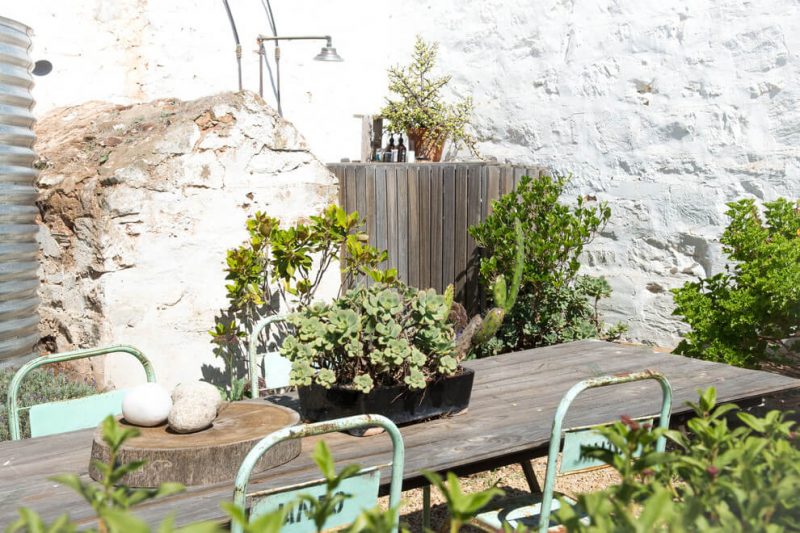 Nestled in Australia's Barossa Valley, this rustic outdoor eating area and shower place homeowners Cherie Hausler and Damien Feuerherdt out in the garden, where they grow most of the vegetables they eat.
In summer the couple can shower off, grab some fresh produce, and enjoy a meal al fresco.
16. Treetop lounging in New York.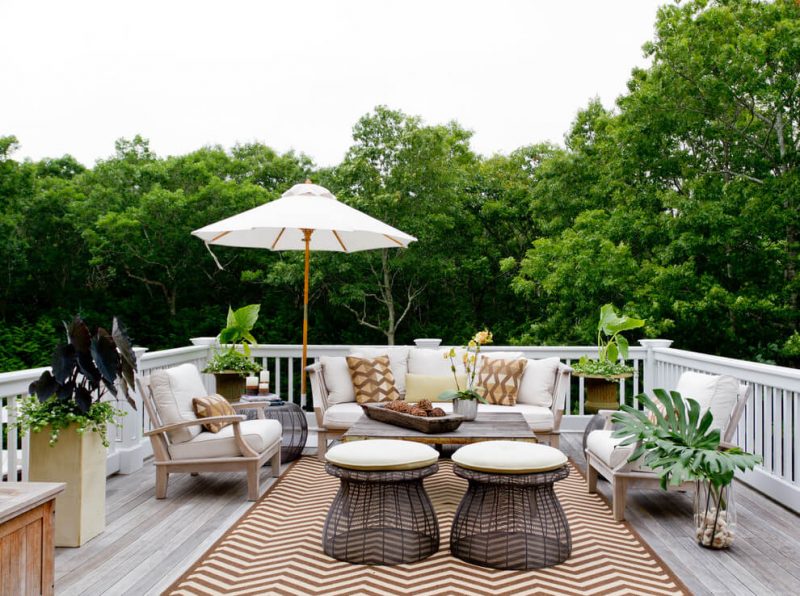 Treetop views from this deck off Iris and Jay Dankner's master bedroom recall the trips to Belize that inspired its design.
The neutral tropical aesthetic of the Southampton abode is enhanced by large-leaved potted tropicals and lounge-worthy furniture.
17. Outdoor dining table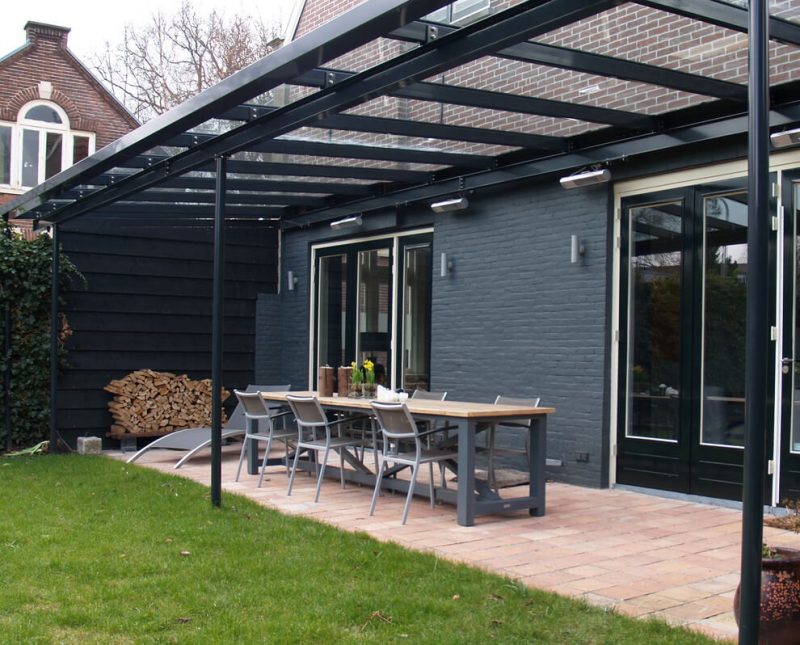 Mirjam Nouwens spray painted the outdoor dining table at her home in the Netherlands the same color as the exterior wall.
A patio cover allows her and her two sons to enjoy their backyard throughout the seasons.
18. The essence of Bali in Hawaii.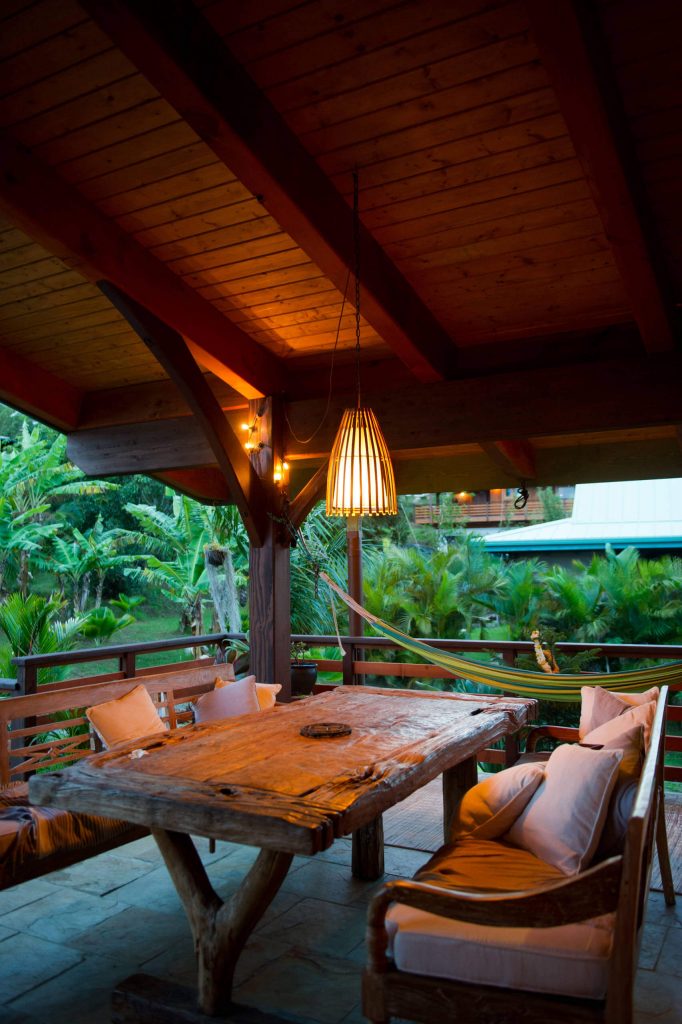 Pascal Benoist and Tina Prior spent three weeks in Bali sourcing the wood and furniture for the house they built for themselves on Maui's north shore.
The lanai and porch wrap around much of the house, with linen-covered furniture and hammocks beckoning the whole family outside.
19. Casual fire pit area sits right off a lawn and deck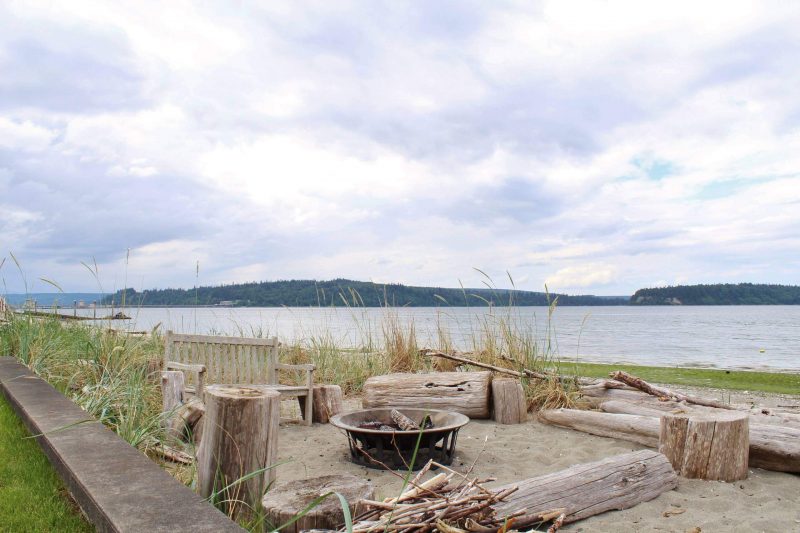 Homeowners Michele and John Thornquist gathered driftwood and a salvaged bench for seating around a weather-resistant copper fire pit on Washington's Puget Sound.
This casual fire pit area sits right off a lawn and deck, making it easy for friends to move easily from one area of the yard to another.
20. Family playtime in Toronto.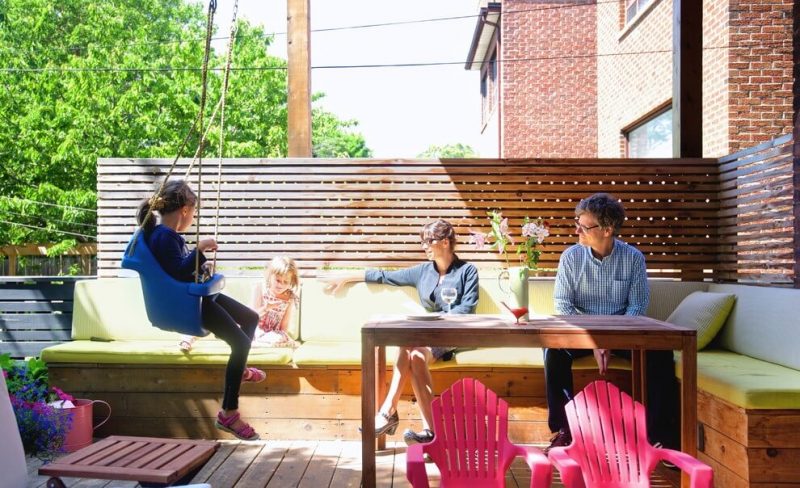 A built-in bench on this deck in Toronto creates an enticing spot where homeowners Gloria Apostolou and Kirk Marshall can stretch out and relax.
The cedar privacy fence screens views of close neighbors while still allowing light to filter through the boards. In the summer the couple and their two daughters, Daphne and Penelope, spend much time listening to the bird's chirp and watching the squirrels scurry from their back deck.
Source: houzz.com/magazine