Micro Home Offices – Working from home, even if just for a few hours a week, is becoming far more commonplace, and this means a workstation, however small, is a vital component of a contemporary home.
But if you don't have the square footage for a separate office and feel a paper-strewn desk in your living room or kitchen will permanently remind you of work, what can you do?
Start by checking out these inspiring designs, which squeeze a fully functional office into a cupboard.
This is home-working at its most functional and fun, and when you've finished for the day, simply close the doors on working life and unwind.
1. Make use of any space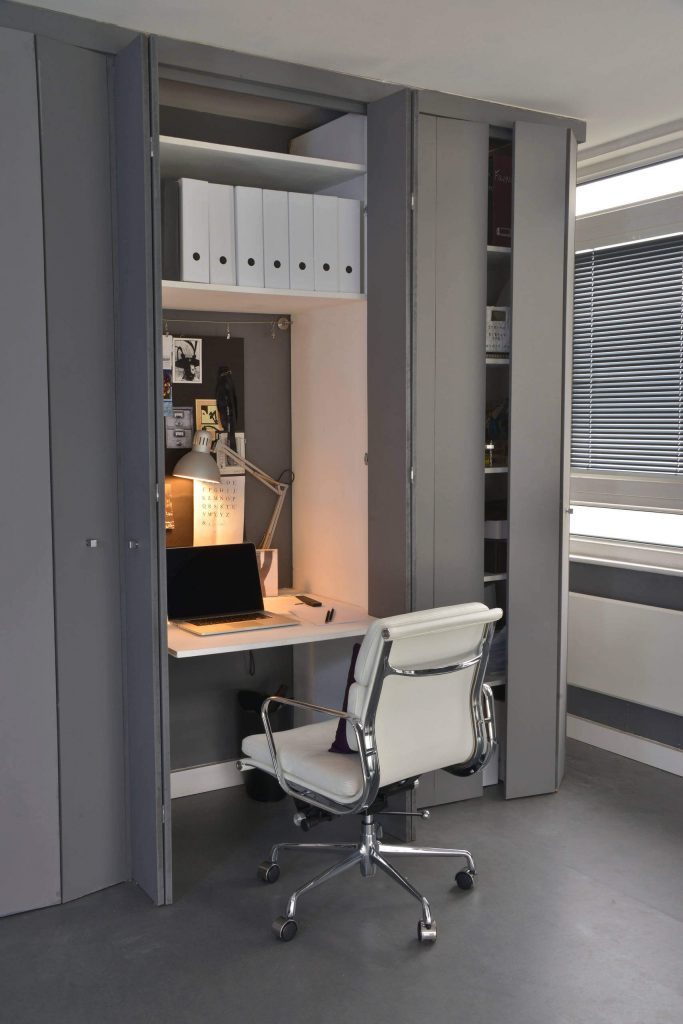 It's surprising how small space you need for a home office. As long as the desk is large enough to accommodate a laptop, then it can function as a place to work.
This office is incredibly dinky, but it has room for a laptop, lamp, and storage. The shelf is fitted deliberately high to prevent working at the small desk from feeling claustrophobic.
2. Try this recipe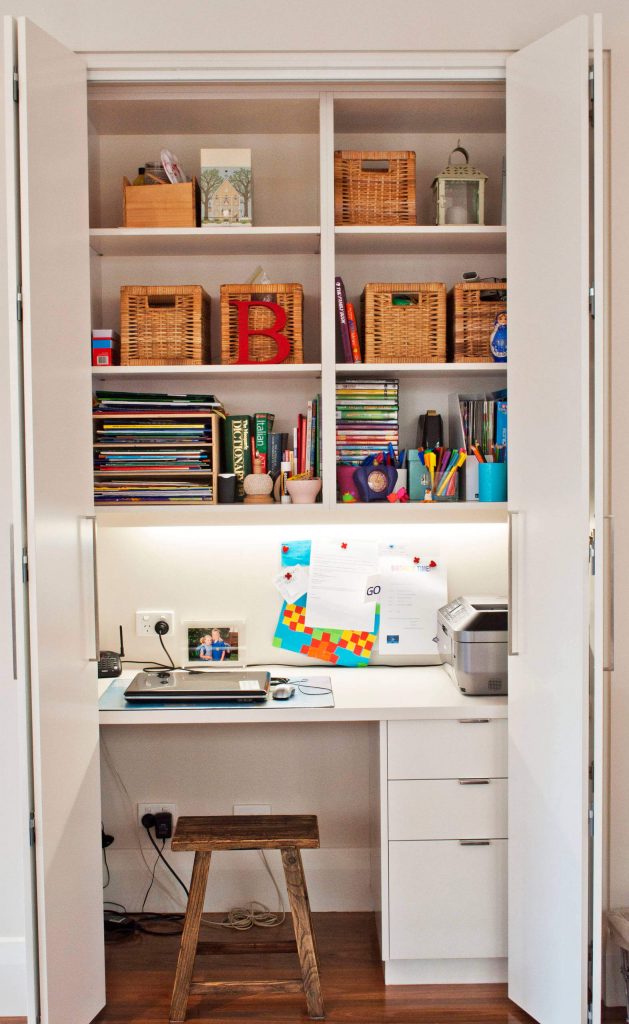 Perfectly designed, this office is a study (no pun intended) in what can be achieved in a small space. It takes up little room but delivers a desk, shelves, and drawers. It has an electrical socket located conveniently above the worktop, while lighting fitted beneath the shelves removes the need for a lamp.
3. Slot in a freestanding desk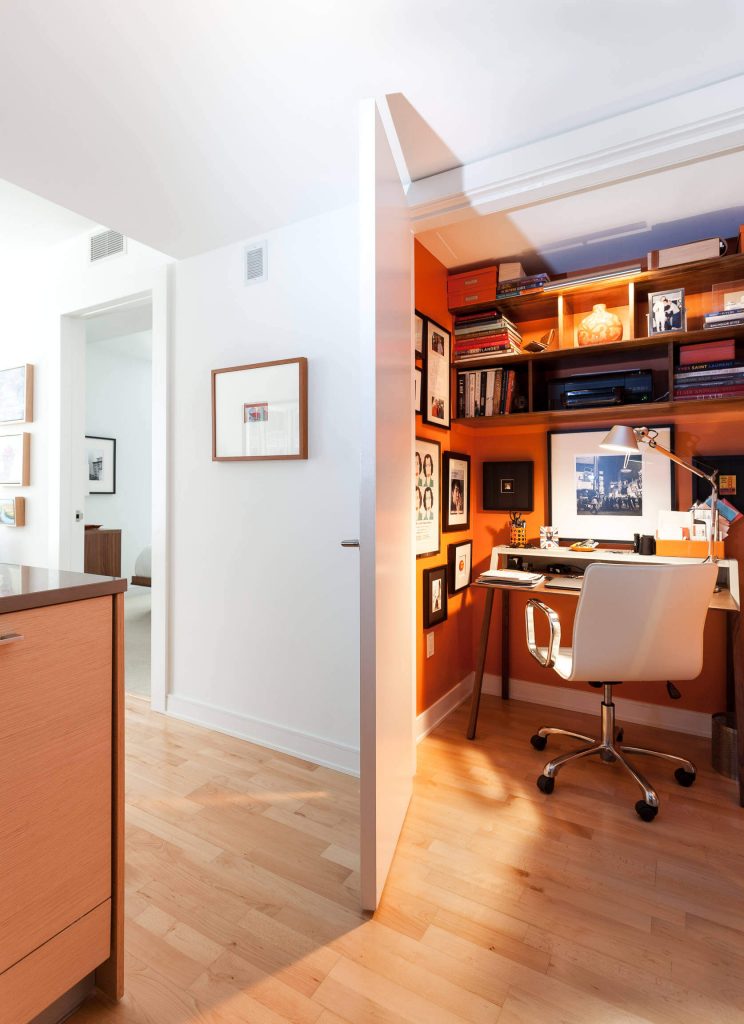 Although building in a desk is often the go-to option for any office in a cupboard, if space allows, consider slotting in a freestanding design for more of a cozy study vibe.
This smart example is complemented by built-in shelving above, but, thanks to its leggy silhouette, it helps this office to feel uncluttered and as spacious as possible.
4. Hide it all away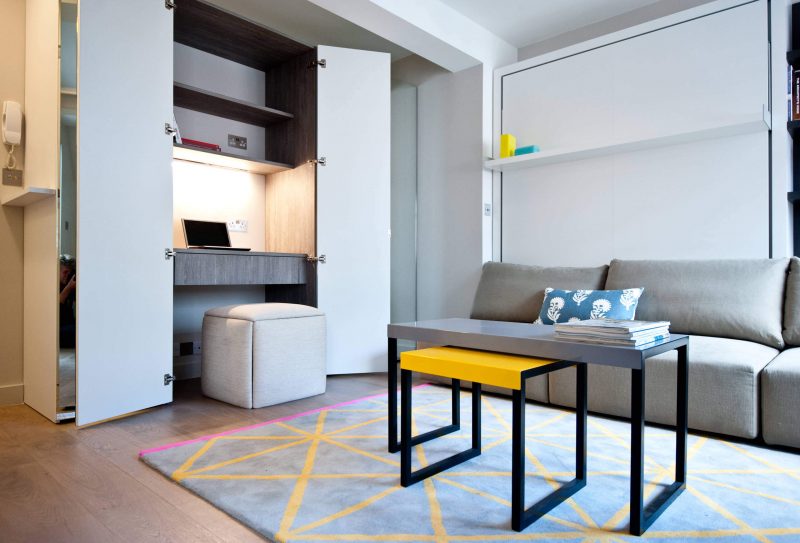 This desk belongs in a tiny, multi-tasking studio apartment that's been fitted with ingenious space-saving designs.
The desk includes drawer space beneath and shelves above, served by a high electrical socket, so a printer can be positioned there. Instead of a bulky chair, there's a neat stool, which fits underneath the desk when not in use.
5. Reflect for depth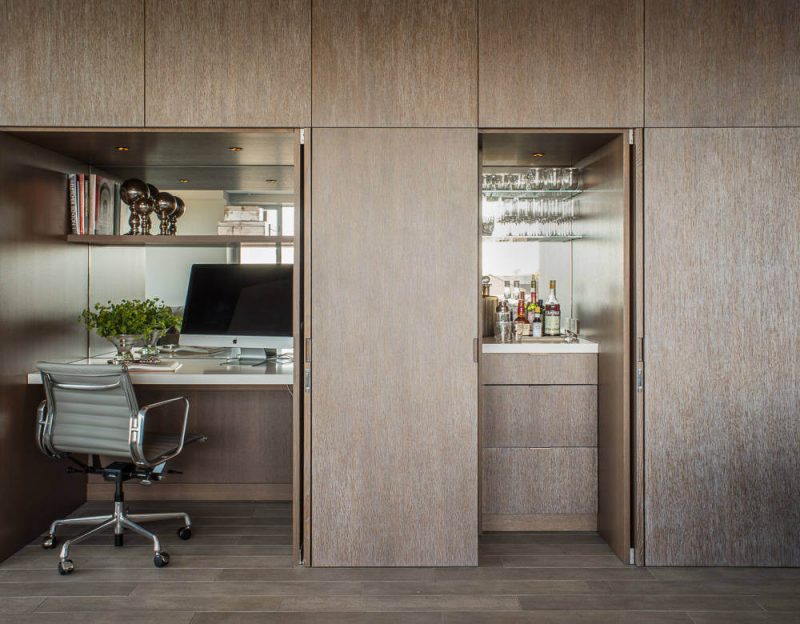 Use mirrors, installed on the office's back wall, to create an illusion of space. This makes working at a compact desk feel more open, bright and spacious.
This idea probably works best with a computer that has a large screen, so it will hide your reflection and prevent you from being distracted!
6. Decorate the doors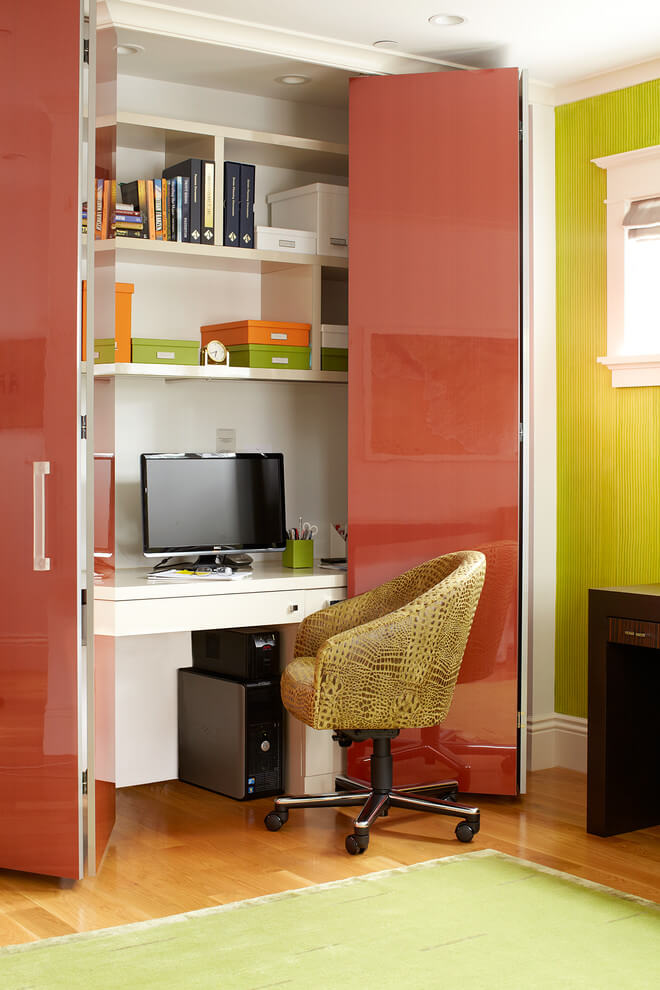 Make a feature of folding doors that conceal desk space by opting for a bold shade or high-gloss finish. When open, they frame the work area with energy and color, making sitting at the desk feel more dynamic and less workaday.
If your doors open outwards, rather than folding as these ones do, you could always just paint the insides for an unexpected splash of brightness to greet you when you start work.
7. Think big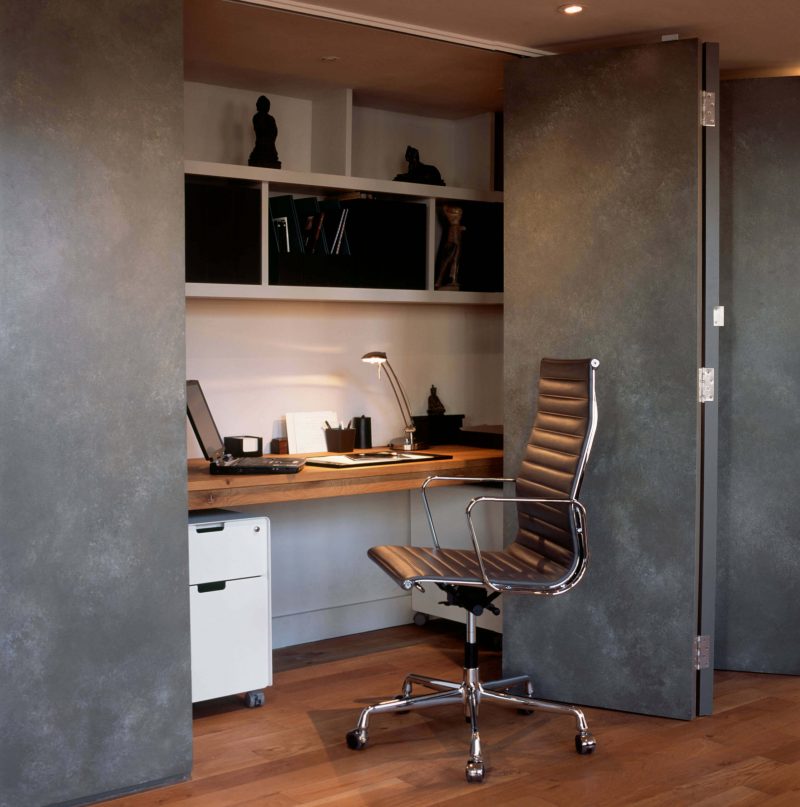 It's tempting to imagine that an office in a cupboard is, by definition, a solution specifically for small, hard-working spaces. In reality, though, the cupboard concept works with any size of workstation and performs the same key role – that of cleverly concealing a desk and all its distracting work clutter behind streamlined doors.
8. Borrow kitchen design ideas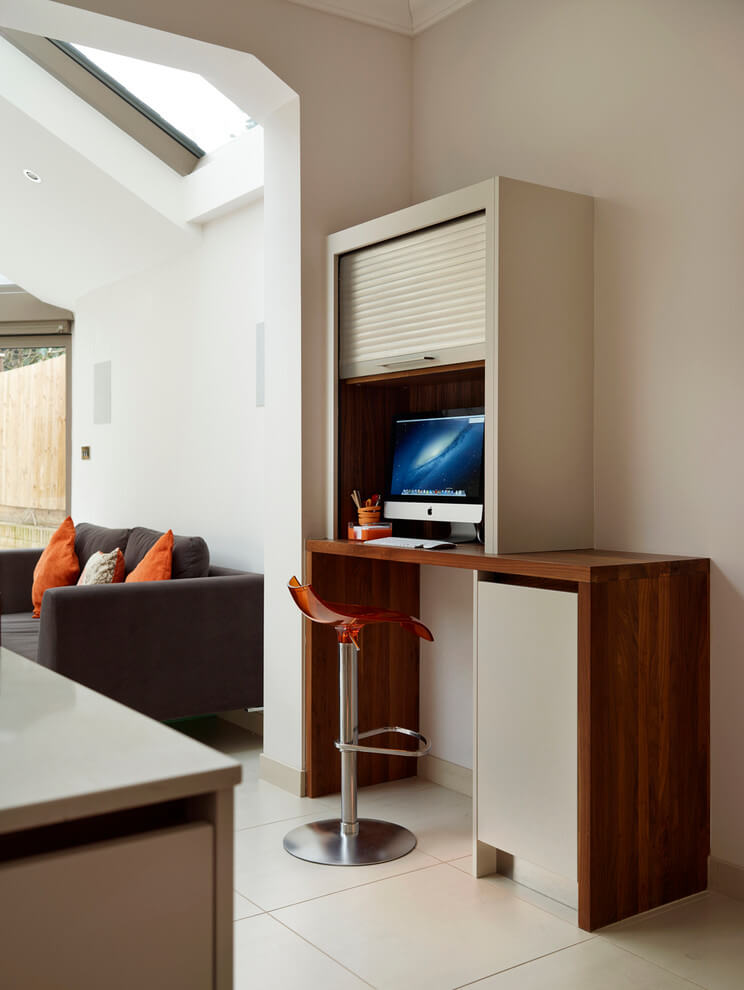 This neat and nifty workstation features the same units as the kitchen it belongs within, creating a cohesive look. A roller door pulls down to conceal the desk space, helping the unit to blend in seamlessly.
9. Dropdown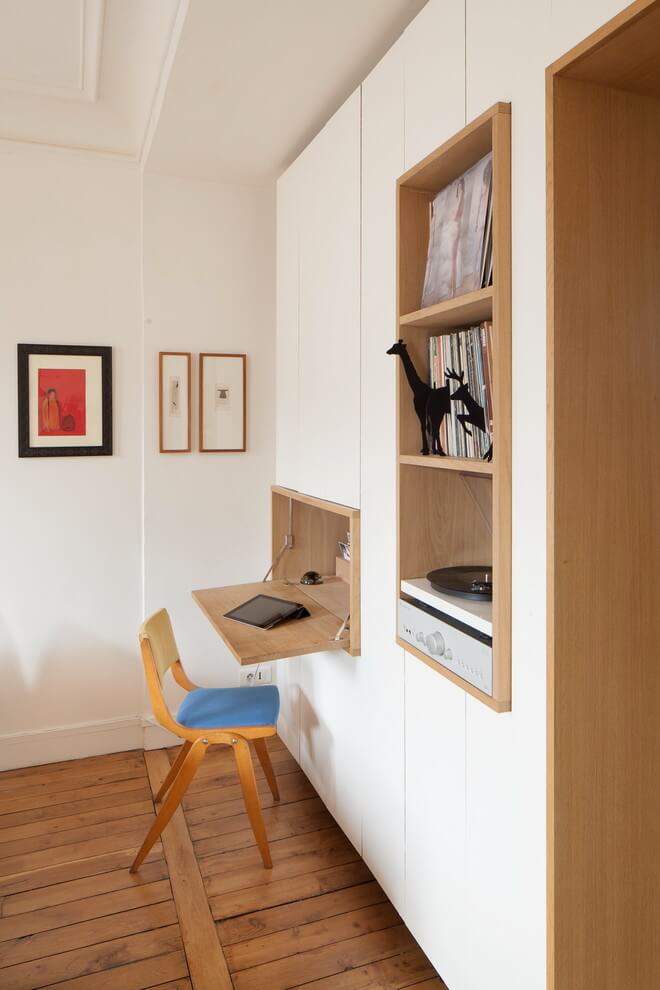 The most simple office in a cupboard can be created with a panel that conceals storage inside a niche and drops down to become a desktop. Just add a chair!
10. Slide over here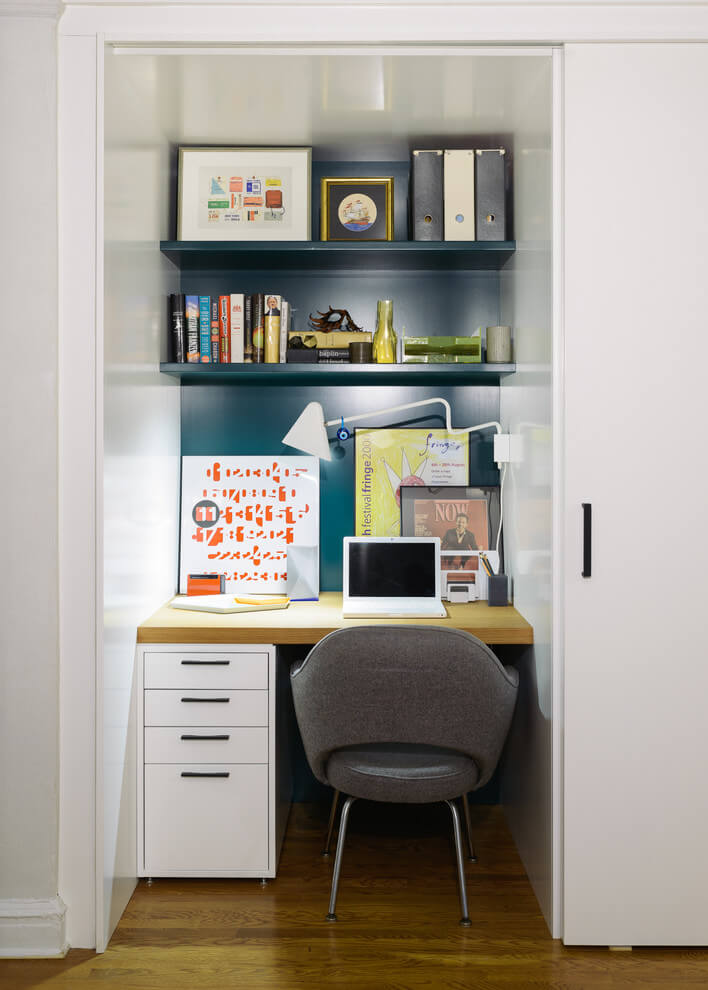 Bifolding doors are often used to conceal a small office, but if space allows, sliding doors – as seen here – create a neater finish, with fewer handles needed and no vertical lines bisecting the wall once closed.
Like these nifty offices in cupboards? Share your thoughts in the comments below.
Source: houzz.co.uk/magazine