If you're looking for an easy way to give new life to your bathroom, consider swapping out your light fixture.
A new light fixture has the ability to provide not only the update your bathroom deserves but a new look and feel without a full and costly renovation.
Seek out a fixture within your bathroom's current aesthetic for a seamless appearance, or one in a new style for eclectic panache. Or choose something unexpected, like a table lamp normally seen in the living room.
When it comes to letting the light shine, make sure your bathroom is illuminated in expert style.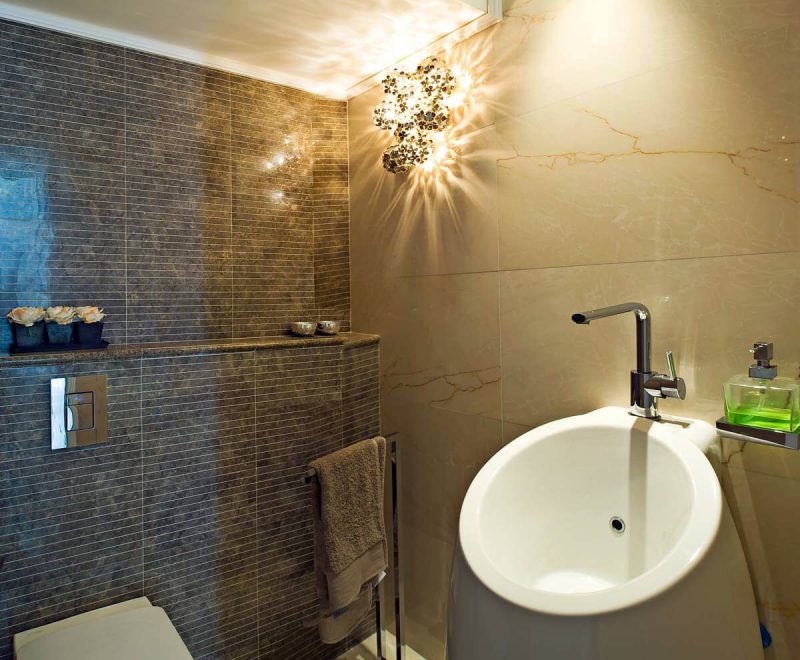 Have you spotted a light fixture lately that made your heart pound? Perhaps it's just what you need in your bathroom.
The Orten'zia Cluster Wall Light from YLighting caught my eye immediately; it emits almost a star-pattern sparkle and launches this space right into an uber-chic and contemporary aesthetic.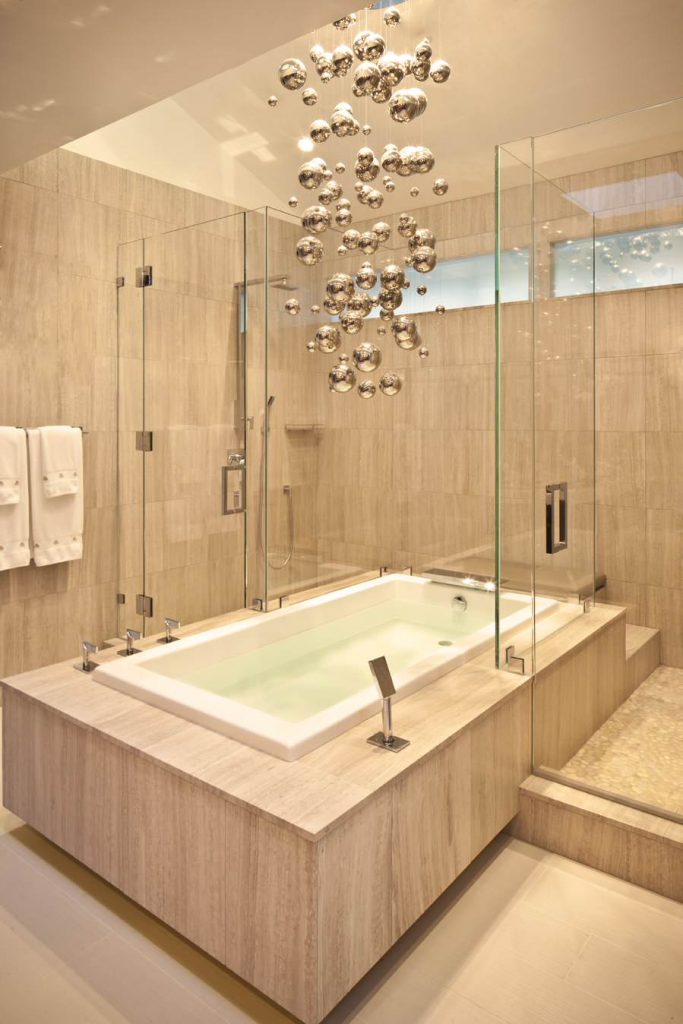 If you have a modern space, consider looking for a more up-to-date fixture that will enhance your aesthetic.
This cascading bubble chandelier offers an interesting visual accessory while also fitting smoothly into the decor scheme.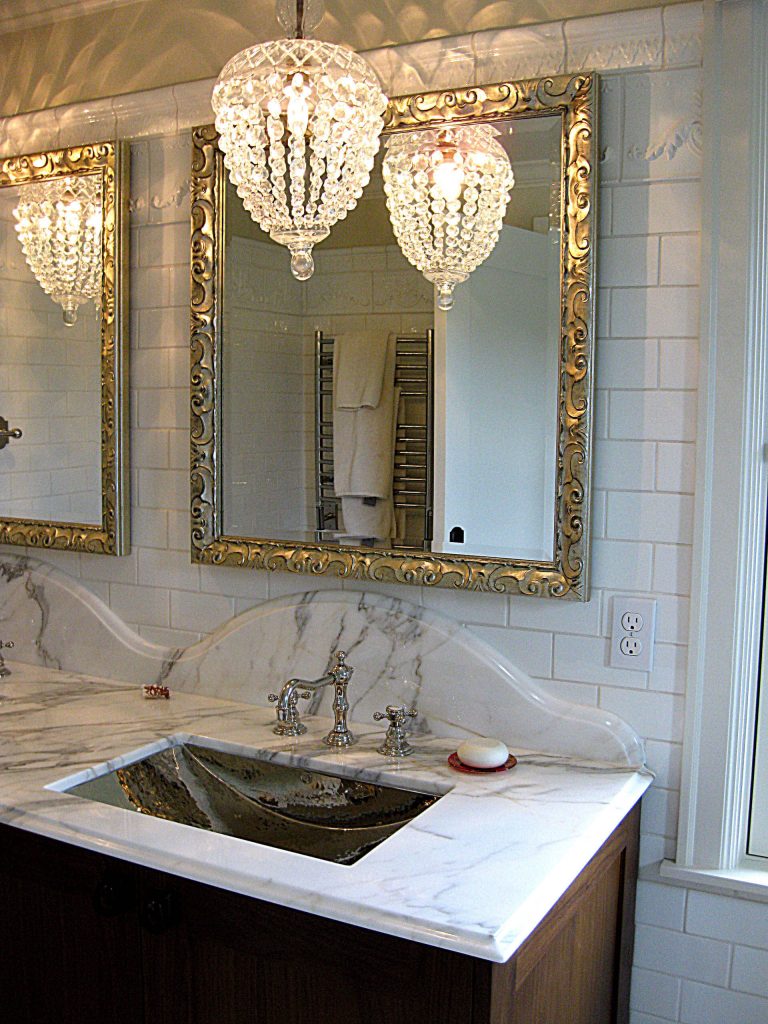 For a more glamorous approach, go for a chandelier. Hanging one over each sink provides ample lighting for daily tasks and, being in such close proximity to the mirrors, reflects the elegant feel throughout the bathroom.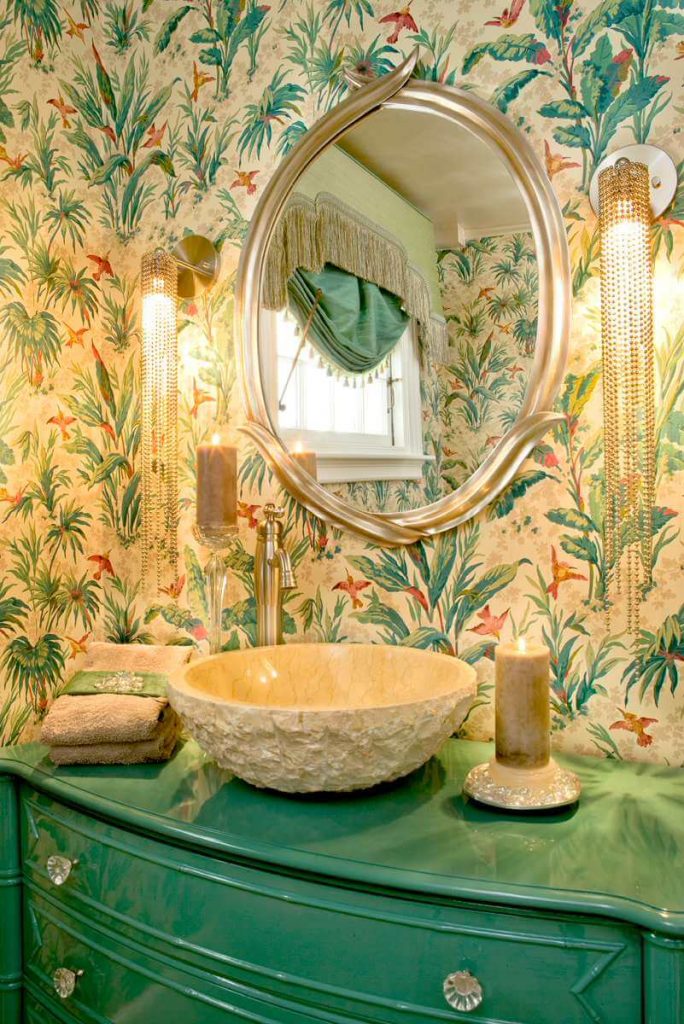 Consider a fixture that maximizes the elements around it. These sconces from Nova Lighting, reminiscent of waterfalls, blend perfectly with the foliage wallpaper to create a jungle scene.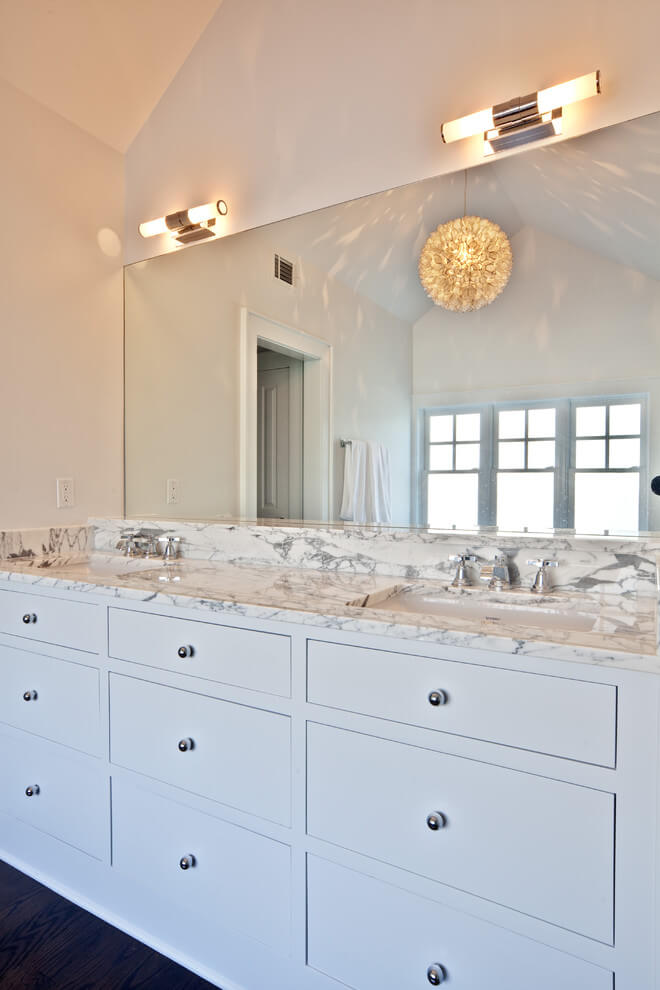 Remember, you still want the appropriate mix of task and ambient lighting in your bathroom to fit all needs.
Be both practical and stylish by outfitting your vanity with functional sconces yet playing up an eclectic personality with a unique hanging fixture in the center of the room.
I love how this piece emits light playfully, like a disco ball. A similar design is the Lotus Flower Chandelier by VivaTerra.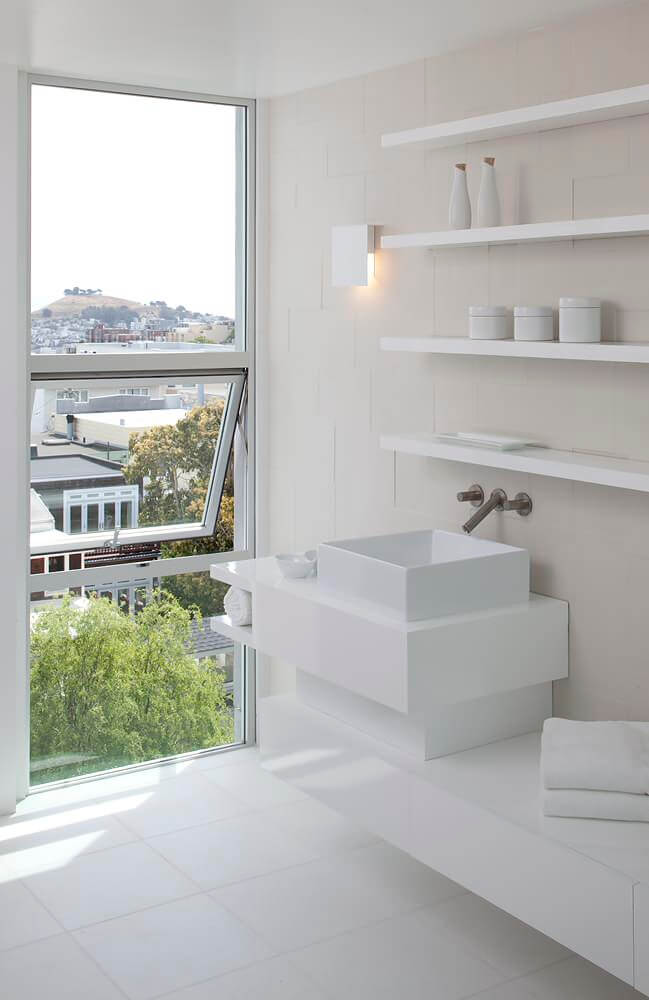 If your bathroom is full of sophisticated, sleek edges that make quiet statements, keep this clean appearance with a minimalist light fixture, as seen in this example. Sometimes drawing less attention to a piece provides the biggest aesthetic impact.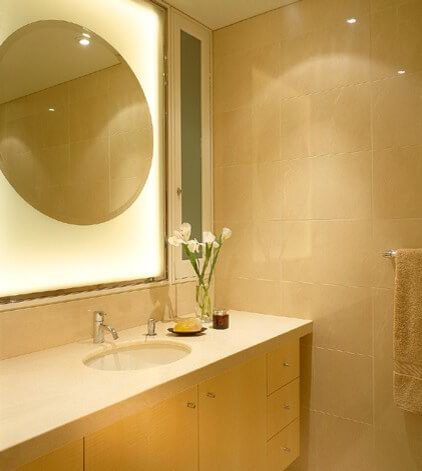 Create a dramatic punch with backlighting instead of typical fixtures. Placed behind the mirror, lighting can provide an urbane glow.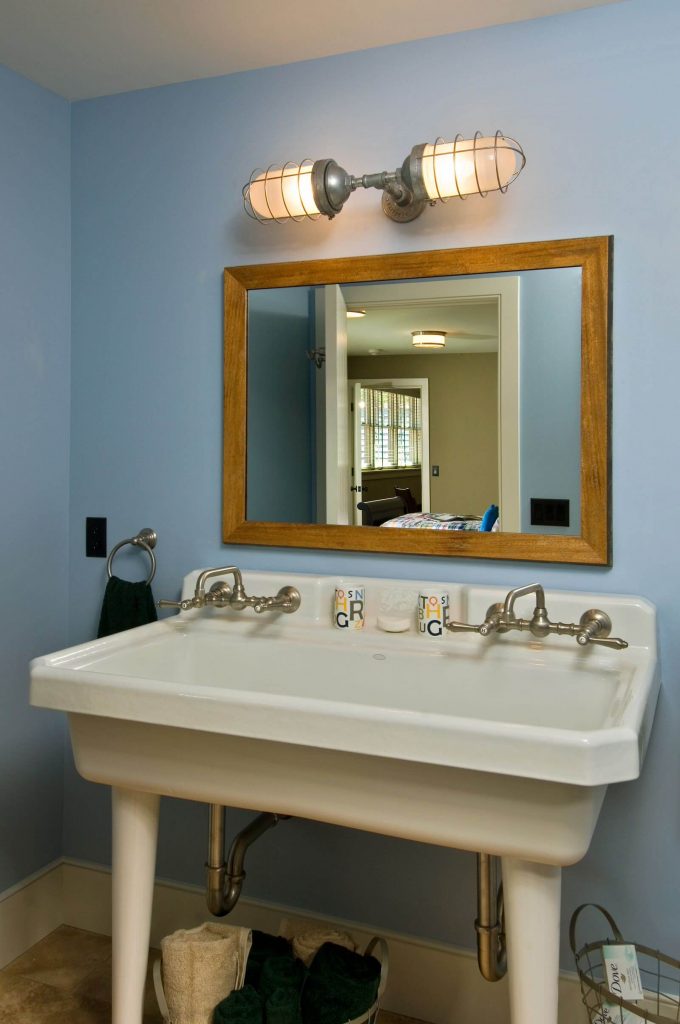 Round out rustic charm with a light fixture of the same rural feel. You can find similar designs to the one seen in this photo at Barn Light Electric.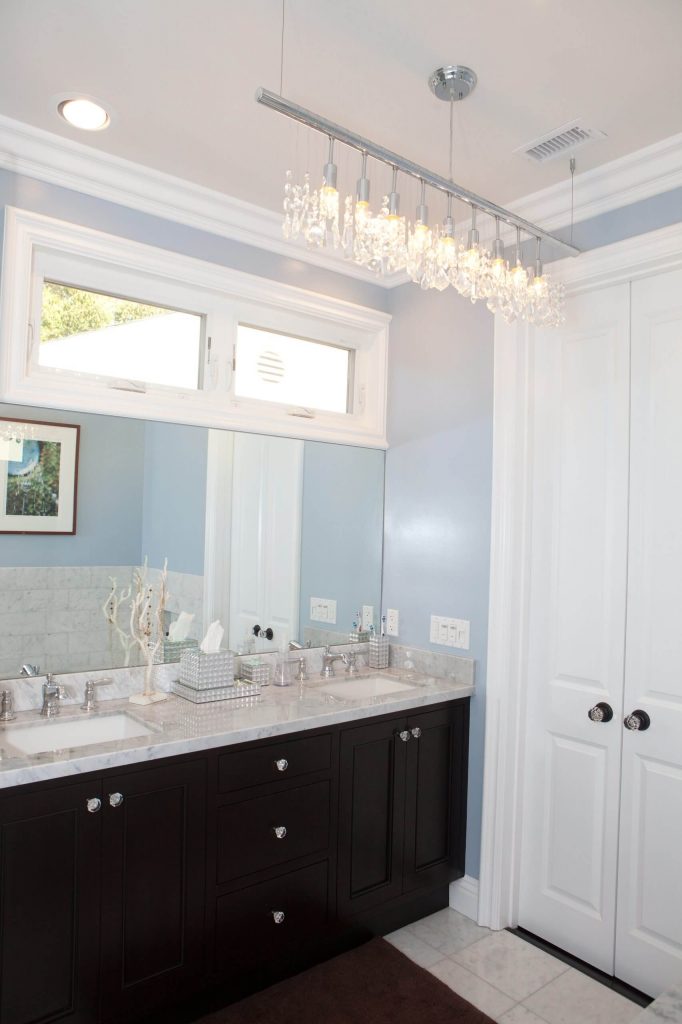 If your bathroom is outfitted with a wide vanity and mirror, pull that sense of width into your bathroom's space with a fixture that involves a bar or track.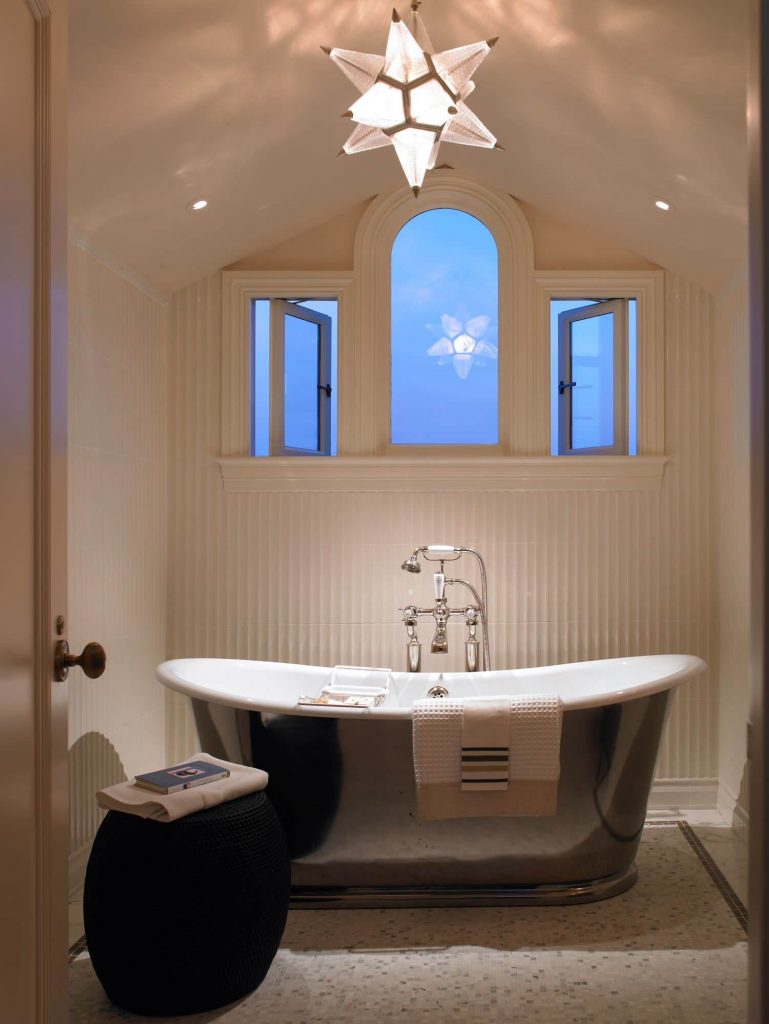 Bathrooms that feature a fairly simple aesthetic are the perfect platform for eye-catching light fixtures.
Choose one that dazzles so it can shine as the statement. The Olivia Star Pendant from Pottery Barn is a similar design to the one seen in this example.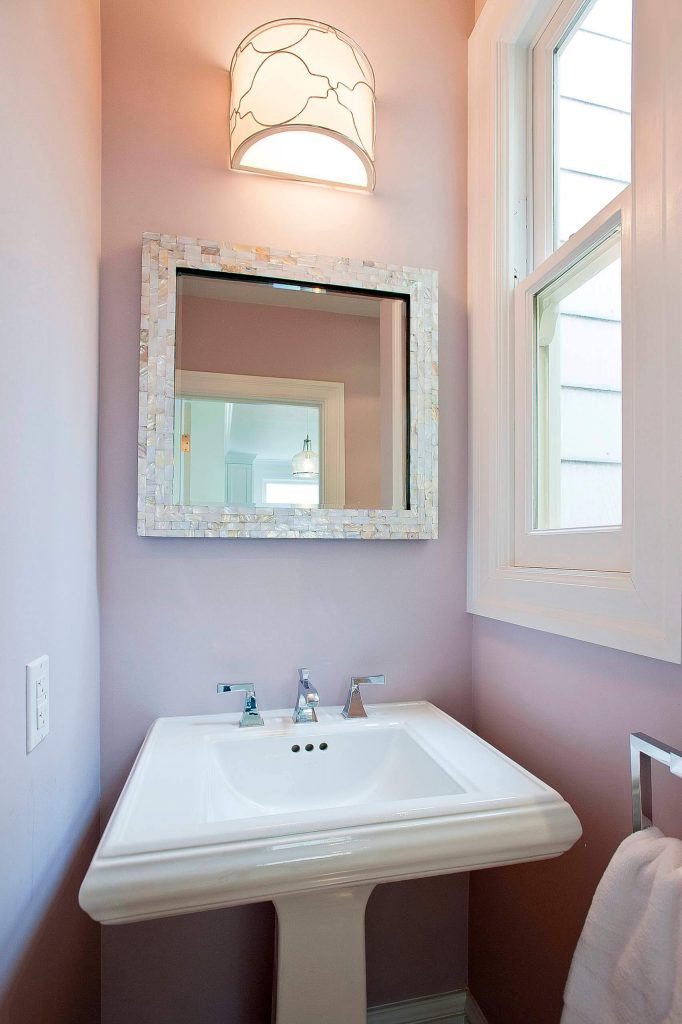 Play with opposing shapes too; it helps create a sense of dimension. A curved sconce with rounded designs adds an unexpected juxtaposition to a square mirror and sink.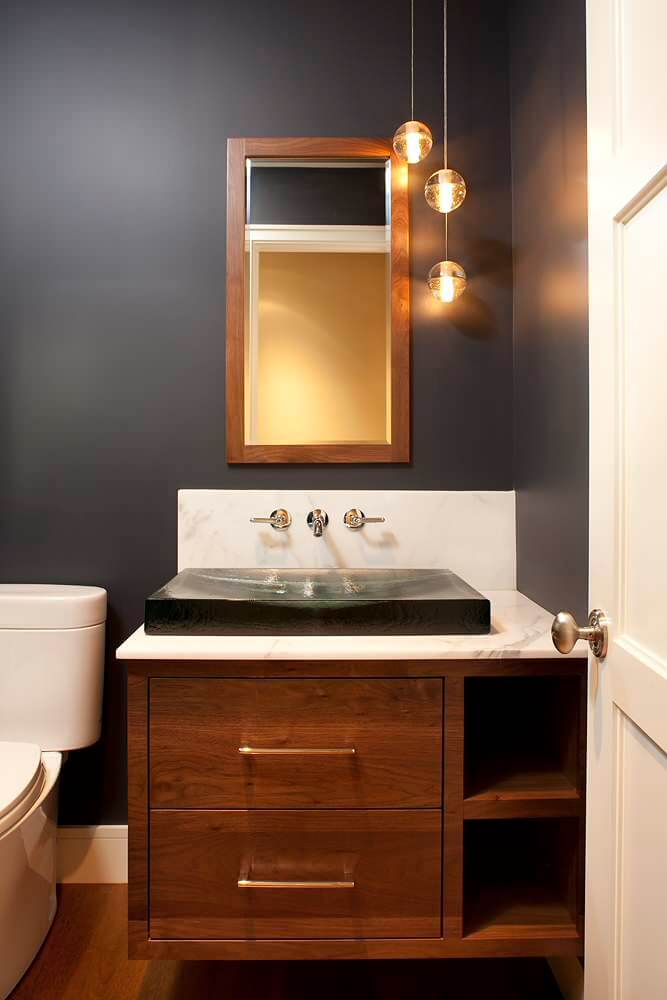 Challenge the idea of symmetry by placing pendant lights on only one side of your bathroom mirror.
Remember: You'll want to do this with accent lighting versus ambient, especially if you plan to use the mirror for functional activities, such as shaving.
However, from an aesthetic standpoint, asymmetrical lighting lends a unique visual element space.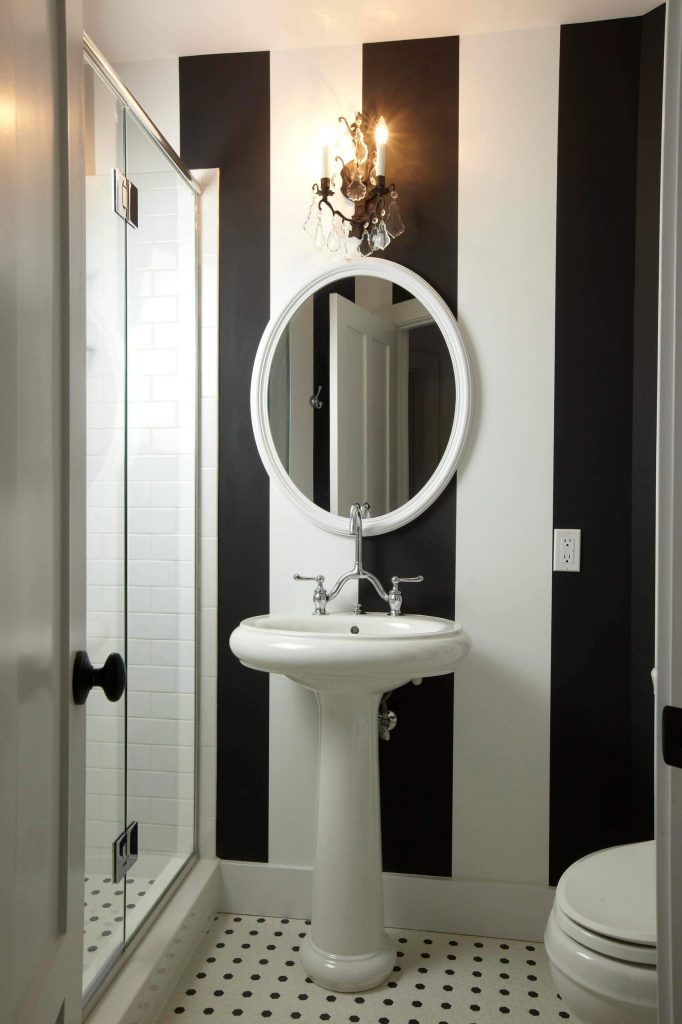 By no means must you seek out expensive, fancy fixtures for your bathroom.
This charming fixture could have easily been scouted at a local vintage shop, and it adds just the eclectic compliment to this simply styled sink and mirror.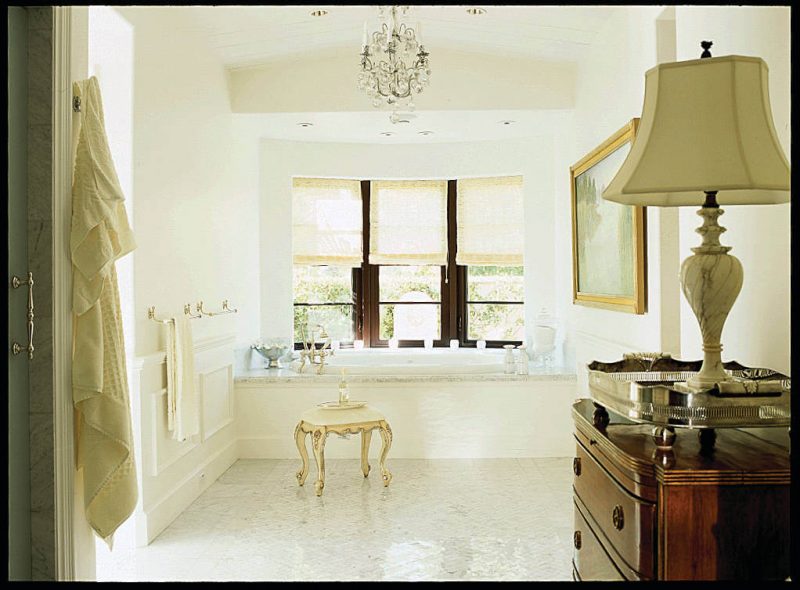 Do feel free to break the rules. It's not common to see table lamps in the bathroom, which is what makes them all the more interesting as a lighting accessory.
Place a table lamp right on the vanity for extra light without having to wire an electrical fixture.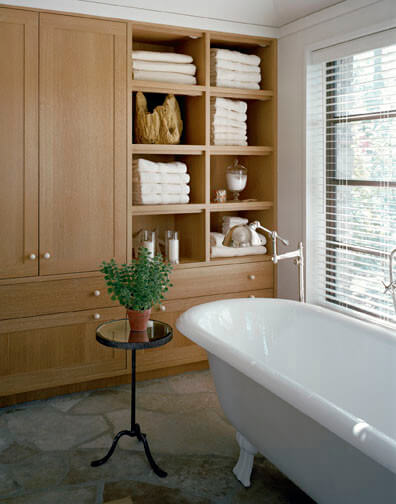 Or place a standing lamp next to your bathtub for much-needed light over your shoulder while you read.
Do be careful of splashing water onto any electrical cords; otherwise, relax and enjoy yourself!
Source: houzz.com/magazine