An entryway can perform many roles in home design. It can provide an aesthetic preview by featuring materials, colors, and decor that continue throughout the house.
It can also provide a function with storage for personal items and seating for taking off shoes. But at its core, an entryway provides a welcome to guests and family members alike.
Here are the top 10 of the most-saved entryway photos so far this year.
1. Form Meets Function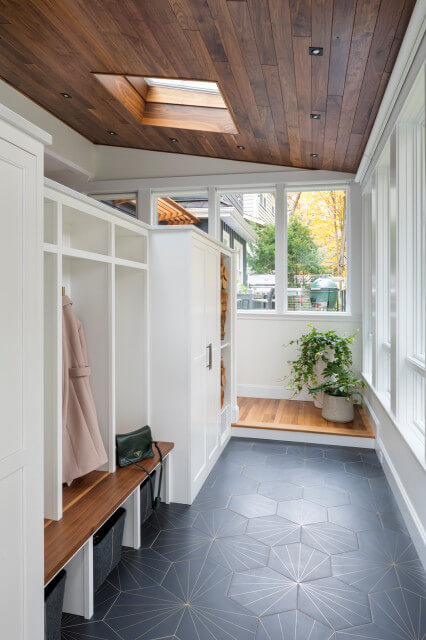 The most-saved entryway photo features a perfect mix of form and function. Ricardo Bilonick of LDa Architecture & Interiors designed the space for a home in Newton, Massachusetts. Navy blue star tiles anchor the space. The custom wall unit adds tons of function and the stained walnut ceiling is the visual cherry on top.
2. Open Invitation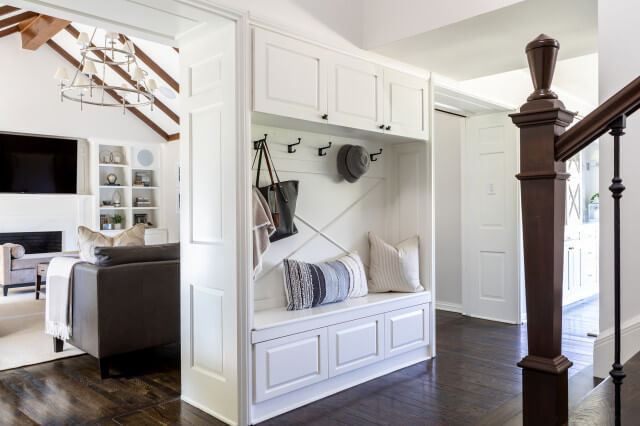 The team at Courtney Thomas Design transformed the former dark-stained cabinets and closet in the entryway of this home in La Cañada Flintridge, California. A new custom bench covered in a fresh coat of white paint (White Dove by Benjamin Moore) helps open up space and make it feel more inviting.
3. Blue Beauty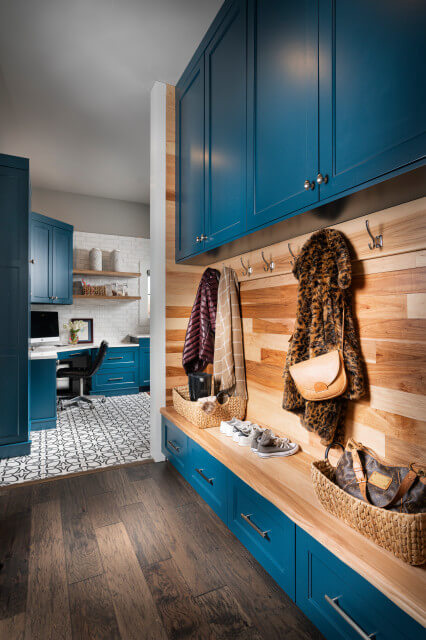 Custom frameless cabinets in deep blue (Moscow Midnight by Sherwin-Williams) add visual energy to the entryway in this Springfield, Missouri, home designed by Nathan Taylor of Obelisk Home. The bold blue paint coordinates with the cabinet color in the adjacent kitchen, providing a seamless transition into the home.
4. Slate, Storage, and Sunshine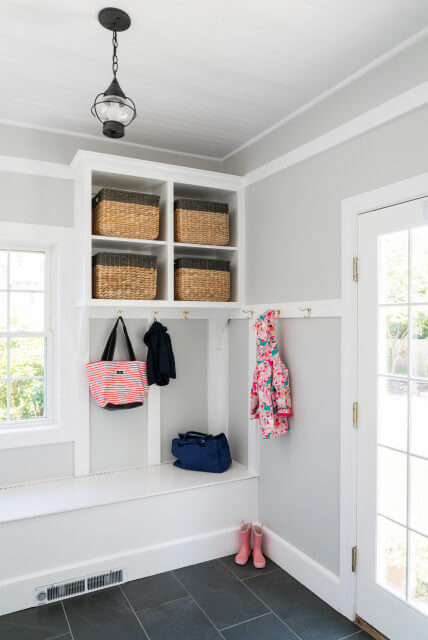 Slate floor tiles add a durable and rustic touch to the entryway in this Wayne, Pennsylvania, home designed by Larina Kase Interior Design. Custom wall cubbies, a built-in bench, and coat hooks add plenty of storage. A window and glass-paneled door let in the light.
5. Lilac Looker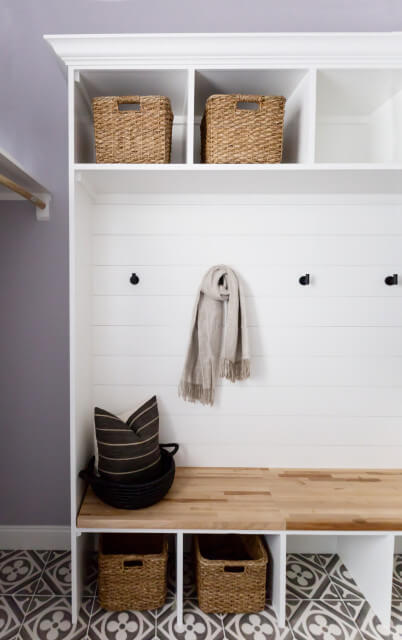 Designer Lauren Lerner of Living With Lolo created a functional and fun entryway for this Scottsdale, Arizona, home. A custom storage unit features a wood bench, coat hooks and cubbies. The graphic floor tiles and lilac wall paint provide some visual pop.
6. Stylish Shiplap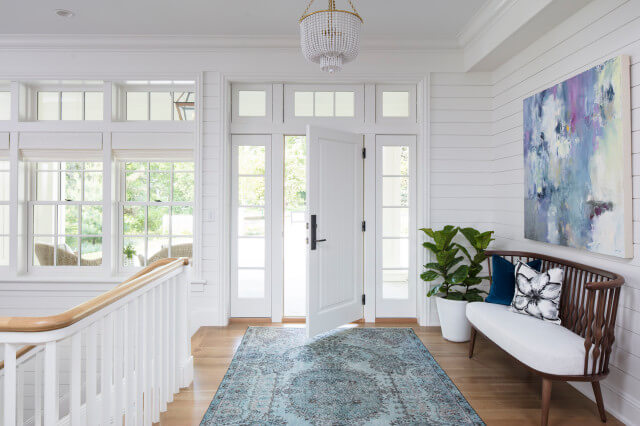 The front door of this Edina, Minnesota, home designed by Martha O'Hara Interiors opens to an entry lined with white shiplap walls and paneled windows. A beaded chandelier, a colorful piece of abstract art and a Windsor bench complete the stylish scene.
Paint: Super White, Benjamin Moore
7. Bricks and Bold Color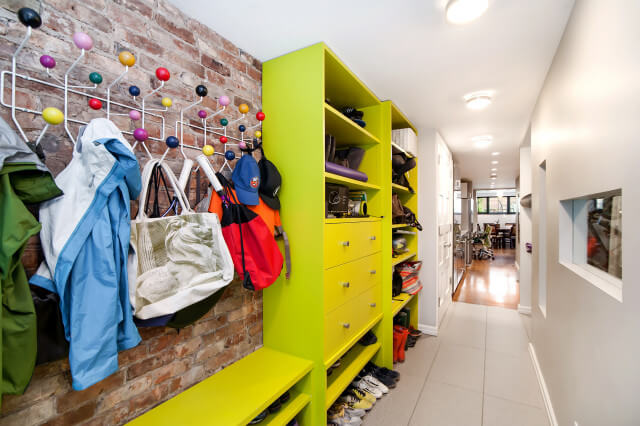 Designers Ryan and Christine Harper of Harper Design Build created a vibrant entryway for this Brooklyn, New York, home. A boldly colored wall unit with open shelves and drawers provides ample storage. The exposed 100-year-old brick wall adds a rustic touch and a sense of history.
8. Abstract Allure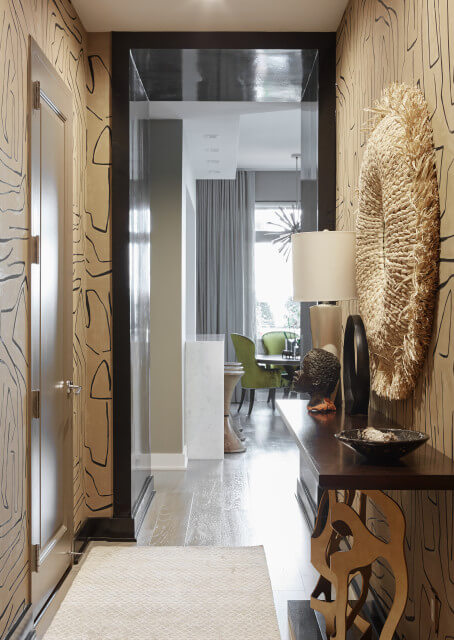 "We wanted to add some distinction to the entry hall and make it feel separate from the rest of the home," designer Tamu Green of Lux Pad Interiors says of the entryway in this New Rochelle, New York, home.
Tan wallpaper with abstract black lines wraps the space. Green also created a dramatic threshold between the hallway and the main living area by adding a shiny dark brown wallpaper that mimics lacquered paint.
9. Refined Rusticity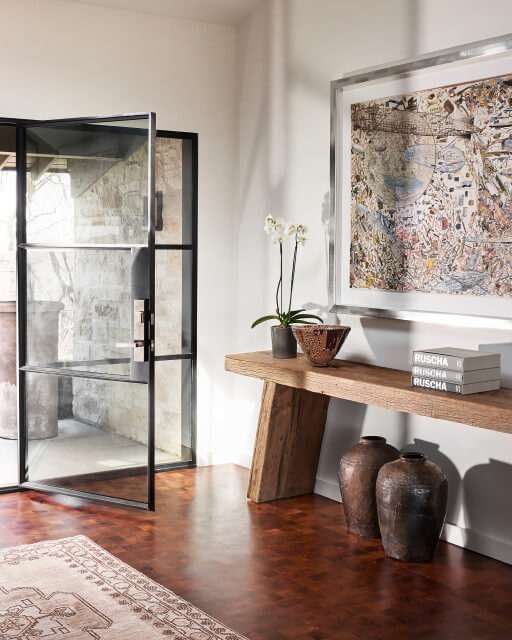 This bright and airy entryway with a glass-paneled front door is part of a modern ranch house in Austin, Texas. Mark Ashby Design covered the floor in stained end-grain wood that adds a rustic touch to the refined space. A large reclaimed-wood console table provides a spot to place items like keys and a space to display decor.
10. Eclectic Exuberance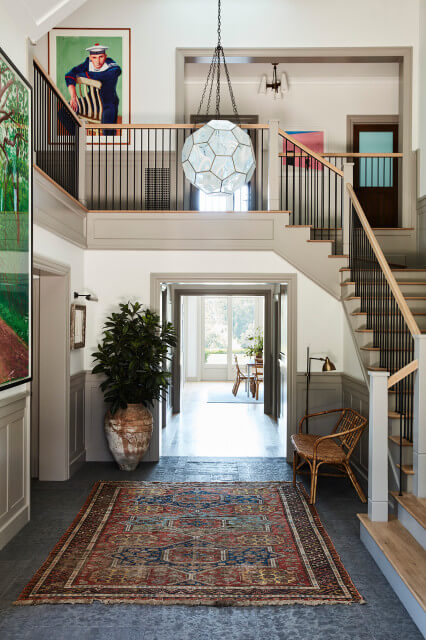 This two-story foyer in a Los Angeles home has a feeling of eclectic grandeur. The team at Tim Barber Ltd. Architecture covered the floor in slate tiles and painted the molding light brown to break up the white walls. A faceted glass pendant light adds a contemporary touch.
Source: houzz.com/magazine