These days, most people get some work done from home, whether it's handling business, finances, or a big event like a vacation or wedding. And setting up and decorating a space to work efficiently is important.
The following of the 10 most popular home offices since the start of the year include work areas that take up a full room and others that take up just part of one, with each space designed to work well for its occupants.
1. Charming Check-In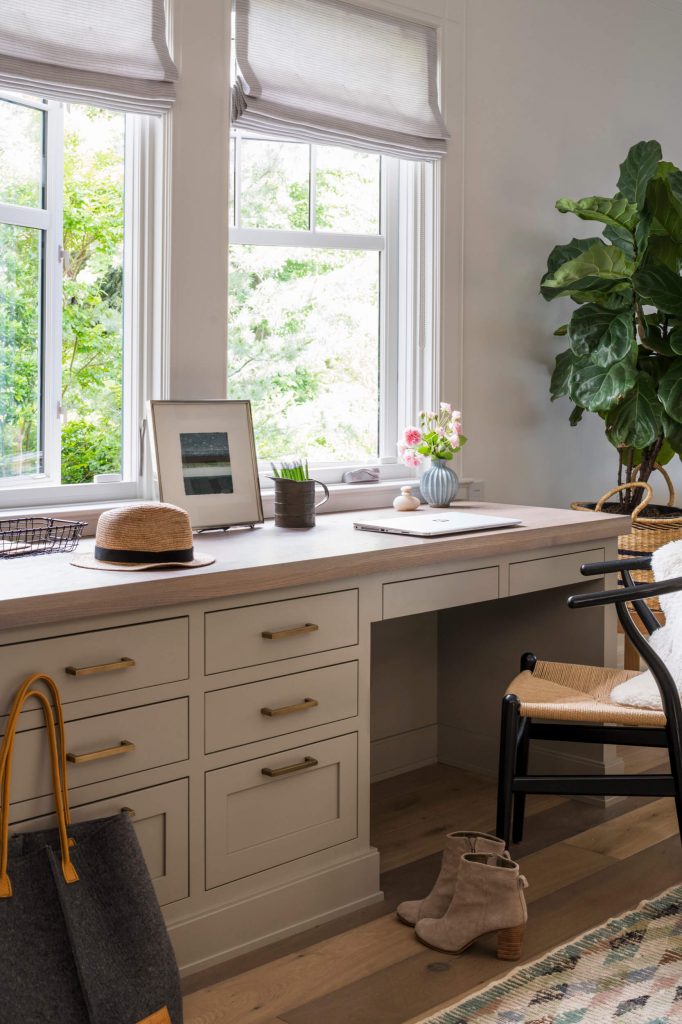 Sarah Robertson of Studio Dearborn created this compact desk area across from a kitchen she designed in Westchester County, New York.
She color-matched the custom paint to Rockport Gray by Benjamin Moore, a peaceful hue befitting a family command center at which the homeowners manage schedules and schoolwork. The desk includes two in-drawer electrical outlets, one for charging phones and the other for a printer.
2. Bright Idea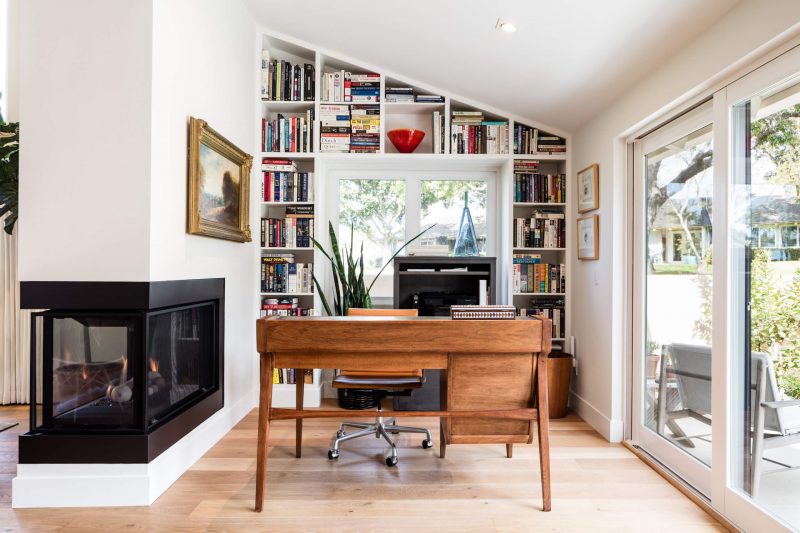 A midcentury-style wood desk set in the power position turns this little nook into a welcoming workspace in a Newport Beach, California, home by
The Bespoke Interior. Floor-to-ceiling bookcases, lots of natural light, and a double-sided fireplace complete the scene.
3. Pink Payday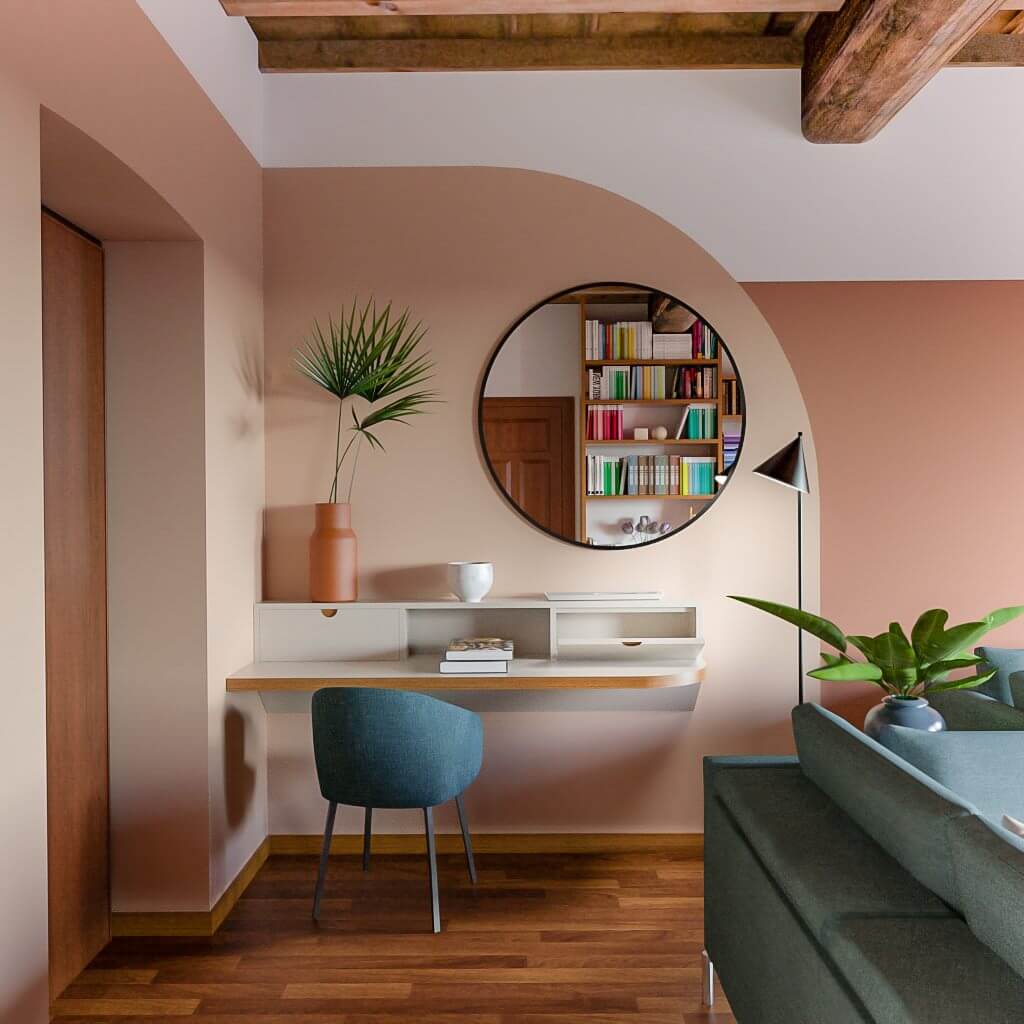 A curved, floating desk and shelf unit on a curved wall make for an inviting work area in this Milan, Italy, living room by Liadesign. But it's the milky pink paint color that really makes the space pleasant.
4. Two-Tone Touch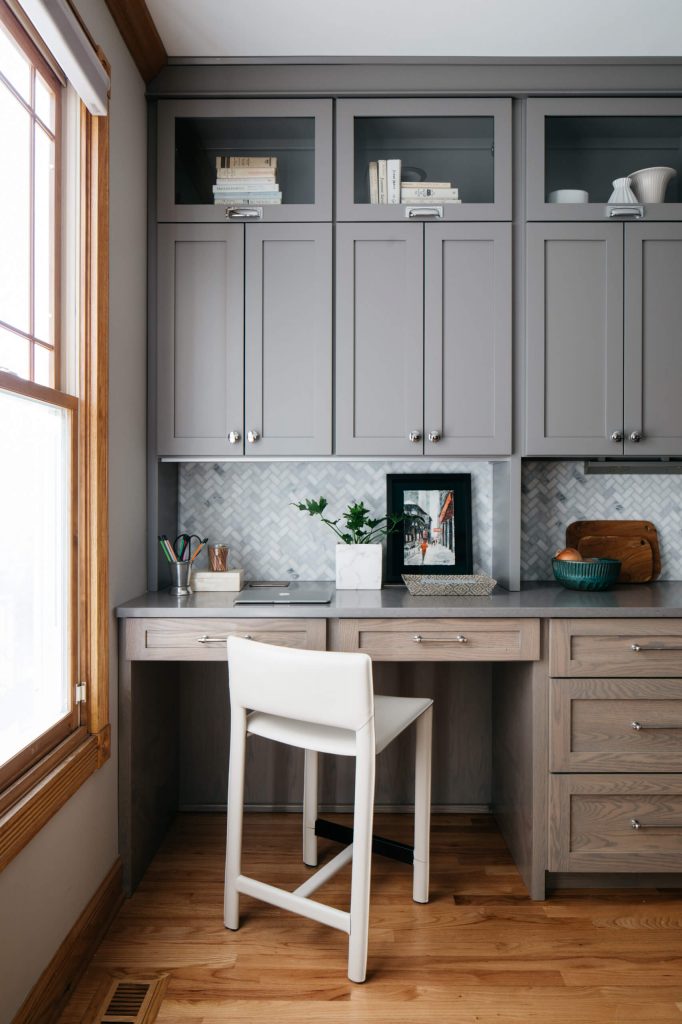 Stephanie Flemming of Flemming Interiors designed this sophisticated Chicago kitchen with gorgeous two-tone cabinets — Galveston Gray by Benjamin Moore above and rift-cut oak in a custom stain below.
At the end of the 30-foot run of cabinets sits this small workstation. A marble backsplash in a herringbone pattern connects the hub to the kitchen.
5. Laid-Back Labor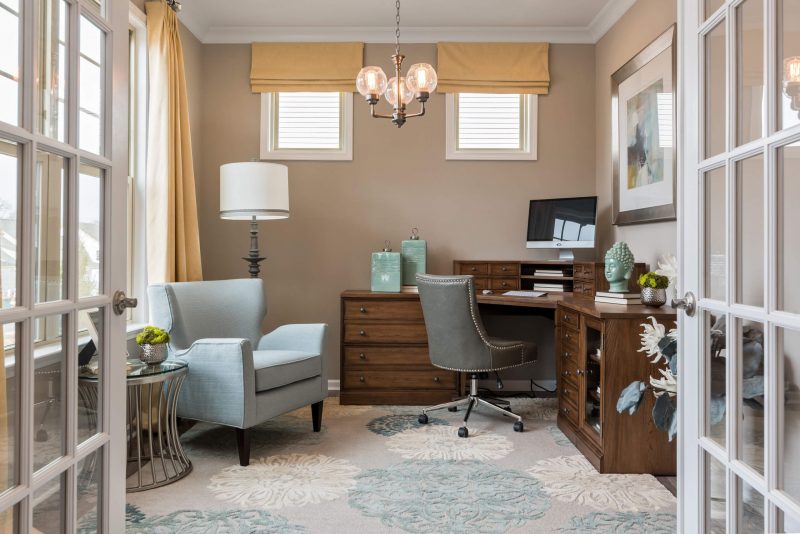 In this Atlanta home office by GMD Design Group, a beige wall color sets a relaxing tone. The homeowners might struggle to choose between sitting in the stylish desk chair with nailhead trim or the powder-blue armchair.
A plush rug and warm yellow window treatments make this an inviting space to work in.
6. Wall-Mounted Management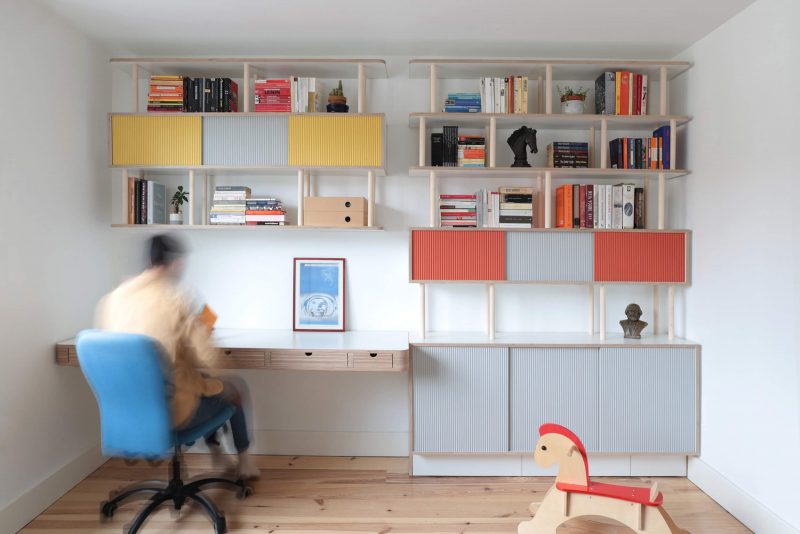 A floating desk joins modern wall-mounted bookshelves and storage pieces by the cabinetmakers at Lozi to create an airy, Scandinavian workspace in London.
7. Professional Palette
A soft palette of light grays, reds, browns, and wood tones creates a serene environment in this proper home office in Buckinghamshire, England, by the designers at Honeycomb.
8. Color-Block Business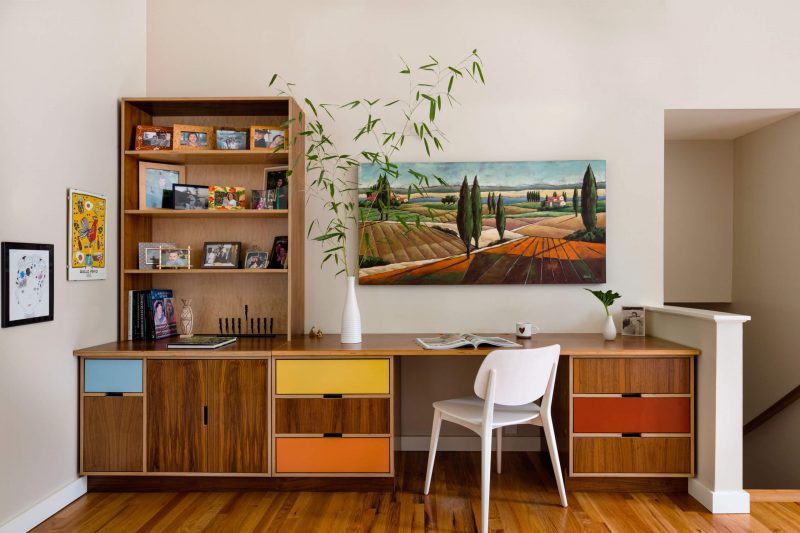 Brightly colored drawer fronts cheer up a flat-panel, midcentury-style built-in desk area in this Seattle home by Ellen Weiss Design.
9. Buttoned-Up Built-In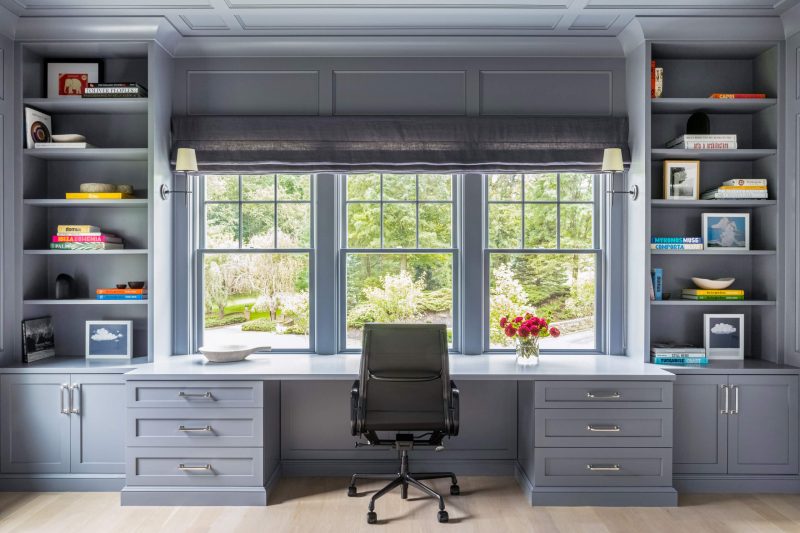 A large built-in desk and bookcases in a steely blue-gray frame a leafy view in Westchester County, New York, in this home by Chango & Co.
The designers painted the window frames, ceiling, and wall panels the same color as the built-ins, creating a tailored look.
10. Airy Alcove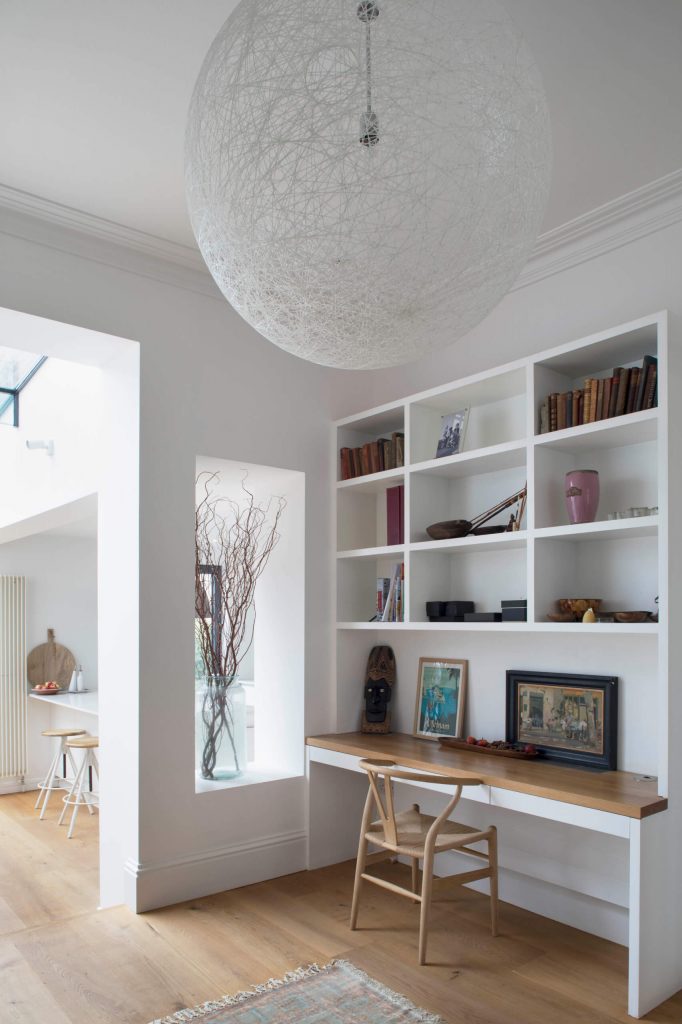 The designers at Pike & Partners created this shallow work alcove near an open-plan kitchen in a home outside London.
A wood top warms the otherwise all-white built-in, while a large cutout in the wall brings a sense of connection to the kitchen area.
11. Low-Key Work Zone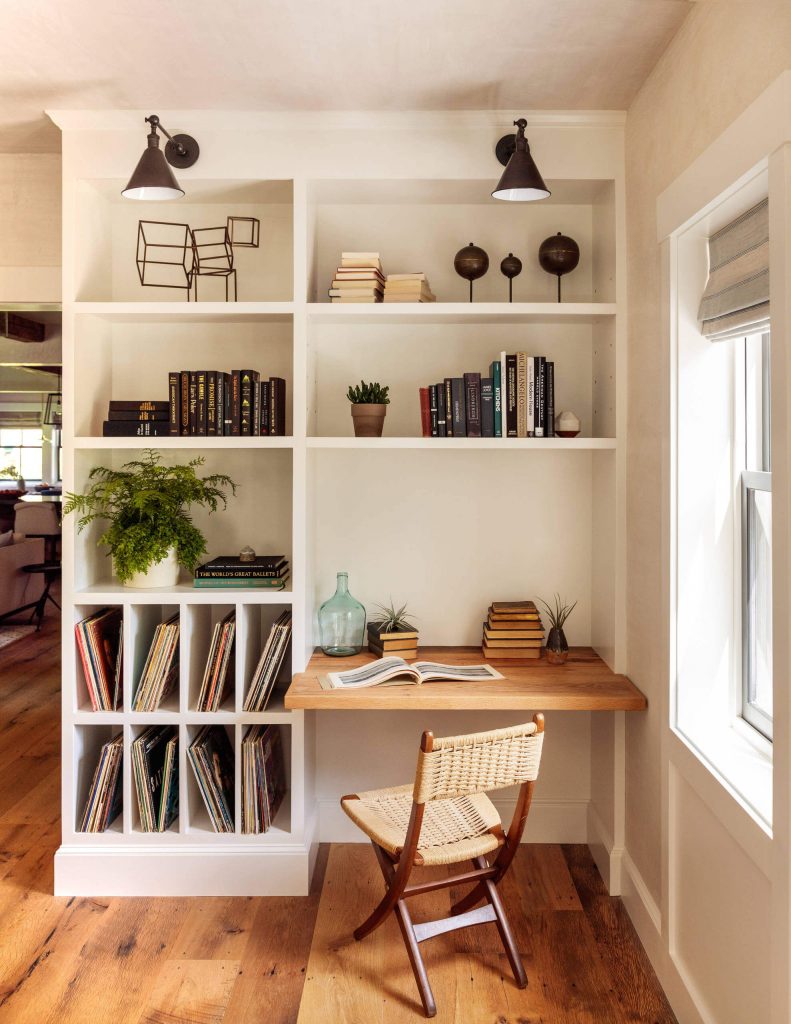 Designer Jess Cooney created this popular built-in nook to serve as the family's home office and a place for storing records. Architecture and design firm Clark + Green turned Cooney's ideas into drawings.
This space is inside a former 1700s dairy farmhouse in western Massachusetts overlooking a pond, hills, and trees. The homeowners had planned to remodel but lost the house in a fire due to faulty wiring. They rebuilt and included this tucked-away yet spacious area where they can focus.
12. Stylish Situation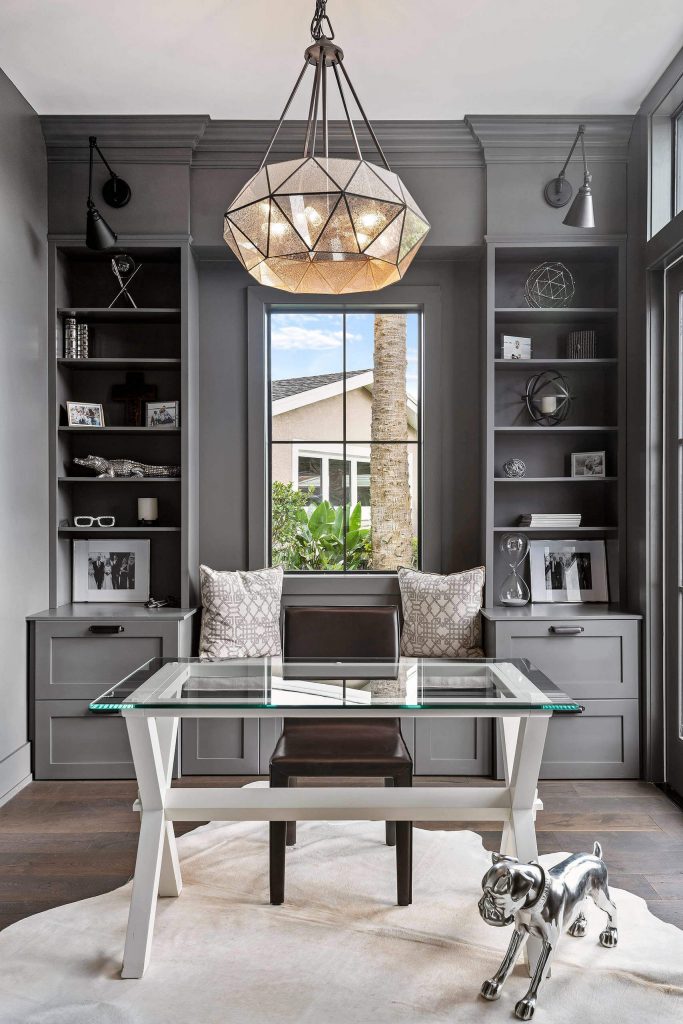 Built-in cabinetry painted an elegant gray (Kendall Charcoal by Benjamin Moore) sets a strong backdrop for this pulled-together space by M. Lahr Homes.
The glow of the geometric chandelier softens the feel of the room, while accessories like sunglasses on the bookshelf and a metallic dog sculpture in front of the desk add levity.
13. Naval Look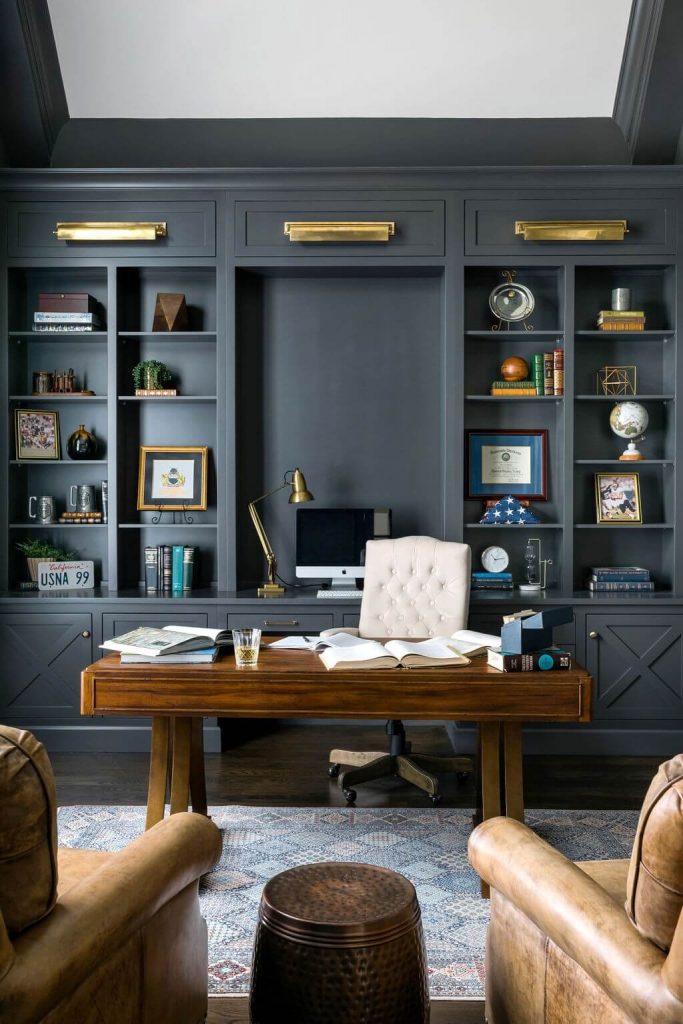 Navy cabinetry by Webber Coleman Woodworks is offset by brass lamps and a rich wood desk; together they all create a nautical, almost military feel in this home office.
The homeowner displays a "USNA 99" vanity license plate for graduating from the U.S. Naval Academy in 1999. Two leather chairs and a hammered-copper stool set the space up for visitors.
14. Sit in Peace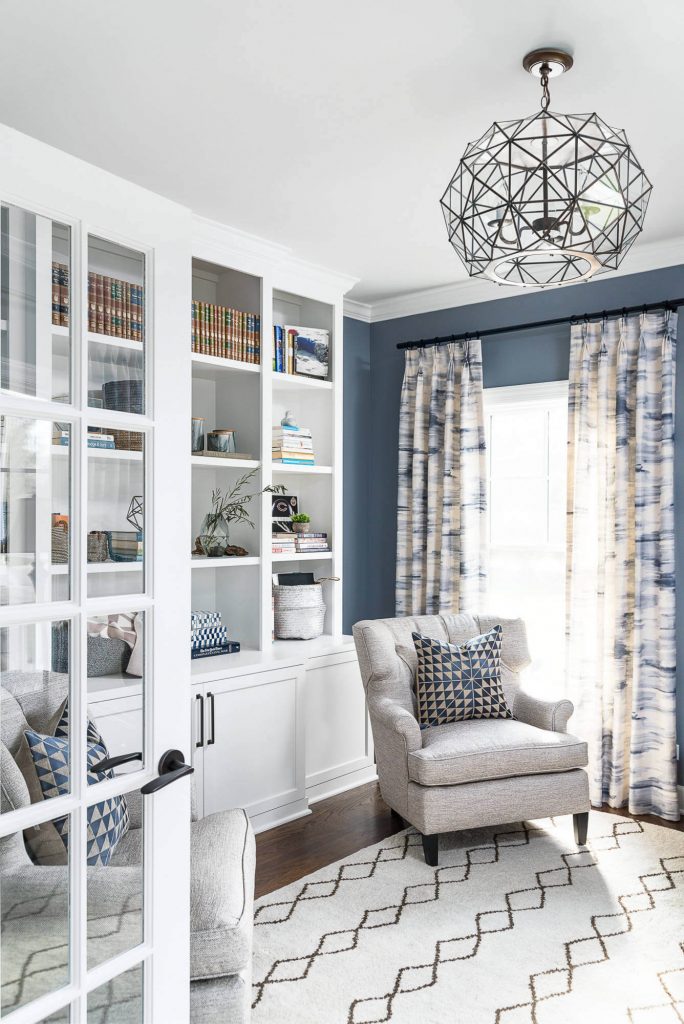 The best thing about this Chicago home office photographed by Picture Perfect House may just be the fact that you don't see a desk at all.
Who wouldn't like to work from a laptop in a comfy armchair near a window and a beautiful bookcase? The soft-looking rug also creates an inviting feel.
15. Side by Side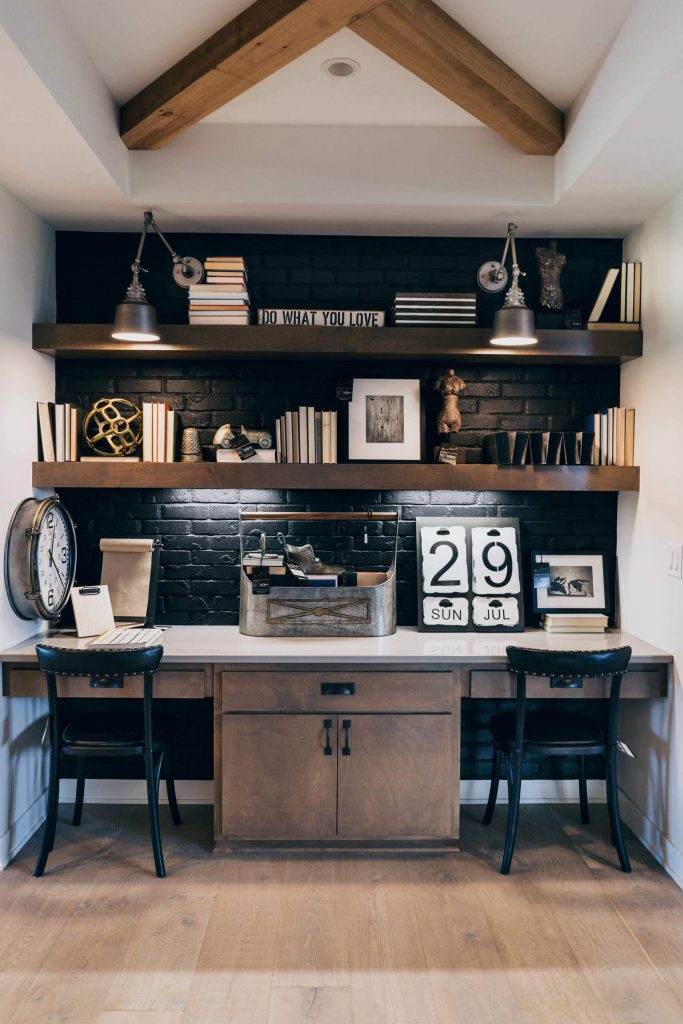 This Omaha, Nebraska, home office by Clarissa at Lee Douglas Interiors includes space for two workers, with cabinetry and open shelving to organize work-related items.
Black painted brick looks nice behind the cabinets and open shelving and pulls the room's palette in line with that in the rest of the home.
16. Open Office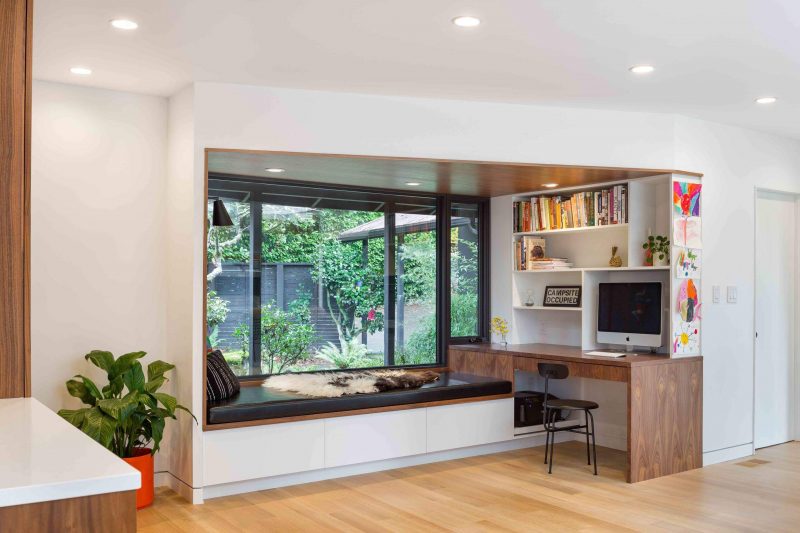 This desk in a midcentury home in Northwest Portland, Oregon, remodeled by James Frank Construction is part of a larger kitchen area.
In addition to the desk and bookshelf, the office zone includes a cushioned window seat — the perfect place for taking a break from work.
17. Neutral Medley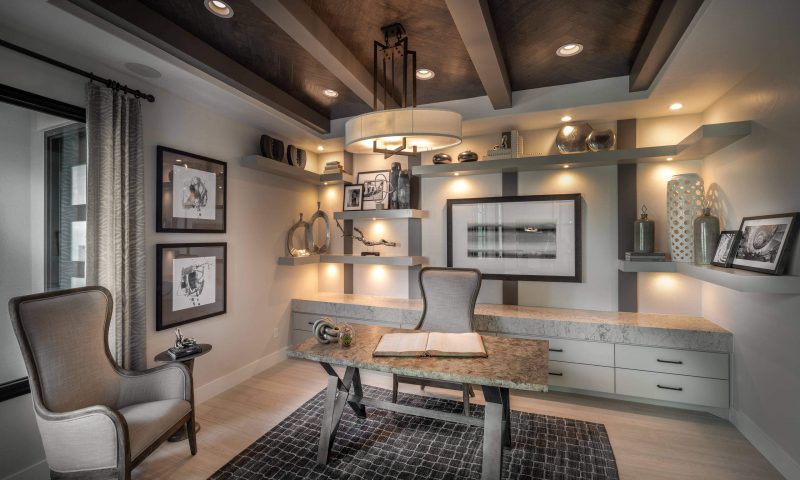 This home office in Austin, Texas, by Five Star Interiors, has a neutral palette of beiges, greiges, woods, and browns.
The blend of textures — see the cabinet top, desk surface, and rug — inject visual interest into the palette of closely related colors.
18. Thoughtfully Elegant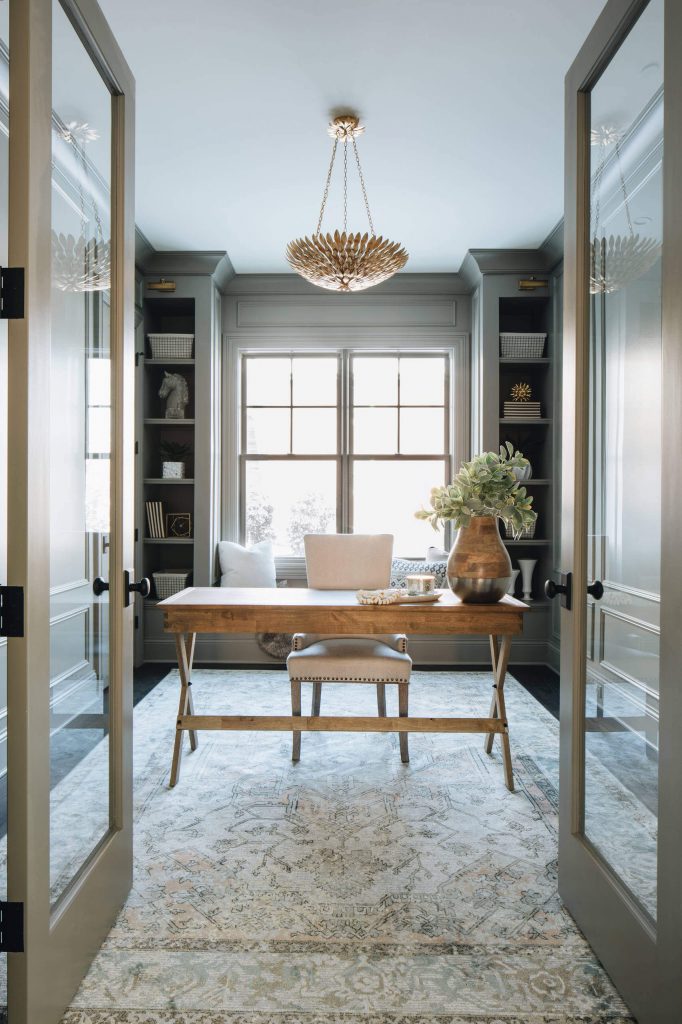 Gray painted cabinetry (Graystone by Benjamin Moore) sets a softly elegant backdrop for this Chicago home office by Timber Trails Development Co.
Wood, brass, and gold accents warm space, while a large light-colored rug brightens it and adds softness. An elegant pendant with feather-like elements draws the eye up.
19. Fresh and Bright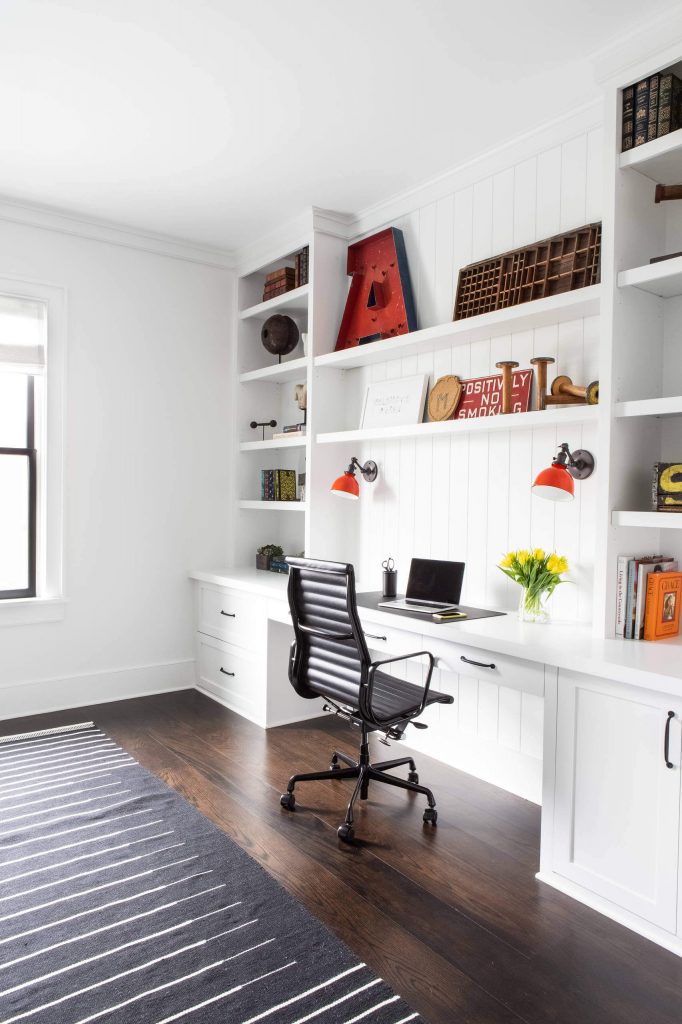 Painted vertical wall planks create pleasing lines against the horizontal shelving in this wall-width office area in an upstate New York home by architecture and design firm Chango & Co.
There's plenty of room for working, stashing unsightly items, and displaying decor. Farmhouse-style lights over the work area are cute and functional.
20. Boston Beauty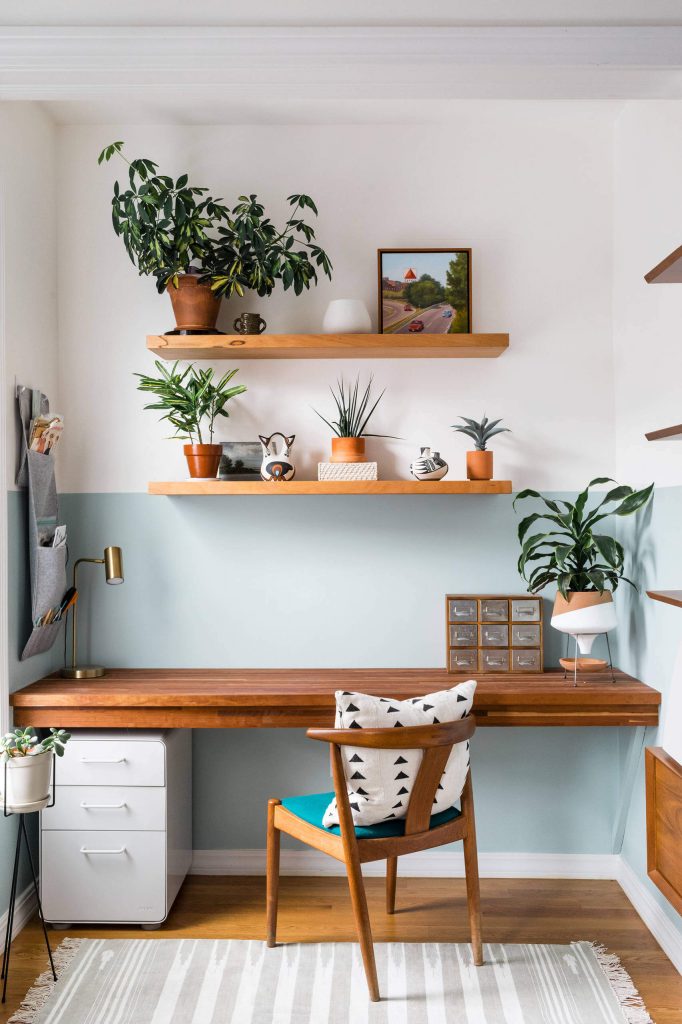 This Boston home office by Lawless Design has personality, thanks to its plants, artwork, and color-blocked walls (painted in Snowbound by Sherwin-Williams and Babbling Brook by PPG Paints).
The simple floating desk made of acorn wood coupled with a freestanding filing cabinet form a calming, minimalist arrangement. The caddy hanging on the left wall adds convenient storage and helps with the organization.
Source: houzz.com/magazine