Study Spaces – The obvious place for your child's homework area might be in their bedroom, but you don't have to stick to this rule. If the child's room is small, or they share the space, it's worth considering using other areas of the home as a study zone.
With some clever thought, you can carve out a dedicated work area for your young student in any room. Check out these study space ideas, as well as tips for making the area as conducive to study as possible.
1. Escape the crowd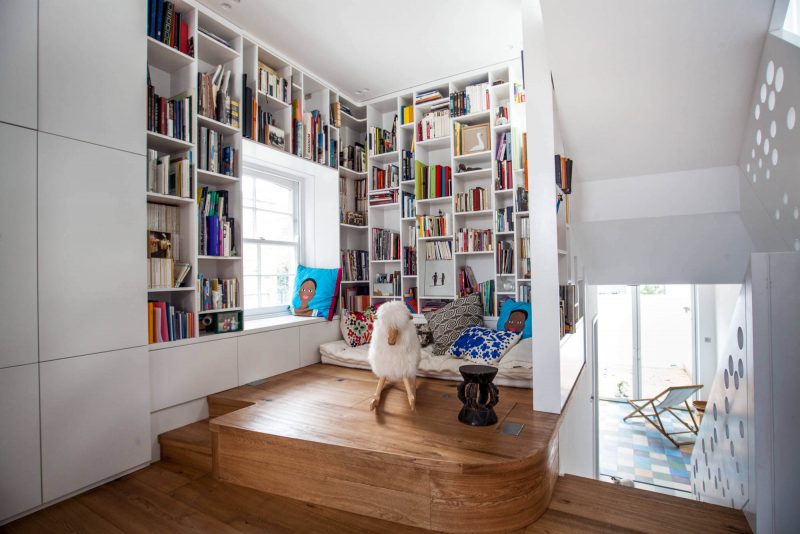 For some children and teenagers, a study area doesn't necessarily have to be desk-based. It could just be a dedicated spot where they can focus all their attention on the work they need to do.
As with all things property, location is king, so find an area that's away from the general route of traffic in your home. This will help their concentration by keeping them clear of distractions.
Physical interference isn't the only potential problem, so ensure this area is also free from noise pollution from other rooms, such as the sound of a TV.
2. Shut up shop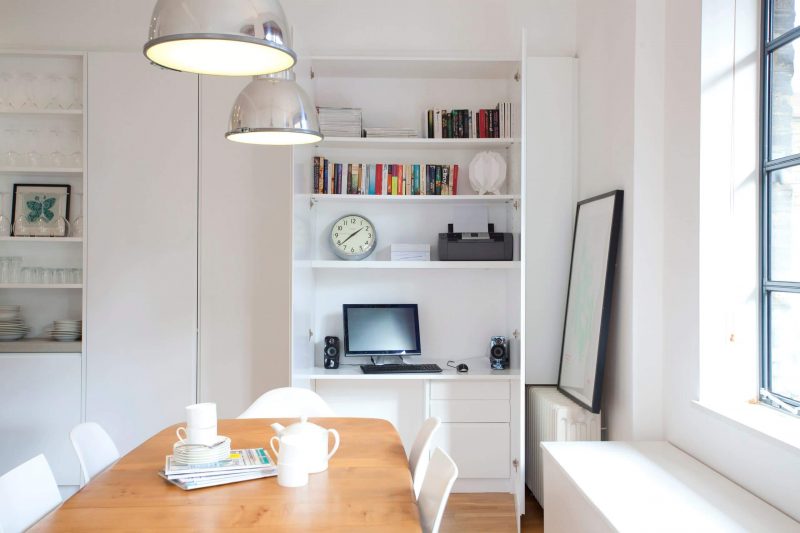 You can create a mini office for your child by installing shelves and a desktop within a fitted cupboard.
This neat kitchen unit contains just enough room for a handy desk and storage, allowing a child to tackle after-school homework during dinner preparation.
The joy of this is that the door can be closed after work has finished, effectively shutting up shop and returning your area to its original use.
3. Give over the guest room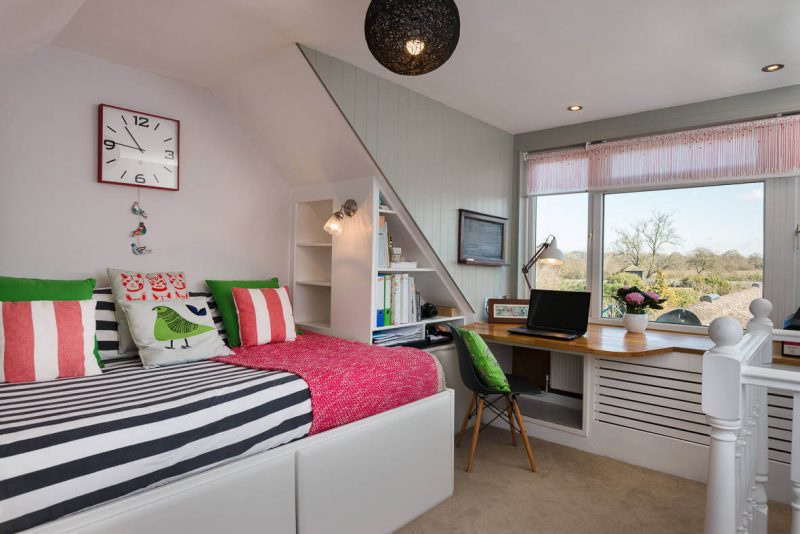 If you have the luxury of a dedicated guest room, you could give it a double function as a study area.
Install a desk with discreet storage, as these homeowners have done, with the shelves and work surface tucked into the corner. If you don't have much space, replace the bed with a sofa-bed to create a multi-use environment that can still be utilized for guests when necessary
4. Find your niche environment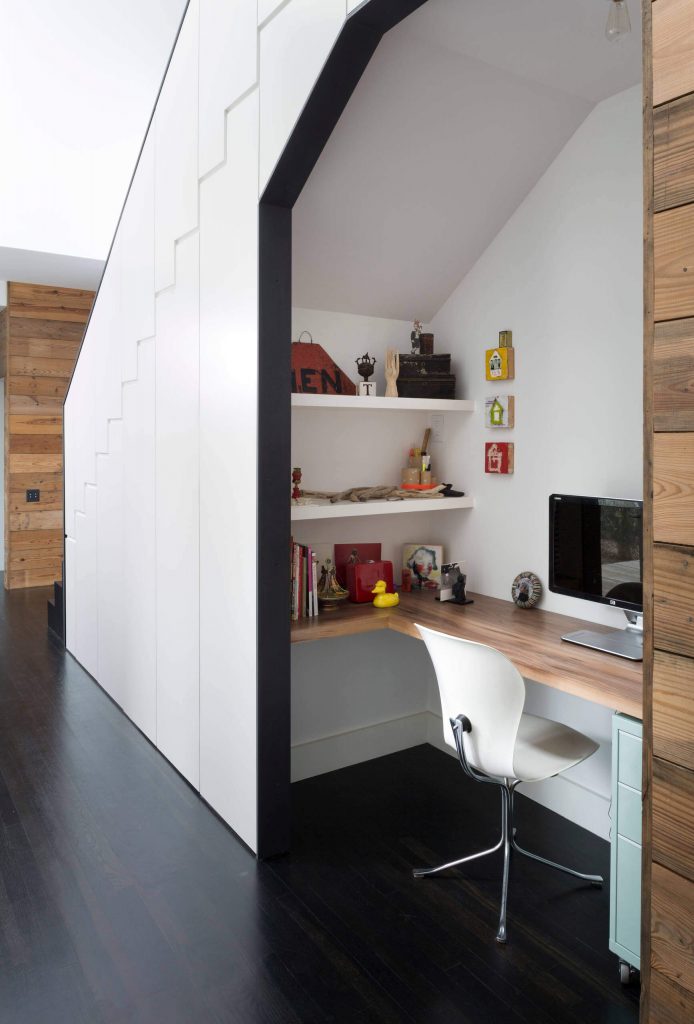 If you can't devote a whole room to your child's study area, then seek out a small niche in the corner of an under-used space in your home.
With the thought, it's often possible to create a desk area under the stairs. The trick is to consider the design carefully and work with the shapes you have available. Ensure you include plenty of storage that can be closed up to keep clutter under control.
You could also consider ideas such as sliding desktops that expand to meet your needs and can be pushed back out of the way when not in use.
5. Shed some light on the subject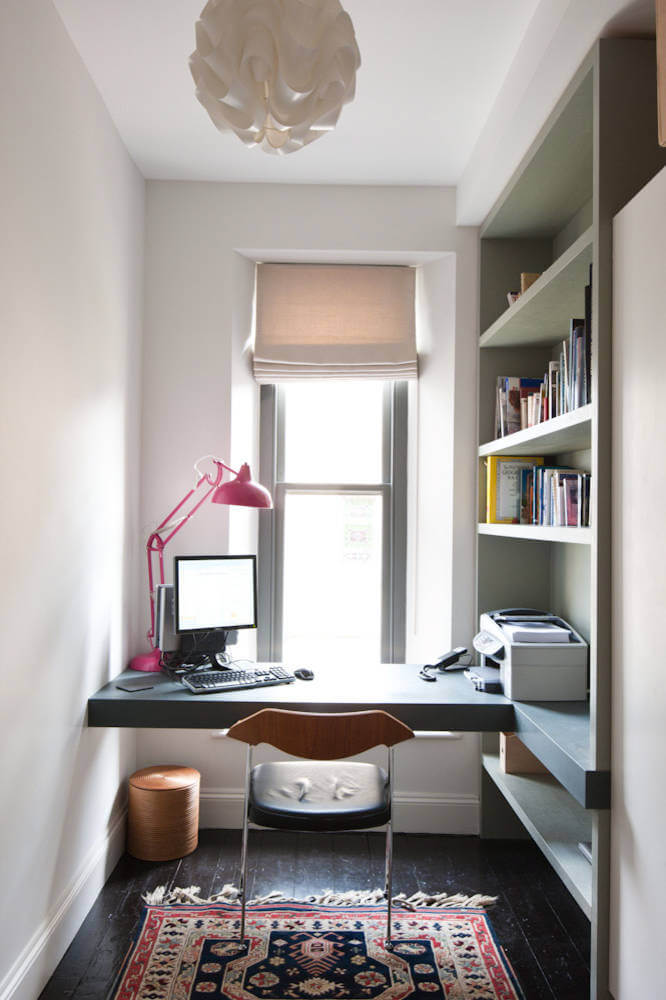 Lighting is particularly important, so try to ensure you create a study space that benefits from as much natural light as possible. This small desk is neatly tucked onto a landing in otherwise dead space and benefits from the big window.
Consider, though, how that light will work throughout the year, like sunlight streaming directly into the eye of the student or obliterating a screen can be counter-productive.
Always ensure good task lighting that will shine directly on the desk without creating shadow interference from the head of the person studying. A jointed arm lamp that can be fixed at various angles makes a perfect choice.
6. Manage the electrics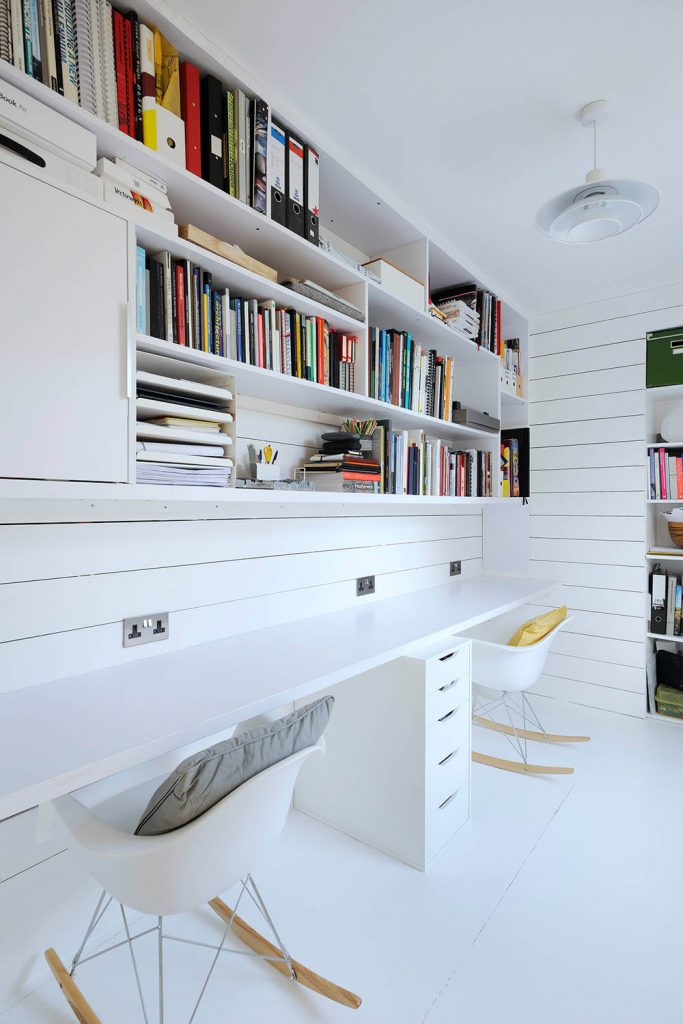 Your child's study area is likely to require plenty of electrical equipment. There's nothing worse than trailing cables, so consider the placement and provision of your sockets to ensure you minimize trip hazards and lost desk space.
Avoid electrical overload by ditching multiple adaptors and providing a good bank of sockets. I would suggest a minimum of four, allowing for a broadband router, computer, printer, and study light.
Consider sockets with surge protection and USB outlets to allow phones and tablets to be charged without taking up vital sockets.
7. Control clutter to create clarity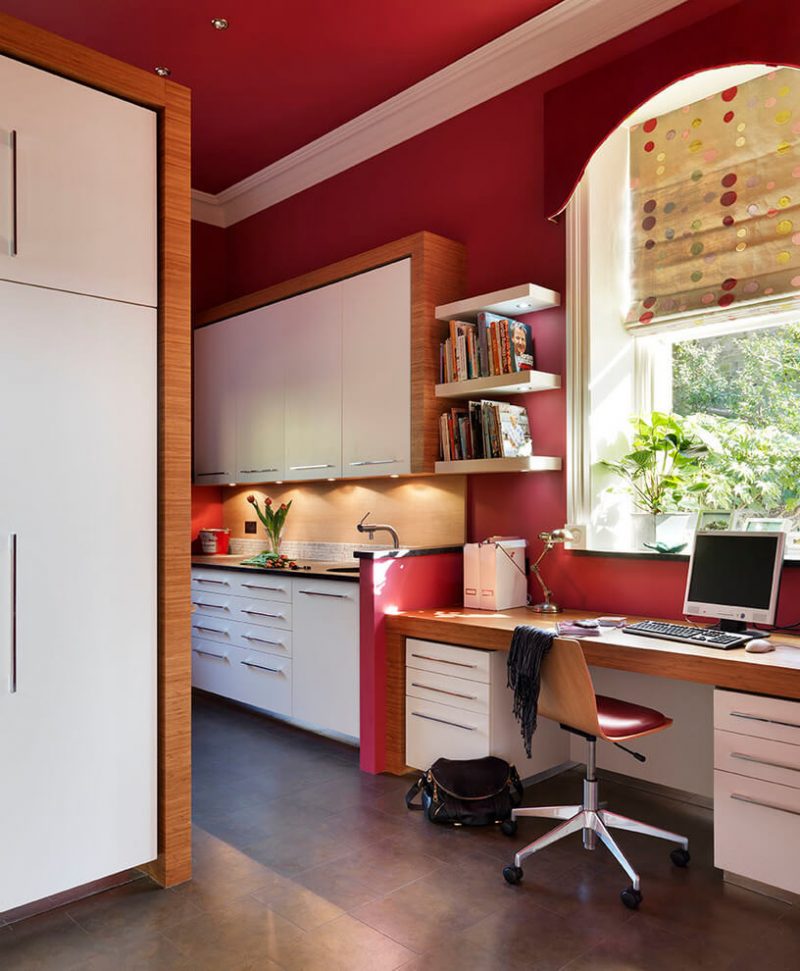 The key to any effective study area is to keep it neat and tidy, especially if you're sharing the space. Here, the desk area sits alongside the kitchen, but clutter is kept out of the way thanks to plenty of storage, which matches the units for a cohesive look.
Provide shelves and drawers to ensure visible mess does not threaten the focus of the area. Even if the drawers are full of rubbish, the fact that your child can't see them means they can fully focus on the task in hand.
8. Up the comfort factor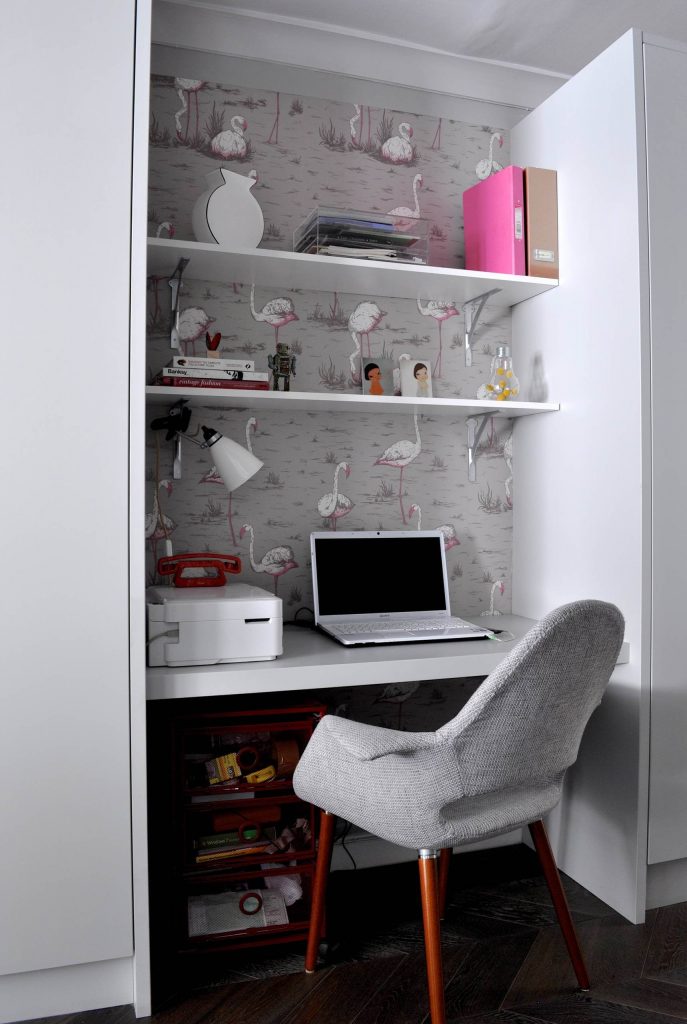 One of the most important pieces in the furniture puzzle is the chair you provide. This is critical, not only to aid concentration but to avoid bad posture in growing bodies.
If you want the seating to be pushed under the desk when not in use, consider providing a chair with castors. This will encourage your student to tidy up afterward.
Here, an upholstered chair that can be pulled up to the area for study then moved back into the main room keeps the desk area discreet.
9. Create the correct climate with color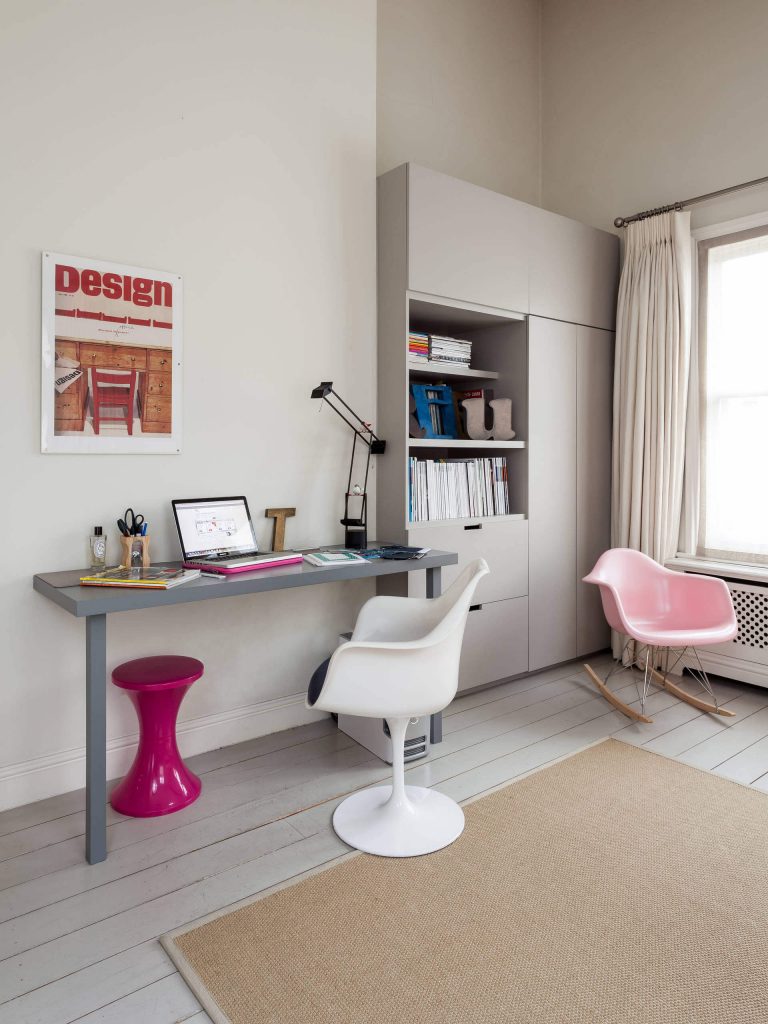 When it comes to color schemes for a teenage study area, keep the main area neutral. Stone or mink work wonderfully, as the warmth helps to promote a feeling of security, which in turn aids concentration.
You could then add dashes of inspirational color in your choice of accessories and furniture, as the homeowners have done here.
What do you think of these study spaces? Have you created a work area for your child? Share your thoughts and ideas in the comments below.
Source: houzz.co.uk/magazine