Painted Walls – An accent wall can add so much color and personality to a room. These creative homeowners featured in our series used their walls as a blank painting canvas.
They let their imaginations and color palettes run wild, taking inspiration from a favorite clutch bag or a pattern to create whimsical custom wallpaper. Take a look and get inspired to pull out your paintbrush and paint on the walls like a kid again.
Floral-Inspired Murals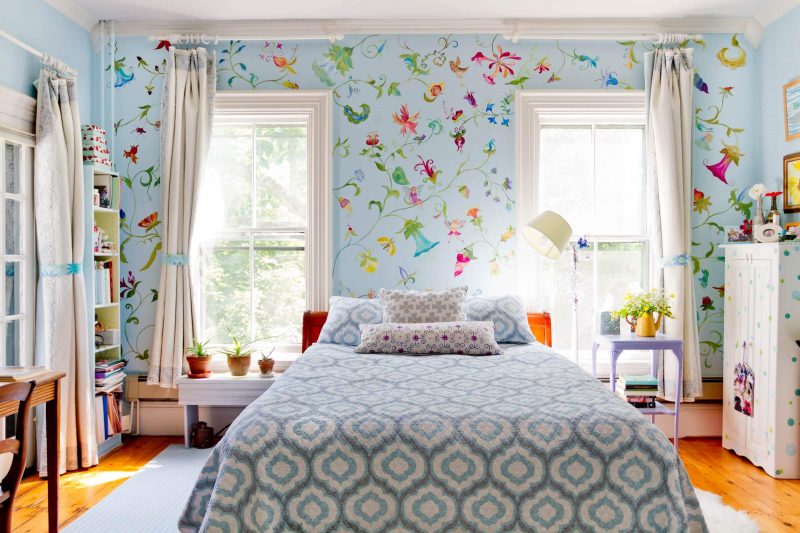 Homeowner Laurie Rabe of Norfolk County, Massachusetts, used acrylic paints to create cheerful murals in her family's home.
In daughter Olivia's bedroom, Rabe painted a beautiful mural depicting fairies swinging from flower stems and birds smelling the flowers.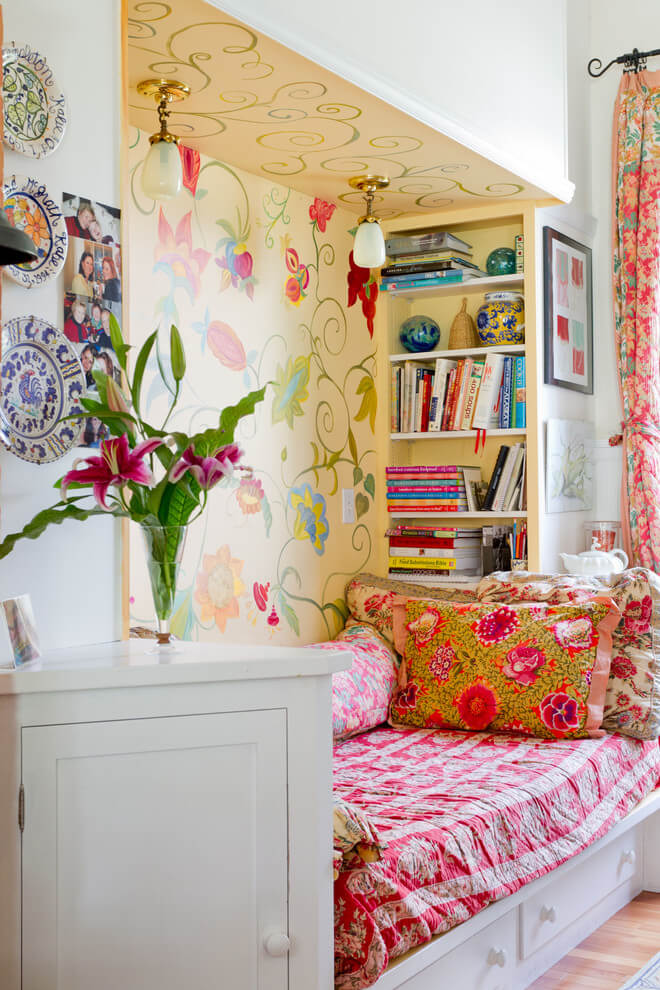 This nook surrounding a custom-built daybed is hand-painted in cheery colors and patterns. Rabe's painting ideas come from magazines, historical wallpapers, ceramics, textiles, and art from the past.
"I especially love Art Nouveau and Craftsman-style designs, and I try to incorporate my love of gardening and flowers into my work," she says. "I travel to museums and gardens wherever I go and take photographs of specimens, which I then try to incorporate."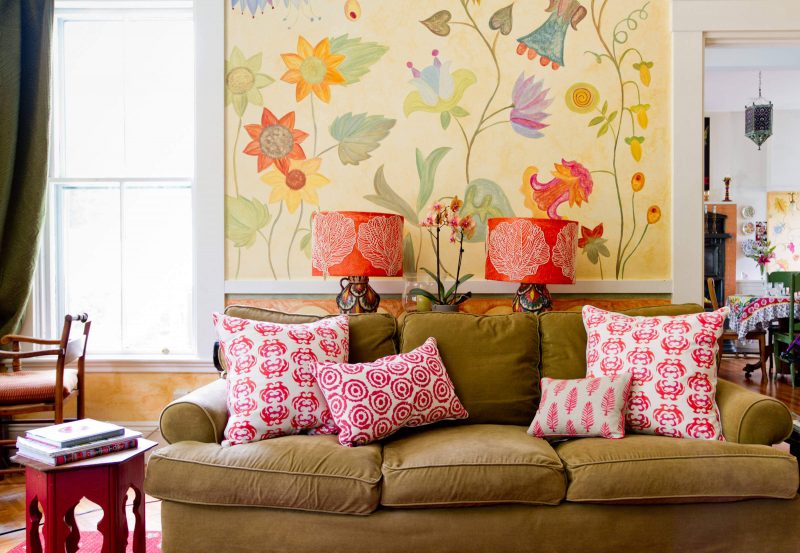 In the family room, Rabe used glazing techniques for a rustic, Tuscan folk art design.
"I sometimes make up templates of flowers and leaf shapes to use the same shapes over and over, to give the wall design some unity, similar to wallpaper," she says.
Frame-worthy in Los Angeles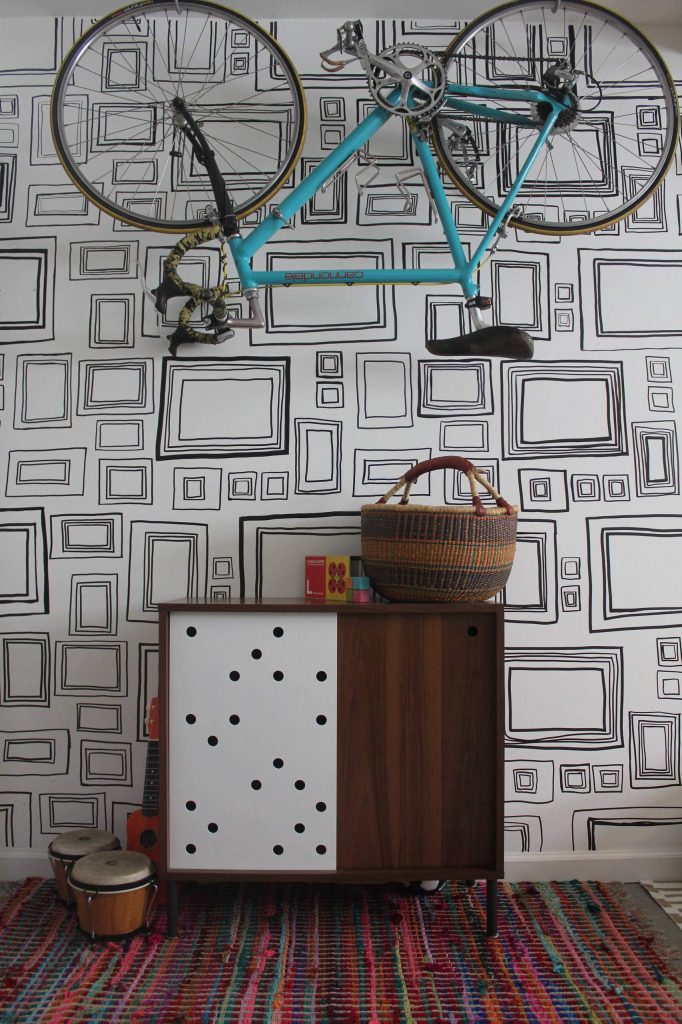 Ken Pelletier and Maritza Gully turned the garage in their Southern California home into a play space for their two kids.
They created a custom accent wall inspired by Frames wallpaper by Graham and Brown using a black permanent marker. The graphic wall serves as a stylish backdrop for their bike.
Clutch Design for a Kid's Room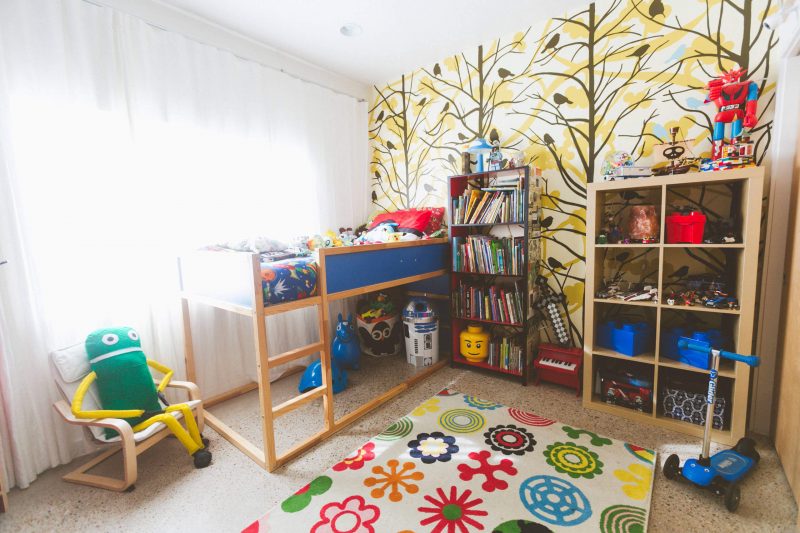 This 6-year-old's bedroom in Austin, Texas, features bright shades of red, blue, green, and yellow.
Zack Avila hand-painted the mural based on the pattern of a Petunia Pickle Bottom diaper clutch that his wife, Robin, received as a gift while pregnant with their son.
Playful Patterns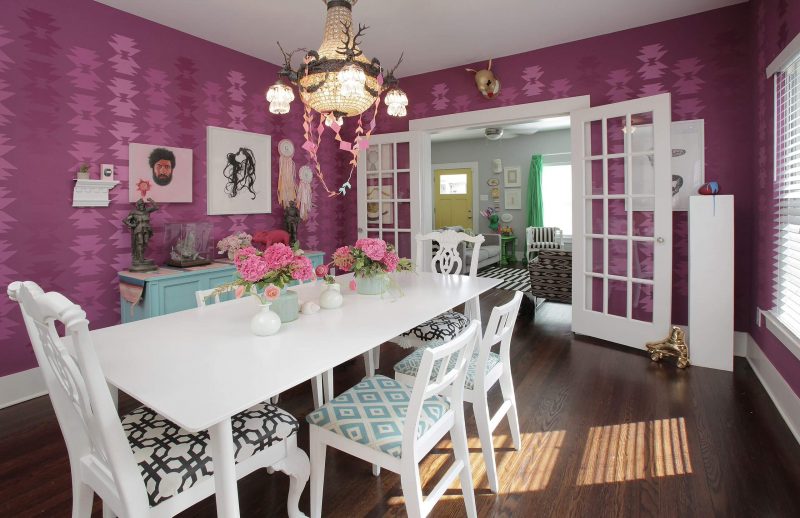 Adam and Alicia Rico's home in Austin features a kaleidoscope of colors.
Adam designed a Southwestern-inspired stencil for their dining room and hand-painted the walls in shades of purple and violet to create an ombré effect.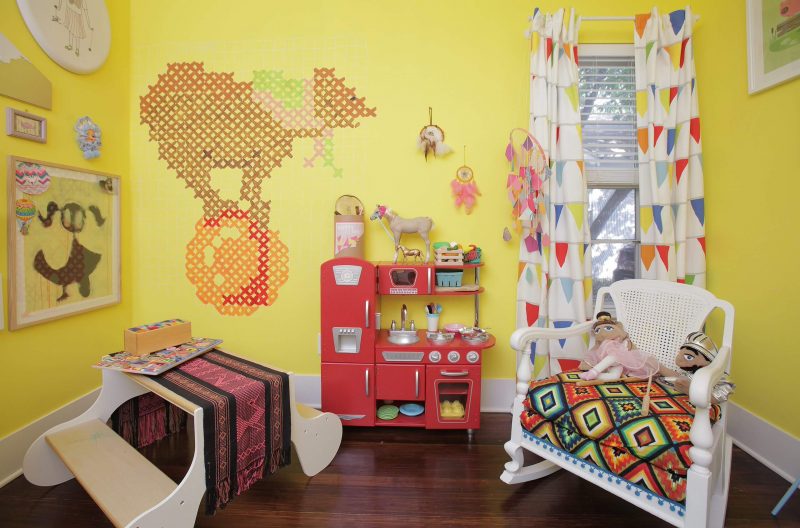 Daughter Dotty's bedroom bursts with art and color, including a hand-painted cross-stitch mural.
The Ricos painted a thrift store rocking chair white and reupholstered the seat in a fresh, graphic fabric.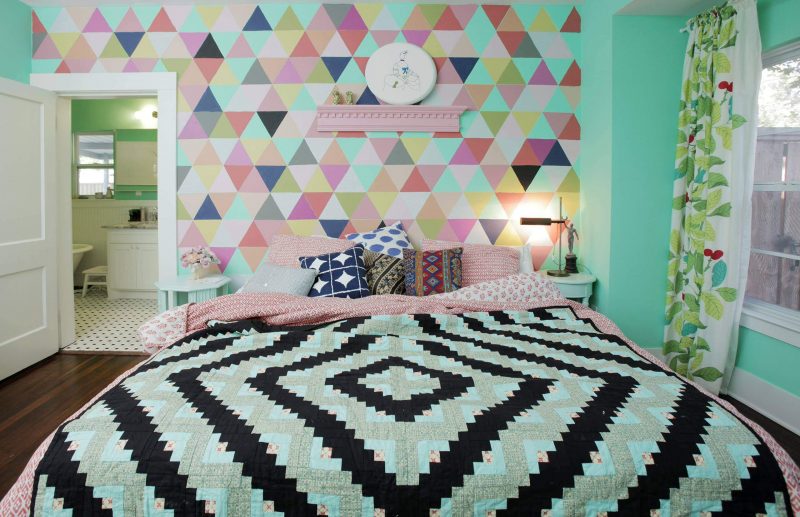 Without using a plan or stencil, the Ricos painted this vibrant geometric mural in their bedroom. After picking out 11 colors, they painted five or six triangles per night until they'd covered the wall.
The handmade quilt by Adam's mom served as inspiration.
Polka Dot Powder Room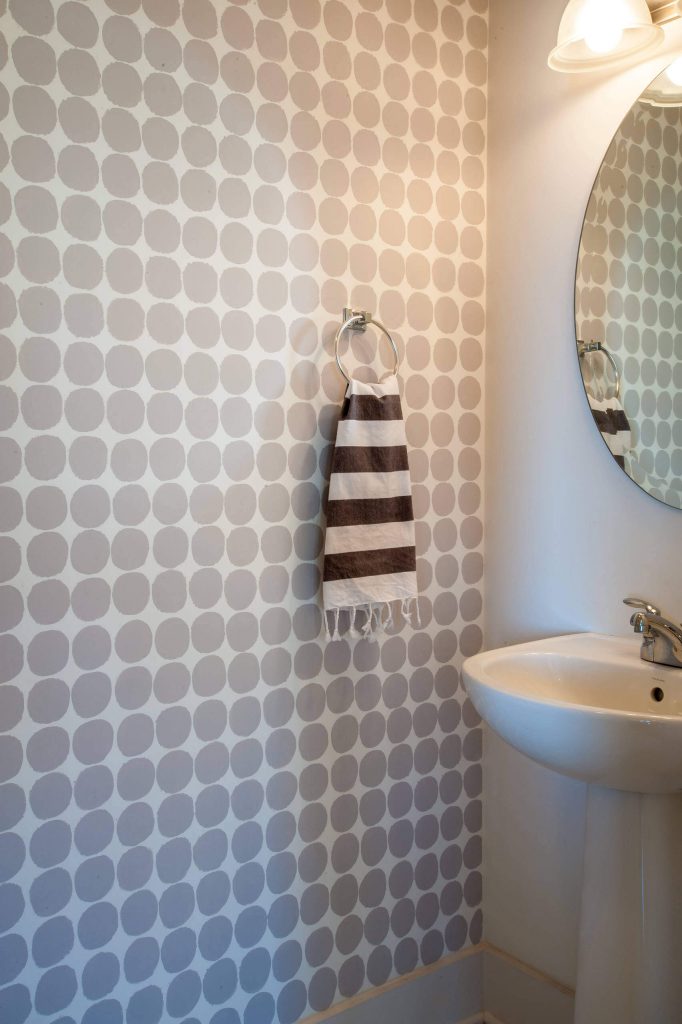 Homeowner Julia Reynolds created this accent wall in the guest bathroom of her Pittsburgh home after being inspired by a Marimekko wallpaper pattern.
She first made a grid of sponge-applied paint, then used a brush on each and every circle to blur the edges. The DIY project took about a week to complete.
Vivid Brushstrokes for an 18th-Century Cape Cod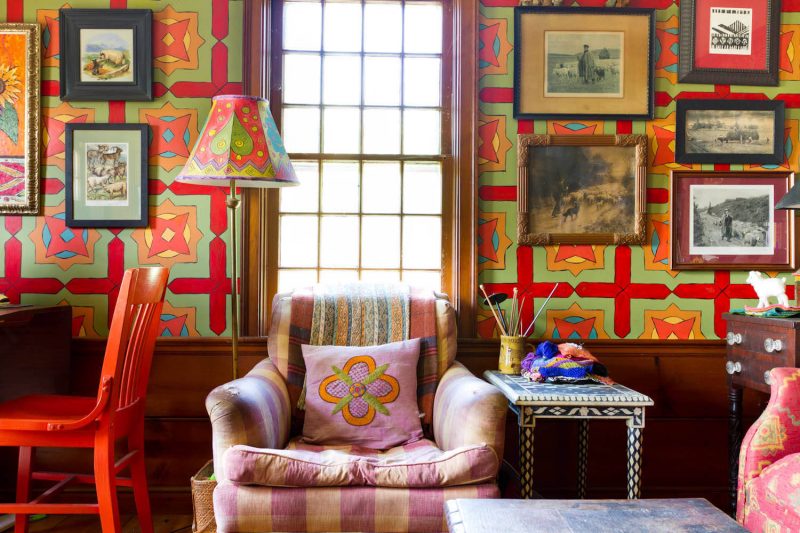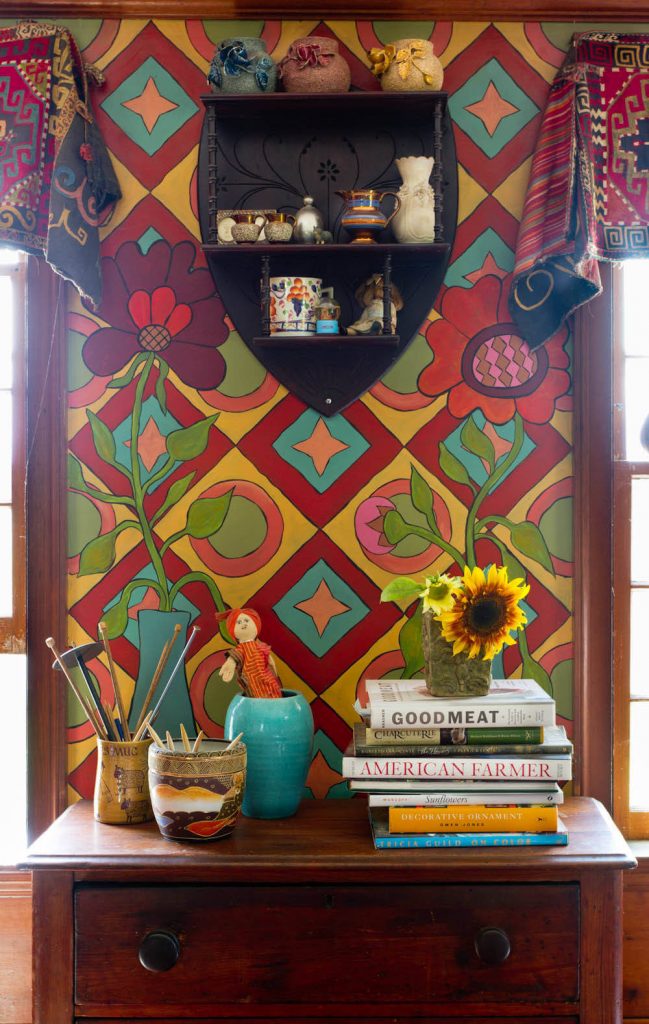 Artist Kristin Nicholas used her paintbrush to touch nearly every wall in her family's home in Franklin County, Massachusetts.
In the living room library, she created her own wallpaper by cutting shapes out of FedEx boxes, layering the shapes on top of each other, and hand-painting each shape. The result is a vibrant and colorful reading sanctuary.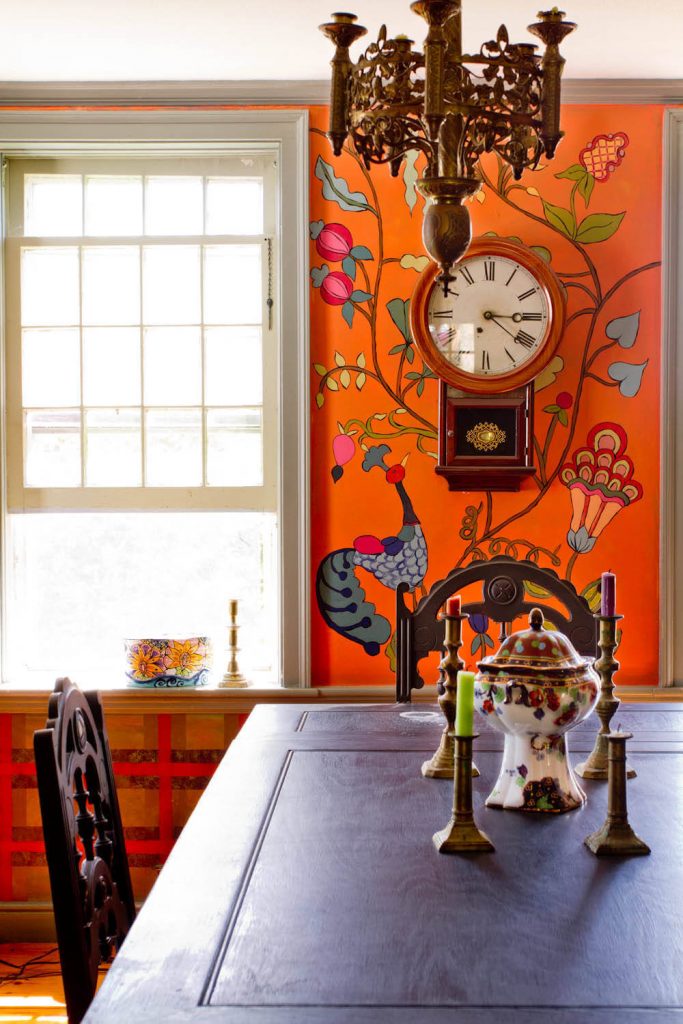 One of Nicholas' free-form murals in the dining room features chickens, birds, flowers, leaves, guinea hens and peacocks, offering a tribute to their animal-friendly home.
Below the chair rail, Nicholas created a plaid pattern designed with painter's tape to contrast with the playful forms above.
Circles for a Well-Rounded Entry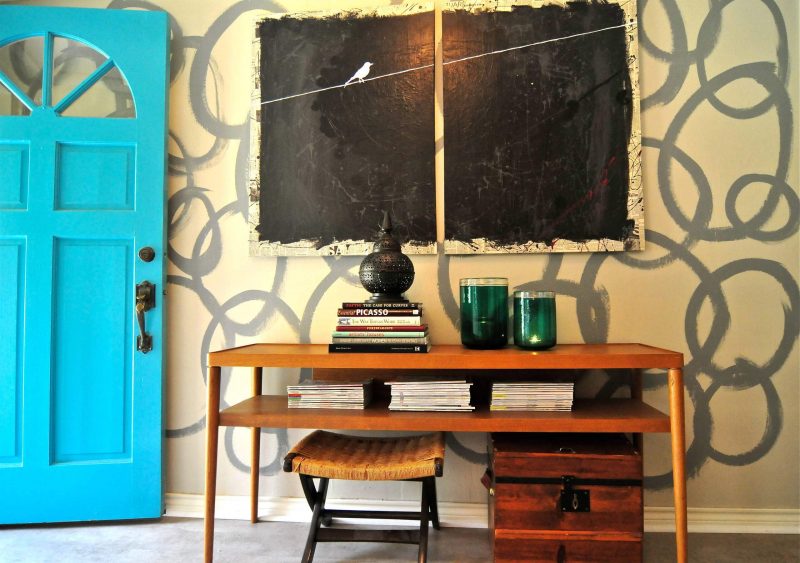 Houzz contributor Sarah Greenman really wanted wallpaper in the entryway of her family's ranch home in Dallas, but it didn't fit the budget. Instead, she painted circles on the wall, inspired by Jamie Meares of Furbish Studio.
The blue door color is custom, and the bird painting is her own work.
Buzzing With Diamonds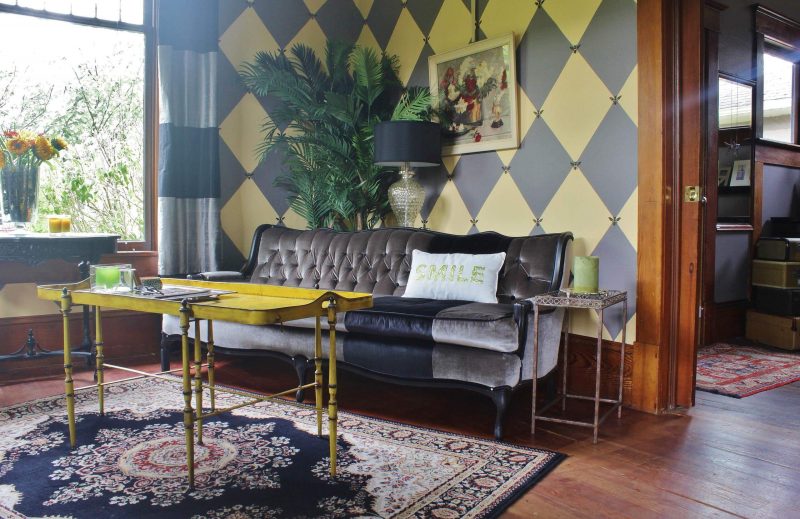 A hand-painted diamond motif found on interior designer Jennifer Ryan's living room wall has a personal connection. All of the diamonds are connected with little painted bees as a tribute to when Ryan's husband, Scott Hendrickson, used to keep them.
Gray wall paint: Mink SW 6004, Sherwin-Williams; yellow paint: unknown