Sunrooms support leisurely living and increase square footage — often with lower construction costs than a fully finished room.
If you're thinking about someday adding a sunroom or turning an existing space into a sunny retreat, here are some features to consider. And if you're not, maybe these photos will change your mind.
1. Comfortable seating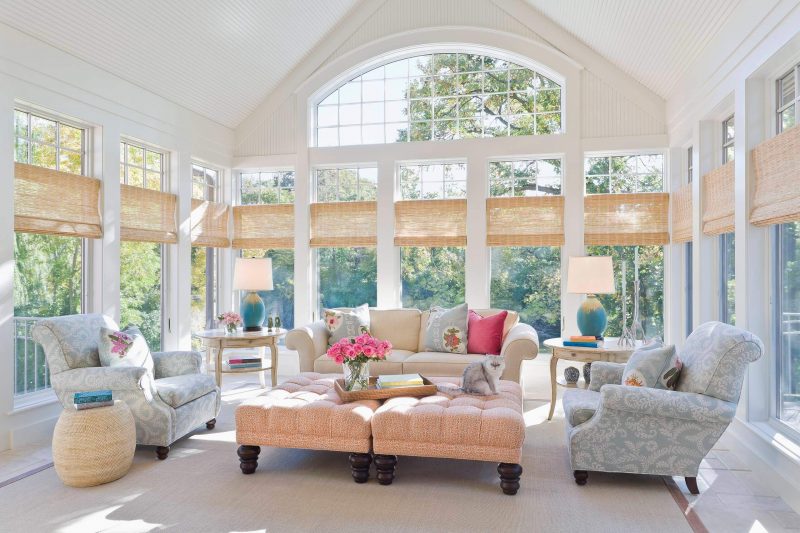 The ultimate sunroom acts as a second living room. It need not scream wicker. You may bring in upholstered seating, plush pillows and throws, indoor-outdoor rugs and occasional tables that you would think to use inside.
A proper sunroom has electrical outlets to support floor and table lamps as well.
2. Multiple purposes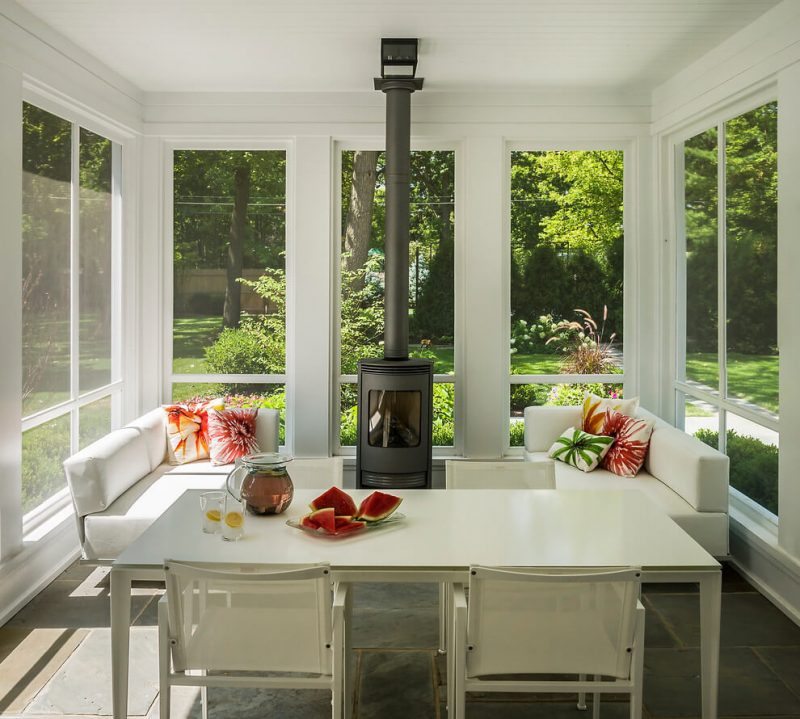 Ideally, a sunroom can accommodate both a seating arrangement and a dining table, so it can be utilized as frequently as possible.
3. Environmental controls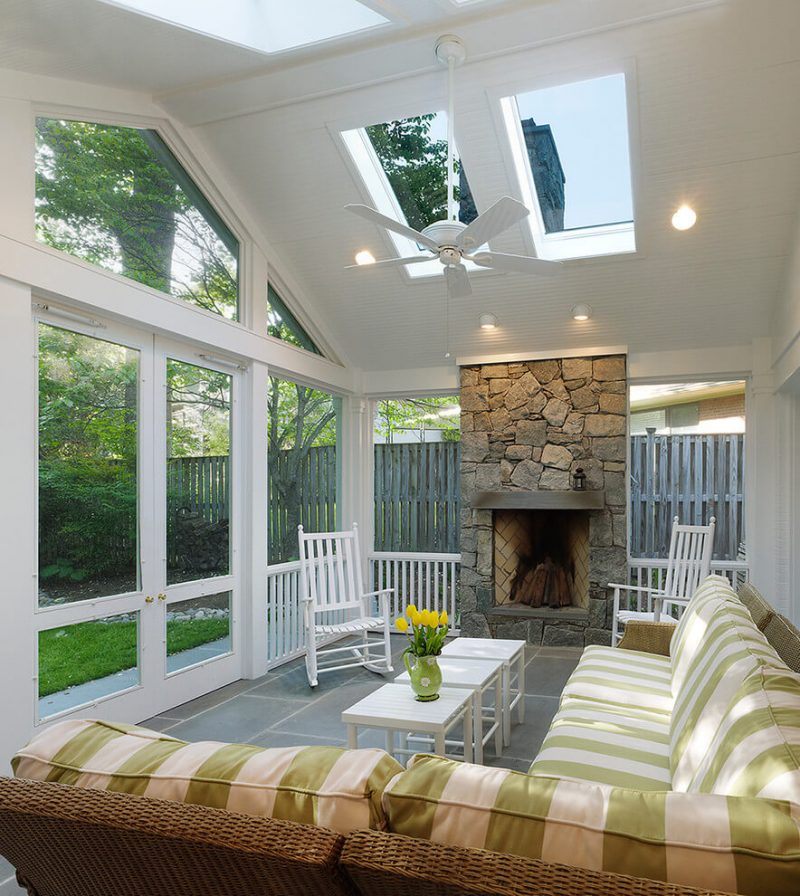 Most sunrooms are built without heating and air conditioning systems. But it's still nice to be able to cool down with a ceiling fan if the air gets too stifling and to warm up with a fireplace on chilly nights.
4. Privacy shades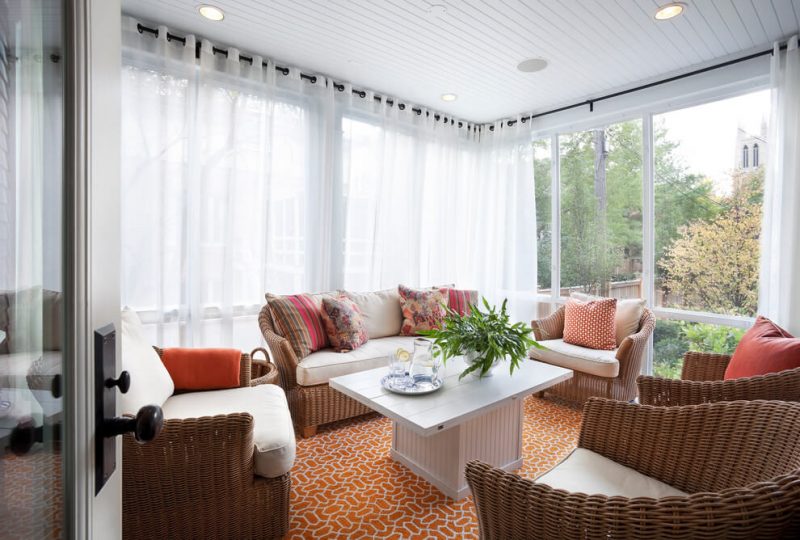 Sunrooms get sunny, of course. They tend to boast floor-to-ceiling insulated glass windows and doors. Even if you have high-quality windows and doors, space may still get overheated.
Curtains or shades are must-haves to make sure that you don't overheat as you browse home design photos and drink iced tea on a lazy afternoon.
5. Greenery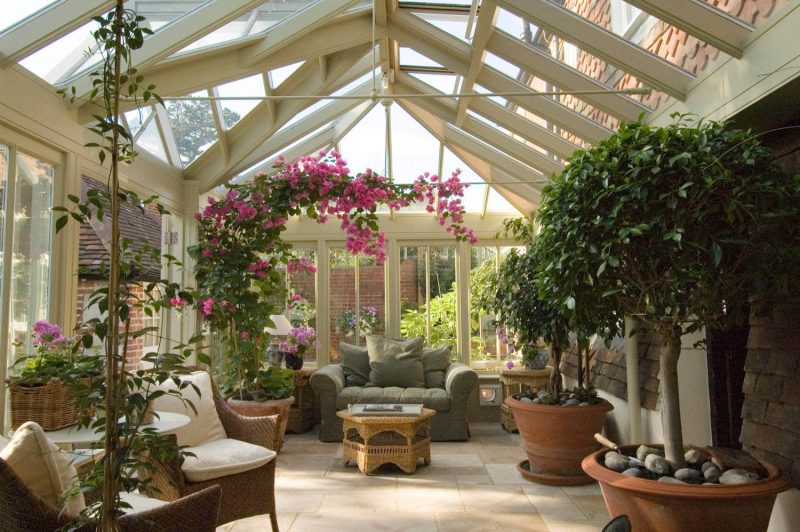 A transitional space between the indoors and outdoors begs for thriving potted plants as the connecting element.
6. A home office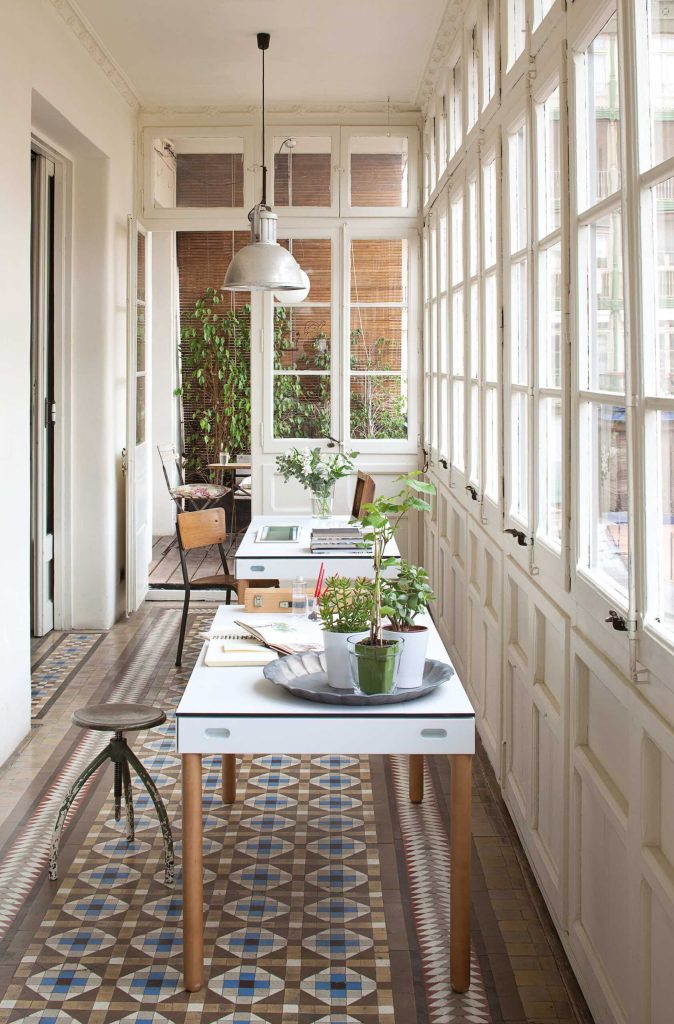 If you have a table in your sunroom, you can use the space as a home office between meals. A supportive chair, a Wi-Fi connection, and a view to your backyard will make for a productive morning.
7. A setup for entertaining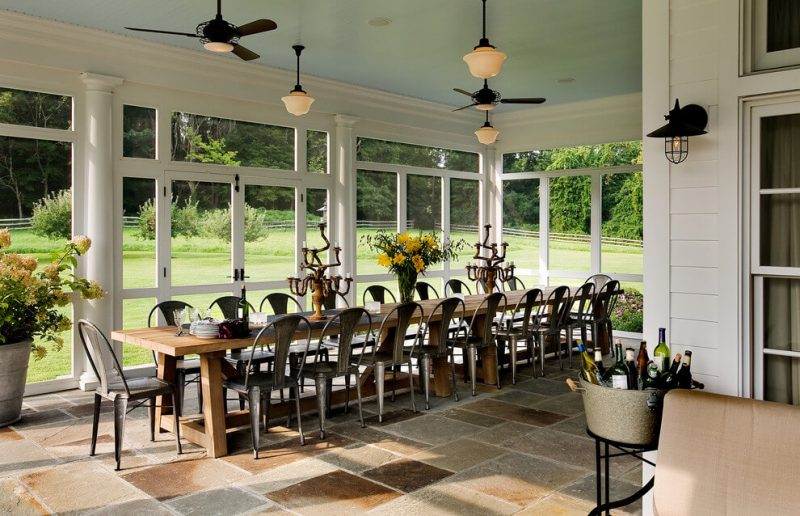 if you have a large group dinner on the calendar or a special event, consider the sunroom the perfect place to set up your celebratory meal.
Ample table space, lighting, and air circulation, plus proximity to the kitchen, will make for an unforgettable event.
8. Decorations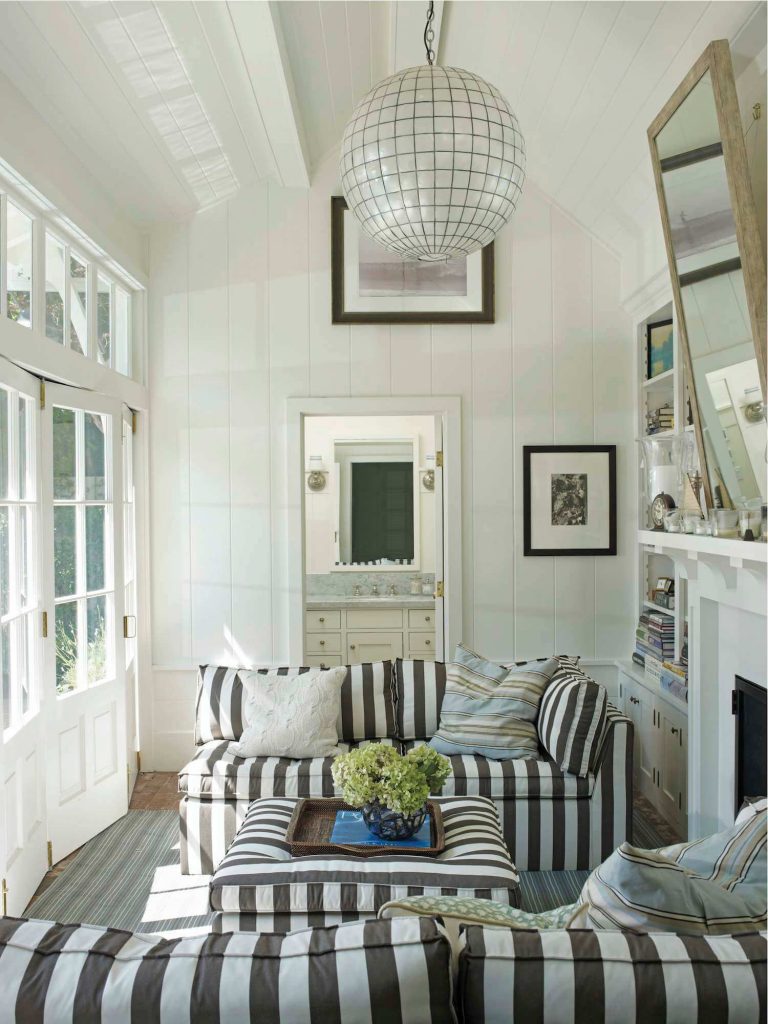 If your sunroom has sealed windows and French doors, there is no reason to hold back from decorating it with your favorite home accessories. Framed prints, books, mirrors, candles, vases, etc. will really kick it up a notch.
9. Whimsy
You can use this room as an opportunity to be playful with thrifted finds and salvaged pieces you don't deem appropriate to display in your formal spaces. Find new uses for an antique sewing table or fruit crates, for instance.
10. Rugs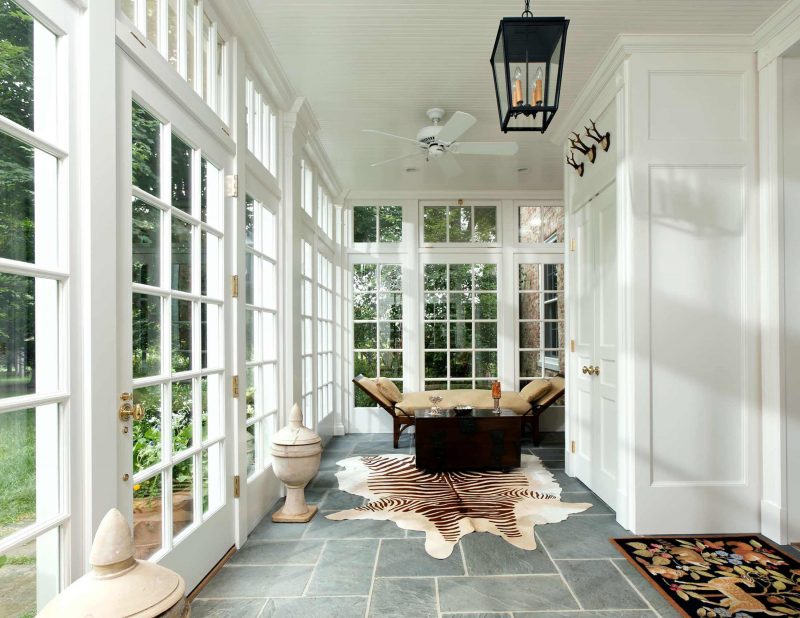 Add plushness and texture over hard, moisture-resistant flooring — such as tile, stone, or sealed concrete — with a rug. Jute and cowhides will hold up particularly well.
11. Simplicity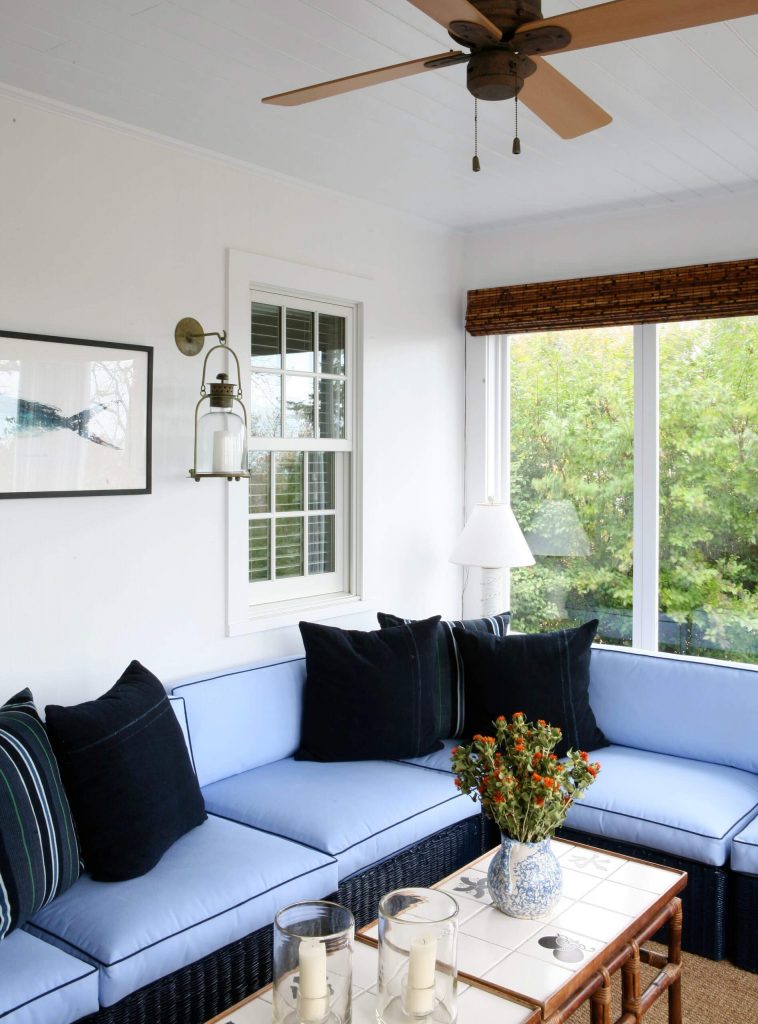 Don't overthink or overaccessorize your sunroom. A pretty and simple scheme is all that is needed, like in this somewhat nautical blue sunroom.
Notice the framed art, hurricane lamps, and flower arrangement added to make it feel homey.
Source: houzz.com/magazine