Spring is a great time to improve a deck. And if you're looking for inspiration, the following countdown of the most-popular decks far this year don't disappoint.
Pops of color, interesting plank sizes and arrangements, cushy outdoor furniture, and attractive planters are just a few ideas to get you started.
1. Mountain-Modern Style in Asheville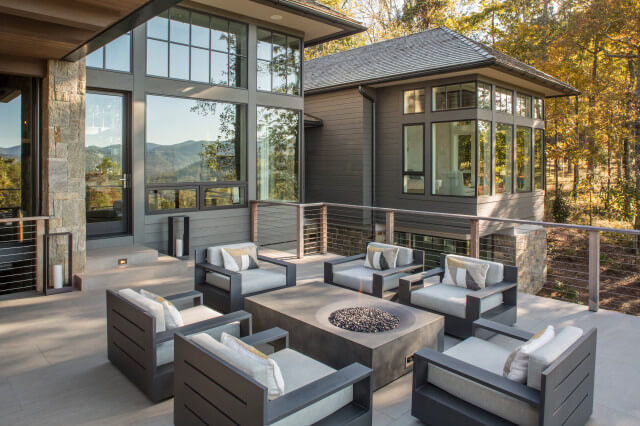 There's a successful marriage here between the architecture of the house and the style of the deck overlooking the mountains in North Carolina. Young & Young Interiors centered furniture that matches the house in style, materials and color around a large cocktail fire pit-table.
Steel cable rails maintain a clear view of the mountains, while large-format deck planks add a beautiful and unexpected touch.
2. Modern Comfort in Los Angeles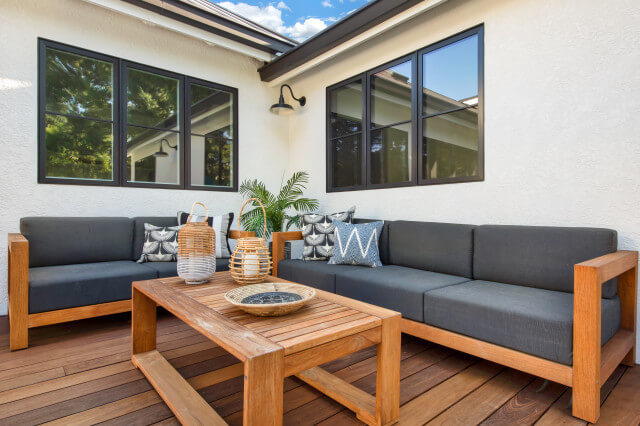 Interior designer Shannon Ggem reworked an existing deck as part of a whole-house makeover in Los Angeles. The corner became the perfect spot for a cozy modern outdoor sectional.
Pillows, lanterns, a plant, and other well-edited objects add personal flair. Ggem also strategically placed a gooseneck barn light for reading.
3. A Two-Tier Deck in Michigan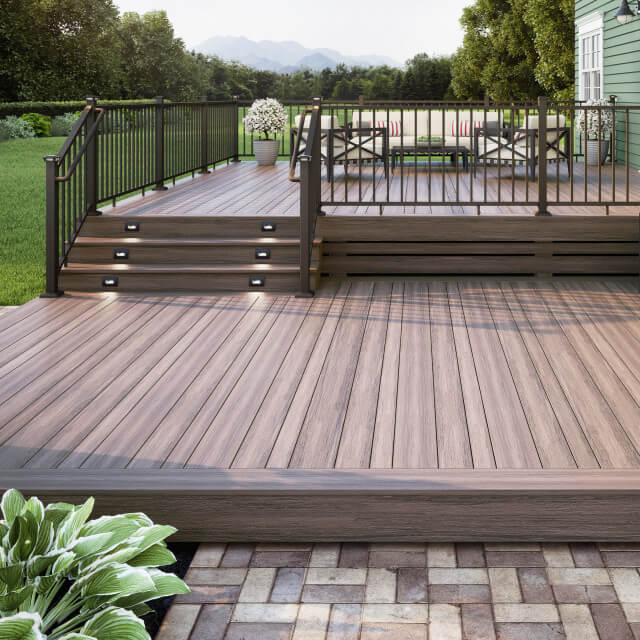 Multiple tiers, deck planks of various sizes, and integrated lights are a winning combination for this deck by Deckorators of Grand Rapids, Michigan. Note how the bricks on the path pick up the hues in the decking.
4. Big Living Outside a Tiny House in Portland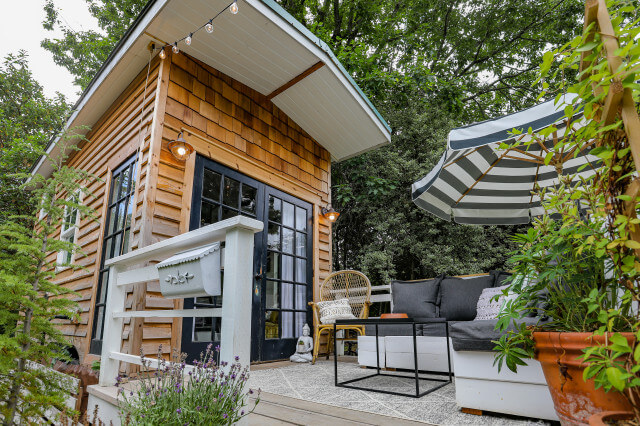 Good outdoor space was a must for an outdoorsy couple who live in a 175-square-foot tiny house in Portland, Oregon.
One of the homeowners, interior designer Katie Andersen of Parlour & Palm, extended the living space with a charming deck that serves as a second living room.
5. Country Style in the City of Paris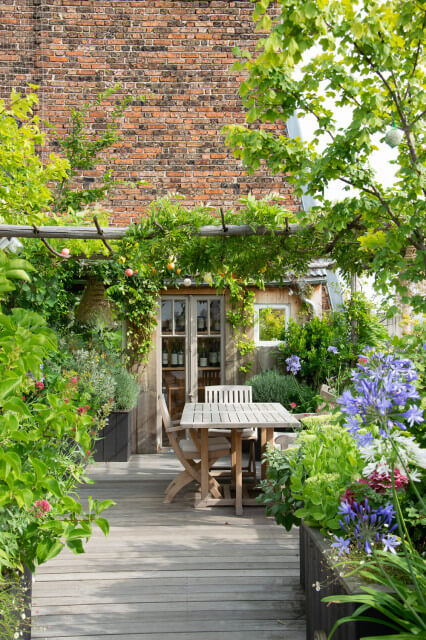 When does France ever not inspire? This beautiful deck outside Paris by maéma architects brims with charm. A rustic pergola covered in vines and colorful flowers provides a country respite from the city.
Dark planters provide the consistency that allows the wide variety of foliage and flowers to shine.
6. Chic Roof Deck Style in New York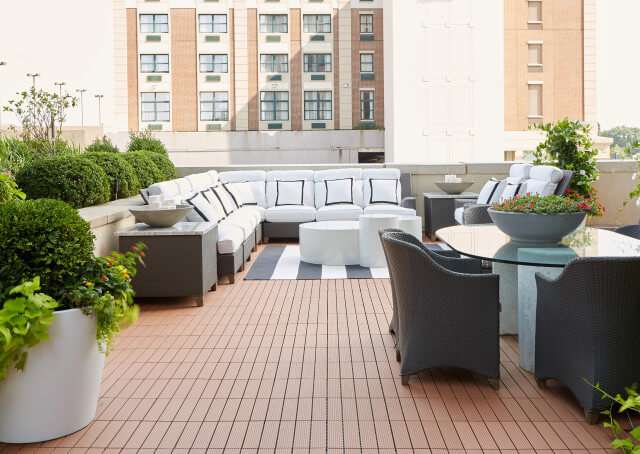 This enviable space in New York City by Lux Pad Interiors provides space for lounging, gathering and dining. Accent tables, throw pillows, candles and a rug give the outdoor space indoor style.
Big curves via the tables, planters, and chairs soften the deck's hard edges.
7. Stepping It Up in Los Angeles
This project by James V. Coane & Associates, Architects plays with the transition between the main level of the house and the ground.
Houzz users could not get enough of the large deck steps that mitigate the transition between the flagstone path and wood porch.
8. Modern Simplicity in Frankfurt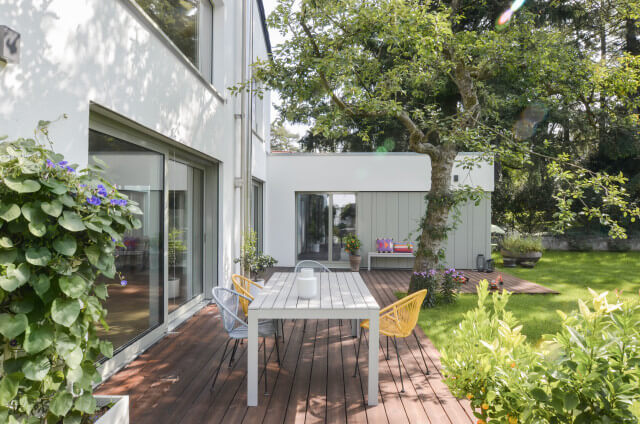 Simple beauty draws attention to this deck in Germany by Eben Architektur. Its flush appearance with the grass and its straight lines extend the modern style of the house's architecture into the garden.
And the colorful chairs and accessories add playful touches.
9. Playing With Color in Toronto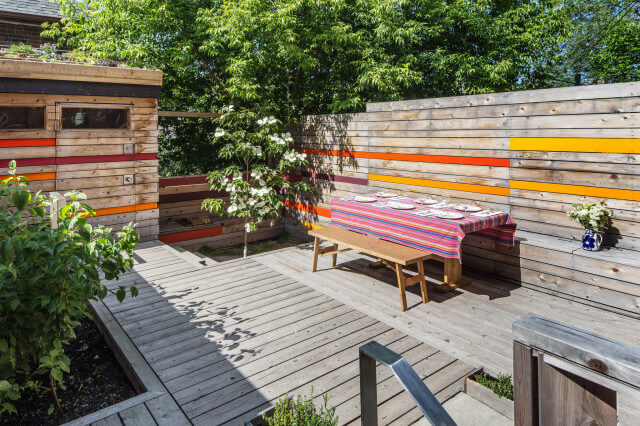 Adding deck color that will last during Toronto's long winters is a challenging task. The team at PLANT Architect brought it in by painting bright stripes on the walls. And the storage shed's roof doubles as a garden, planted with herbs and sedums.
Meanwhile, a bench along the back corner of the deck creates a cozy reading nook with a treehouse feel.
10. A Mix of Materials in Melbourne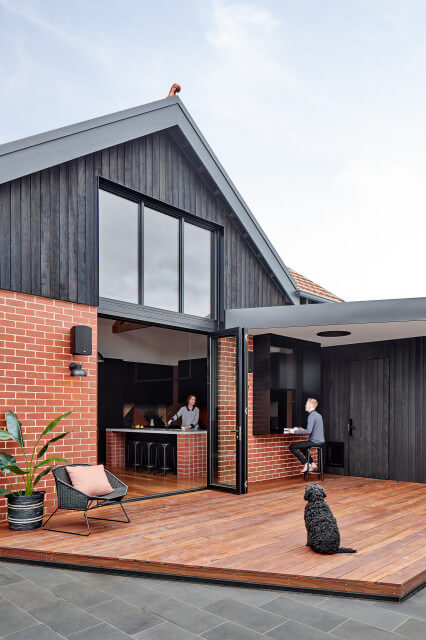 One of the most compelling elements of this Australian home by Bryant Alsop is the mix of weathered gray siding and red brick on the exterior.
And the designers repeated that mixed strategy on the ground plane with the warm wood of the deck meeting the stone pavers of the patio at an angle that mimics that of the roofline.
11. Popular Deck With Floating Bench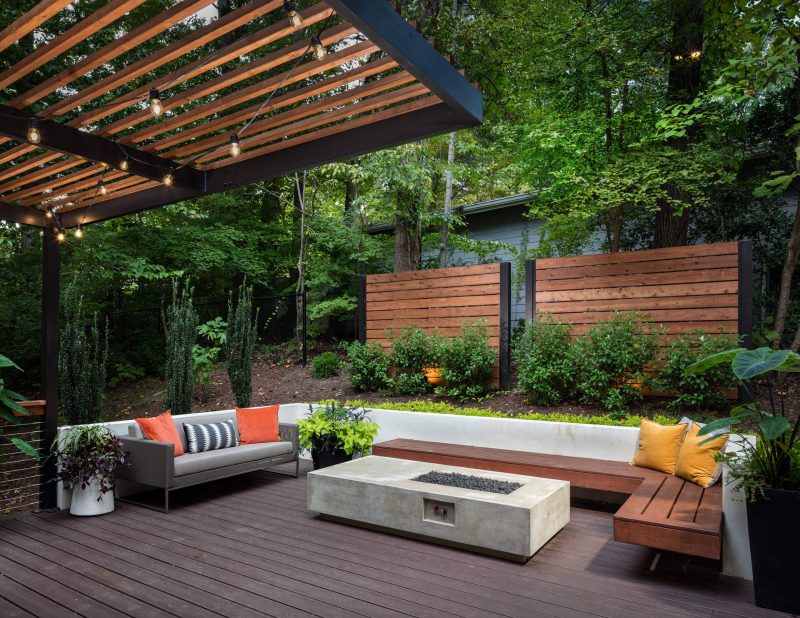 This second view of the same Atlanta deck by Boyce Design & Contracting seen in number eight above is the most-saved deck photo of 2021.
This party-friendly outdoor dining and lounge space has a shaded dining table and an L-shaped floating cedar bench arranged around a gas-burning fire feature. Freestanding cedar fences pick up the warm tones of the bench and pergola and provide privacy for the seating area.
12. Deck Multipurpose Oasis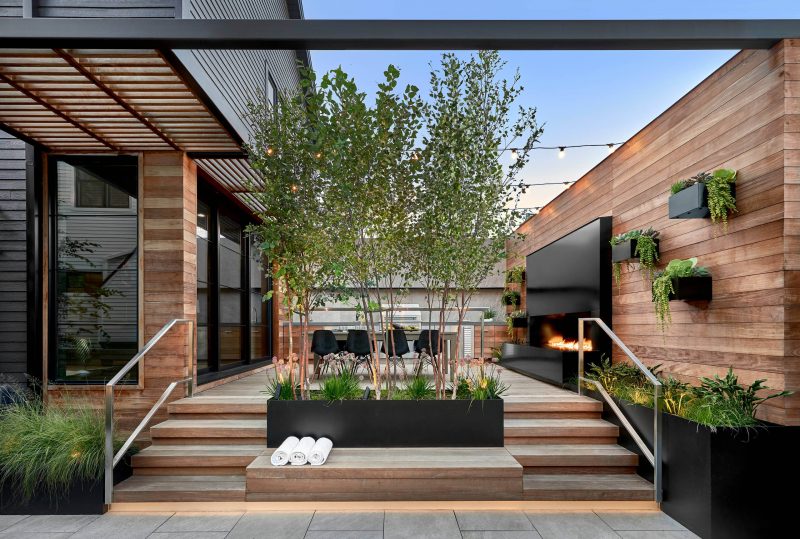 A mix of blackened-steel planters, natural ipe wood decking, and verdant plantings dominates this stunning Chicago backyard designed by dSPACE Studio. The yard consists of four distinct areas: a deck for dining, a plunge pool, a lounge, and a side yard. An idea to steal: Use planters to separate a large deck into multiple zones. Here, the team used Dura Heat river birch (Betula nigra 'BNMTF') in a built-in steel planter to separate the dining terrace and plunge pool.
13. Dazzling Roof Deck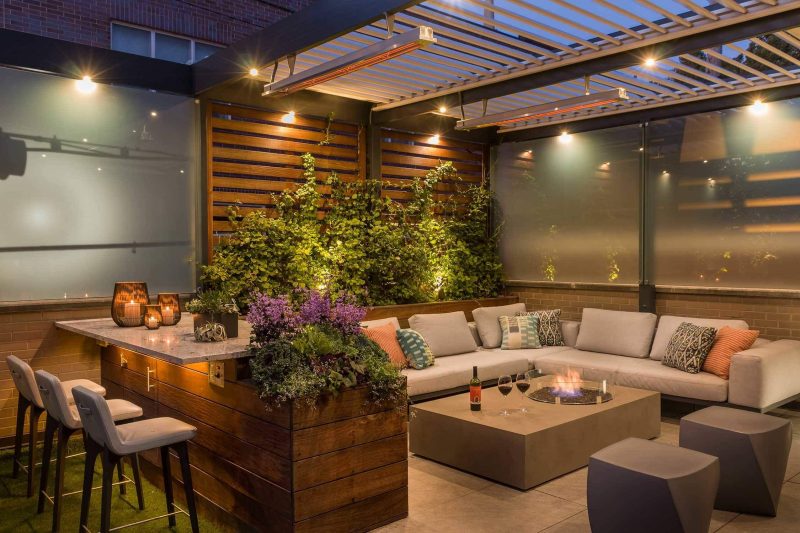 Every comfort is provided on this roof deck designed by Chicago Specialty Gardens. Comfortable seating wraps around a fire feature, which doubles as a table for resting drinks.
The pergola overhead features mechanical louvers that can be closed for full shade or shelter from raindrops, and outdoor heaters cast a pool of warmth over the entire area on chilly evenings.
14. Deck Going Green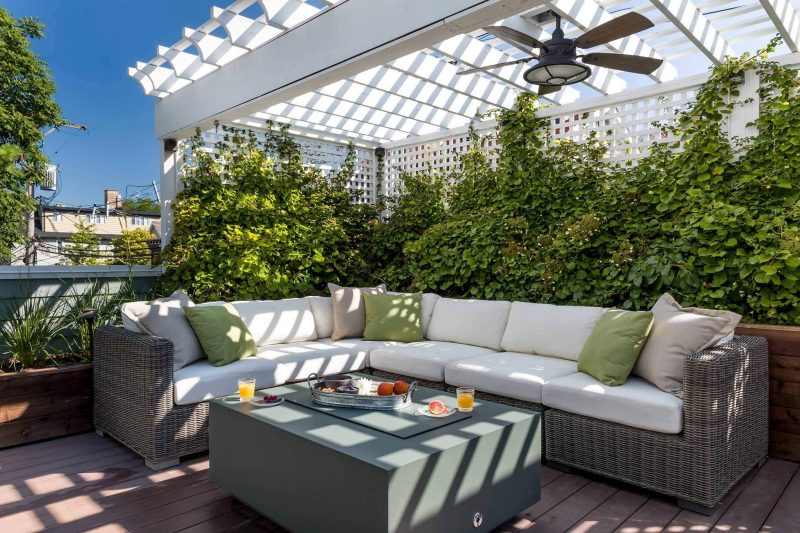 Chicago Specialty Gardens used a combination of latticework siding and climbing hydrangea to transform an open deck into a private, leafy retreat.
A cushy outdoor sofa under a shade pergola, along with a ceiling fan to provide a soft breeze, sets the stage for outdoor relaxation.
15. Deck With Fireside Seating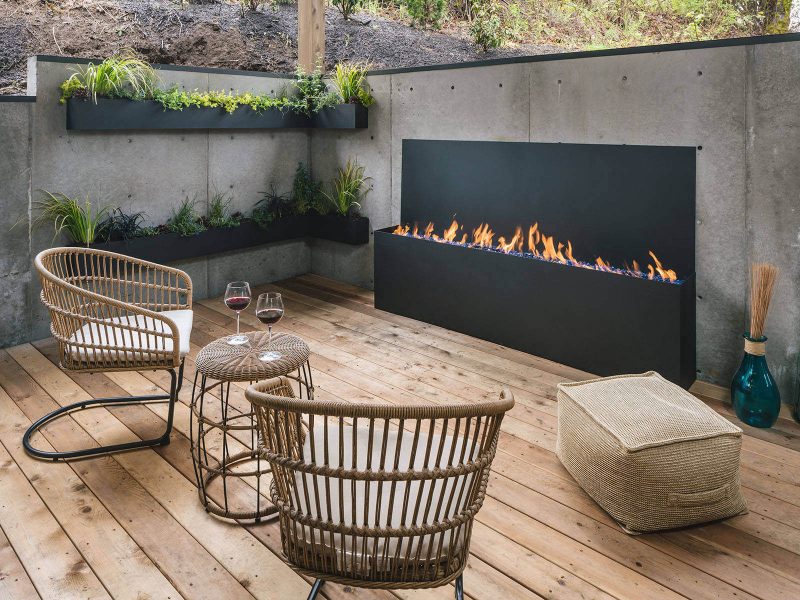 This stylish covered deck sits right off the kitchen of a contemporary Portland, Oregon, home designed by Jordan Iverson Signature Homes. The location allows the outdoor room to act as an extension of the living area, offering the homeowners and their guests a place to step out in the evening and enjoy a fireside drink.
The deck features a smoke-free gas-burning fire feature in custom fabricated steel with matching metal planters mounted along the adjacent concrete wall.
16. Deck Side Yard Stunner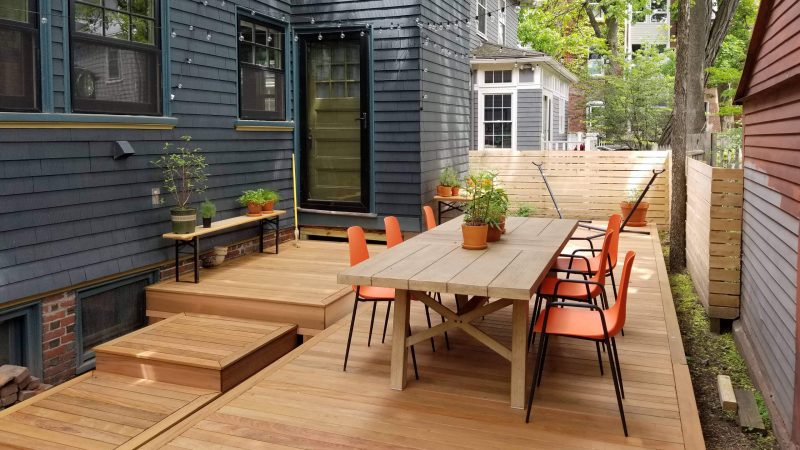 Slotted into the side yard of a Boston home, this dining deck designed by OPRCH proves that you don't need much space for a deck to add major backyard utility.
The homeowners can easily carry plates of food out from the kitchen to the dining table to enjoy dinners outside all summer.
17. Deck With Swimming Hole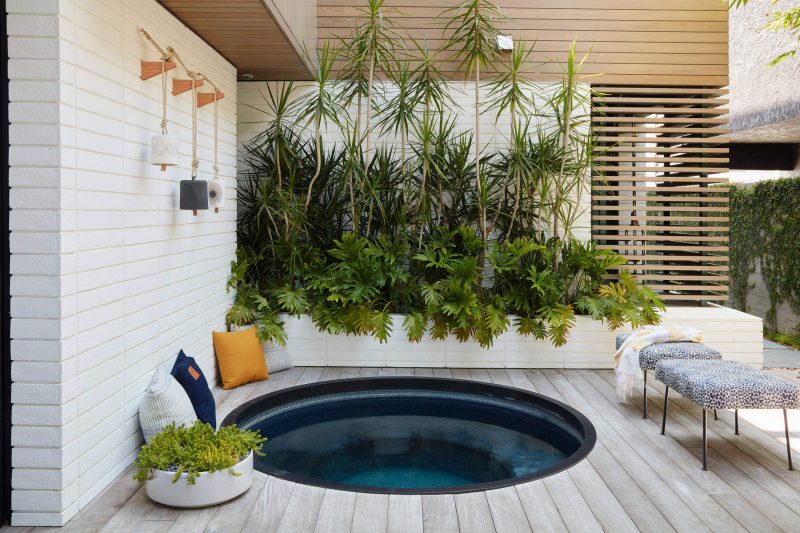 With blue-green tile and nearby tropical dragon tree and philodendron foliage, this sunken hot tub feels like a tranquil natural swimming hole.
The design, by Michael Lee Architects and Jones Landscapes, benefits from pale decking, which makes the pool tile appear even darker and more inviting by contrast.
18. Deck With Stylish Lighting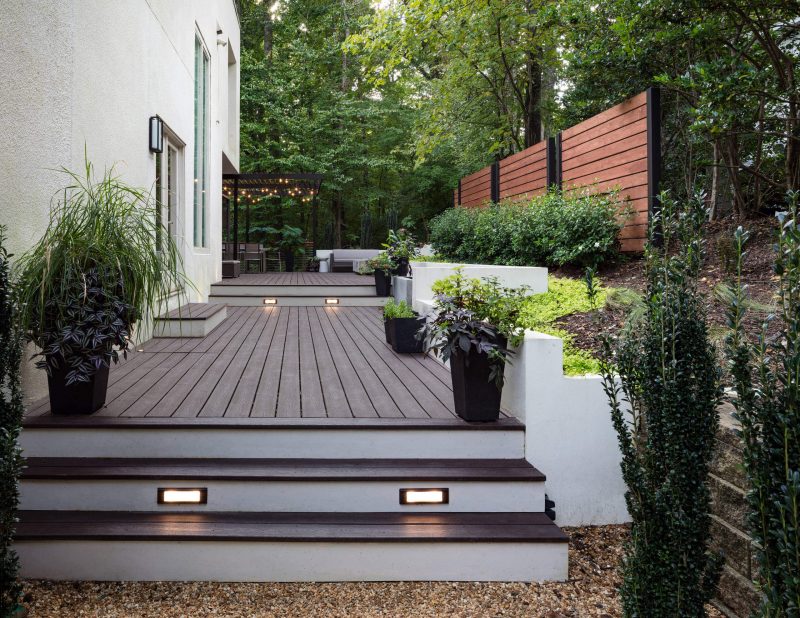 Outdoor lighting can often be an afterthought, but this Atlanta backyard shows how it can add to the design. Boyce Design & Contracting used two pairs of subtle LED stair lights to draw people across the yard to a Trex deck and a larger entertaining space.
The lights also help prevent tripping. Inset lights dot the deck's perimeter, while twinkling cafe lights looped on a pergola above an outdoor dining table beckon people to come take a seat.
19. Deck Artistic Angles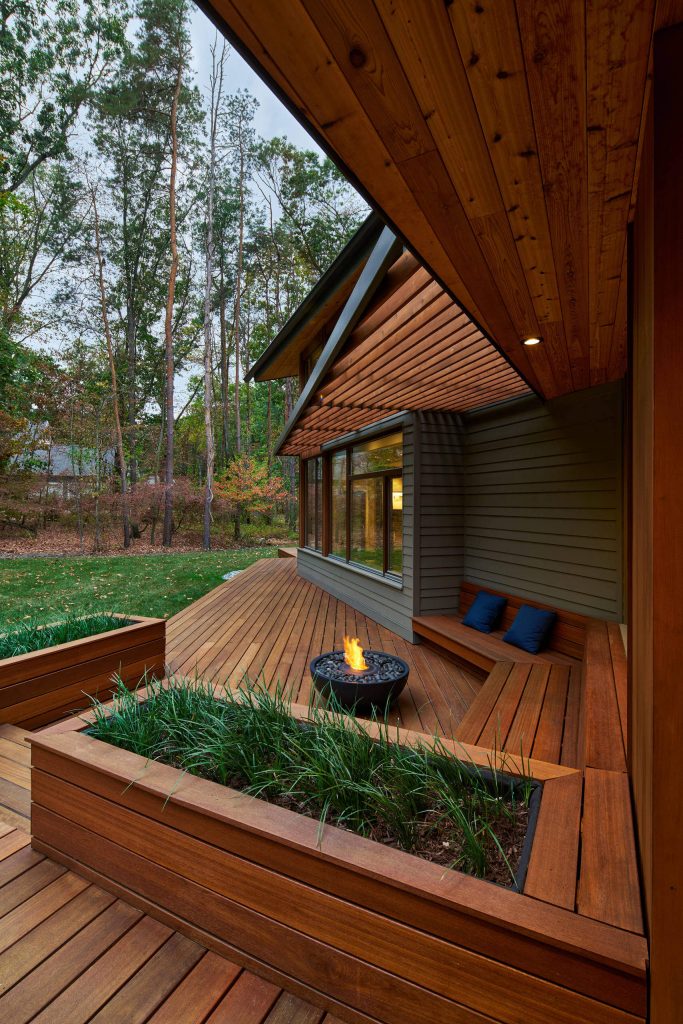 This contemporary home in Michigan features strong angular rooflines and has a floor plan spread across two wings. The architects used the triangular space between the two wings to build a deck and expand the home's living area.
The deck looks perfectly in keeping with the style of the home, with angled, ledge-like seating and an inviting smoke-free fire feature to draw the homeowners outside.
20. Deck Indoor-Outdoor Lanai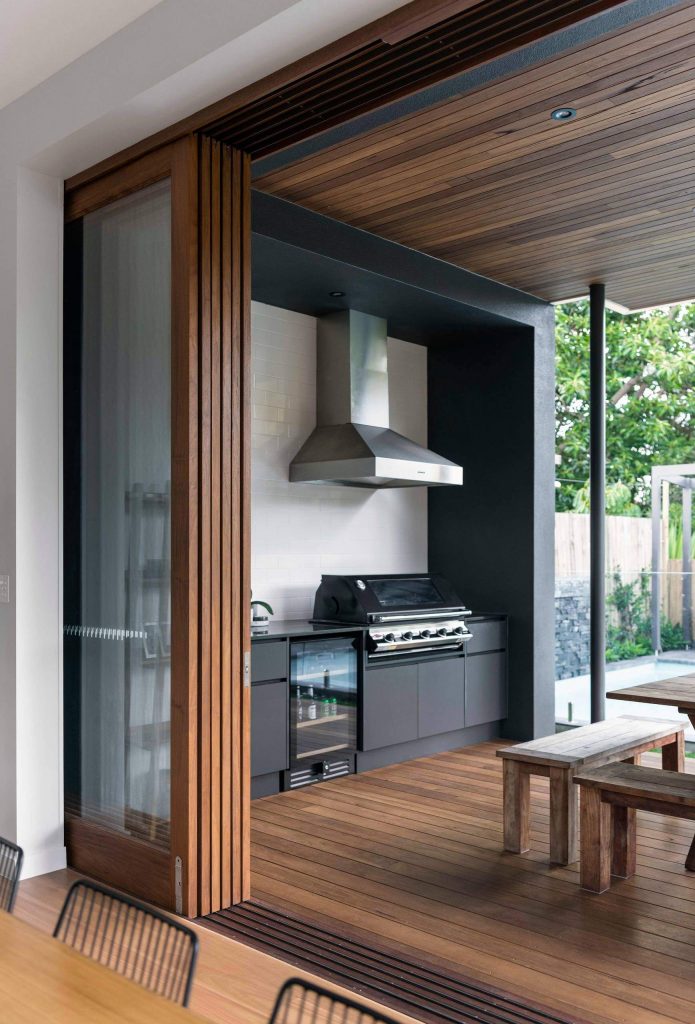 This handsome deck design by Big House Little House for an Australian home takes advantage of a year-round mild climate by offering the homeowners an indoor-outdoor lanai for cooking and dining.
Sliding glass doors allow the outdoor area, which sits under the cover of a second-story overhang, to be closed off from the home when not in use, or they can be thrown open for easy flow from the living room to the outdoor deck and the pool beyond.
Source: houzz.com/magazine