Are you a bath person or a shower person? Or, like me, does it depend on your mood? If the invigorating sensation of a full-body spray, the gentle fall of warm rain, or the soothing, muscle-relaxing pulse of an oscillating spray sounds good, this shower idea is for you.
Luxurious materials, spectacular settings, and the latest in technology all contribute to the experience in these sensational shower designs. Once you go in, it may be a very long time before you come out.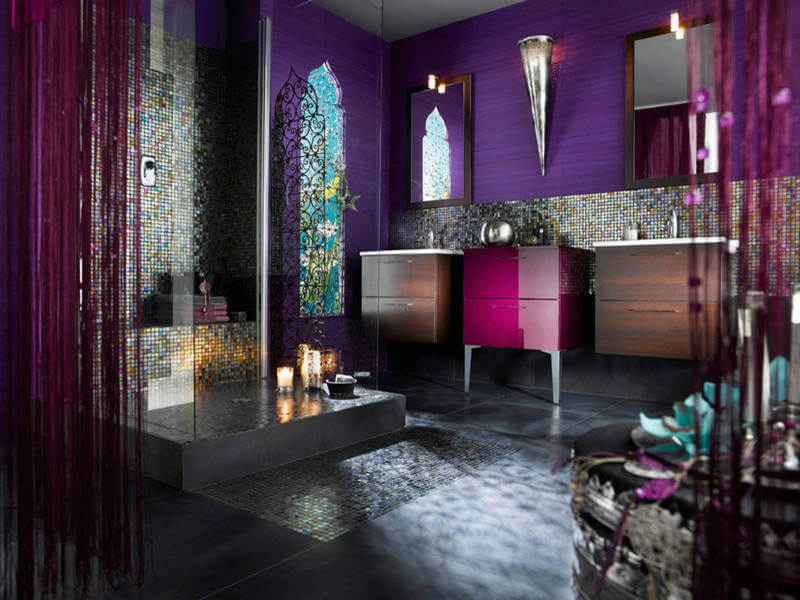 This Moroccan-inspired shower makes my dream list for the sheer dazzling beauty of the jewel-like mosaic tile, the colors on the wall, and that pretty fuchsia cabinet.
I also love the raised platform of the shower surrounded by a barely-there frameless glass enclosure. What a romantic style!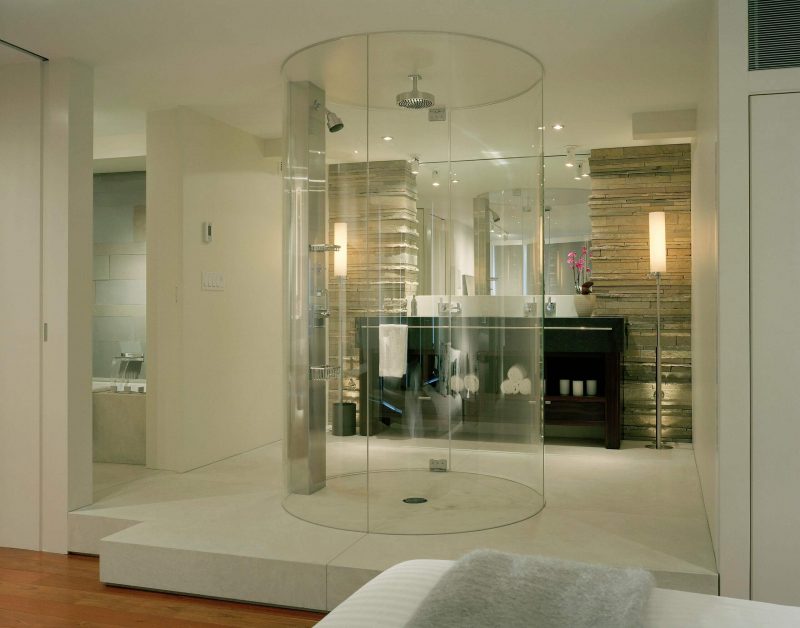 When I first saw this clear, totally tubular shower, my first thought was "Beam me up, Scotty." Then I realized Scotty couldn't really beam me anywhere much better than this. It has a motion-sensing door that opens automatically, which is pretty space age.
This also should appeal to wannabe go-go dancers; nothing like a little exhibitionism to start out the day. It's the Transtube 360 by Roca.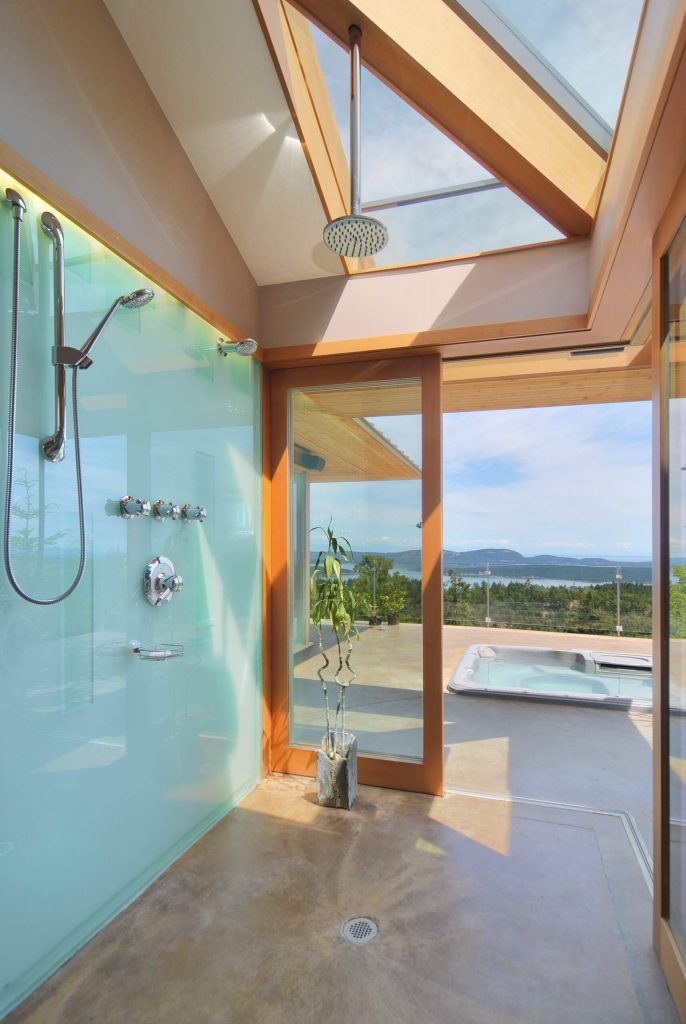 Large glass doors with a curbless transition to the outdoors in combination with a skylight and back-painted glass the color of water and sky create an experience that's like showering out in the open.
A very free feeling and one that requires a secluded location.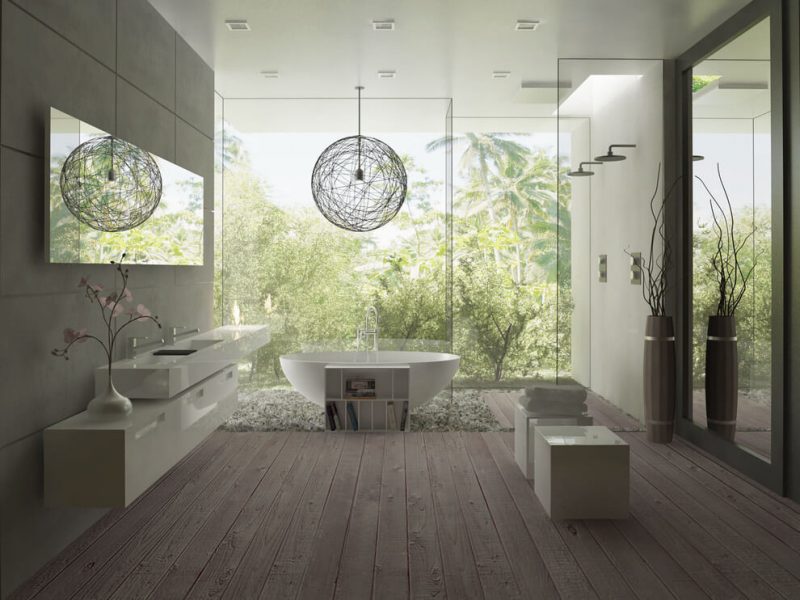 Speaking of dreams, this shower still is just that: a dream. This is a photorealistic 3-D rendering done to conceptualize the entire space before building.
The designer has envisioned a wood floor that continues in a curbless fashion from the main bath to the shower. River rock outside the floor-to-ceiling windows is continued indoors around the shower platform. This is like showering out in the jungle without the bugs.
Many designers are working with 3-D modeling programs to give a taste of what the room will really look like before the client commits to building the design.
The more photorealistic the rendering, the more it costs to have it produced, but it sure beats the heck out of a floor plan in pencil on graph paper for visualization.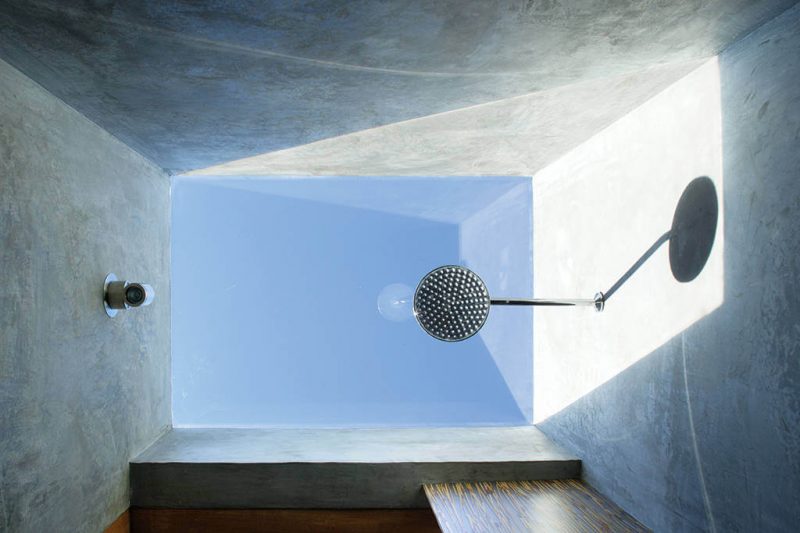 What could be dreamier than showering in a warm rain while gazing up at a blue sky?
What a great idea for having sunlight in your shower while still maintaining your privacy.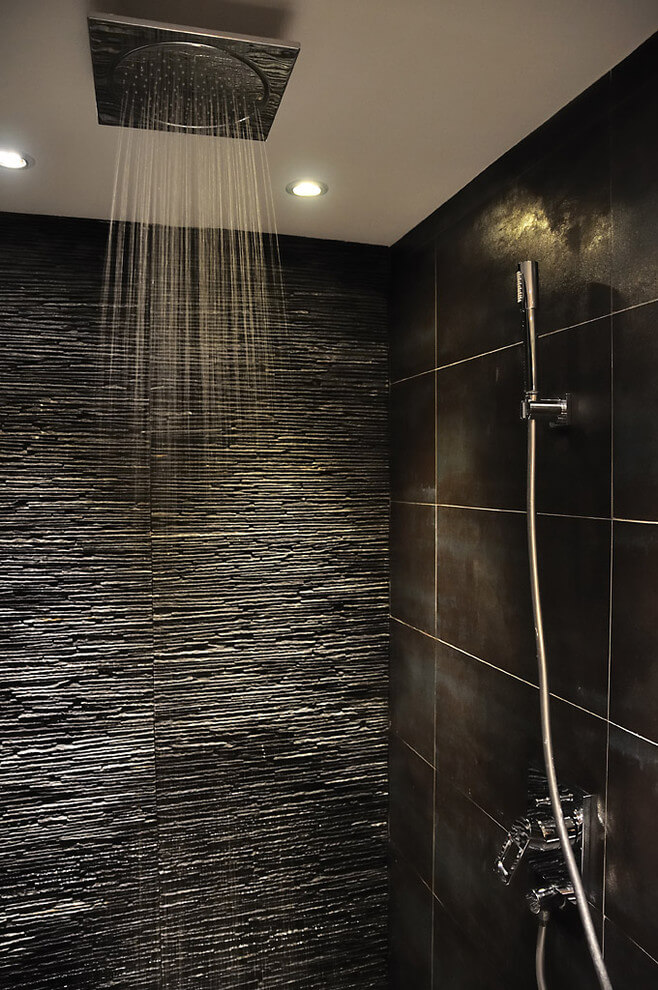 A luxurious stone texture fills one wall of this shower. The handheld showerhead is as sleek as they come, but it is the rain showerhead that would make me feel like I was in a secluded, natural grotto.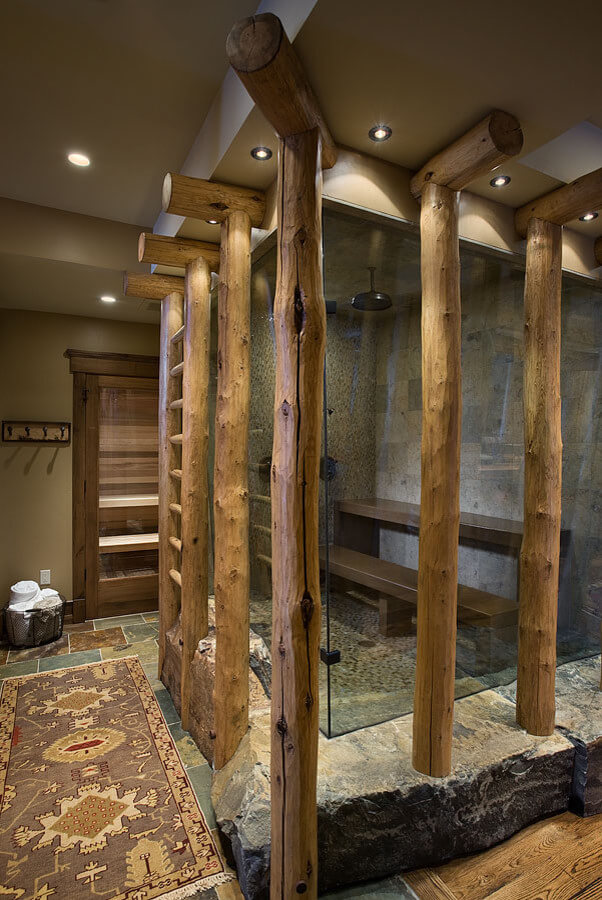 Combining shower and sauna is another luxurious idea. The rough-hewn granite and hefty logs here create a grounding environment in which to sit back and relax.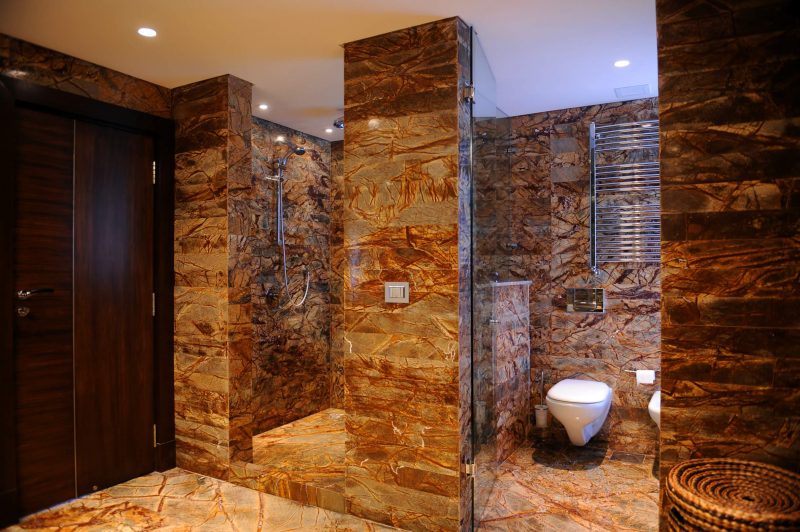 This shower is just pure opulence, with the walls and floor covered in beautifully colored stone. Just being in here would make me feel like a million bucks.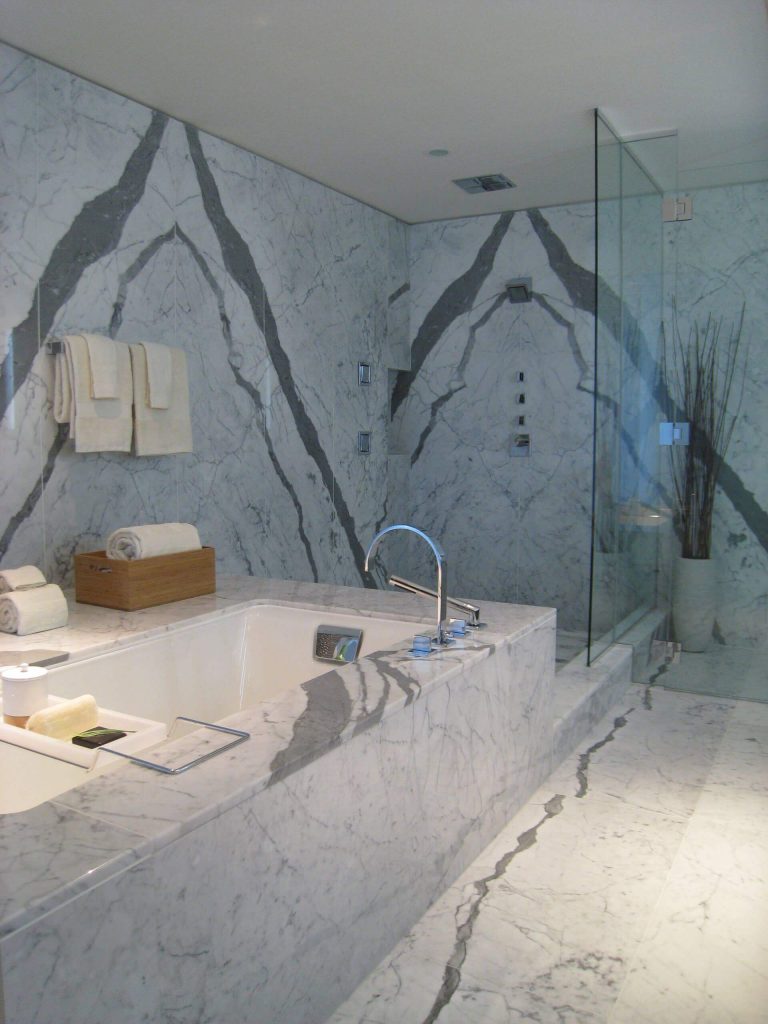 A very dramatic look is achieved with book-matched marble featuring a striking vein pattern. If you look closely you'll see that there are body spray fixtures set in the wall to the left as well as a square rain showerhead in the ceiling and another showerhead on the wall.
Setting fixtures into the wall lets the stone's beauty stand out with minimal interruption.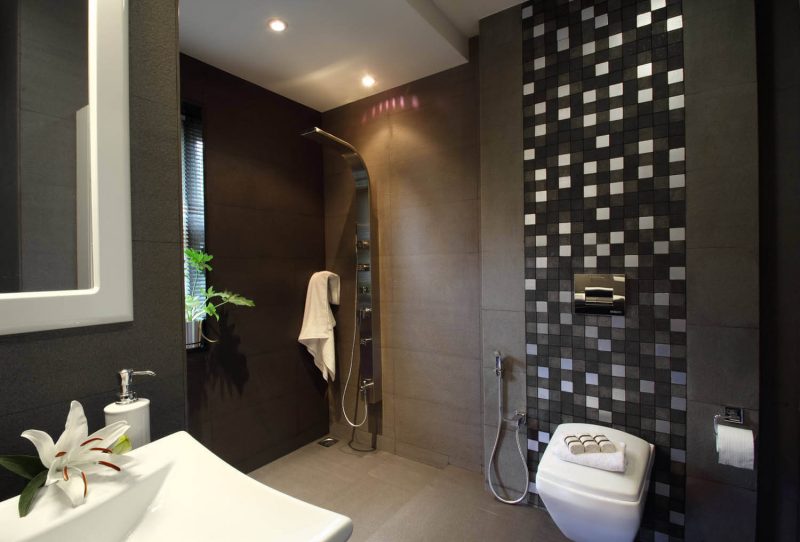 A shower column is another way to add the luxury of body spray fixtures and multiple showerhead features without having to run extensive plumbing.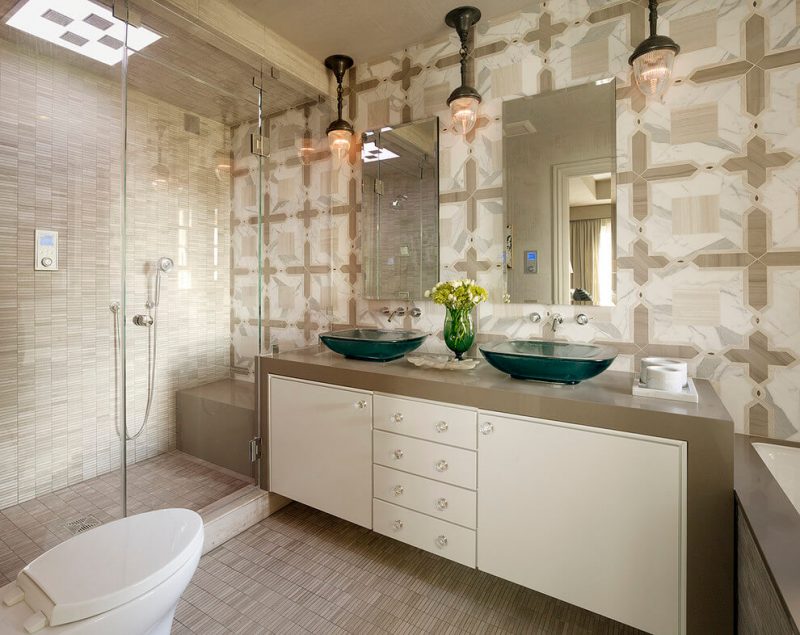 At first glance you notice that this shower shares a beautiful tile wall with vanity. But what isn't so noticeable is the high-tech nature of this shower.
It has the Kohler DTV ll digital showering system, which controls the temperature, spray, steam, audio, and lighting of your shower all from one control. It also has Kohler's SoundTile speakers plus a rain-shower panel on the ceiling that provides mood lighting.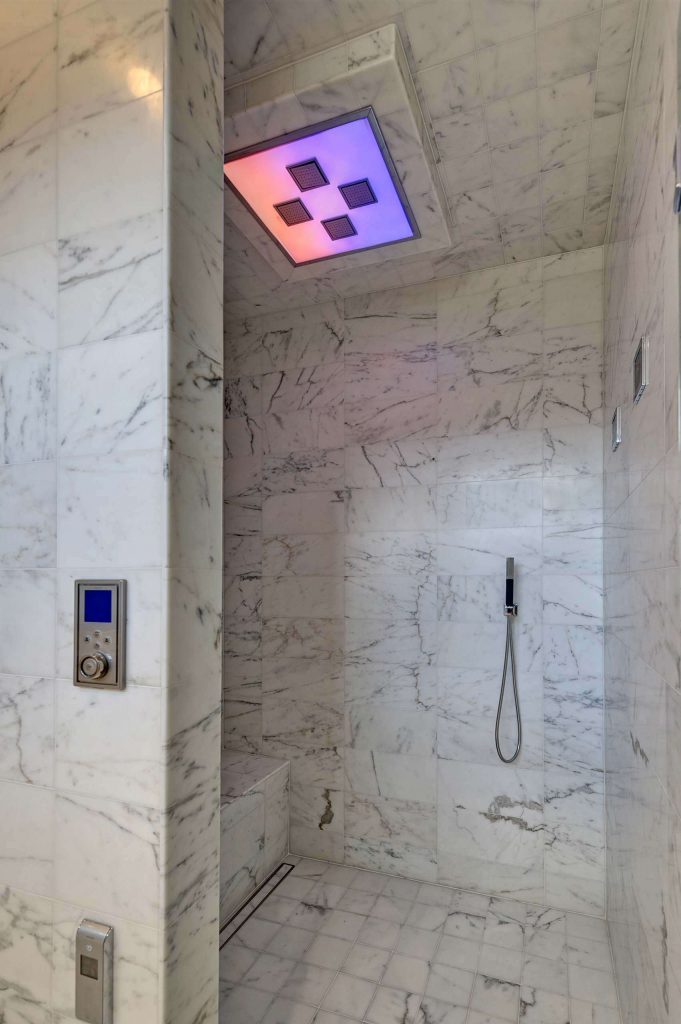 This shower has the same DTV ll control, and here you get to see that mood lighting in action. Pretty slick.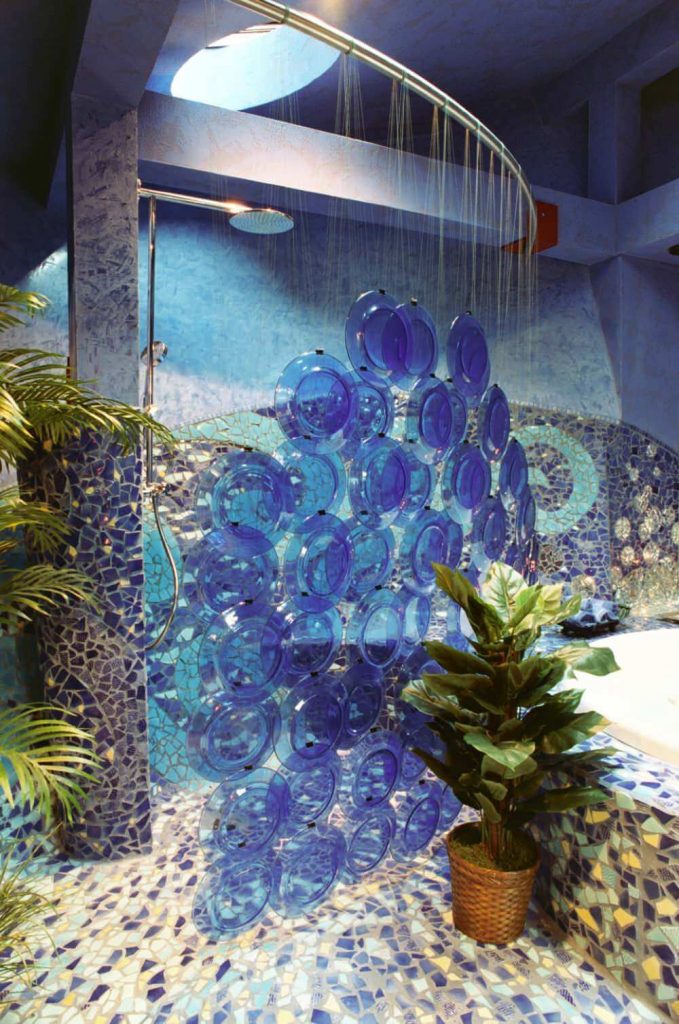 This is one of the most whimsical and artistic showers I've ever seen. All those blue glass plates create a shower screen reminiscent of large bubbles.
One commenter notes that all you'd have to do to clean them is pop them in the dishwasher.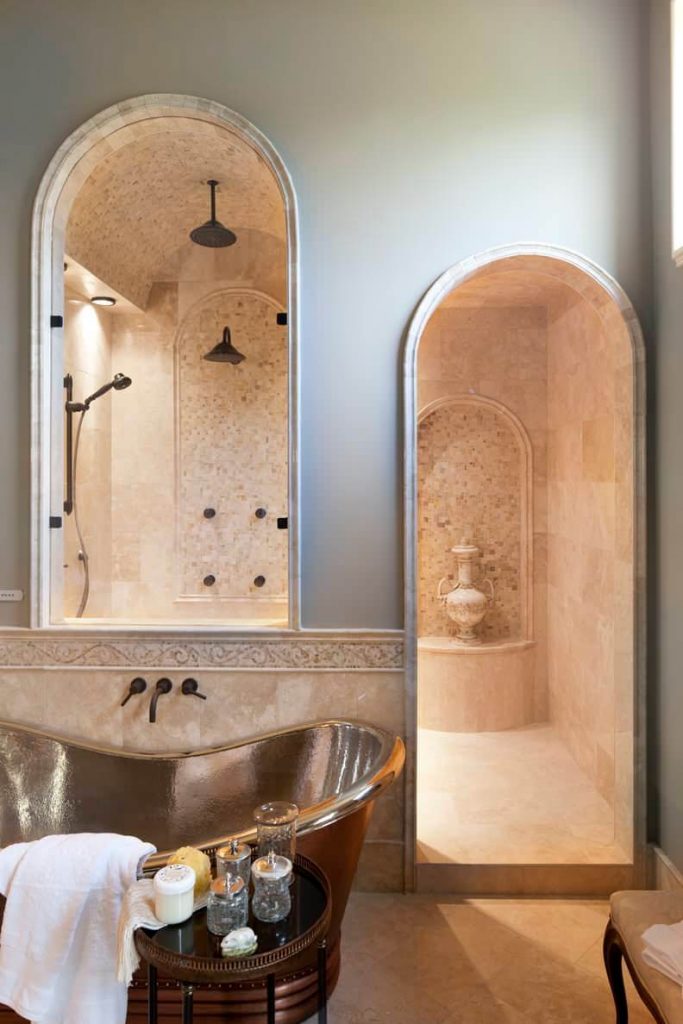 This is a shower worthy of a castle. Creamy stone, graceful arches, and a vaulted ceiling all create ambiance fit for royalty.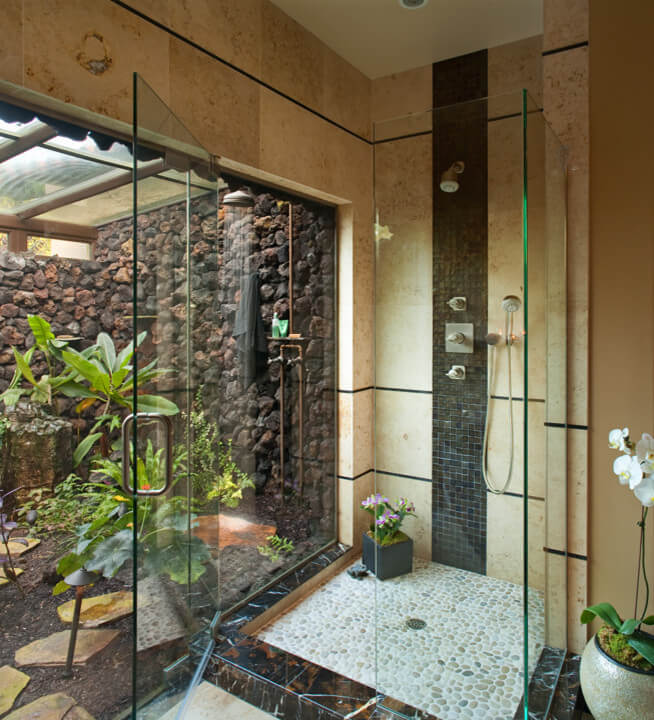 An indoor shower right next to an outdoor shower would have me saying, "Eeny meeny miney mo."
They are both so pretty; I don't know if I could handle having to make such a hard decision first thing in the morning.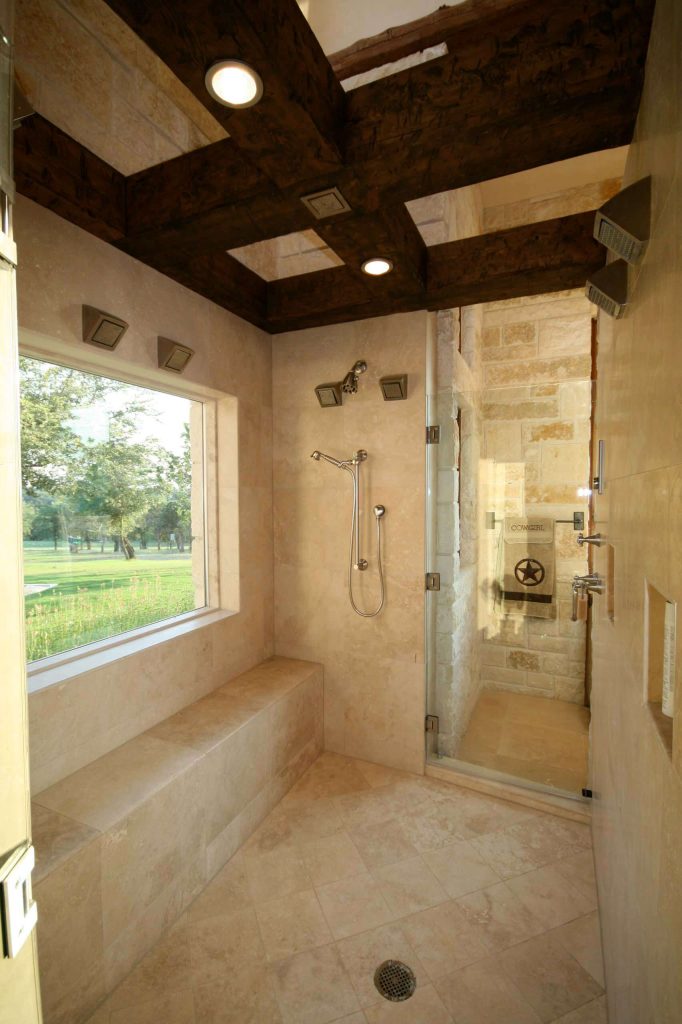 For those of you who love to sing in the shower, this one has speakers all the way around. The view and that beautiful wood-beam ceiling give you something to sing about.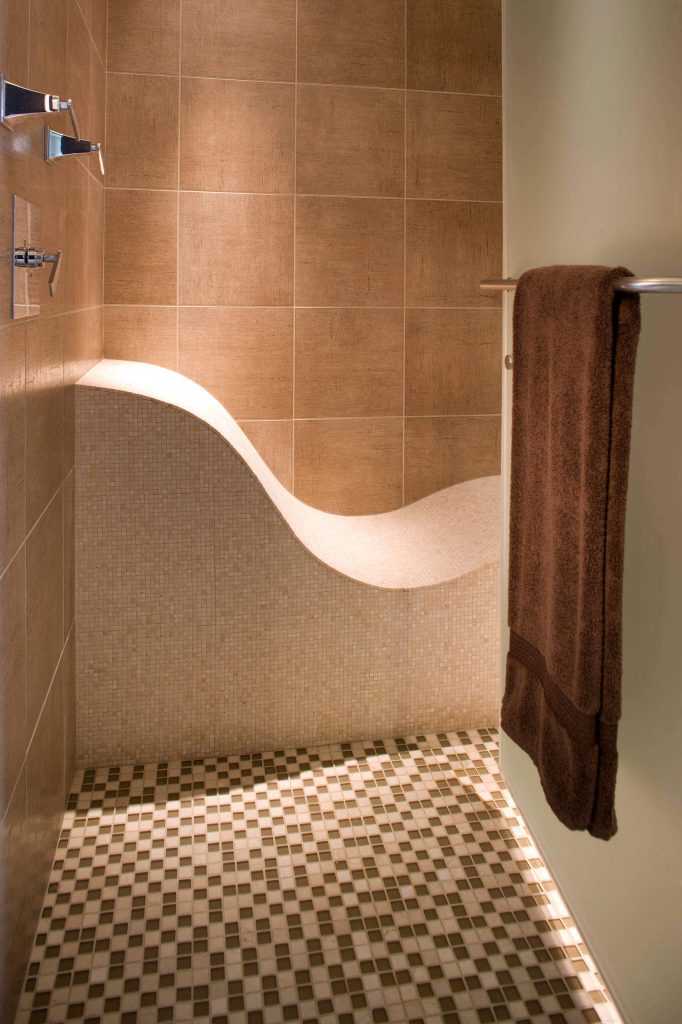 The sensual lines of this undulating shower seat offer an inviting spot to perch.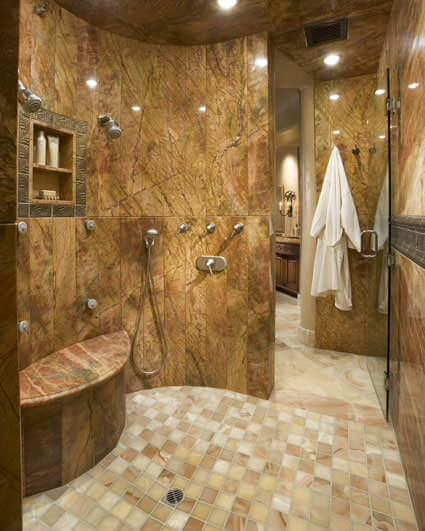 Showers for two are a great feature, whether the purpose is for two people to get ready at the same time in the morning or just keep each other company.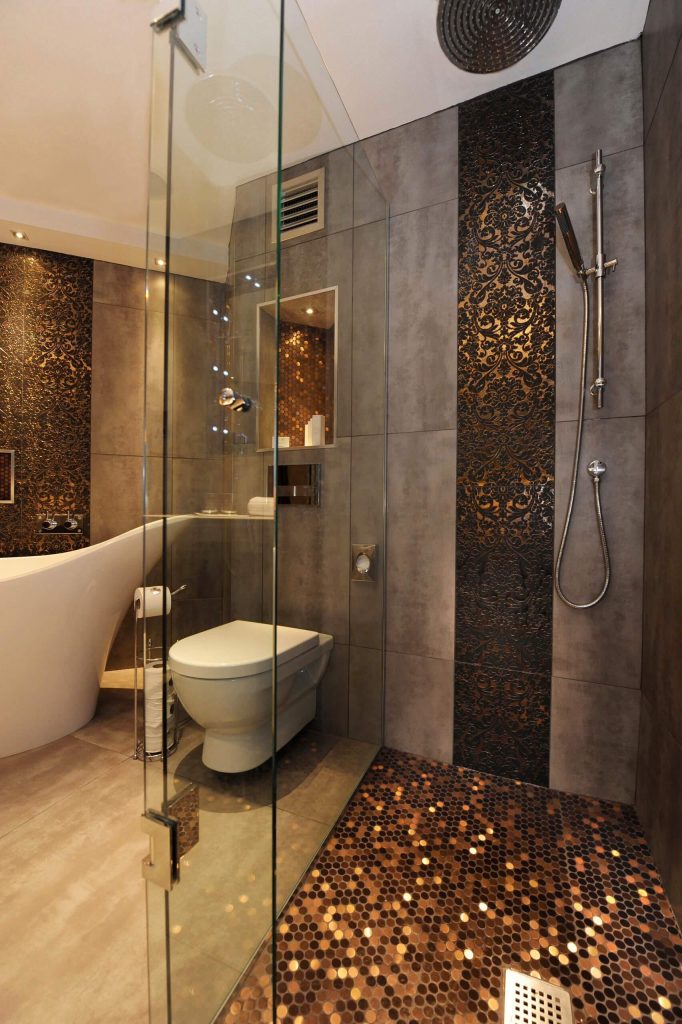 Sometimes a very beautiful tile is enough to make a shower feel like a dream. This metallic damask is just lovely.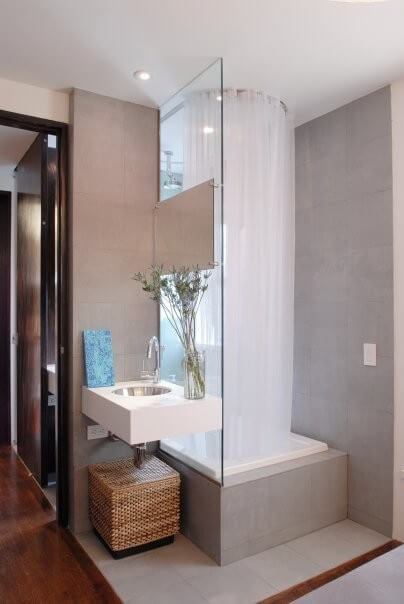 A shower doesn't have to be huge to be wonderful. I love this light-filled shower-and-tub combo. The gossamer-thin white shower curtain on a ceiling track is a pretty look, plus it accommodates those who are modest.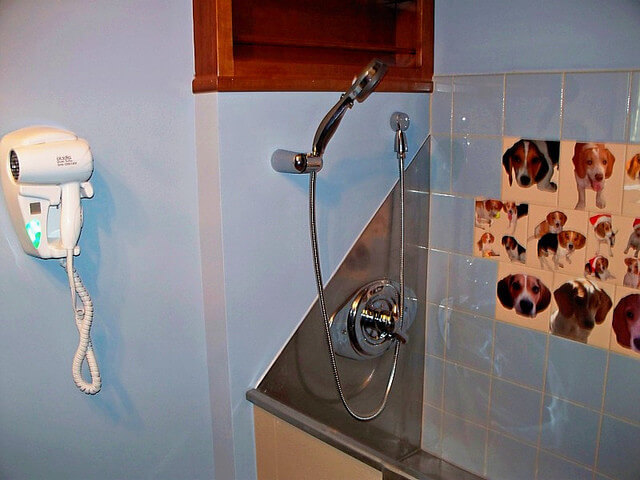 Who says humans are the only ones who should have a dream shower? A handheld showerhead and custom tile create a shower that would make any pooch feel positively pampered.
Source: houzz.com/magazine