A recent study published by the UK's DailyMail says couples who meet at work are more likely to actually marry. Great news if you have your eye on someone you're working with!
But before you rush out and put the moves on them, check out these Dos and Don'ts for dating a coworker in the workplace.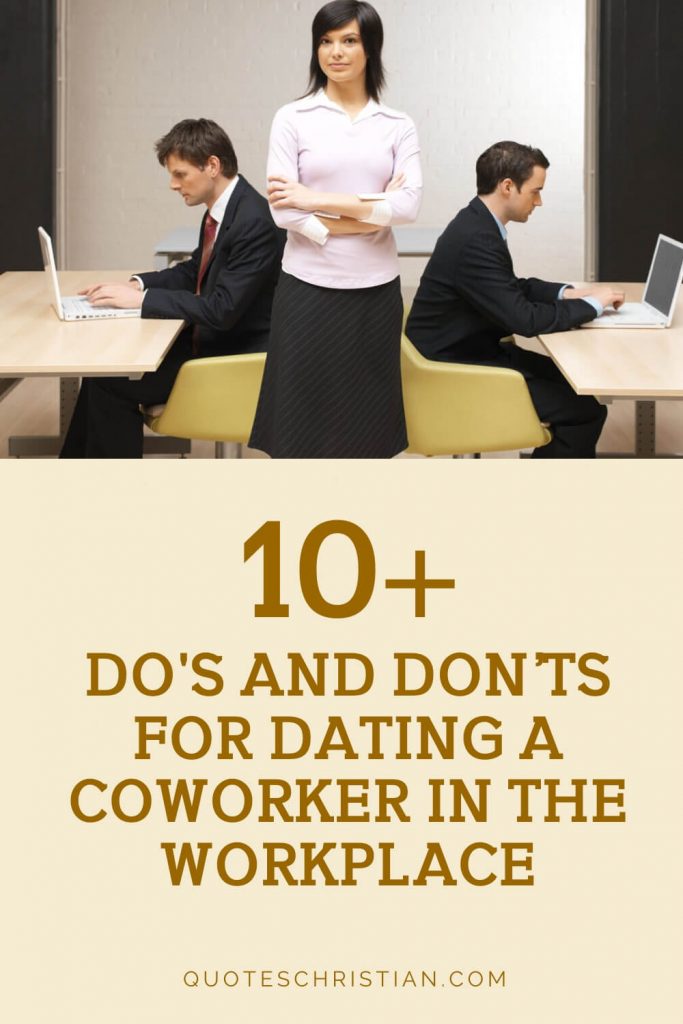 Do
Do understand your motivations
That DailyMail article discussed the likelihood of marrying a coworker and not just hooking up with them. Dating a coworker for a short-term, temporary fix is likely to cause the "D" word: DRAMA.
You have to work with this person, after all, is said and done, so if you're just looking for a quick hook up, you may as well get that somewhere else.
Do choose your floor wisely
Dating someone on your team is very different than dating someone in a separate department. I dated a guy at work once, but it was a 30,000 person organization and he was in sales and I was in marketing.
Our paths rarely crossed professionally, so the separation between work and dating could still be maintained.
Do keep it between yourselves
The office environment can be a hotbed of gossip and drama. Politics aren't just for politicians; they can also be for the nosy neighbor a few cubicles down.
If you don't want your love life to show up in the next office newsletter, keep the flirting, dating, and–um–any mating, out of the office.
Do know your company's policy
No matter what anyone else says, when it comes to business, everything is personal, including flirting. So, if you've got your eye on someone, be cautious in your approach.
The last thing you need is your boss and HR manager involved in your love life, so until you have confirmed that the feelings of interest are mutual, keep the aggressive flirting for the bar.
Do work at work
When you like someone, you can't stop thinking about them or wanting to talk to them, even while at work. You may think you can sneak off for a few unnoticed minutes for a quick chat, lunch, or "meeting" but others will take notice–including your boss.
Nothing puts a damper on a good mood faster than losing your job from not actually doing your job. So, when you're at work, put work first, and love second.
Don't
Do not come on too strong
You may feel like there's a connection, but the other person may not feel that way. You don't want to jeopardize a good working relationship by complicating things.
One of the reasons a marriage can actually happen from working together is because people get to know each other in a constrained setting where they can get to know each other and learn to respect each other over time. Take your time, and don't come on too strong.
Do not ever be disrespectful
The hot chick on the 8th floor is connected to people all around you–professionally and personally. Talking about her with co-workers unprofessionally can turn into bad political karma for you.
If you are going to speak about the person with others, do so respectfully.
Do not bring your drama to work
Most relationships don't work out. It's just how it goes. So if and when things start to head south in your relationship at work, try to not bring it there with you. It's hard not to hash out, complain about, or verbally defend yourself to your co-workers.
But when it comes to dating in the workplace it's likely other people will actually know who you're dating and it'll no longer be a one-sided story. Both your reputations can be at stake should a mudslinging campaign start between you.
Do not date "up" or "down"
By "up" I mean your boss, or your boss's boss. Just don't. By "down" I mean your subordinates. Dating someone you work with is one thing, dating someone you work FOR is another.
Not only are you both opening each other up to lawsuits and potential firings, you will certainly ruin any productive working relationships you had with co-workers should they find out. And they will find out.
Do not let your eyes wander
If you've taken the leap and are actually dating someone at work, don't look around. Remember, if your interest in them is genuine and based on wanting something long term, don't give the other person a reason to worry.
The last thing your boss and HR manager want to deal with is office drama between two or more employees. Keep your eyes on your prize, and love may actually be something you can safely pursue in the workplace.
Do not hesitate to talk to a dating coach
Do you have your eye on someone, but you're scared speechless? That's okay. Talk to a dating coach or a dating consultant, and see if you can build up that courage with a little help. Or do you just need to talk out a relationship you're already in with a coworker, but don't want to risk office gossip?
There are professionals who specialize in dating relationships. You can go alone or together as a couple. Sometimes large companies have therapists in the company network who understand the company's policies and are trained to talk about whatever you feel is important. They will also keep everything confidential.
Summary
Dating a coworker in the workplace can be hazardous to your work's health.
However, if you keep yourself focused on being professional, keeping the relationship to yourself, and working while at work, there's a good chance this relationship could go somewhere.
Source: Michelle Barnum Smith via expertbeacon.com
Photo Credits: 01 (163) ©Victor1558 – Flickr.com; Check Man, Cross Man and Jump Man ©ioannis kounadeas – Fotolia.com