Let these worry quotes encourage you not to give in to your fears or doubts.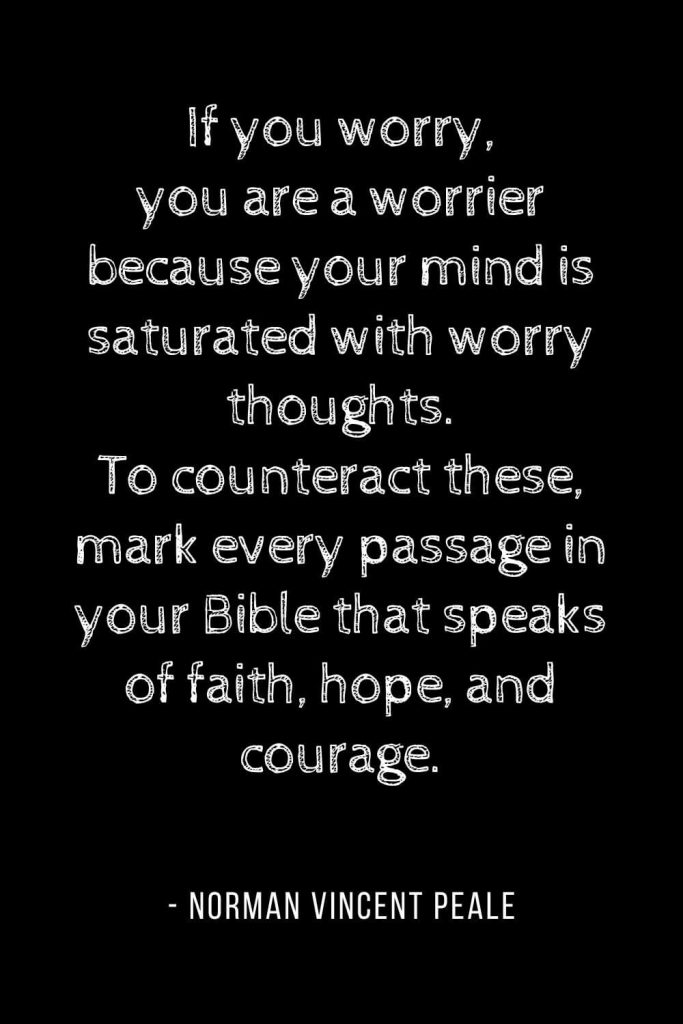 If you worry, you are a worrier because your mind is saturated with worry thoughts. To counteract these, mark every passage in your Bible that speaks of faith, hope, and courage.
– Norman Vincent Peale – Have A Great Day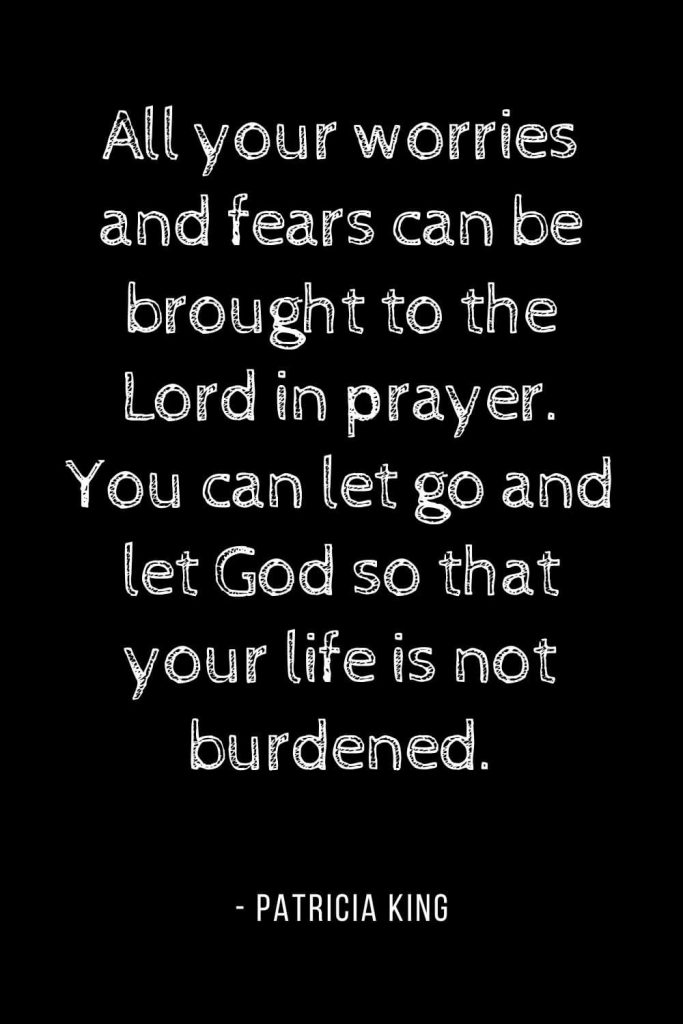 All your worries and fears can be brought to the Lord in prayer. You can let go and let God so that your life is not burdened.
– Patricia King, Dream Big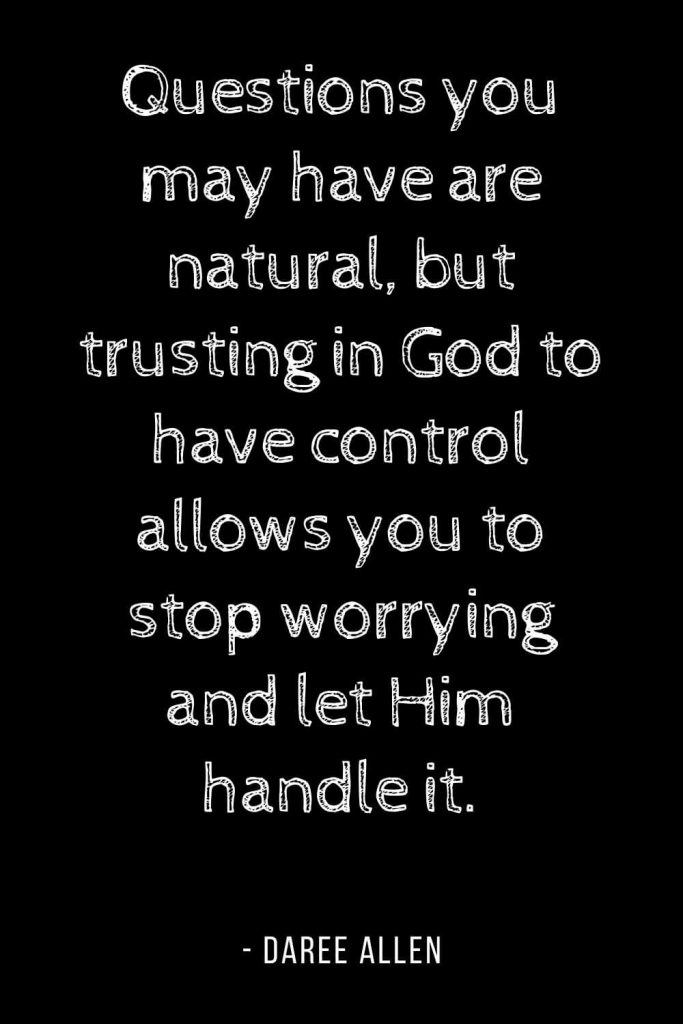 Questions you may have are natural, but trusting in God to have control allows you to stop worrying and let Him handle it.
– Daree Allen, What's Wrong With Me?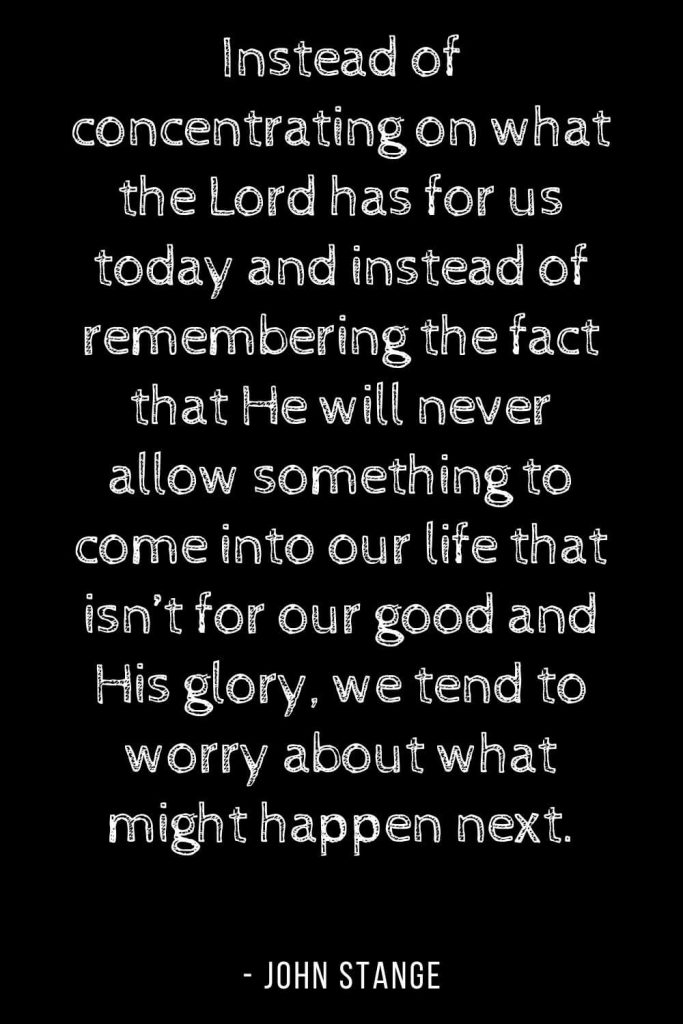 Instead of concentrating on what the Lord has for us today and instead of remembering the fact that He will never allow something to come into our life that isn't for our good and His glory, we tend to worry about what might happen next.
– John Stange, Overcoming Anxiety: 12 Powerful Truths from Scripture for Defeating Worry and Fear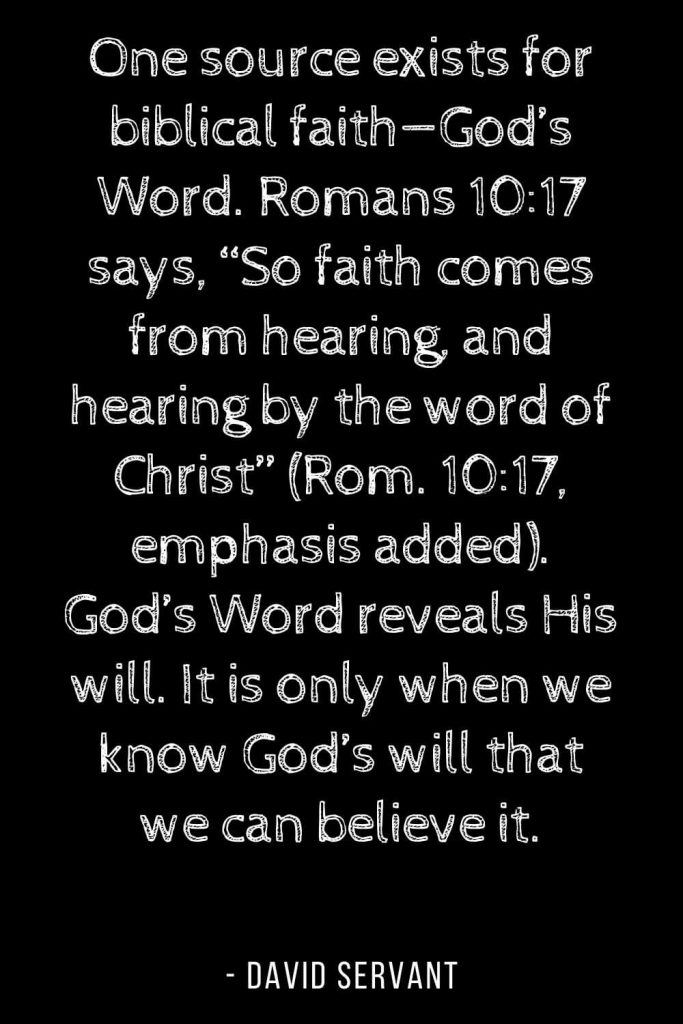 One source exists for biblical faith—God's Word. Romans 10:17 says, "So faith comes from hearing, and hearing by the word of Christ" (Rom. 10:17, emphasis added). God's Word reveals His will. It is only when we know God's will that we can believe it.
– David Servant, The Disciple-Making Minister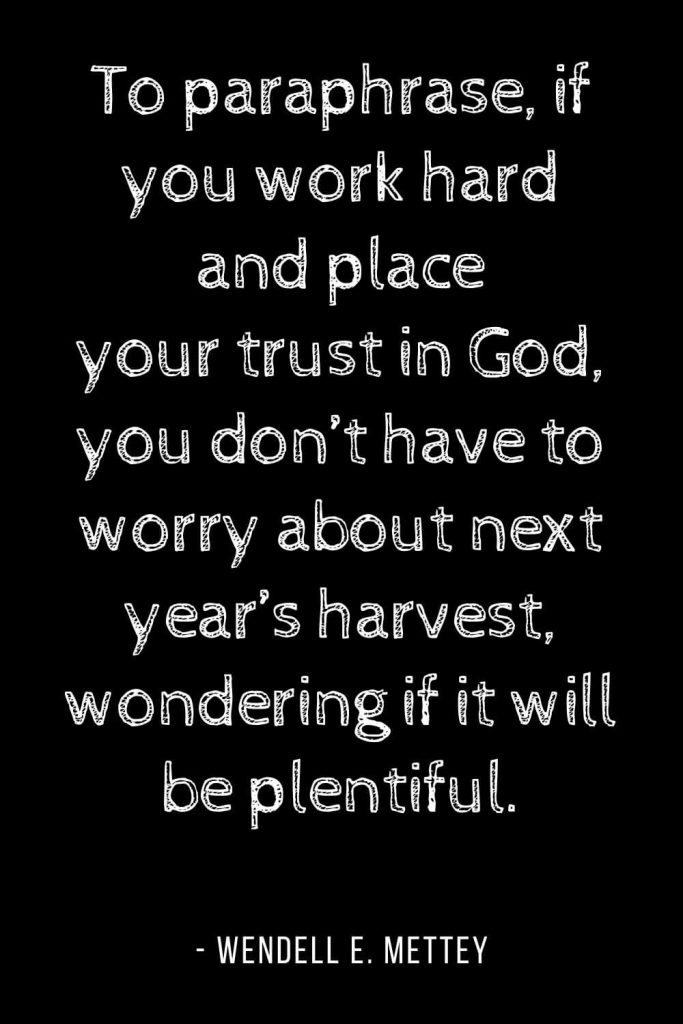 To paraphrase, if you work hard and place your trust in God, you don't have to worry about next year's harvest, wondering if it will be plentiful.
– Wendell E. Mettey, What God Desires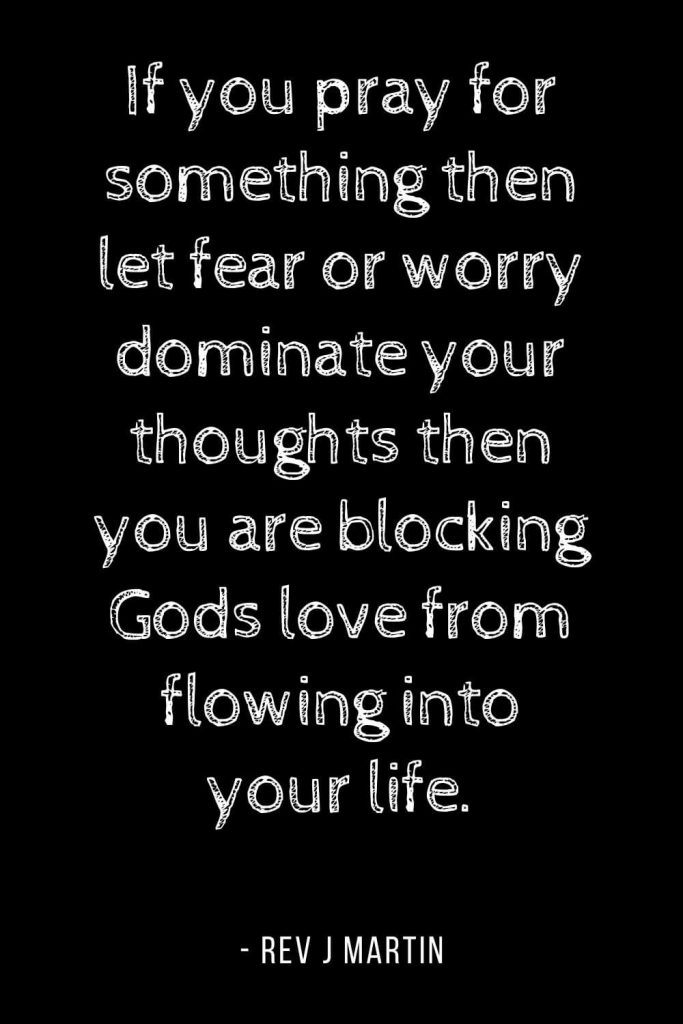 If you pray for something then let fear or worry dominate your thoughts then you are blocking Gods love from flowing into your life.
– Rev J Martin, The Power Of Choice: Good Choices Lead to the Good Life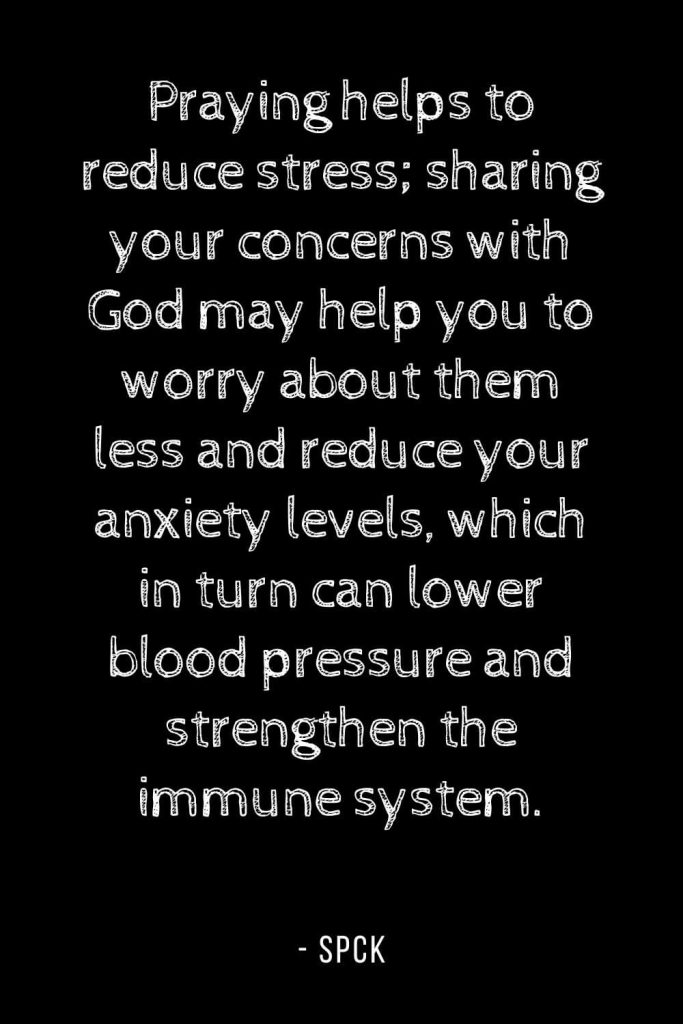 Praying helps to reduce stress; sharing your concerns with God may help you to worry about them less and reduce your anxiety levels, which in turn can lower blood pressure and strengthen the immune system.
– SPCK, Prayers on the Move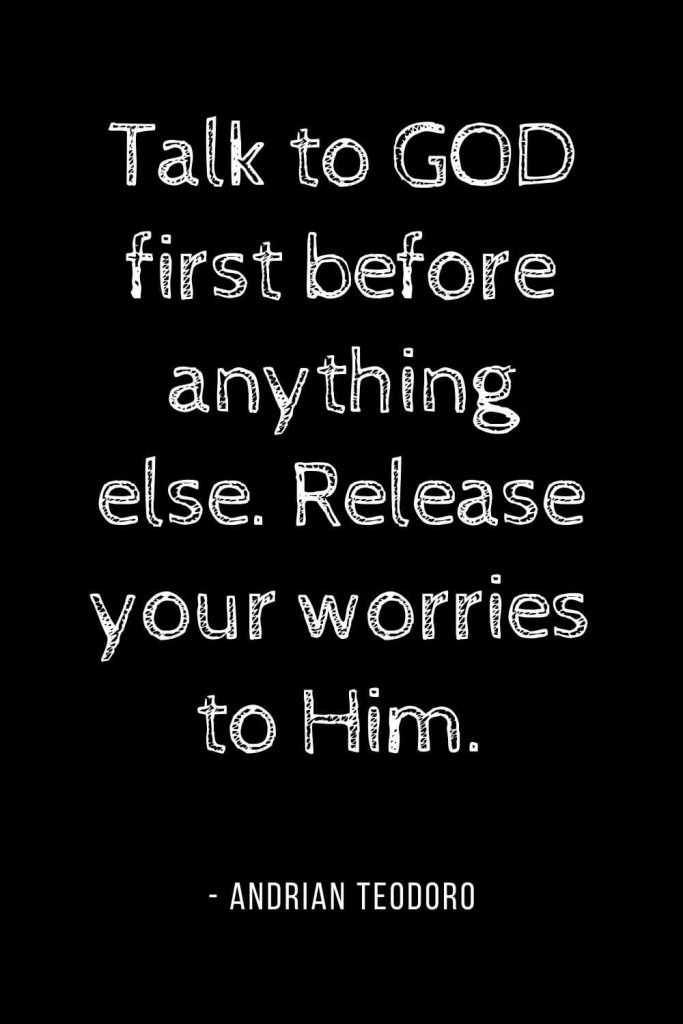 Talk to GOD first before anything else. Release your worries to Him.
– Andrian Teodoro, The Power of Positive Life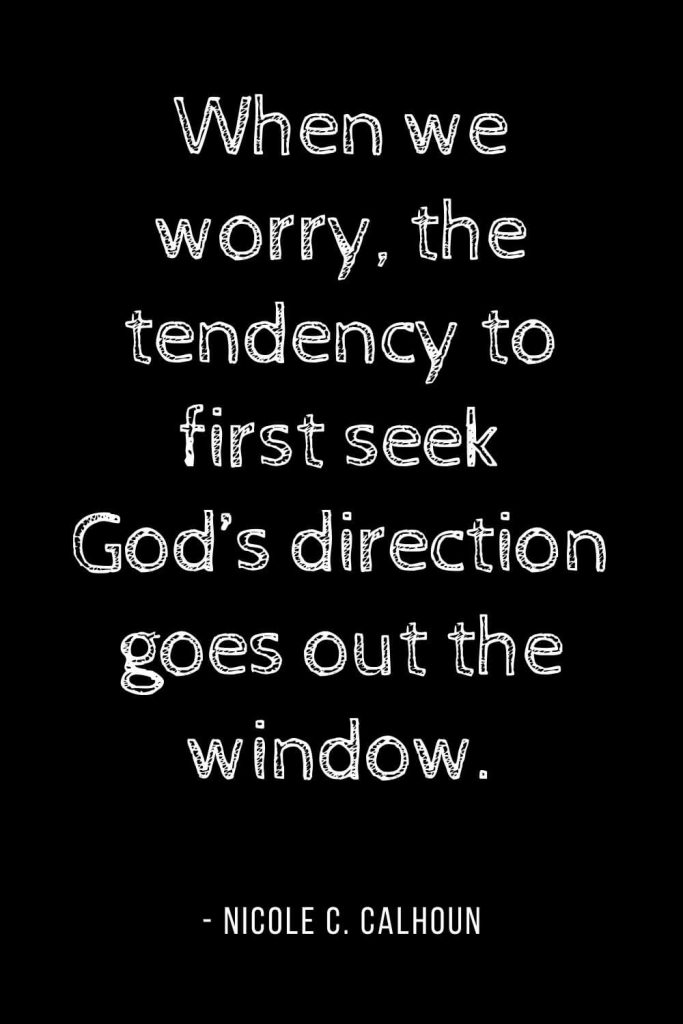 When we worry, the tendency to first seek God's direction goes out the window.
– Nicole C. Calhoun, Victory's Road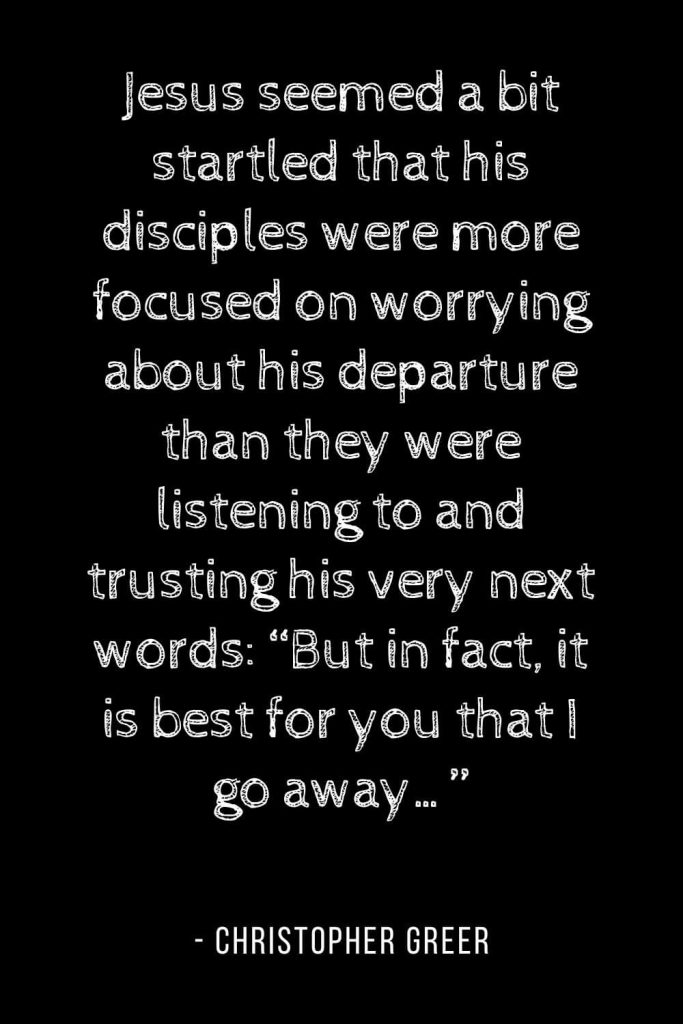 Jesus seemed a bit startled that his disciples were more focused on worrying about his departure than they were listening to and trusting his very next words: "But in fact, it is best for you that I go away…"
– Christopher Greer, Easter is Coming: A Devotional Journey with Jesus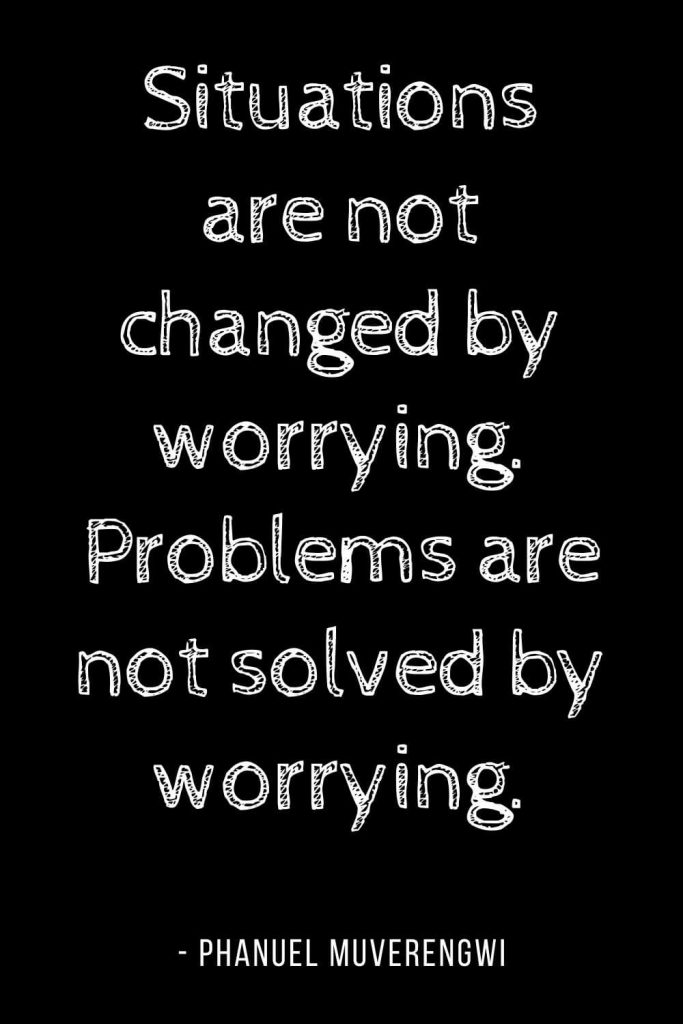 Situations are not changed by worrying. Problems are not solved by worrying.
– Phanuel Muverengwi, The Little Book On Worry: A Christian Perspective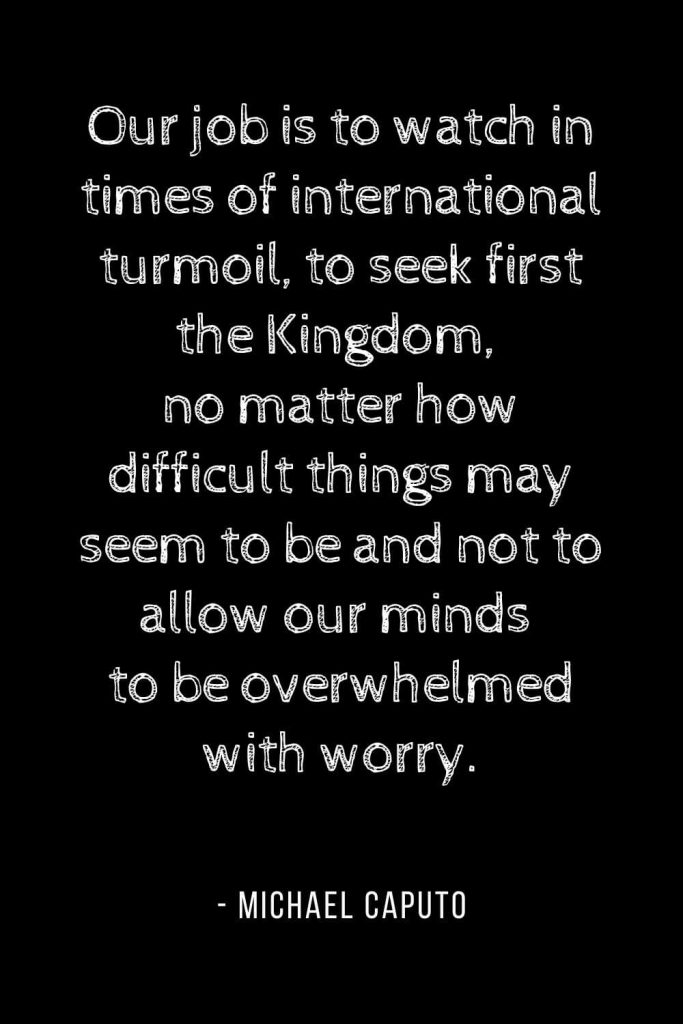 Our job is to watch in times of international turmoil, to seek first the Kingdom, no matter how difficult things may seem to be and not to allow our minds to be overwhelmed with worry.
– Michael Caputo, Goodbye Fears! How to Overcome Fears With the Help of God's Holy Scriptures and Promises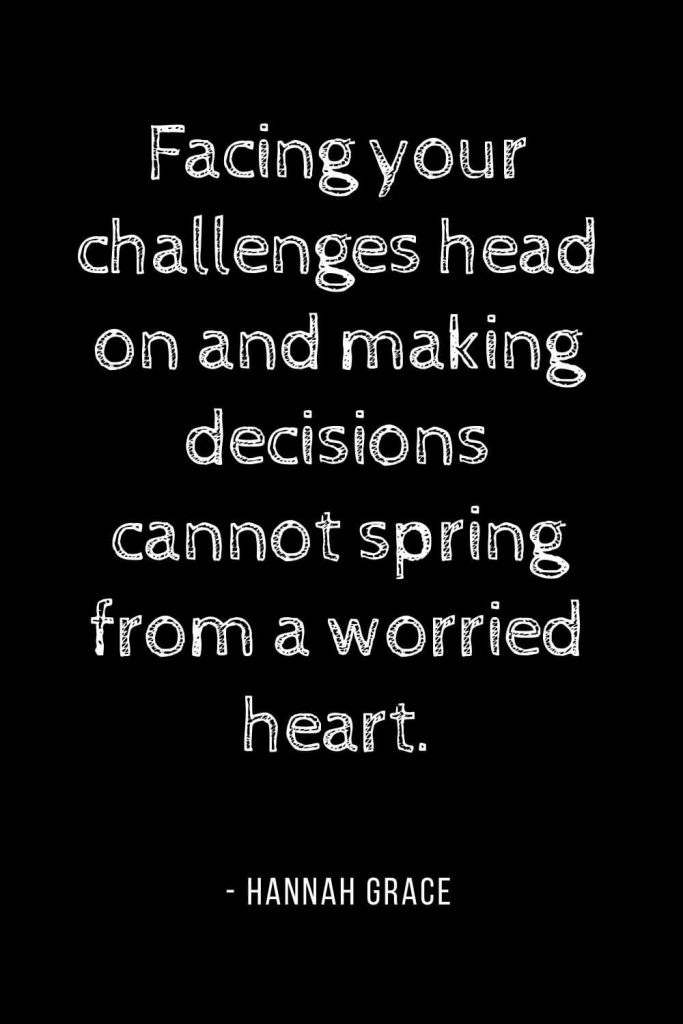 Facing your challenges head on and making decisions cannot spring from a worried heart.
– Hannah Grace, Rest in His Love (Bible Verses for Stress and Anxiety Book 1)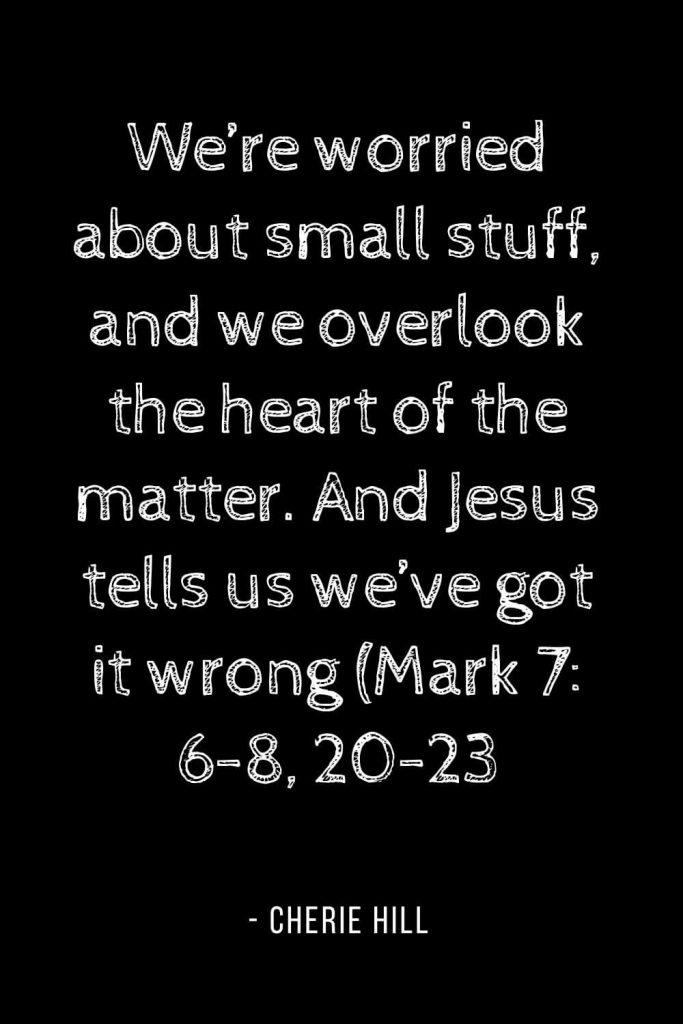 We're worried about small stuff, and we overlook the heart of the matter. And Jesus tells us we've got it wrong (Mark 7: 6-8, 20-23)

– Cherie Hill, empty (Living Full of Faith When Life Drains You Dry)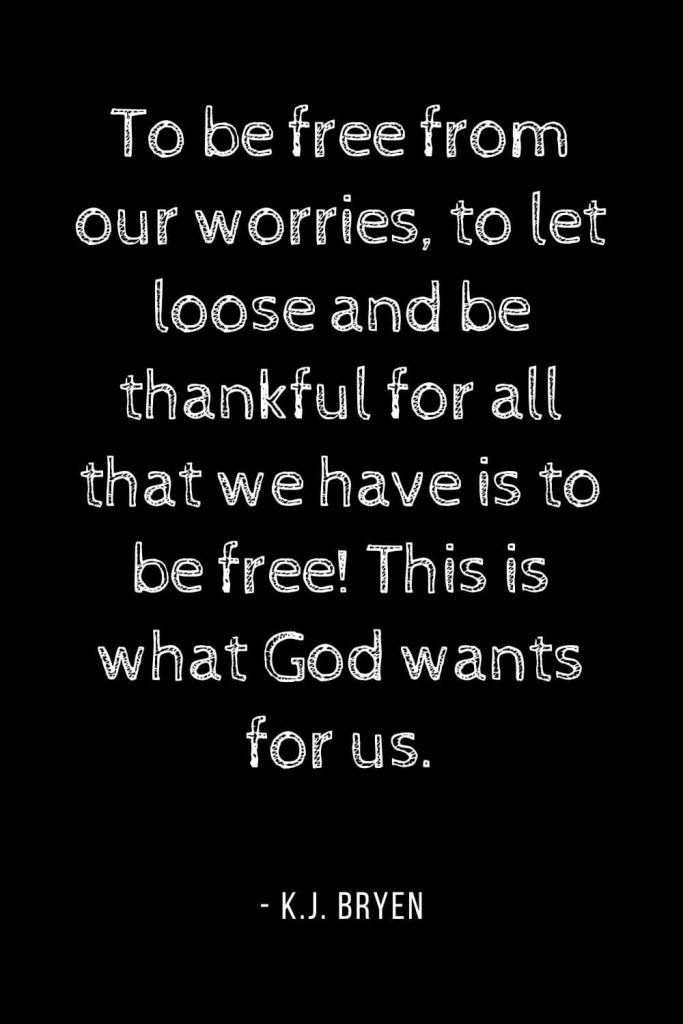 To be free from our worries, to let loose and be thankful for all that we have is to be free! This is what God wants for us.
– K.J. Bryen, Dare to be Brave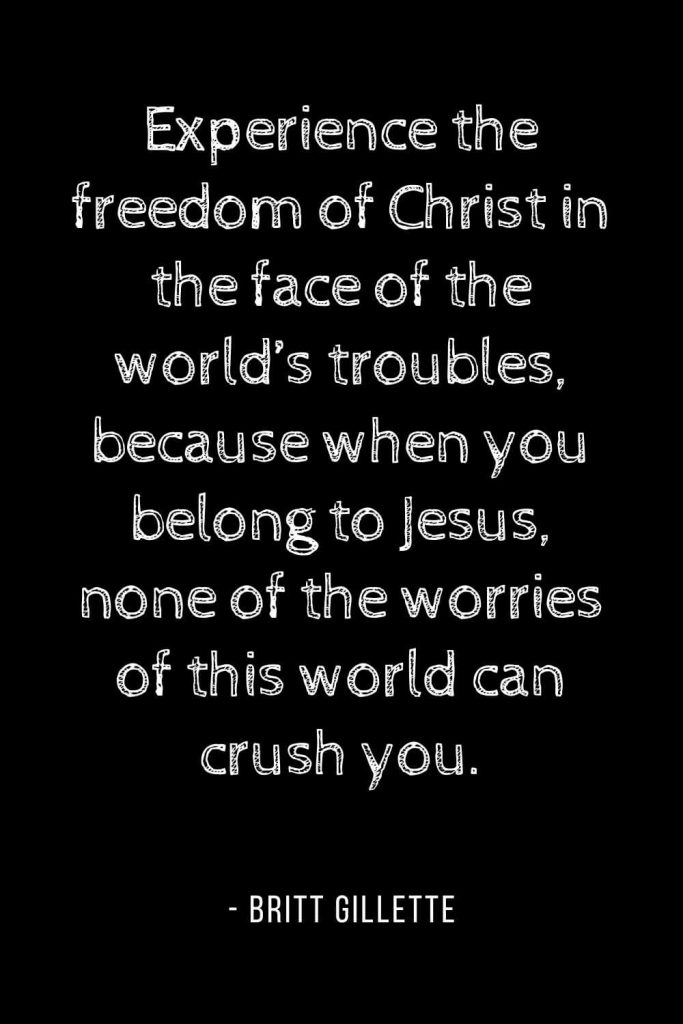 Experience the freedom of Christ in the face of the world's troubles, because when you belong to Jesus, none of the worries of this world can crush you.
– Britt Gillette, Coming To Jesus: One Man's Search for Truth and Life Purpose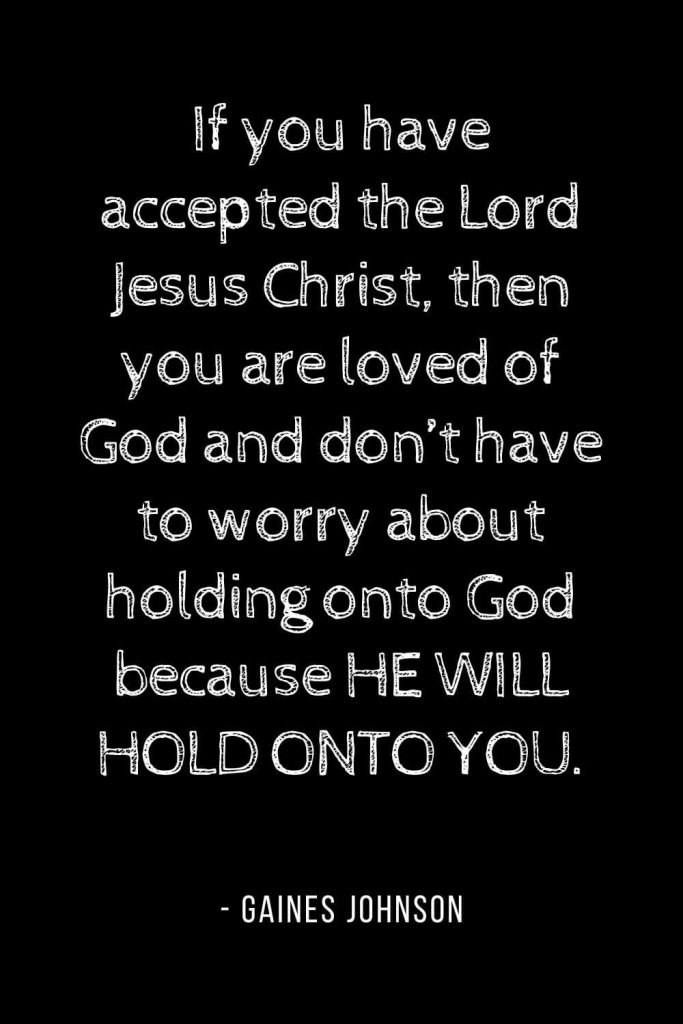 If you have accepted the Lord Jesus Christ, then you are loved of God and don't have to worry about holding onto God because HE WILL HOLD ONTO YOU.
– Gaines Johnson, The Bible, Genesis and Geology