More spiritual quotes to inspire you and remind you of Gods love for us all. Be encouraged and inspired by these wise words.
"If you listen to the Sermon on the Mount and begin to understand Jesus' message, but do not apply it or begin to practice it or implement it into your life, there is a great and grave responsibility that comes with refusing to act on your knowledge of revealed truth."
– Russell M. Stendal, God's Plan for Spiritual Battle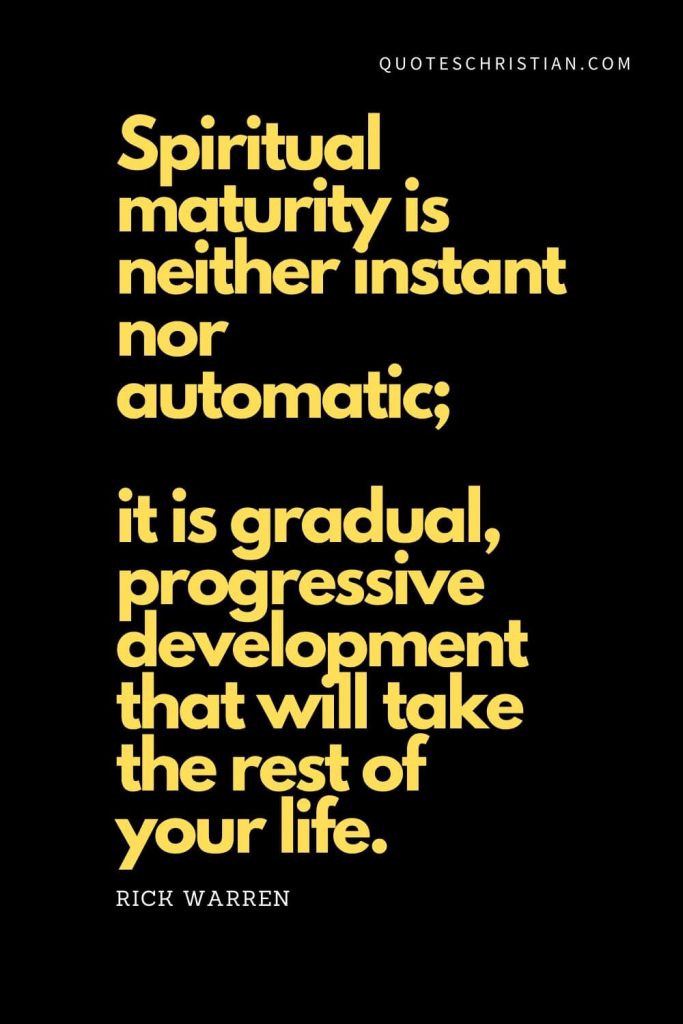 "Spiritual maturity is neither instant nor automatic; it is gradual, progressive development that will take the rest of your life."
– Rick Warren
"Words are charged with everlasting power. The radiant words of the Sermon on the Mount light the spirits of each generation."
– Wilferd Peterson
"For God's children, worship is as essential to spiritual well-being as food and water and staying active are to our physical health."
– Dr. Stephen A. Gammon, Walking With God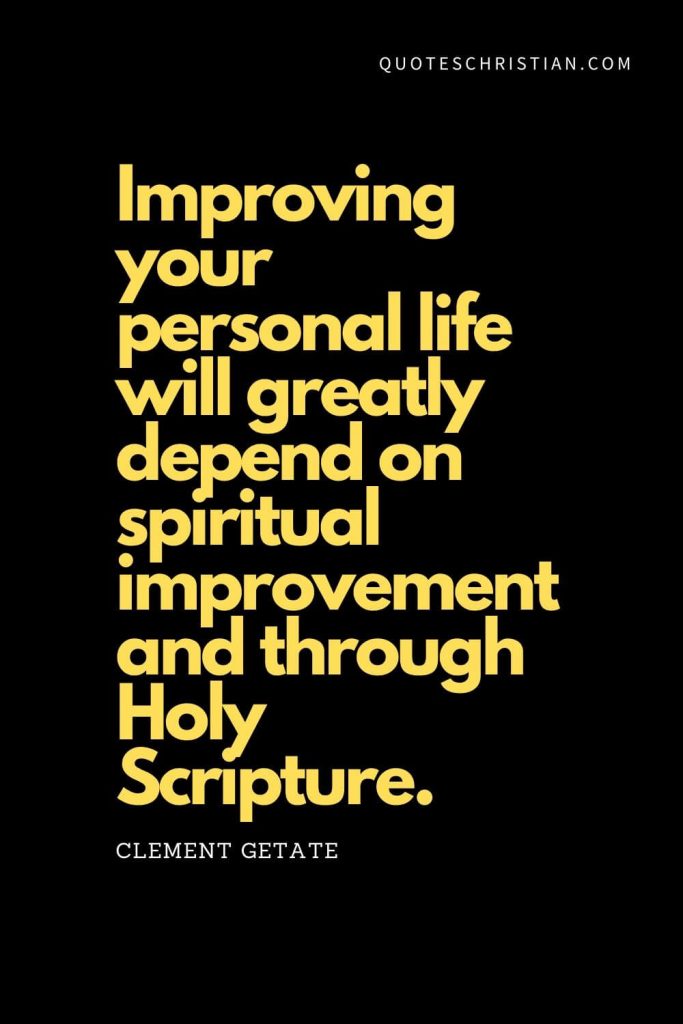 "Improving your personal life will greatly depend on spiritual improvement and through Holy Scripture."
– Clement Getate, Your Cross to Happiness
"As we begin to focus, developing more and more hunger for his Word and being in His presence, the Holy Spirit will refresh, revive, and rekindle the zeal of the Lord in our lives."
– Archbishop Gloria Grace, The Heartbeat of God: Salvation of Lost Souls
"As we grow spiritually, by the grace and power of God we become stronger and better able to handle whatever happens in life."
– Wayne Davies, Top 10 Reasons to Read the Bible Today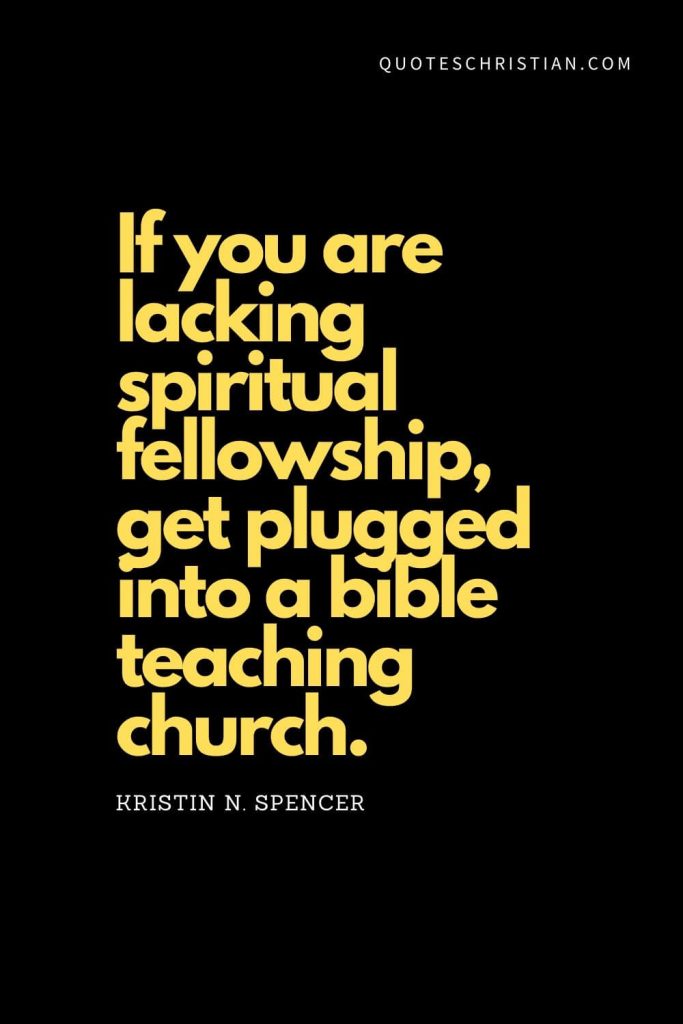 "If you are lacking spiritual fellowship, get plugged into a bible teaching church."
– Kristin N. Spencer, The Truth About Godly Confidence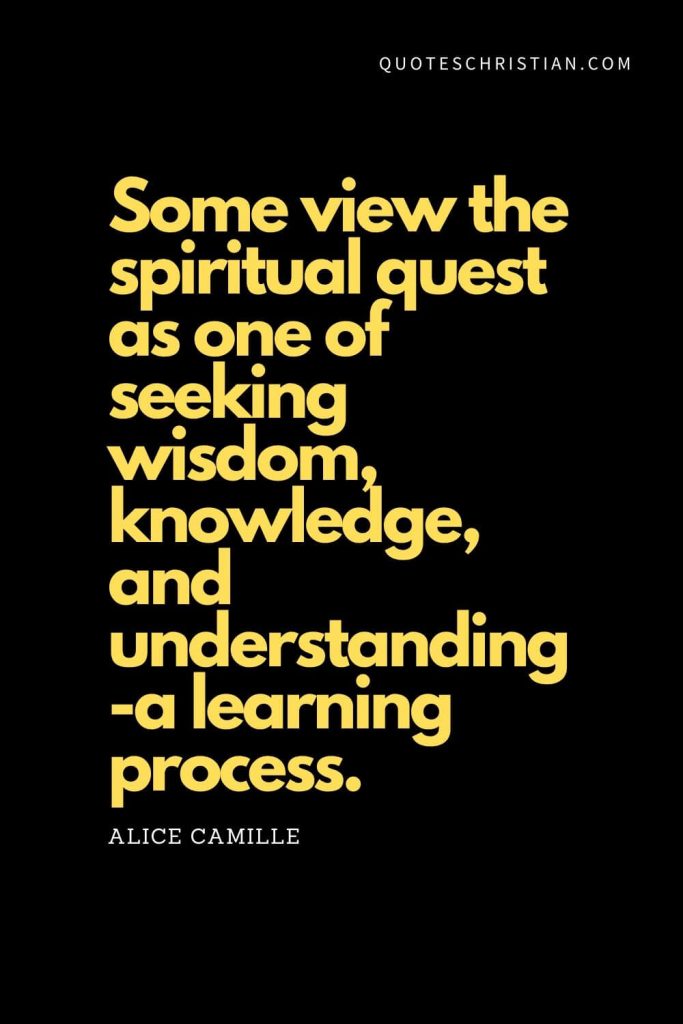 "Some view the spiritual quest as one of seeking wisdom, knowledge, and understanding-a learning process."
– Alice Camille, 2009: A Book of Grace-Filled Days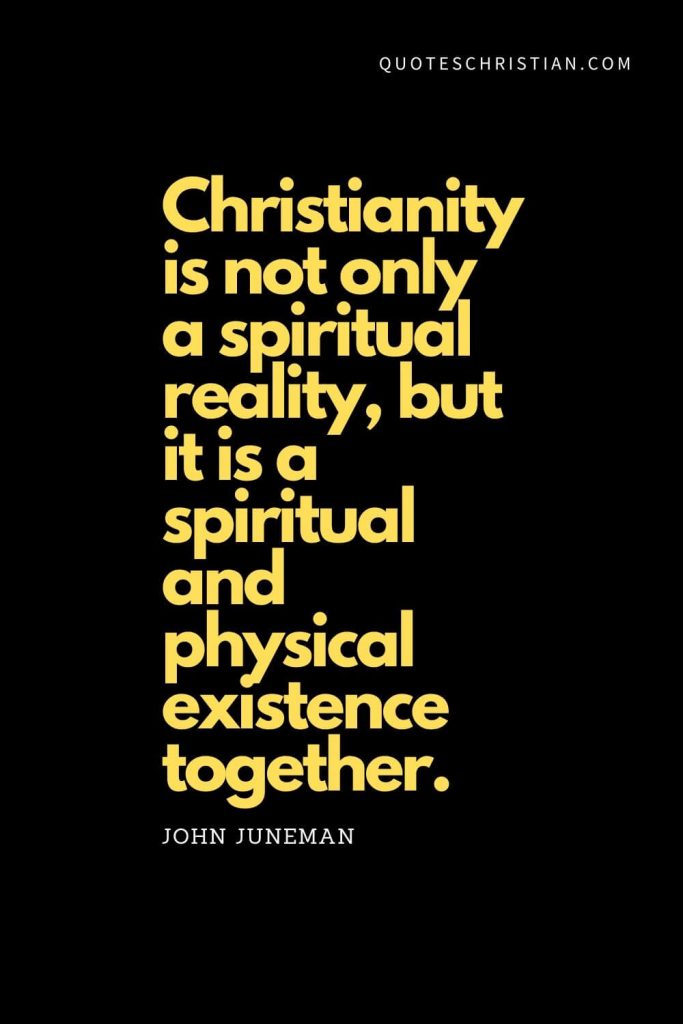 "Christianity is not only a spiritual reality, but it is a spiritual and physical existence together."
– John Juneman, LifeMessage 365
"Spiritual leaders are there for you, they preach the Gospel and try to implant the word of God firmly in your mind to keep your soul, mind and body strong against attacks of the enemy."
– Patricia A Gilpin-Hudson; Carol R Muschette, Find Joy in Daily Living
"As a potter must bake his jars in a very hot furnace in order to create a wonderful masterpiece, God will also allow you to face trials and challenges that will strengthen your faith and help you become more spiritually mature and dependent on Him."
– Janet Fuller, The Bible: The Key Bible Chapters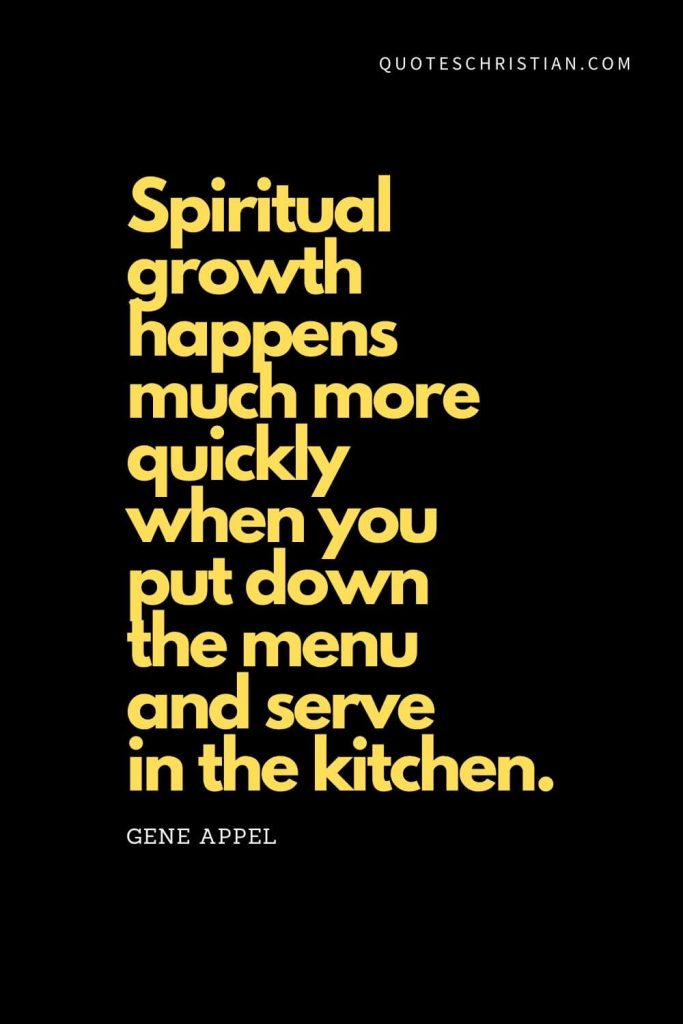 "Spiritual growth happens much more quickly when you put down the menu and serve in the kitchen."
– Gene Appel
"Spiritual growth is a gradual process; it doesn't happen overnight, as much as we wish it did. So when you slip up (and you will!), don't get discouraged."
– Matt Eachus, Gospel: Encountering and Remembering the Good News of Jesus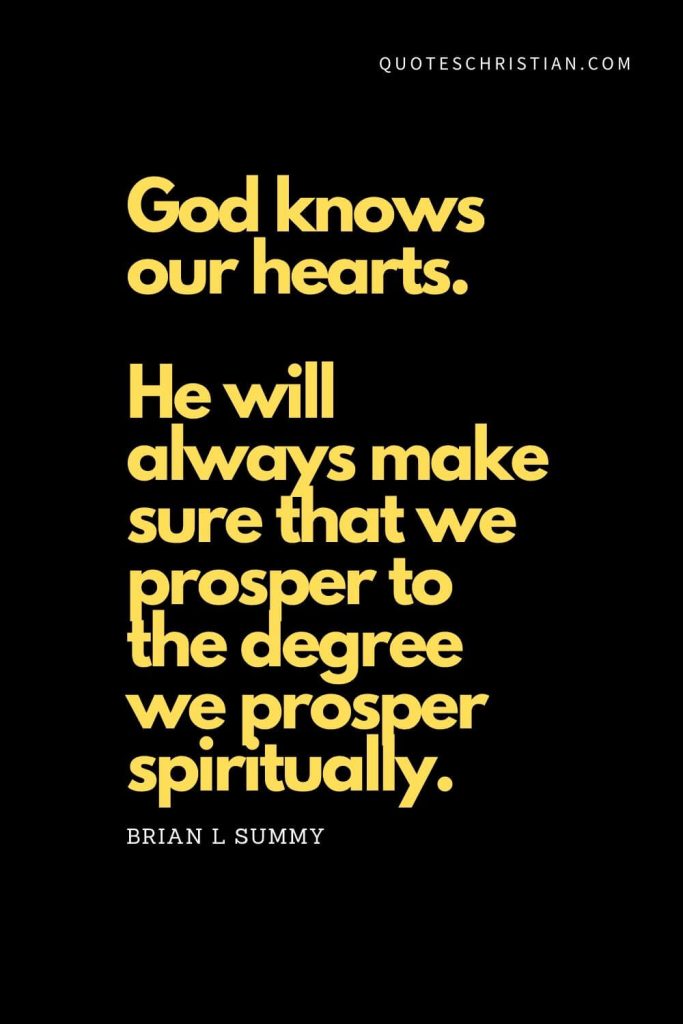 "God knows our hearts. He will always make sure that we prosper to the degree we prosper spiritually."
– Brian L Summy, It's Not About Me, It's About God
"It is important to understand, though, that the book of Proverbs often teaches general principles rather than spiritual absolutes."
– James Thomas Lee Jr, Daily Devotions from the Book of Proverbs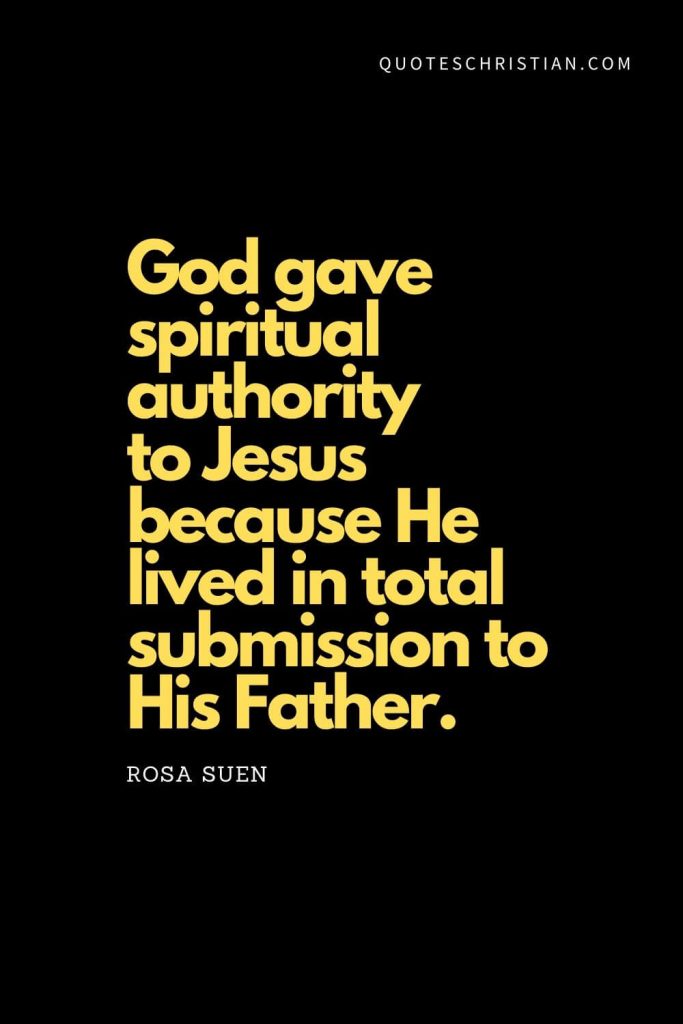 "God gave spiritual authority to Jesus because He lived in total submission to His Father."
– Rosa Suen, The Name of God Yahweh
"I won't say too much about it here, but the man that knew God the best on the face of the Earth encountered his greatest opposition from the so called 'spiritual leaders' of that day, of course I am talking of Jesus and the Pharisees."
– Shane Callahan, The Secret of the Lord: How to Have a Deeper and More Meaningful Relationship with God
"The Holy Scriptures assure us that fears and anxieties can be defeated–defeated– but they also insist that the solution must be spiritual."
– Michael Caputo, Goodbye Fears!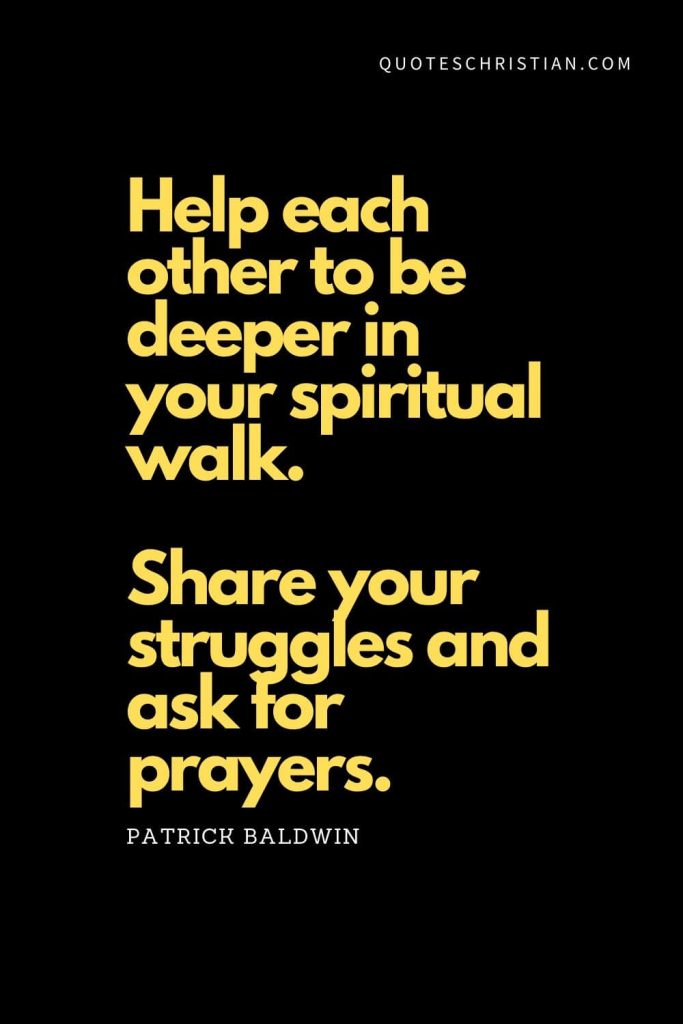 "Help each other to be deeper in your spiritual walk. Share your struggles and ask for prayers."
– Patrick Baldwin, The Perfection of Purity:: A Message To My Daughter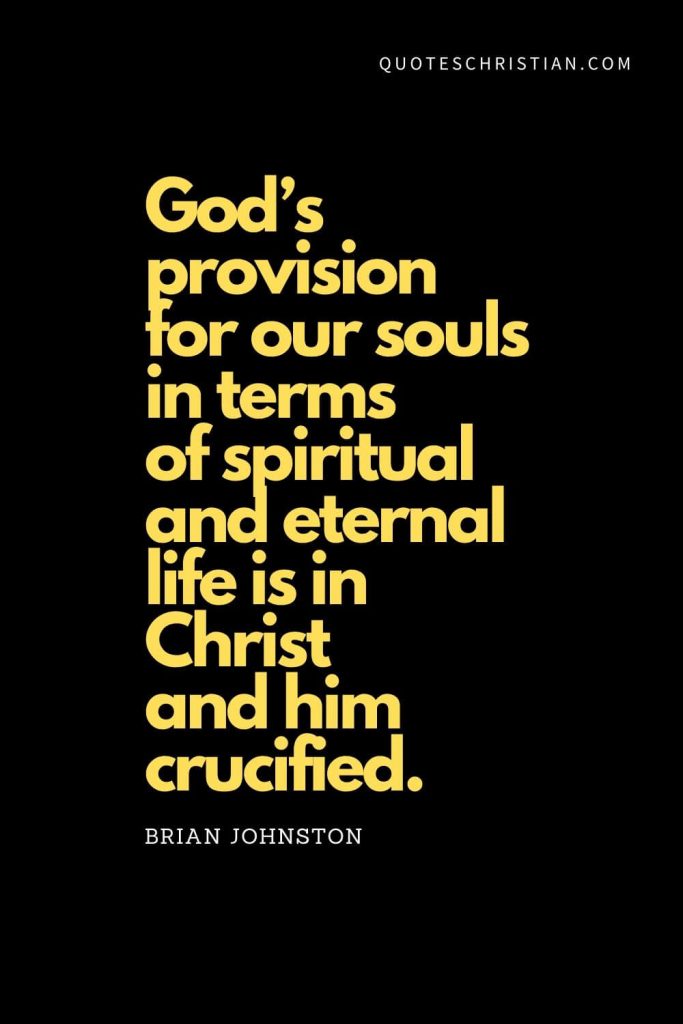 "God's provision for our souls in terms of spiritual and eternal life is in Christ and him crucified."
– Brian Johnston, The Glory of God
"At the onset of my spiritual journey, I believed the Word of God would offer me that black and white, systematized format or road map, I so desperately craved."
– Aleda J Marshall, Still Standing Equipped Grounded Praying
"Be careful. . . the times in your life when you feel like giving up and forgetting about the consequences are the times when you most need spiritual accountability and a true relationship with God that will give you strength in the midst of your weakness or frustration."
– Chrystal Armstrong, God's Divine Design for Dating and Marriage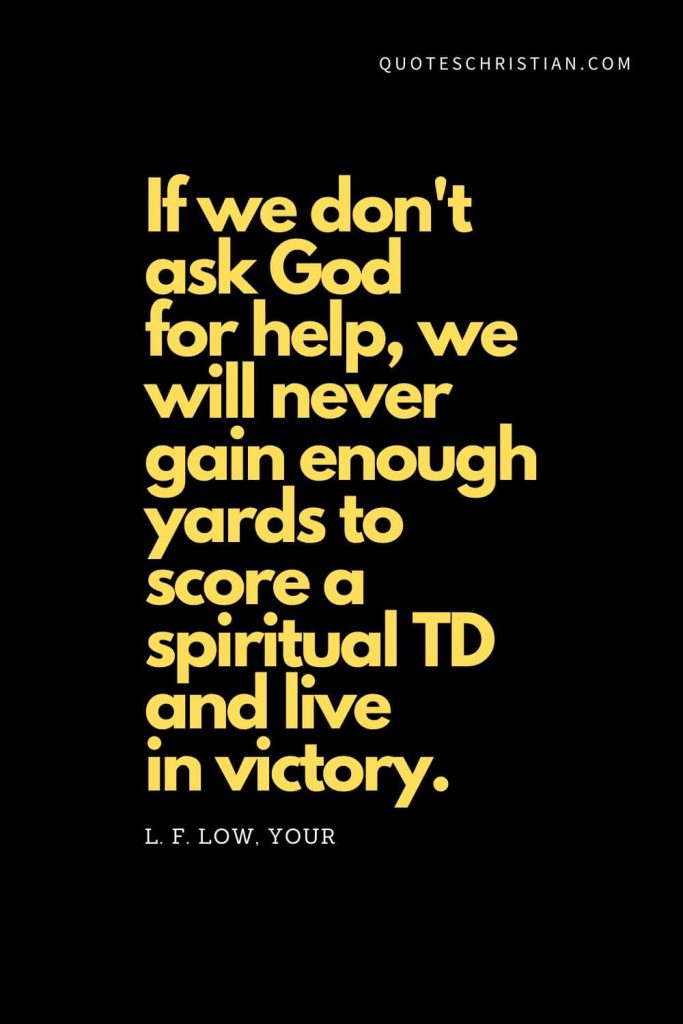 "If we don't ask God for help, we will never gain enough yards to score a spiritual TD and live in victory."
– L. F. Low, Your Pain Is Showing!
"Now, our spiritual weapons and our use of them, are guided by the Holy Spirit, and so it is ultimately the Holy Spirit, and not us personally, who are responsible for and able to bring someone to a saving knowledge of Christ."
Trevor Slone, Doing Apologetics Without the Need for Apology
"I would say that spirituality is the first of the three areas of a holistic lifestyle because to change the outside you need to first change the inside."
– Tiffany Hurd, 5 Keys to Living a Successful Life
"We must recognize our spiritual need, open our lives to the Lord, and conduct a funeral over the death of all that needs to die in us so the Comforter and the fire of God can be lit in us."
– Russell M. Stendal, The Seventh Trumpet and the Seven Thunders
"I felt so uplifted when around spiritual people, when reading the Bible, and when deep in prayer."
– Mary DeKok Blowers, Filled With the Holy Spirit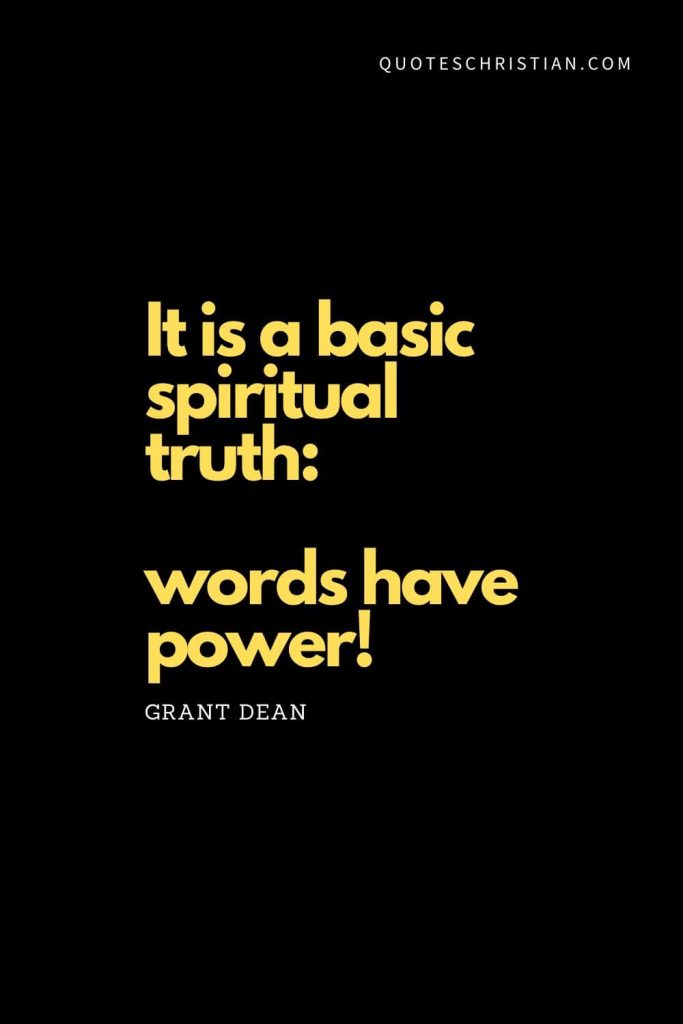 "It is a basic spiritual truth: words have power!"
– Grant Dean, Practical Step to an Awesome Life through changing your words
"All the pain, degradation, and corruption of our world is a testimony to the fact that this journey of spiritual transformation is very difficult."
– Ken Black, 12 Steps to a Christian Alpha Male Character
"Some may feel it's wrong to pray for things that aren't 'spiritual,' but God wants to talk to us about everything that goes on in our lives, big or small."
– Daree Allen, What's Wrong With Me?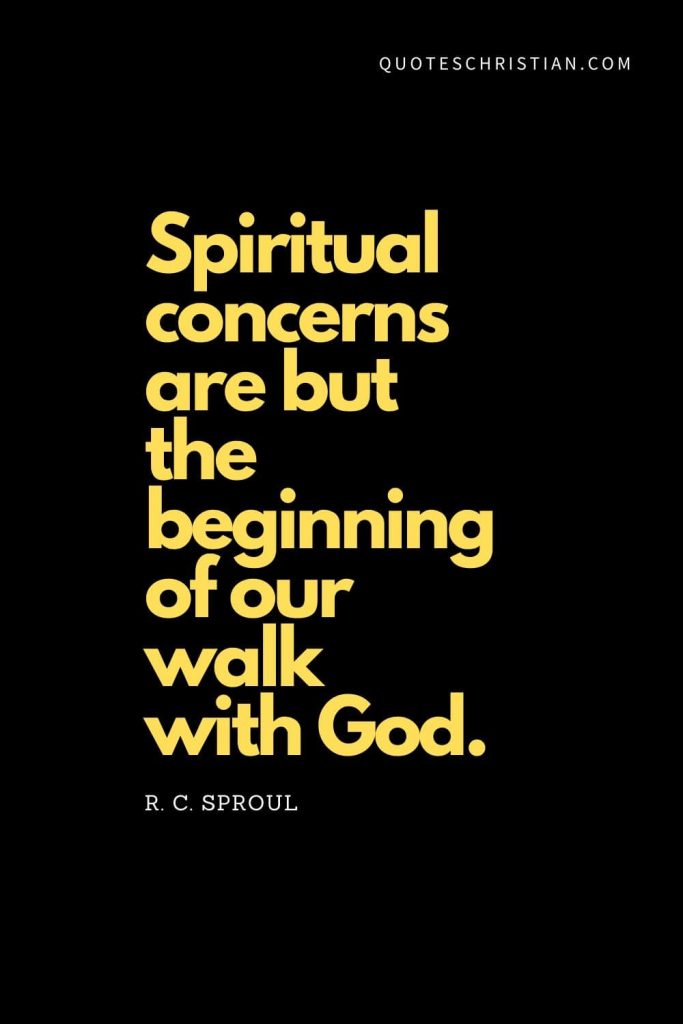 Spiritual concerns are but the beginning of our walk with God.
– R. C. Sproul, Can I Know God's Will?
If your spirituality is an important part of your life, a spiritual journal might be a good type of journal for you to keep.
– Meredith Lane, Self Discovery and Healing Through Journaling
The fact that human beings all over planet Earth intuitively worship something is proof that God has written this in our hearts. It's a part of our spiritual genetics.
– Cary Schmidt, done.: What most religions don't tell you about the Bible
"A relationship with Jesus secures your place in Heaven, but it does more than that. God promises a life of purpose, peace, and power to all who know him."
– Rick Warren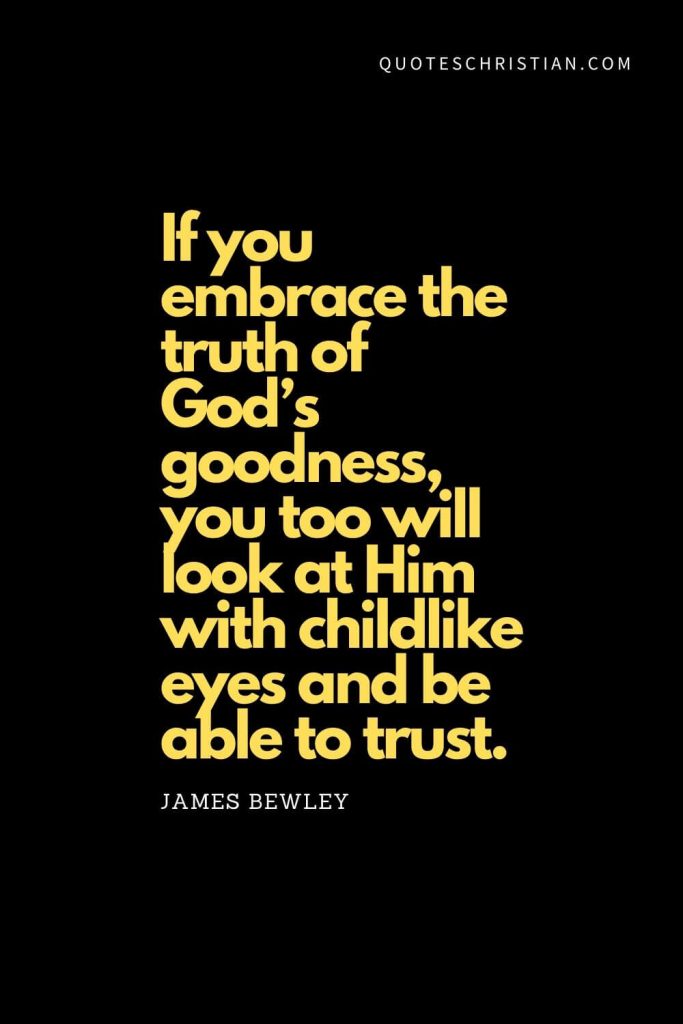 "If you embrace the truth of God's goodness, you too will look at Him with childlike eyes and be able to trust."
– James Bewley, How to Know God
"Eight thousand, seven hundred and sixty marvelous hours are waiting for you this year. My prayer is that each one will bring you closer to God."
Norman Vincent Peale
"A more developed understanding of worship, however, sees it as the opportunity to serve, honor and glorify Jesus in all aspects of your life."
– John Stange, What is Heaven Really Like?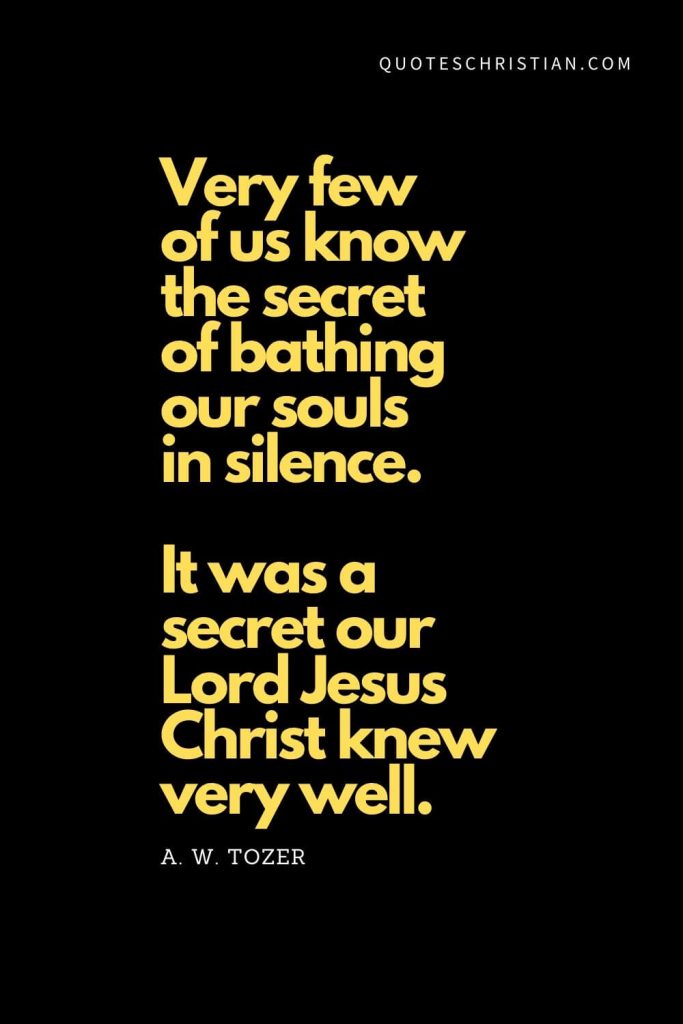 "Very few of us know the secret of bathing our souls in silence. It was a secret our Lord Jesus Christ knew very well."
– A. W. Tozer
"The Lord promises to bind up the brokenhearted, to give relief and full deliverance to those whose spirits have been weighed down."
– Charles R. Swindoll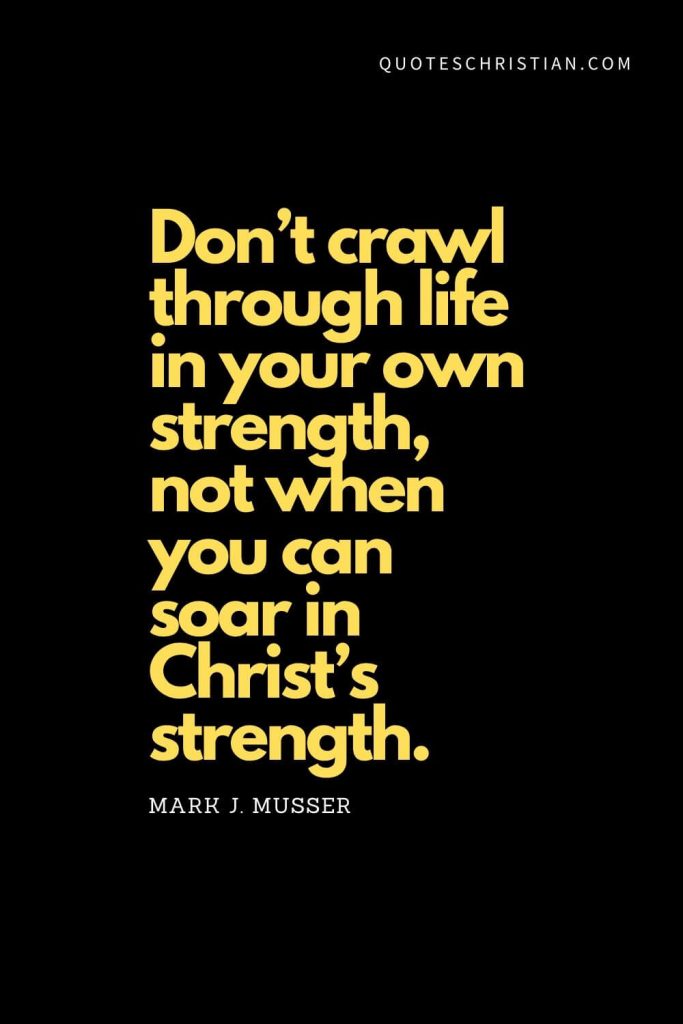 "Don't crawl through life in your own strength, not when you can soar in Christ's strength."
– Mark J. Musser, Searching for More: Finding the Fulfillment You Long For
"The time to make decisions about loyalty to Christ is today, not tomorrow when we are faced with the temptation to deny Him."
– Dr. David Jeremiah
"God has made us in His own image and given us His Spirit to guide us and help us in the life we live but we must be open to permitting the Holy Spirit do His work in us."
– Tunji Ogunjimi, Glory Realm Living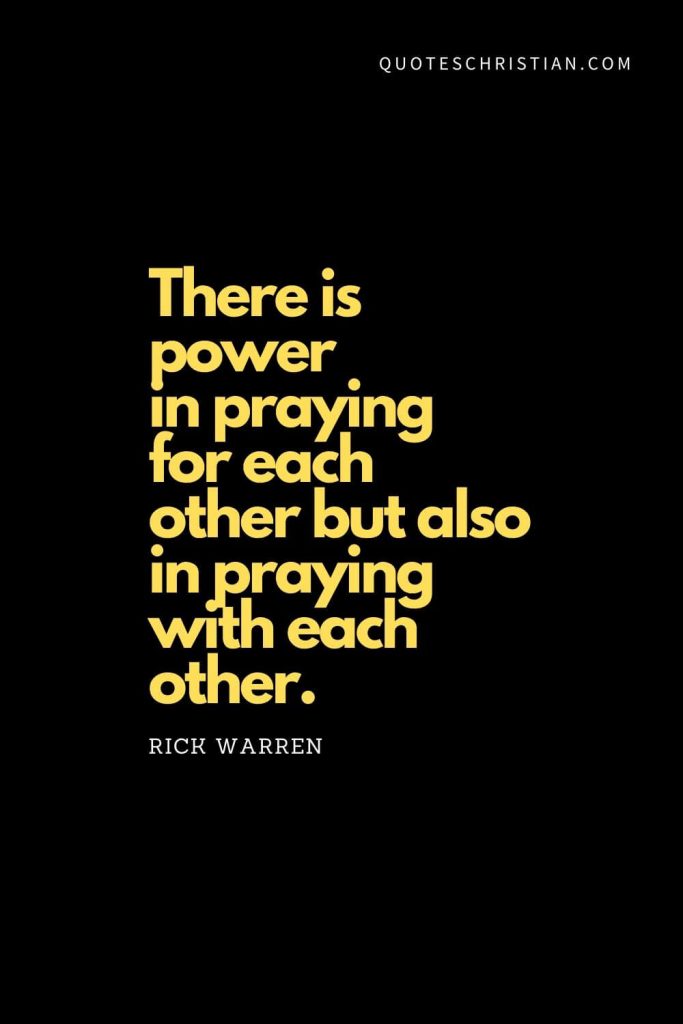 "There is power in praying for each other but also in praying with each other."
– Rick Warren
"You are a preacher! Maybe not with your mouth all the time like me, but as a believer in Christ, your life is a living sermon."
– Joyce Meyers
"The only sin that is unforgivable is rejecting the work God can do in your life through His Holy Spirit."
– Mark J. Musser, Searching for More: Finding the Fulfillment You Long For
"If you've been around awhile, don't stop growing. There are still lessons to be learned, wars to be fought, people to be helped, and mountains to be taken."
– Dr. David Jeremiah
"Choose not only to give but also to become a giving person. Your spirit may not be able to contain the blessings!"
– Jan Dargatz, 52 Simple Ways To Give Your Spiritual Life A Lift
"The Bible is the Christians guide in all areas of life . God's word is eternal; it never changes. It is to be the foundation for every person in Christ Jesus."
– Dr. Tom Knotts, 10 Steps to Abiding In Christ
"You are a creation of God unequaled anywhere in the universe…. Thank Him for yourself and then for all the rest of His glorious handiwork."
– Norman Vincent Peale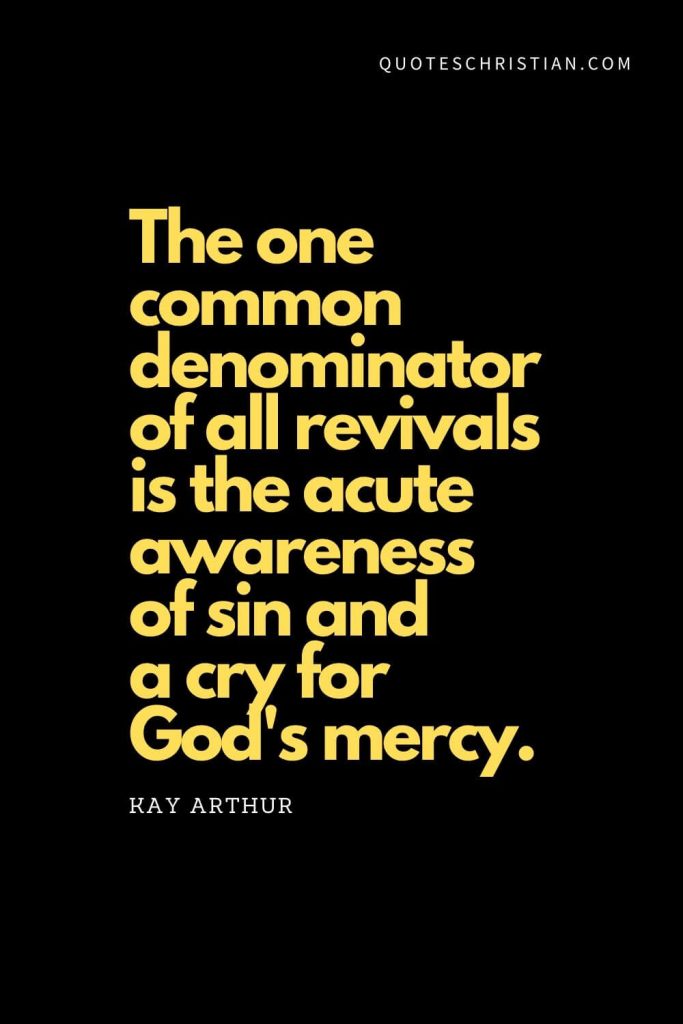 "The one common denominator of all revivals is the acute awareness of sin and a cry for God's mercy."
– Kay Arthur, Lord Teach Me to Pray
"The Art of Worship . . . It is the inspiring realization that this is God's world, that all life pulsates with God's eternal purpose and that we are a part of the diving pattern and plan."
– Wilferd Peterson
"We're not all that adept at prayer; it is a practice very few of us have mastered. We find it difficult to articulate our deepest feelings and our deepest concerns to God. Yet God is pleased to give His Holy Spirit to assist us in expressing ourselves to the Father in prayer."
– R.C. Sproul, The Prayer of the Lord
"The fact that God created the world by speaking it into being, instead of the myriad of other means at His disposal — He could have formed it, blasted it, molded it, manipulated it— reinforces the evidence of Jesus' presence at the time of Creation."
– Bryant Cornett, A Rooster Once Crowed
"Have you noticed how many young parents now let their children have the run of the house, yard and even the streets? Their timidity in defining absolute boundaries may stem from a lack of their understanding that God is a God of boundaries."
– Lydia Chorpening, Bigger than Impossible
"Jesus taught us that He came to bring this more abundant life, not in terms of millions of dollars, not in forms of wealth, but in that peace of mind which is the secret of successful living."
– Albert E. Cliffe, Let Go and Let God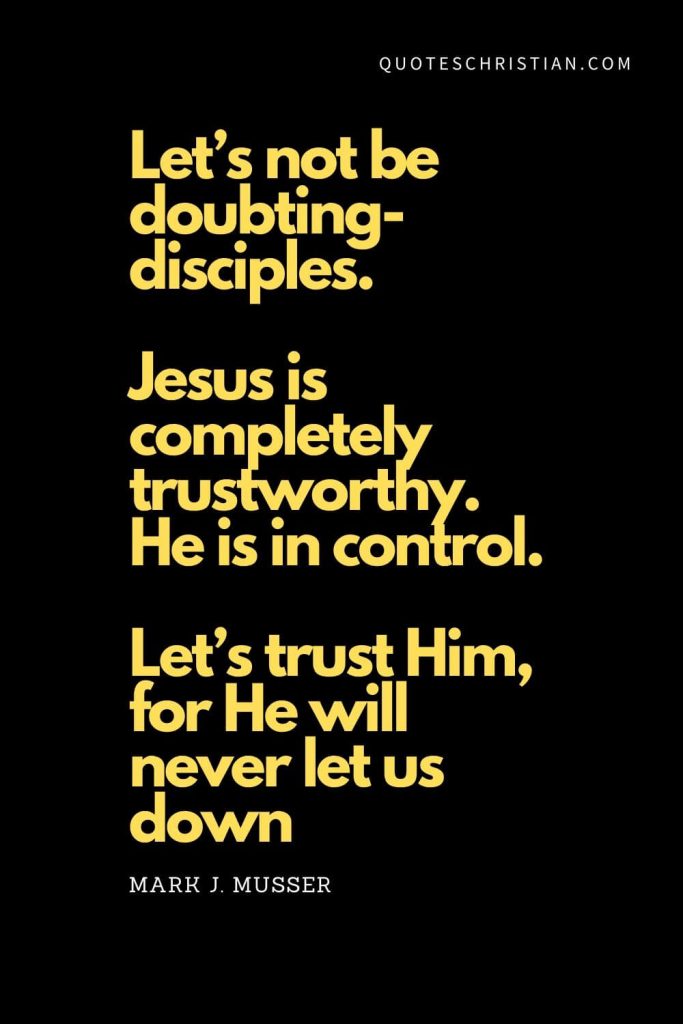 Let's not be doubting-disciples. Jesus is completely trustworthy. He is in control. Let's trust Him, for He will never let us down.
– Mark J. Musser, Searching for More: Finding the Fulfillment You Long For