More forgiveness quotes for you to reflect upon. Consider and ponder these quotes from Christians about forgiving.
Forgiveness Quotes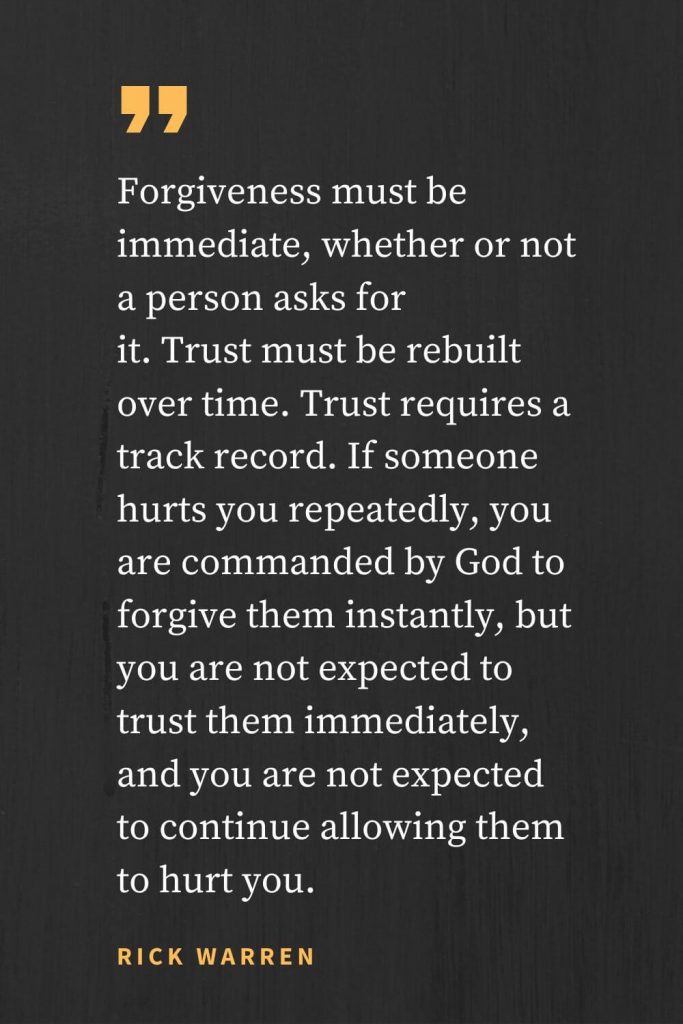 Forgiveness must be immediate, whether or not a person asks for it. Trust must be rebuilt over time. Trust requires a track record. If someone hurts you repeatedly, you are commanded by God to forgive them instantly, but you are not expected to trust them immediately, and you are not expected to continue allowing them to hurt you.
– Rick Warren – What On Earth Am I Here for?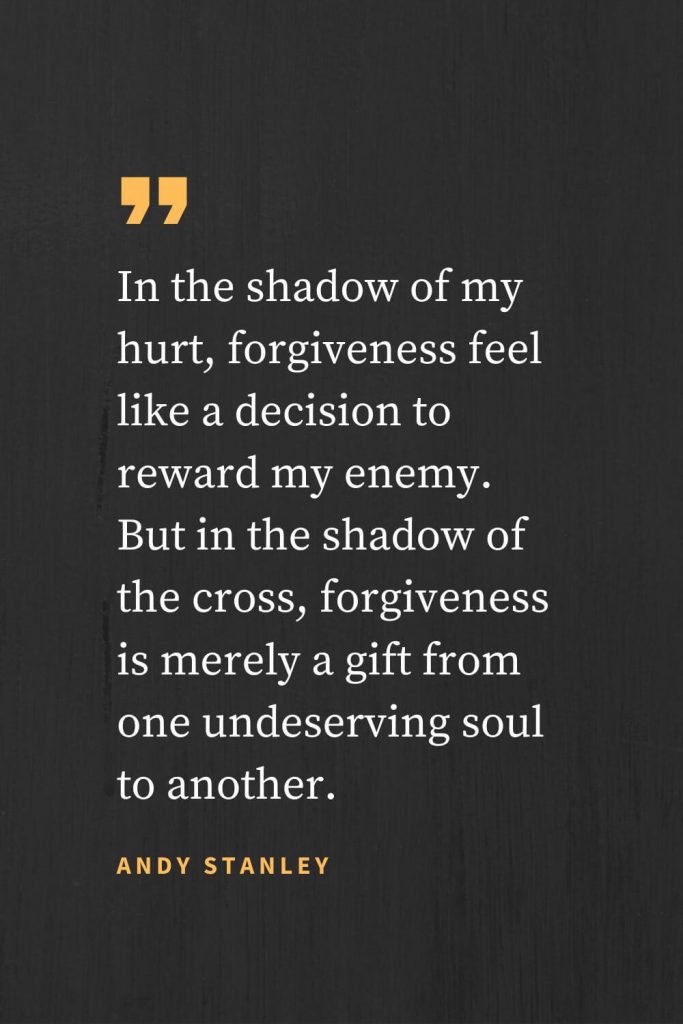 In the shadow of my hurt, forgiveness feel like a decision to reward my enemy. But in the shadow of the cross, forgiveness is merely a gift from one undeserving soul to another.
– Andy Stanley, It Came from Within!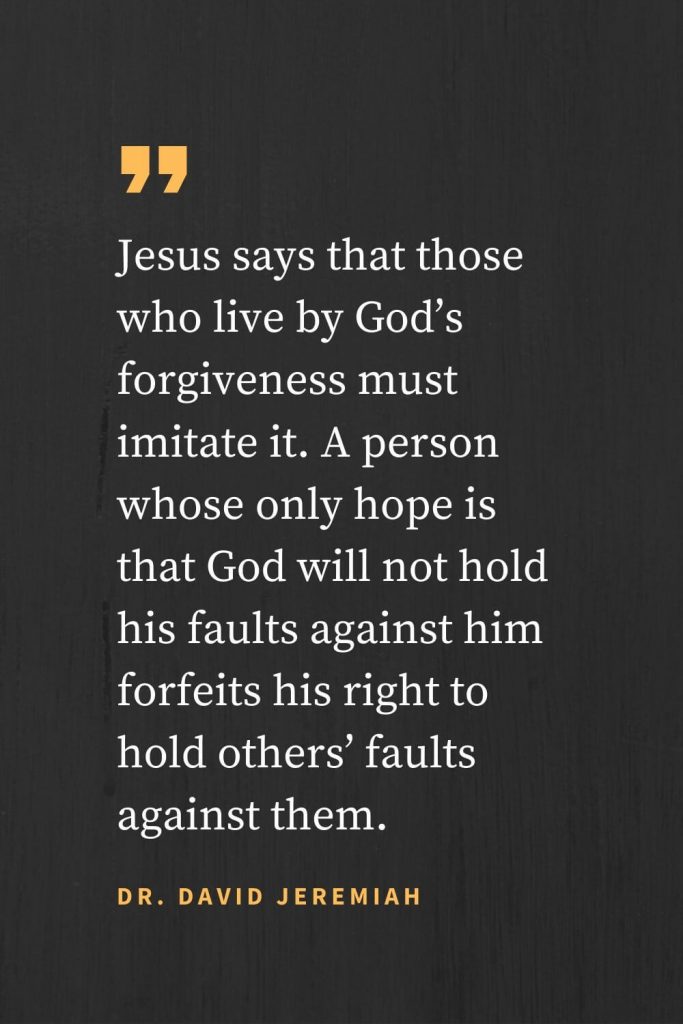 Jesus says that those who live by God's forgiveness must imitate it. A person whose only hope is that God will not hold his faults against him forfeits his right to hold others' faults against them.
– Dr. David Jeremiah, Prayer the Great Adventure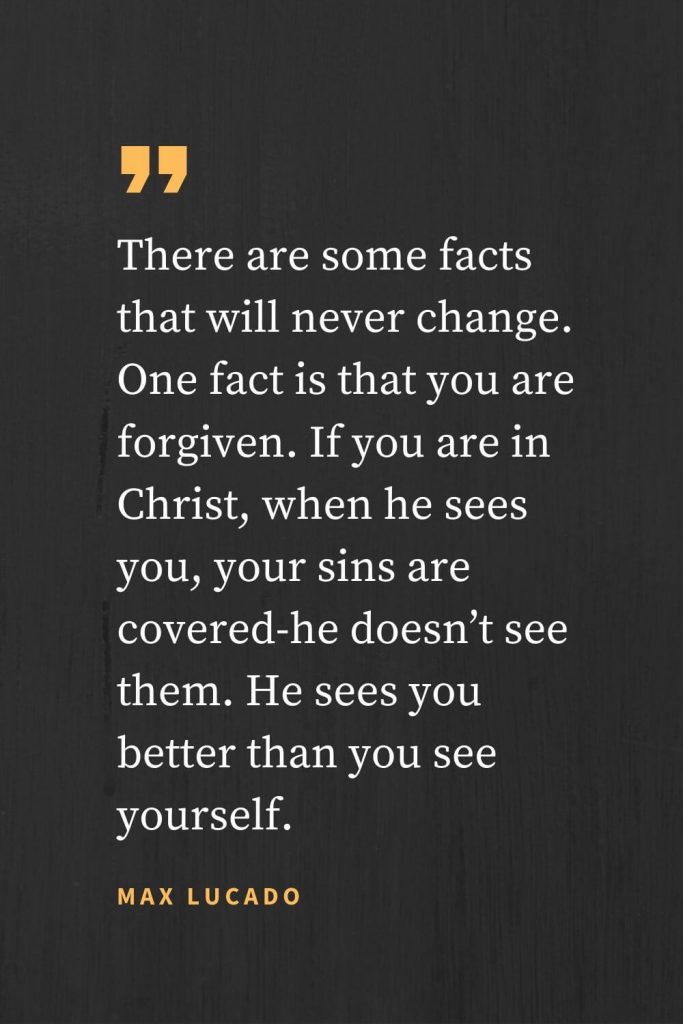 There are some facts that will never change. One fact is that you are forgiven. If you are in Christ, when he sees you, your sins are covered-he doesn't see them. He sees you better than you see yourself.
– Max Lucado, Walking with the Savior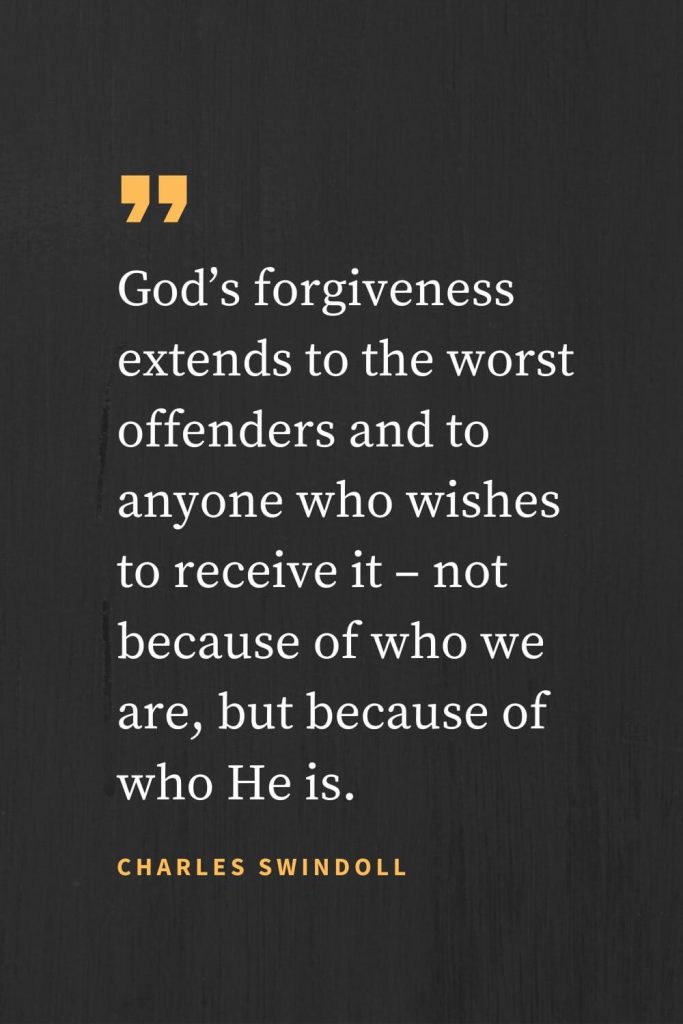 God's forgiveness extends to the worst offenders and to anyone who wishes to receive it – not because of who we are, but because of who He is.
– Charles Swindoll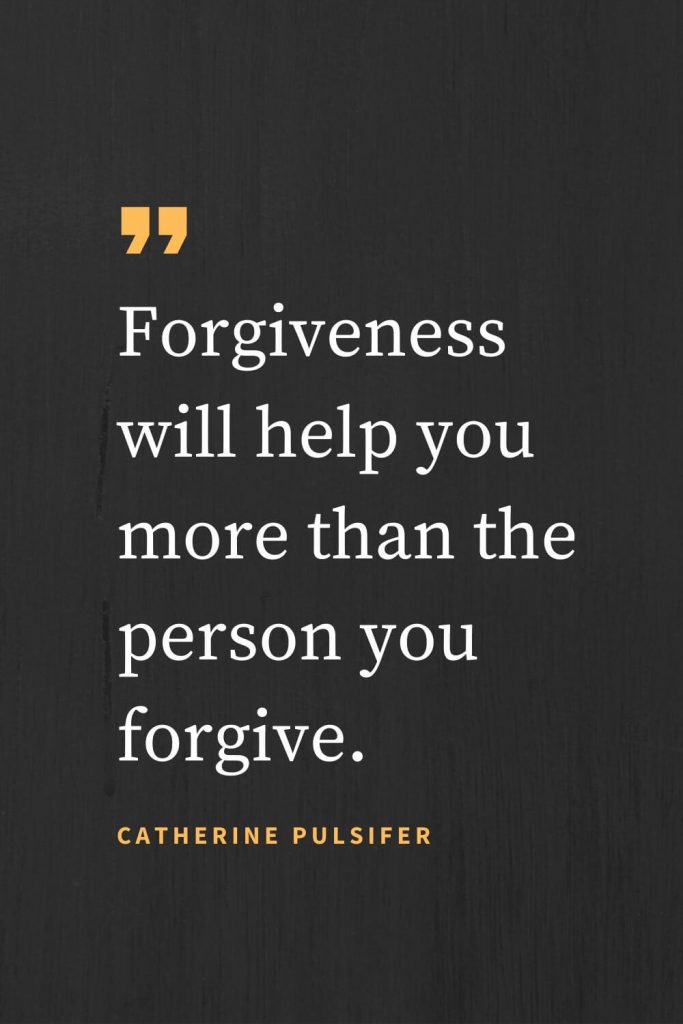 Forgiveness will help you more than the person you forgive.
– Catherine Pulsifer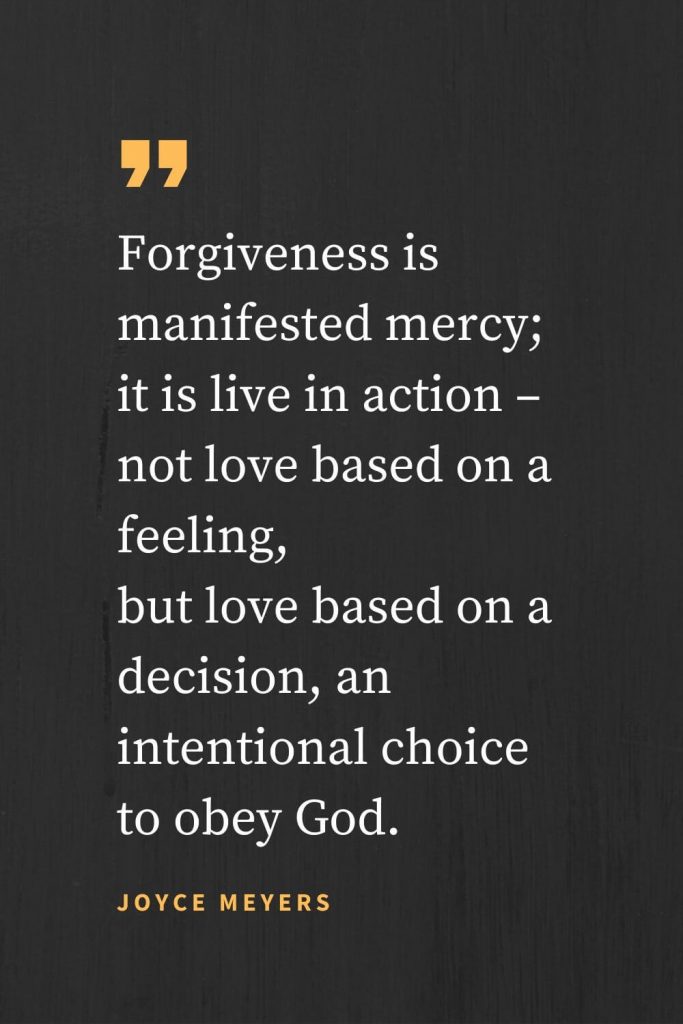 Forgiveness is manifested mercy; it is live in action – not love based on a feeling, but love based on a decision, an intentional choice to obey God.
– Joyce Meyers, the power of simple prayer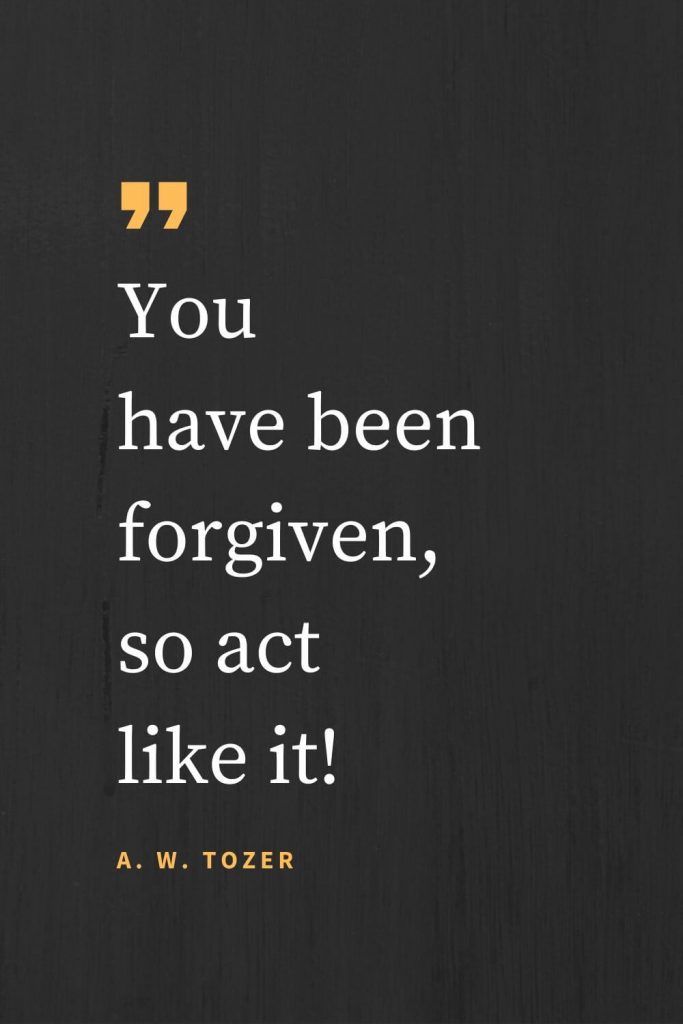 You have been forgiven, so act like it!
– A. W. Tozer
Thinking about forgiving is not enough. You must come to a moment when you say, "With God's help I now forgive."
– Norman Vincent Peale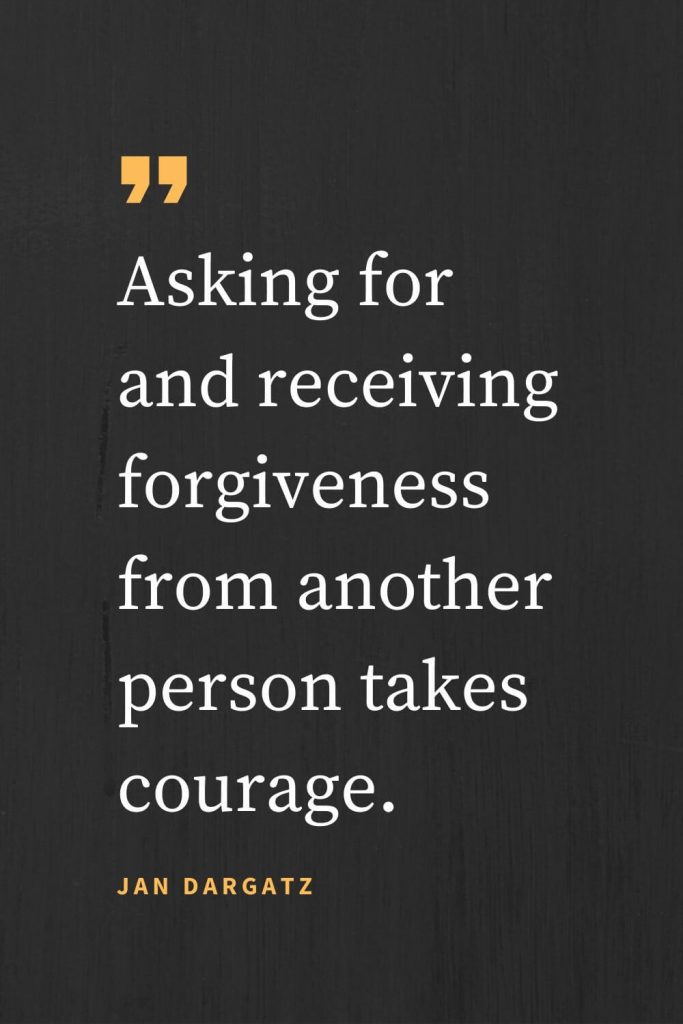 Asking for and receiving forgiveness from another person takes courage.
– Jan Dargatz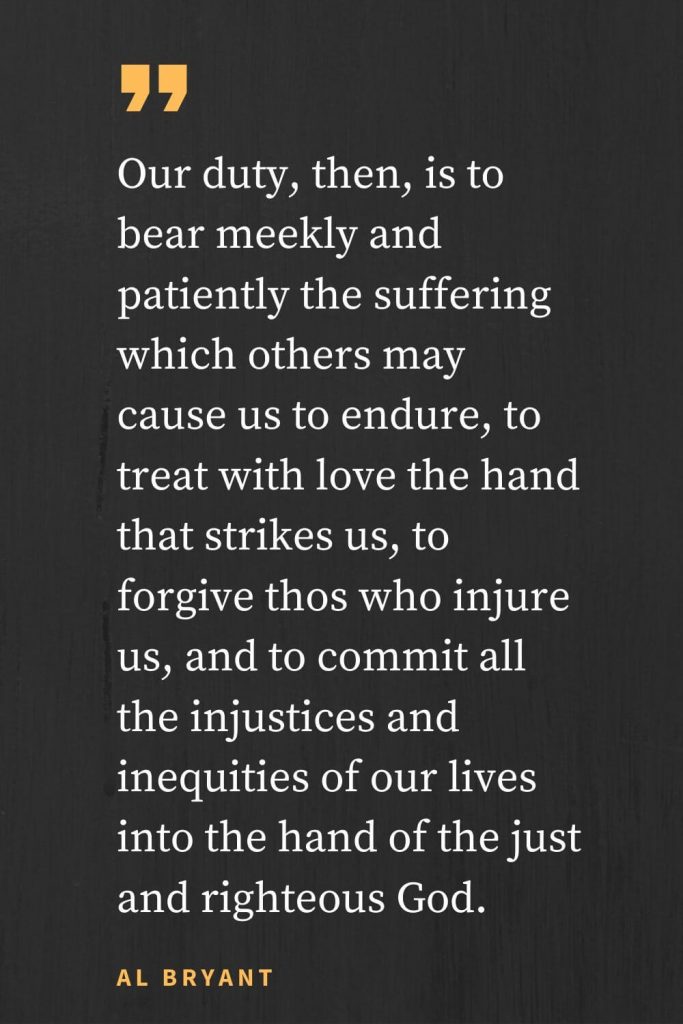 Our duty, then, is to bear meekly and patiently the suffering which others may cause us to endure, to treat with love the hand that strikes us, to forgive thos who injure us, and to commit all the injustices and inequities of our lives into the hand of the just and righteous God.
– Al Bryant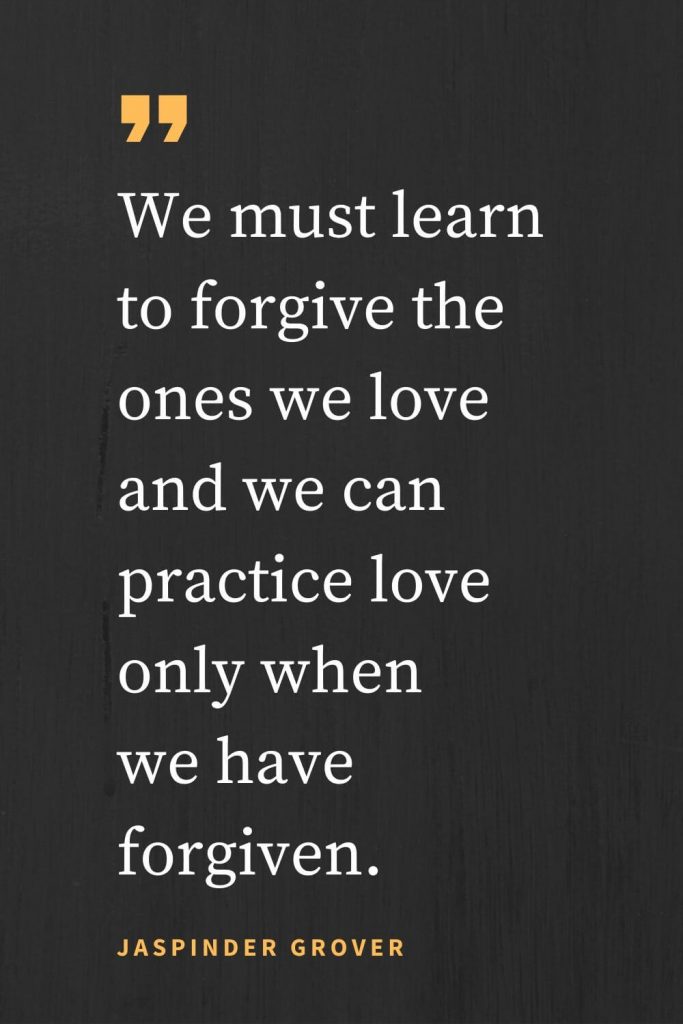 We must learn to forgive the ones we love and we can practice love only when we have forgiven.
– Jaspinder Grover, Forgiveness: A Choice That Can Instantly Heal and Bring Eternal Peace and Happiness!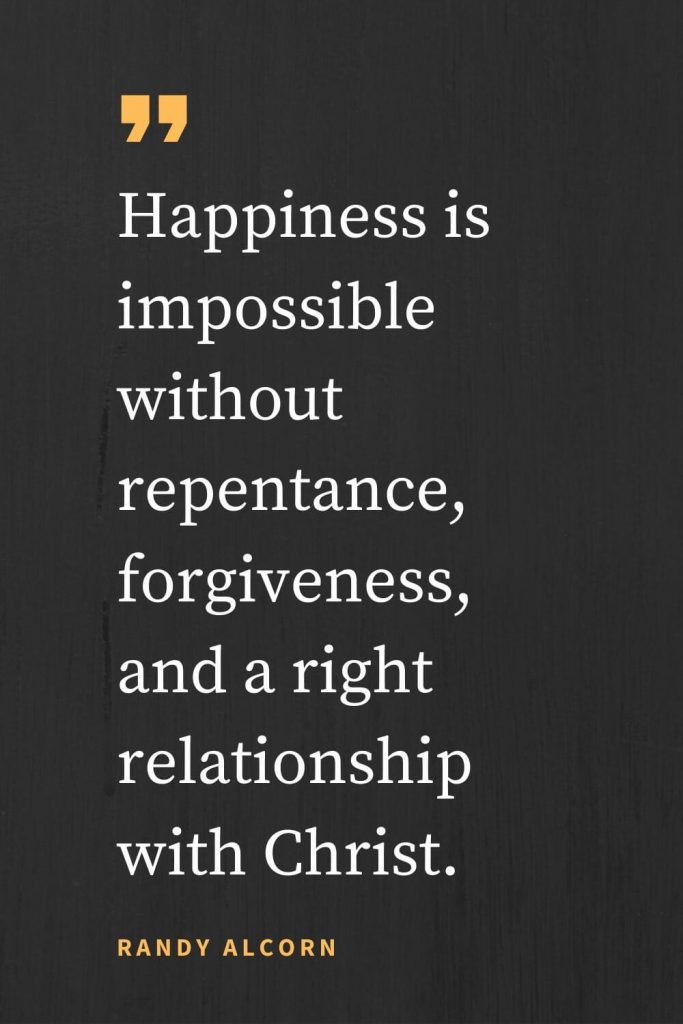 Happiness is impossible without repentance, forgiveness, and a right relationship with Christ.
– Randy Alcorn, God's Promise of Happiness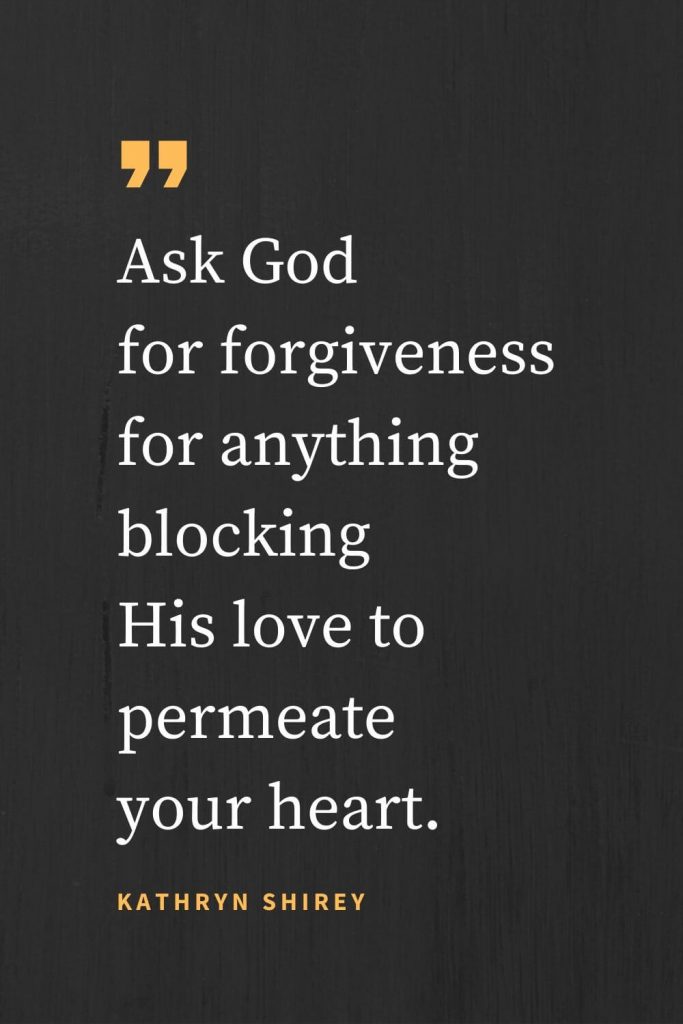 Ask God for forgiveness for anything blocking His love to permeate your heart.
– Kathryn Shirey, Pray Deep for Advent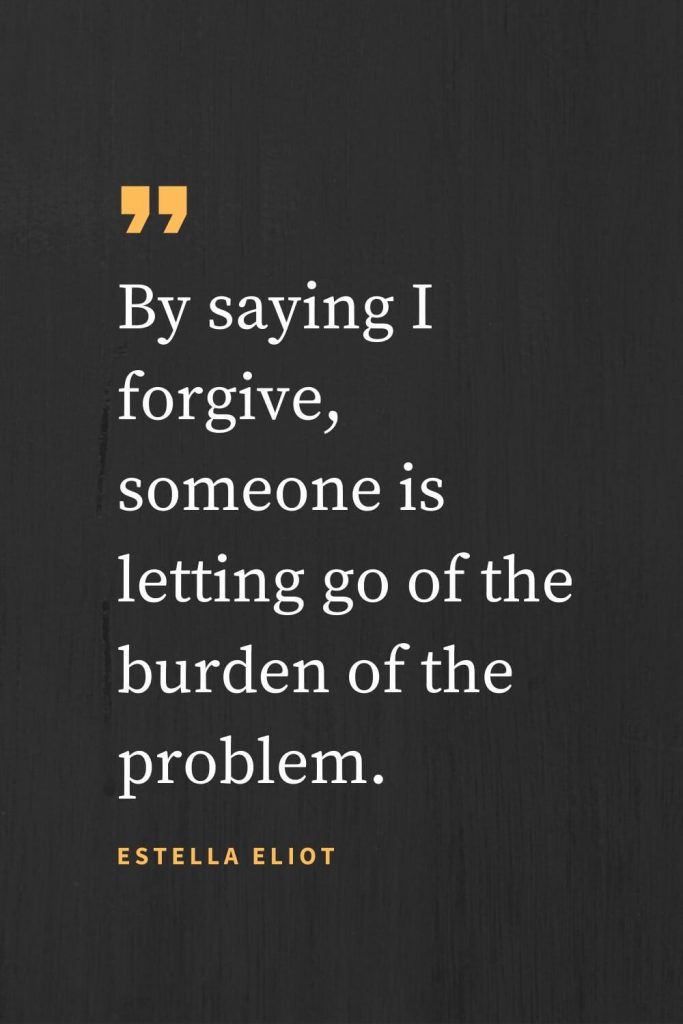 By saying I forgive, someone is letting go of the burden of the problem.
– Estella Eliot, Positively Christian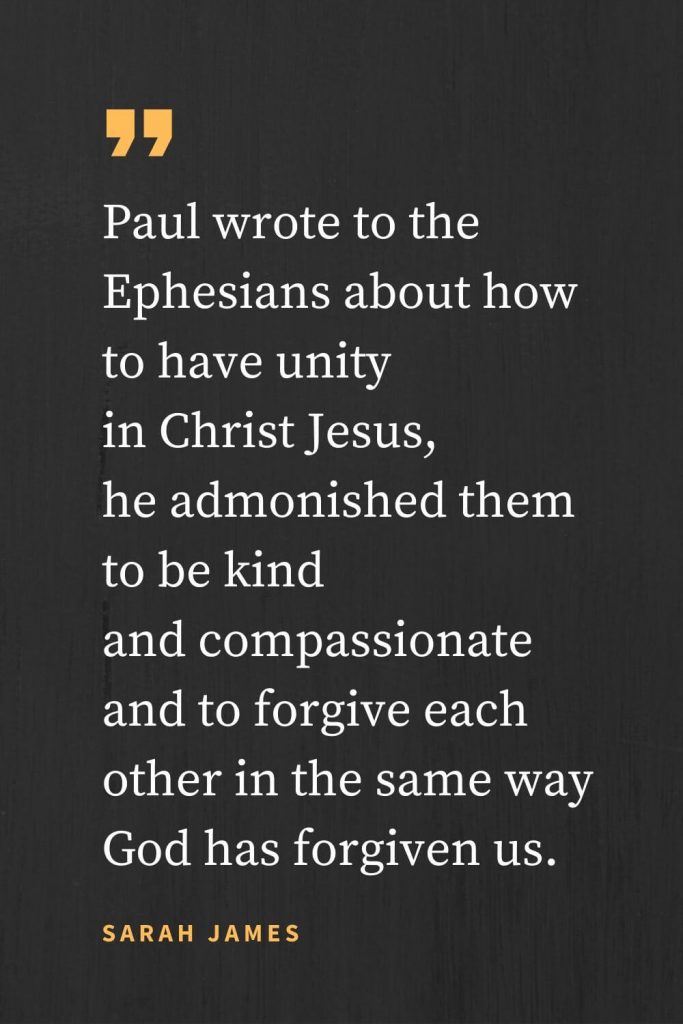 Paul wrote to the Ephesians about how to have unity in Christ Jesus, he admonished them to be kind and compassionate and to forgive each other in the same way God has forgiven us.
– Sarah James, Brides' Devotions to Go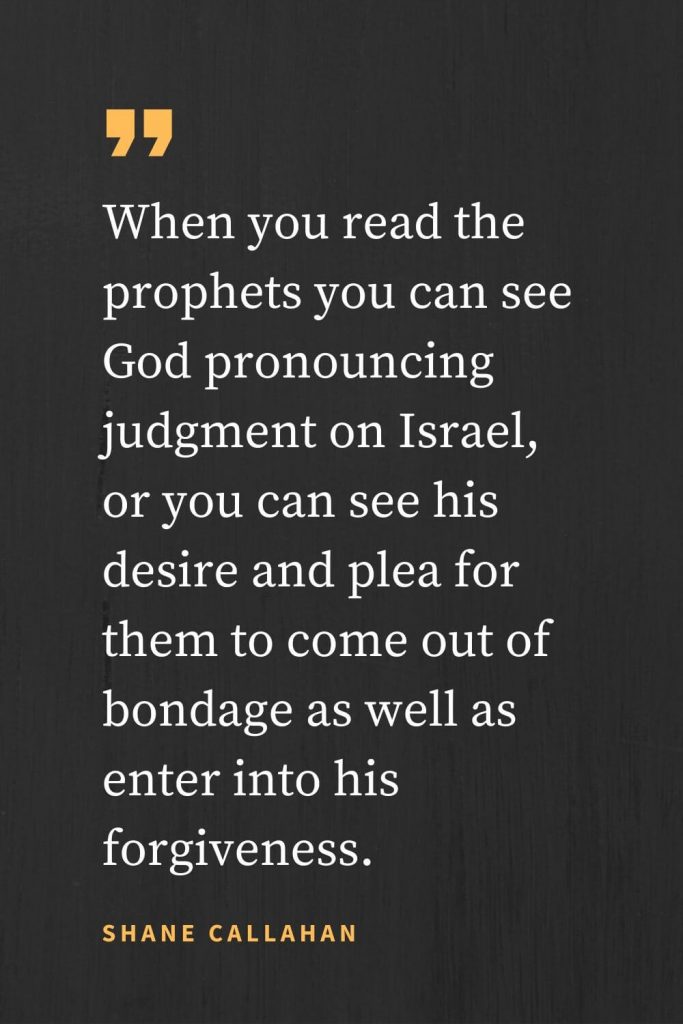 When you read the prophets you can see God pronouncing judgment on Israel, or you can see his desire and plea for them to come out of bondage as well as enter into his forgiveness.
– Shane Callahan, The Secret of the Lord: How to Have a Deeper and More Meaningful Relationship with God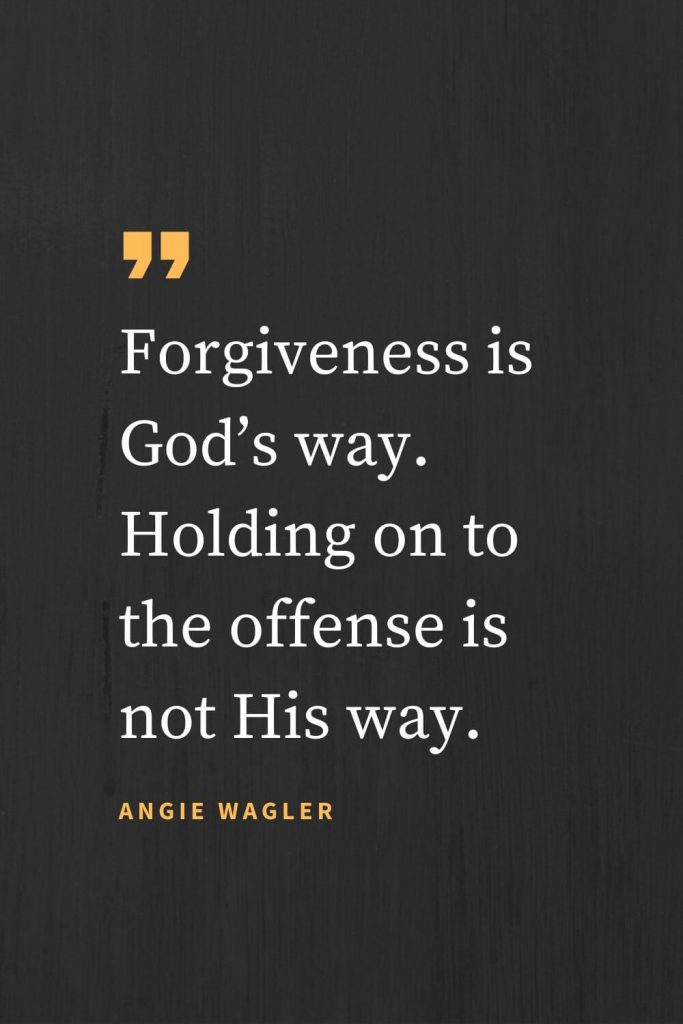 Forgiveness is God's way. Holding on to the offense is not His way.
– Angie Wagler, All My Rooms: Bringing transformation to the heart of where we live…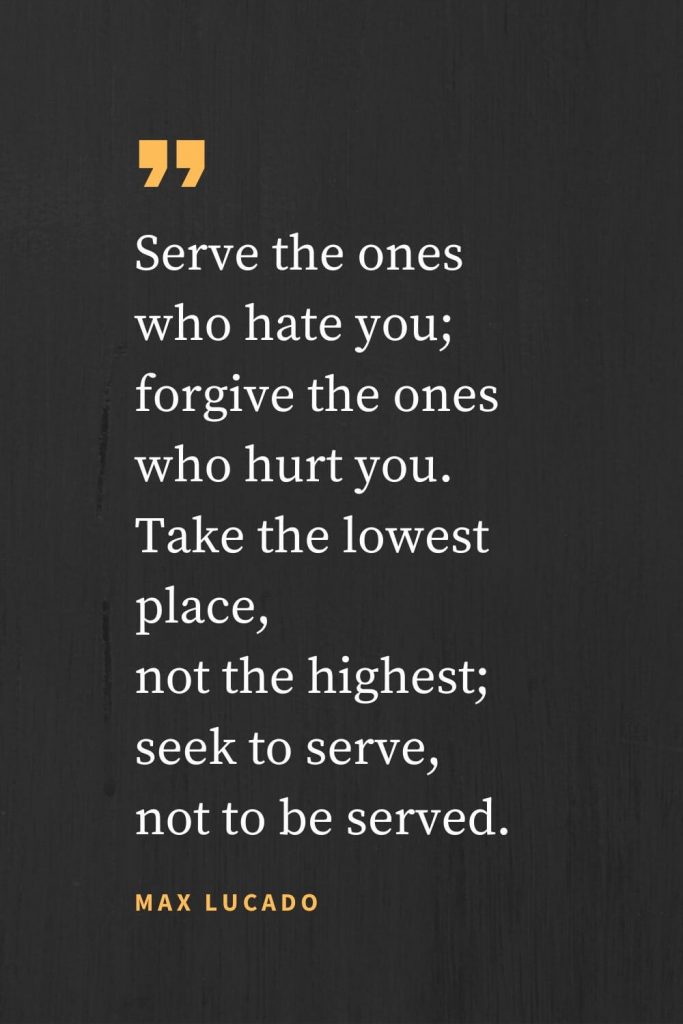 Serve the ones who hate you; forgive the ones who hurt you. Take the lowest place, not the highest; seek to serve, not to be served.
– Max Lucado, Life to the Max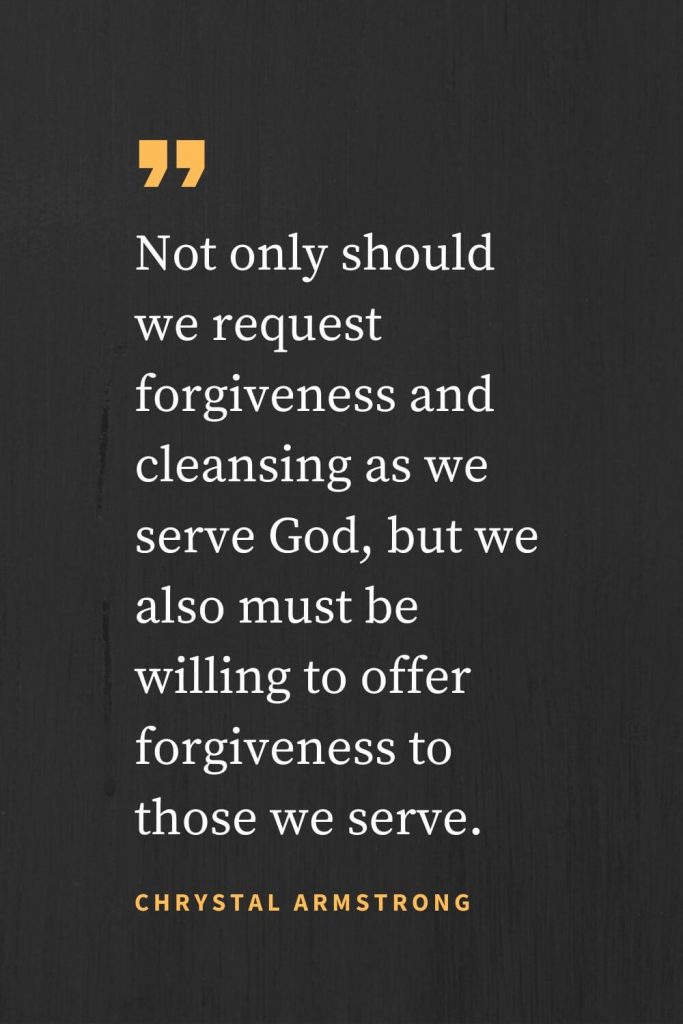 Not only should we request forgiveness and cleansing as we serve God, but we also must be willing to offer forgiveness to those we serve.
– Chrystal Armstrong, God's Divine Design for Dating and Marriage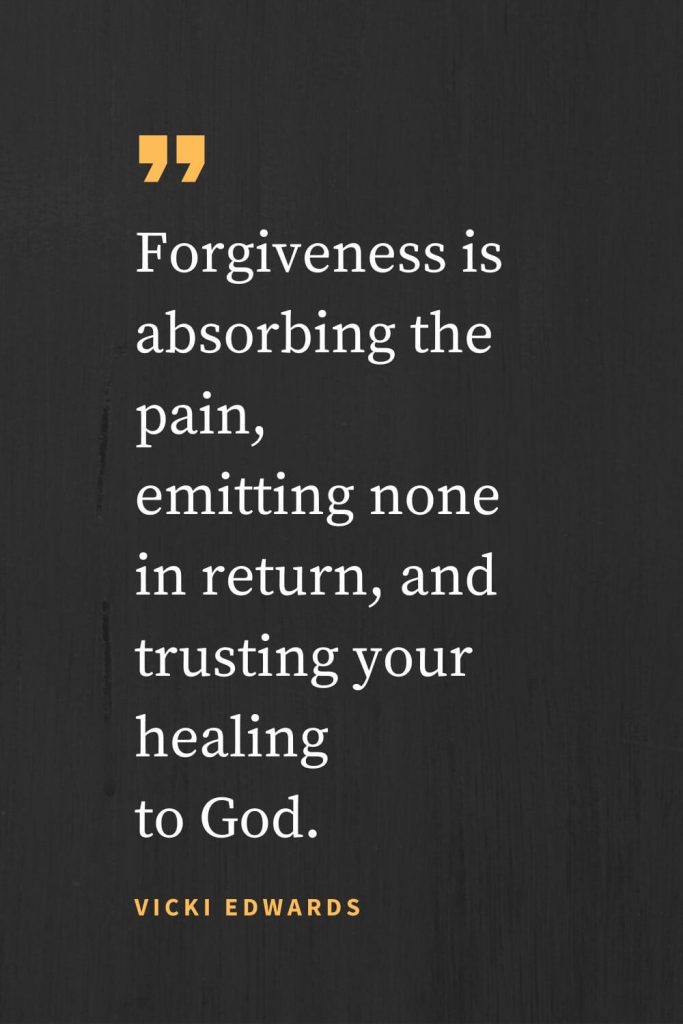 Forgiveness is absorbing the pain, emitting none in return, and trusting your healing to God.
– Vicki Edwards, Spiritual Spa: Creating Space for Women to Encounter God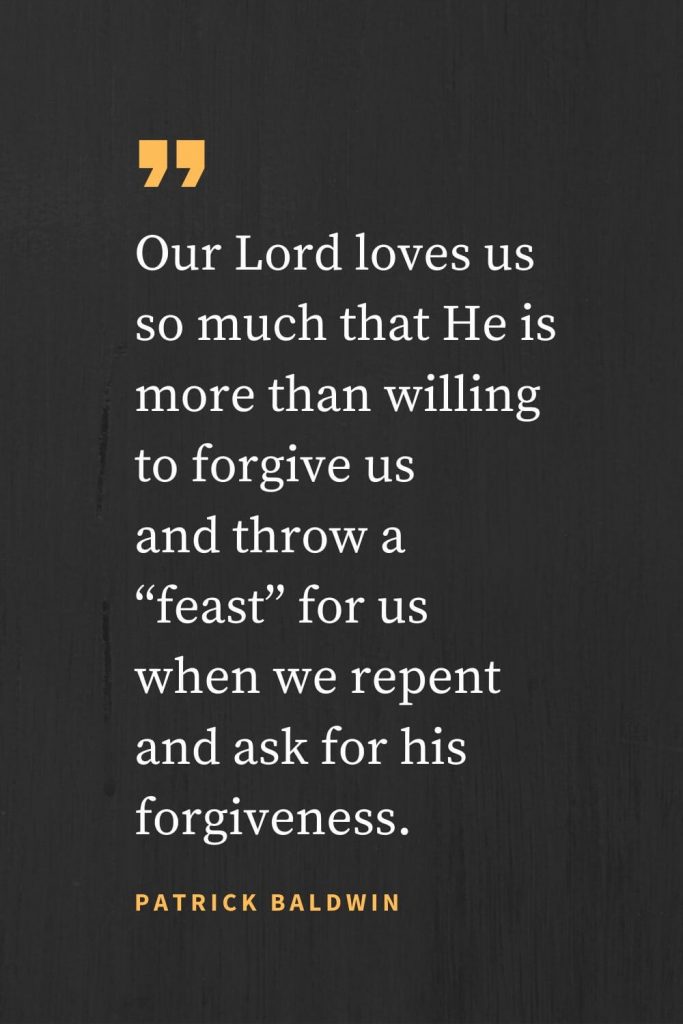 Our Lord loves us so much that He is more than willing to forgive us and throw a "feast" for us when we repent and ask for his forgiveness.
– Patrick Baldwin, The Perfection of Purity: A Message To My Daughter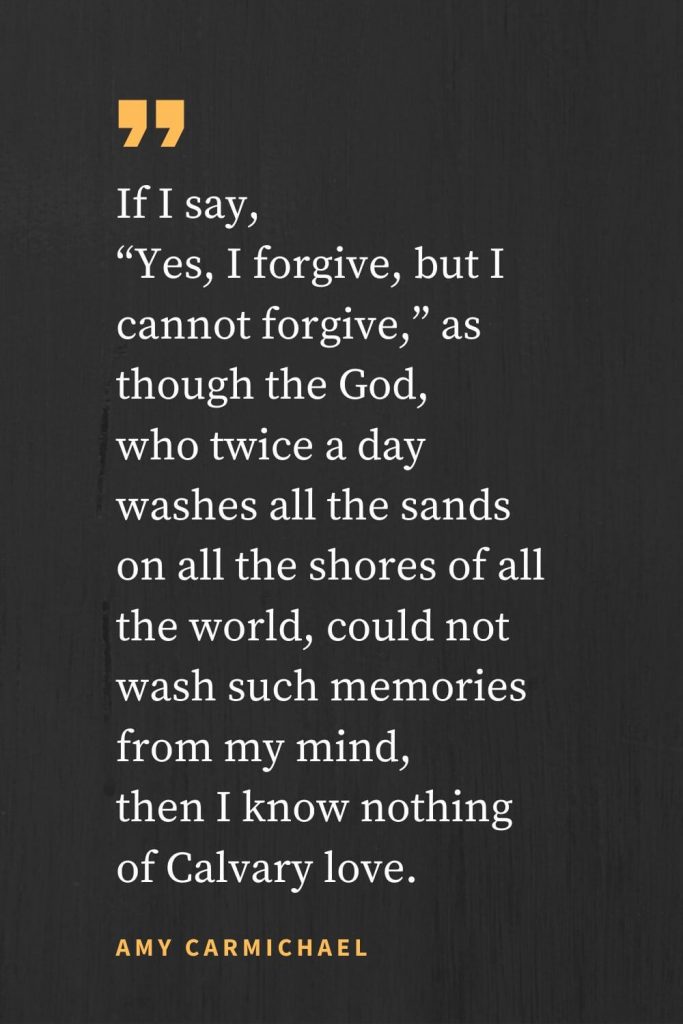 If I say, "Yes, I forgive, but I cannot forgive," as though the God, who twice a day washes all the sands on all the shores of all the world, could not wash such memories from my mind, then I know nothing of Calvary love.
– Amy Carmichael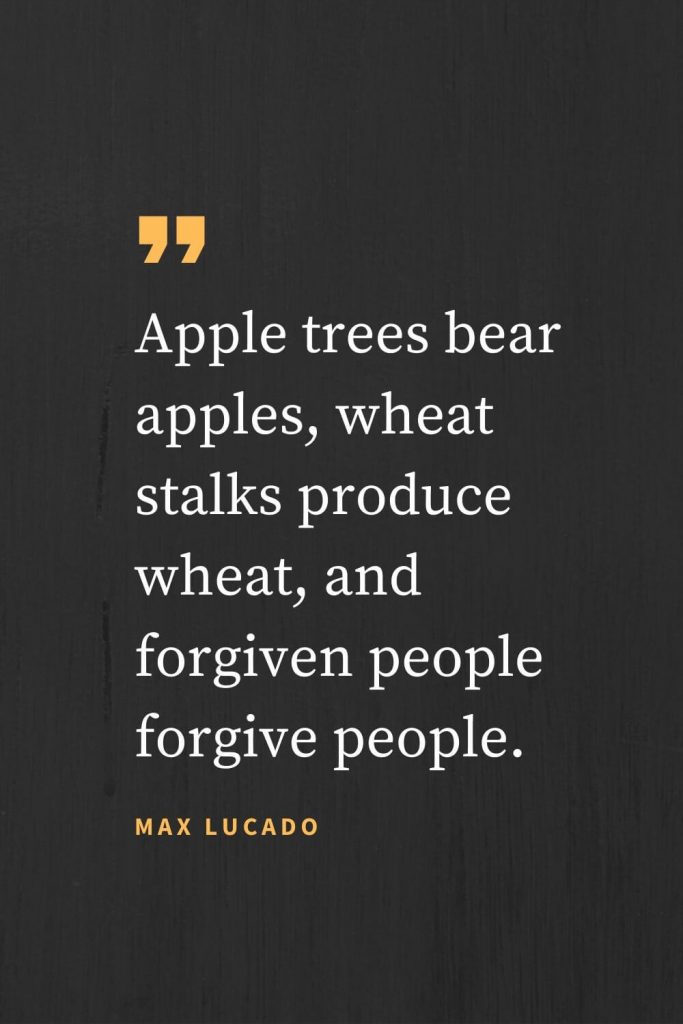 Apple trees bear apples, wheat stalks produce wheat, and forgiven people forgive people.
– Max Lucado, Every Day Chance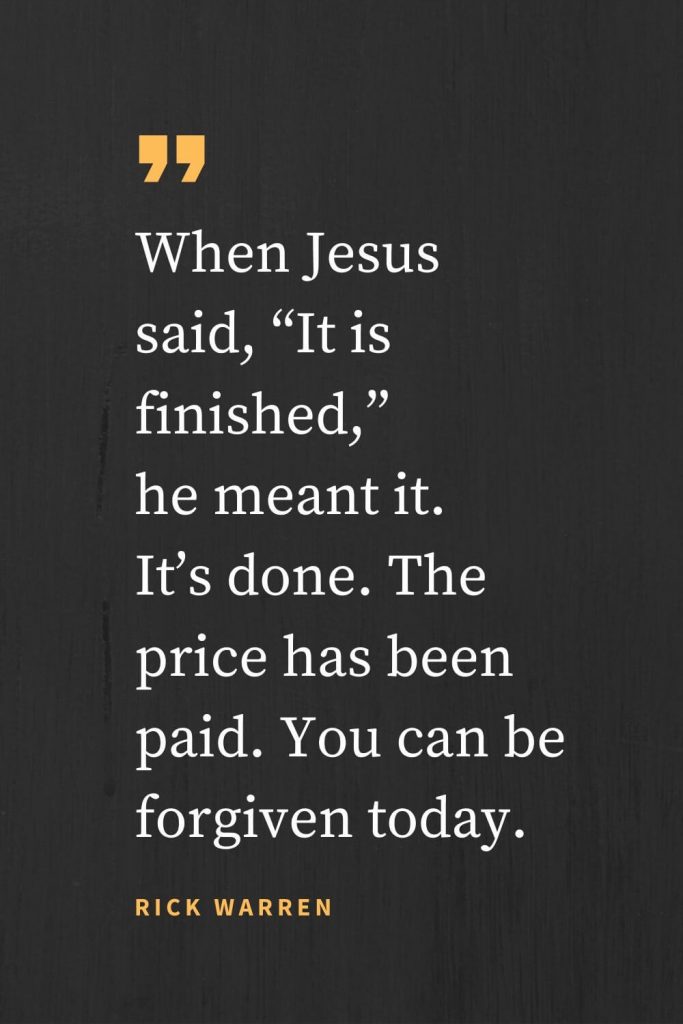 When Jesus said, "It is finished," he meant it. It's done. The price has been paid. You can be forgiven today.
– Rick Warren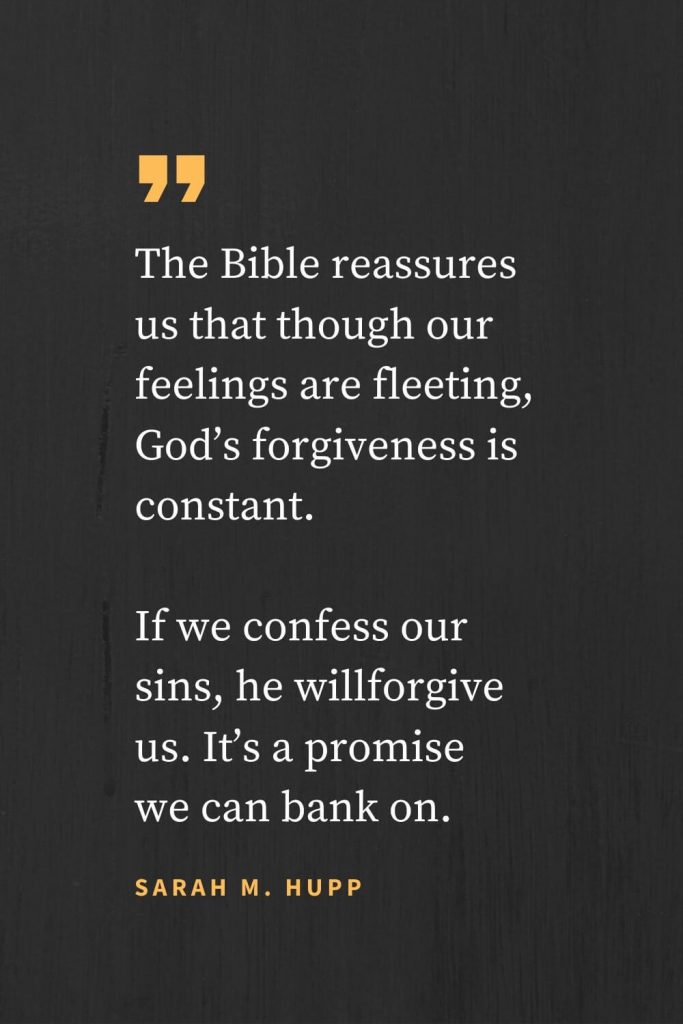 The Bible reassures us that though our feelings are fleeting, God's forgiveness is constant. If we confess our sins, he willforgive us. It's a promise we can bank on.
– Sarah M. Hupp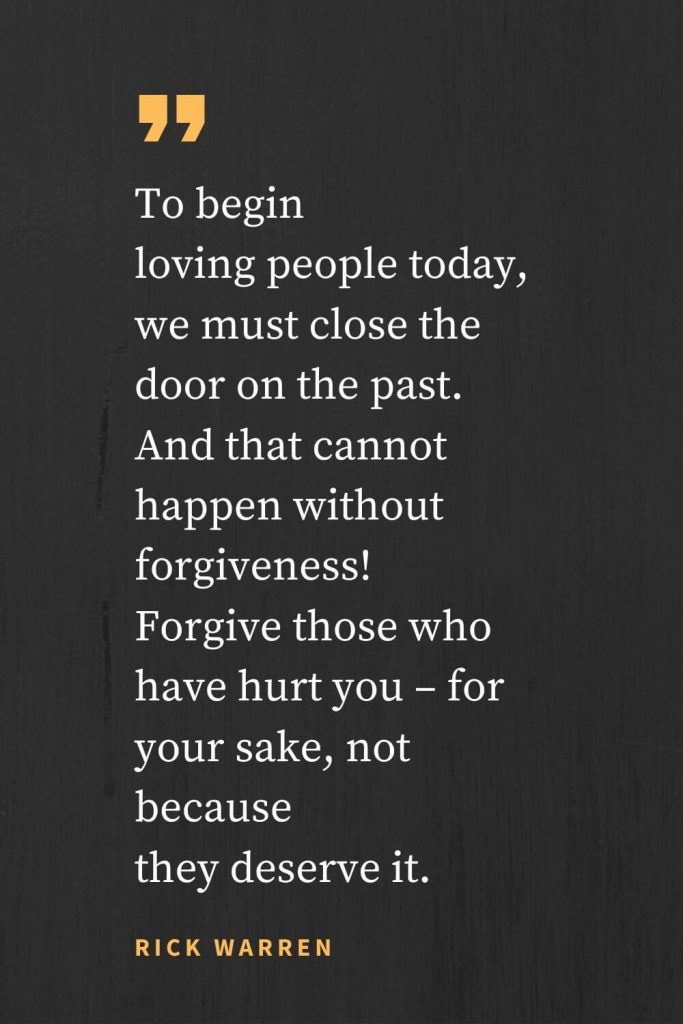 To begin loving people today, we must close the door on the past. And that cannot happen without forgiveness! Forgive those who have hurt you – for your sake, not because they deserve it.
– Rick Warren, God's Power To Change Your Life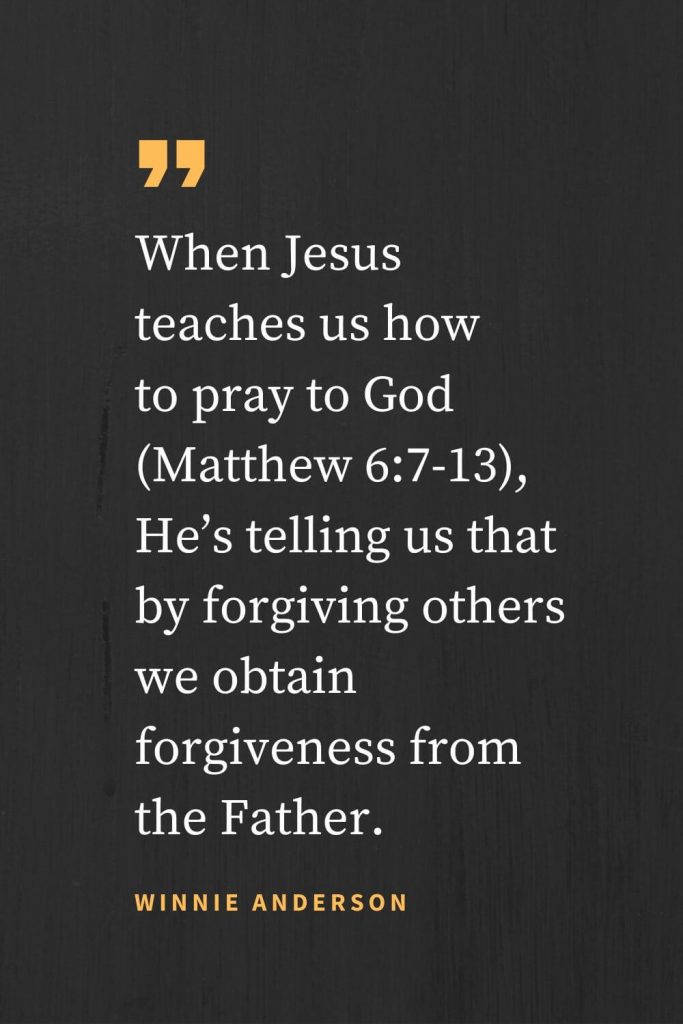 When Jesus teaches us how to pray to God (Matthew 6:7-13), He's telling us that by forgiving others we obtain forgiveness from the Father.
– Winnie Anderson, Faith From 9 to 5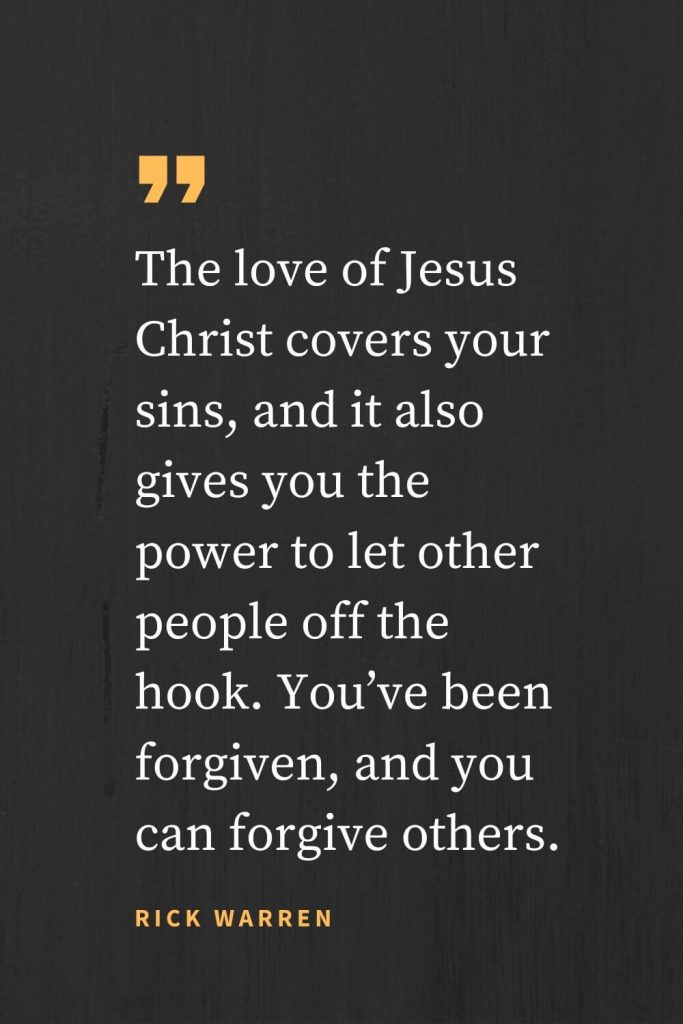 The love of Jesus Christ covers your sins, and it also gives you the power to let other people off the hook. You've been forgiven, and you can forgive others.
– Rick Warren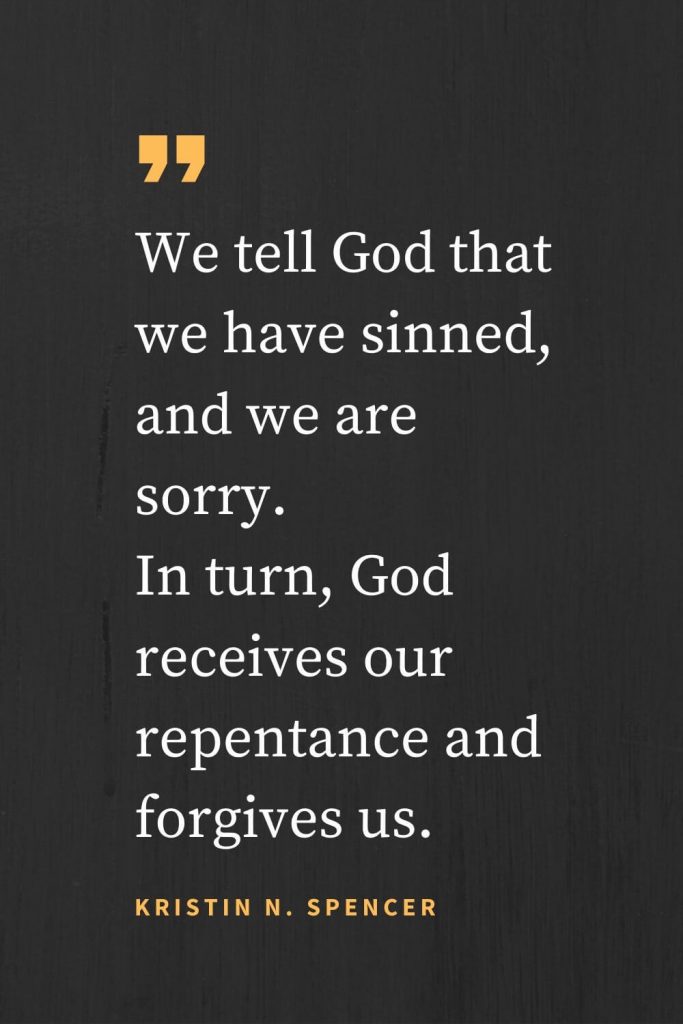 We tell God that we have sinned, and we are sorry. In turn, God receives our repentance and forgives us.
– Kristin N. Spencer, The Truth About Godly Confidence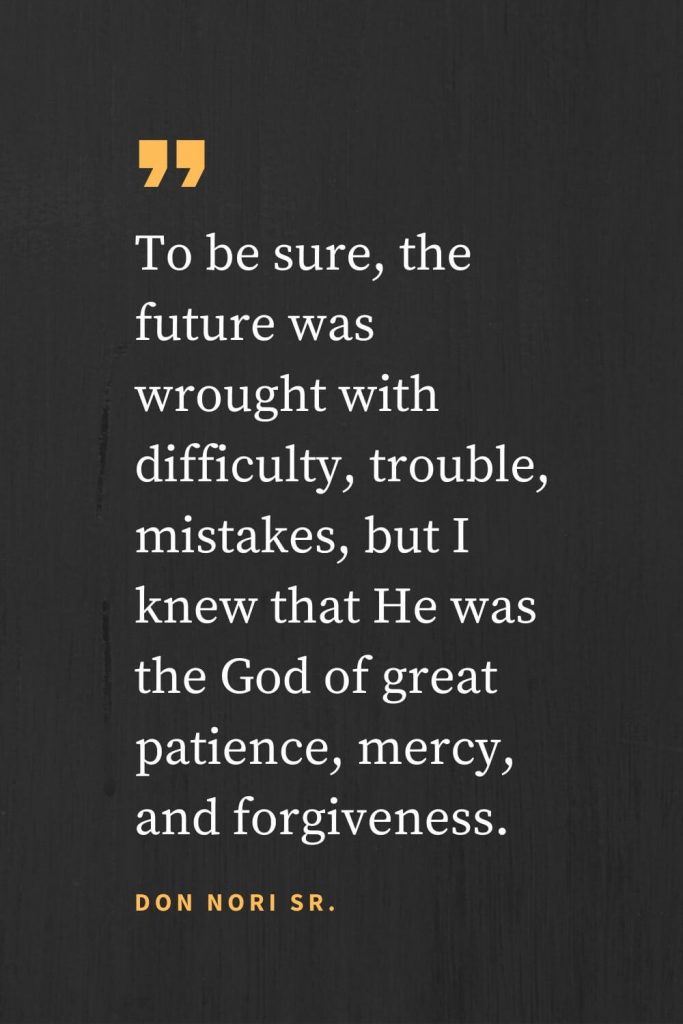 To be sure, the future was wrought with difficulty, trouble, mistakes, but I knew that He was the God of great patience, mercy, and forgiveness.
– Don Nori Sr., You Can Pray in Tongues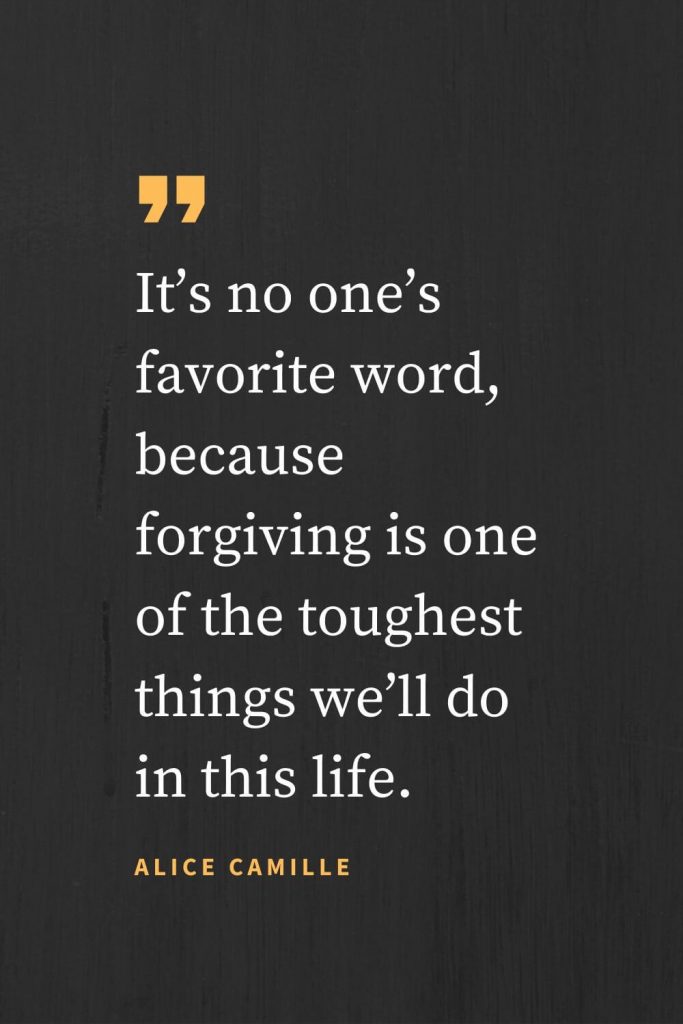 It's no one's favorite word, because forgiving is one of the toughest things we'll do in this life.
– Alice Camille, 2009: A Book of Grace-Filled Days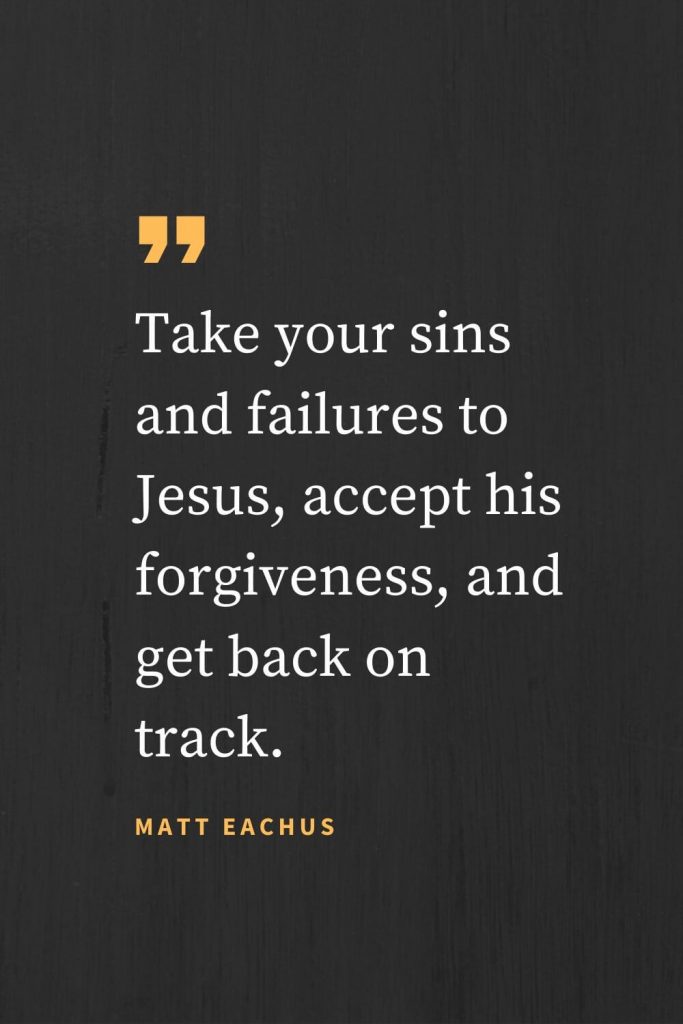 Take your sins and failures to Jesus, accept his forgiveness, and get back on track.
– Matt Eachus, Gospel: Encountering and Remembering the Good News of Jesus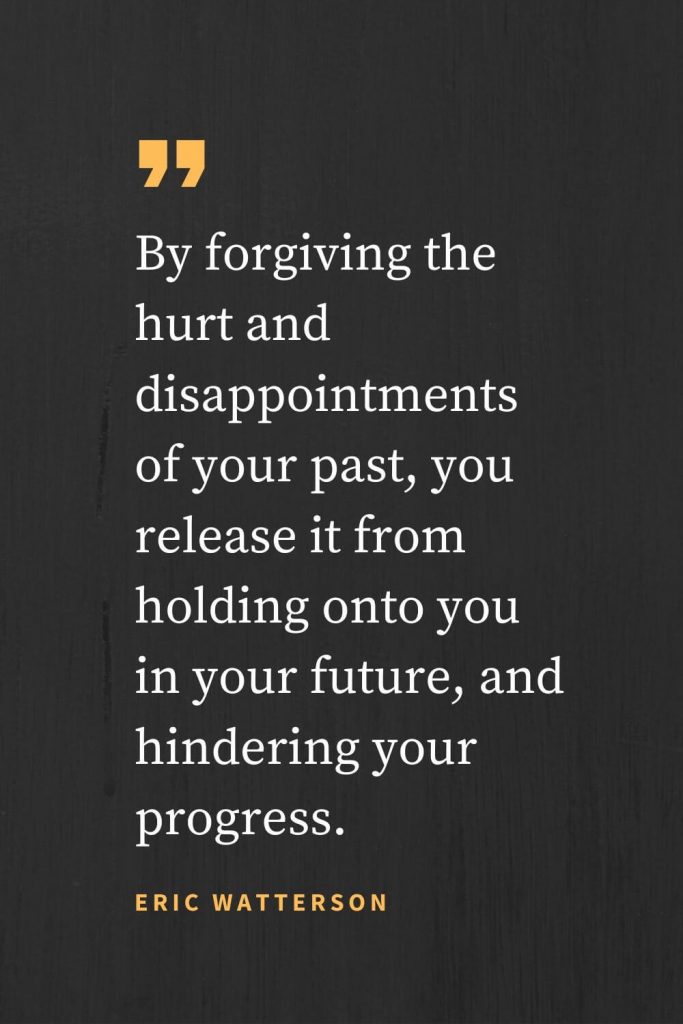 By forgiving the hurt and disappointments of your past, you release it from holding onto you in your future, and hindering your progress.
– Eric Watterson, I Forgive You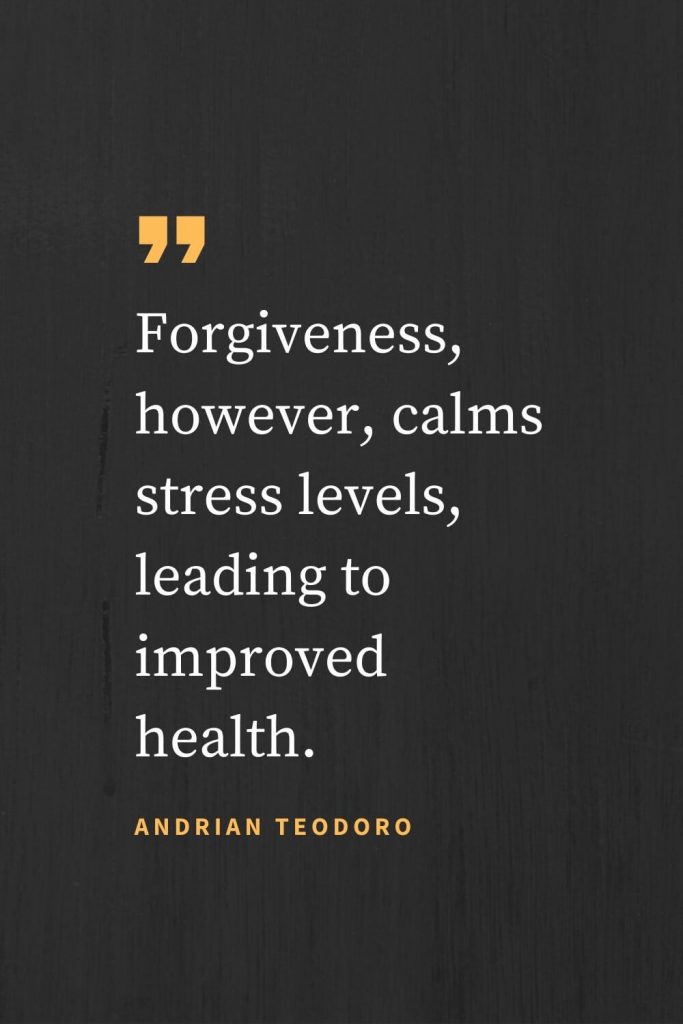 Forgiveness, however, calms stress levels, leading to improved health.
– Andrian Teodoro, The Power of Positive Life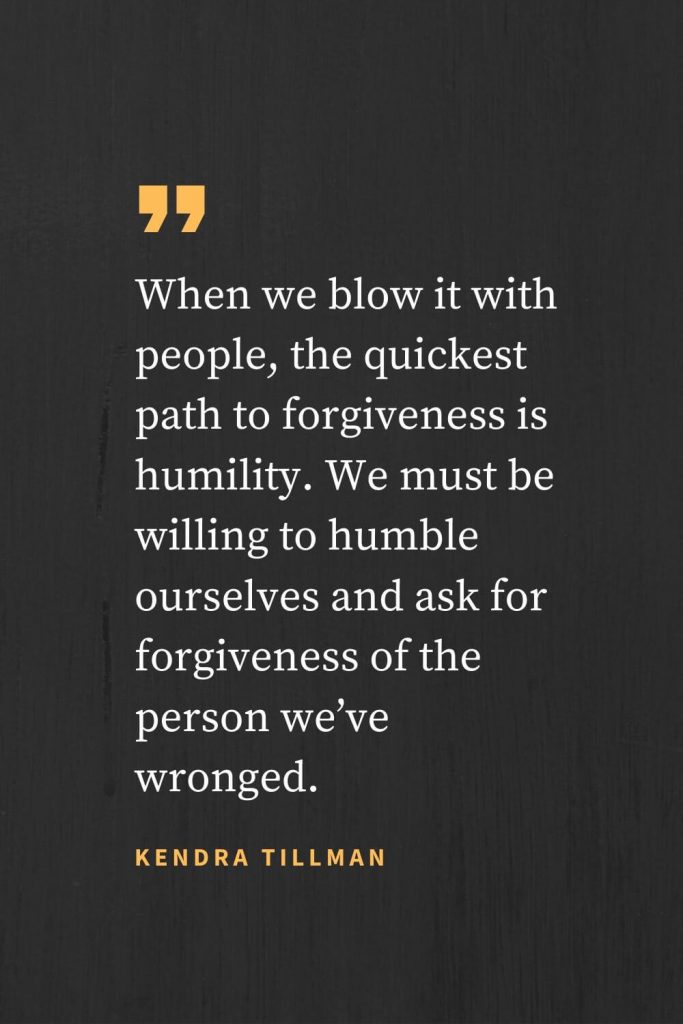 When we blow it with people, the quickest path to forgiveness is humility. We must be willing to humble ourselves and ask for forgiveness of the person we've wronged.
– Kendra Tillman, You Are Stronger Than You Think: Lessons of Endurance in the Race of Faith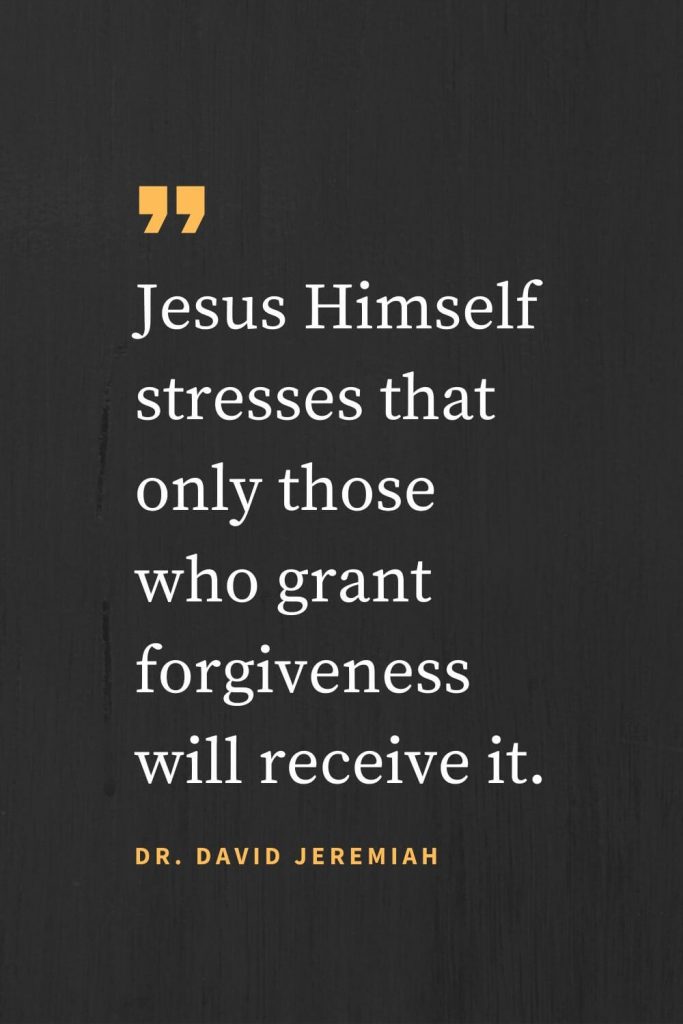 Jesus Himself stresses that only those who grant forgiveness will receive it.
– Dr. David Jeremiah, Prayer the Great Adventure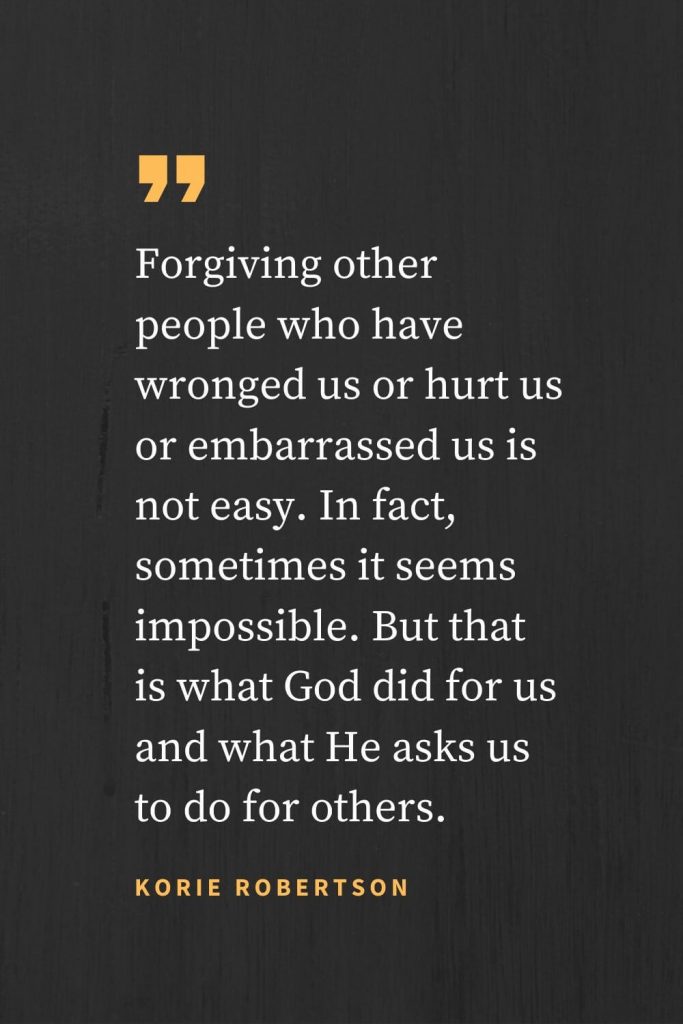 Forgiving other people who have wronged us or hurt us or embarrassed us is not easy. In fact, sometimes it seems impossible. But that is what God did for us and what He asks us to do for others.
– Korie Robertson, Faith Commander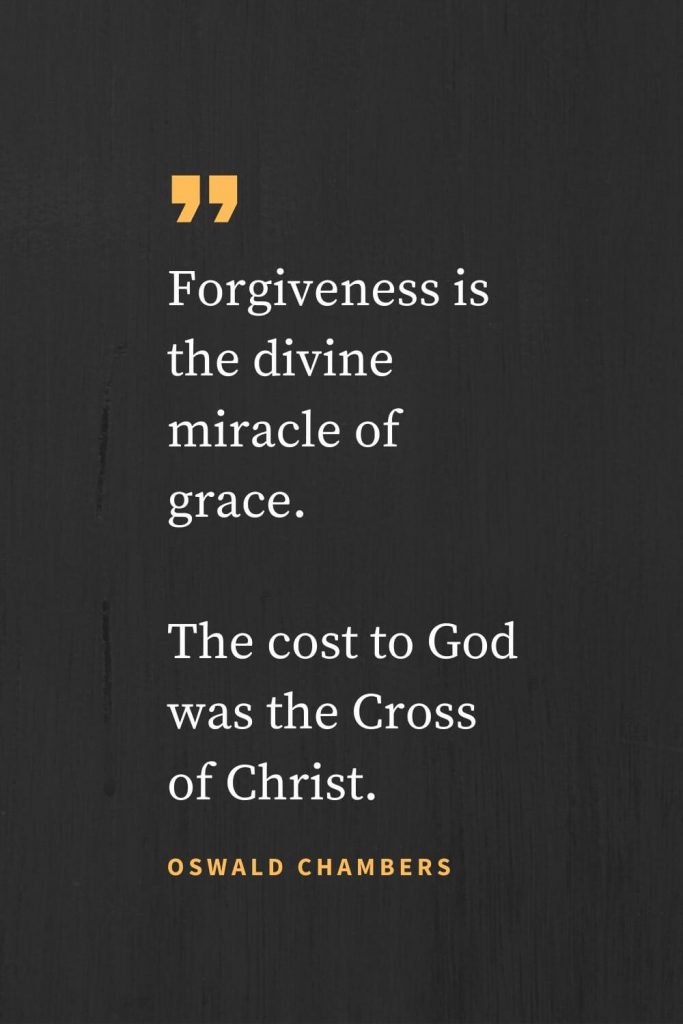 Forgiveness is the divine miracle of grace. The cost to God was the Cross of Christ.
– Oswald Chambers, My Utmost For His Highest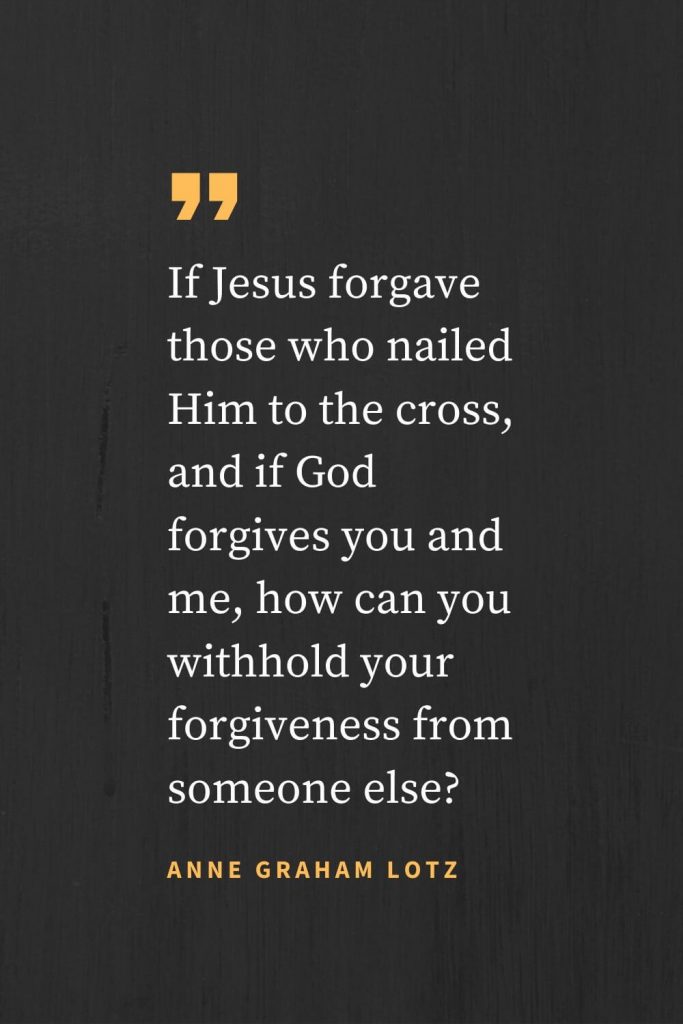 If Jesus forgave those who nailed Him to the cross, and if God forgives you and me, how can you withhold your forgiveness from someone else?
– Anne Graham Lotz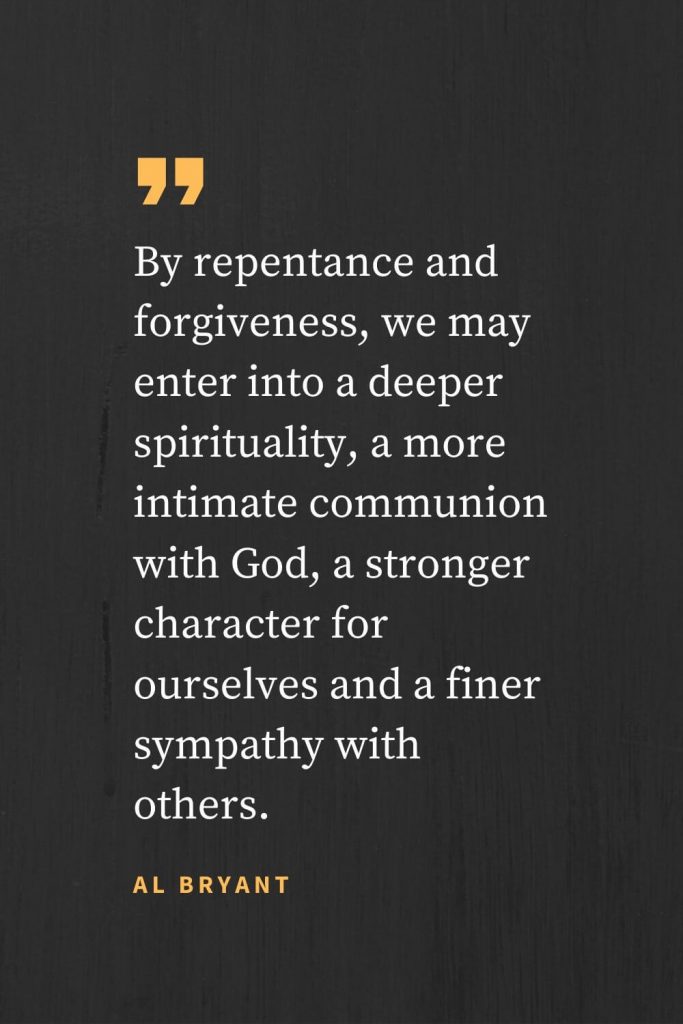 By repentance and forgiveness, we may enter into a deeper spirituality, a more intimate communion with God, a stronger character for ourselves and a finer sympathy with others.
– Al Bryant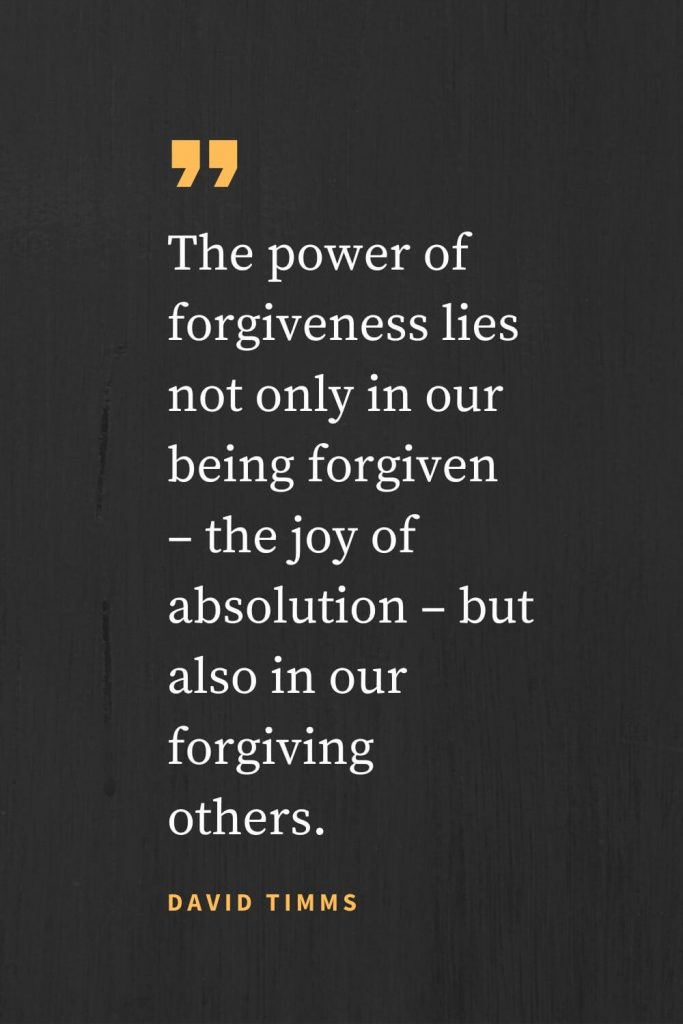 The power of forgiveness lies not only in our being forgiven – the joy of absolution – but also in our forgiving others.
– David Timms, Living the Lord's Prayer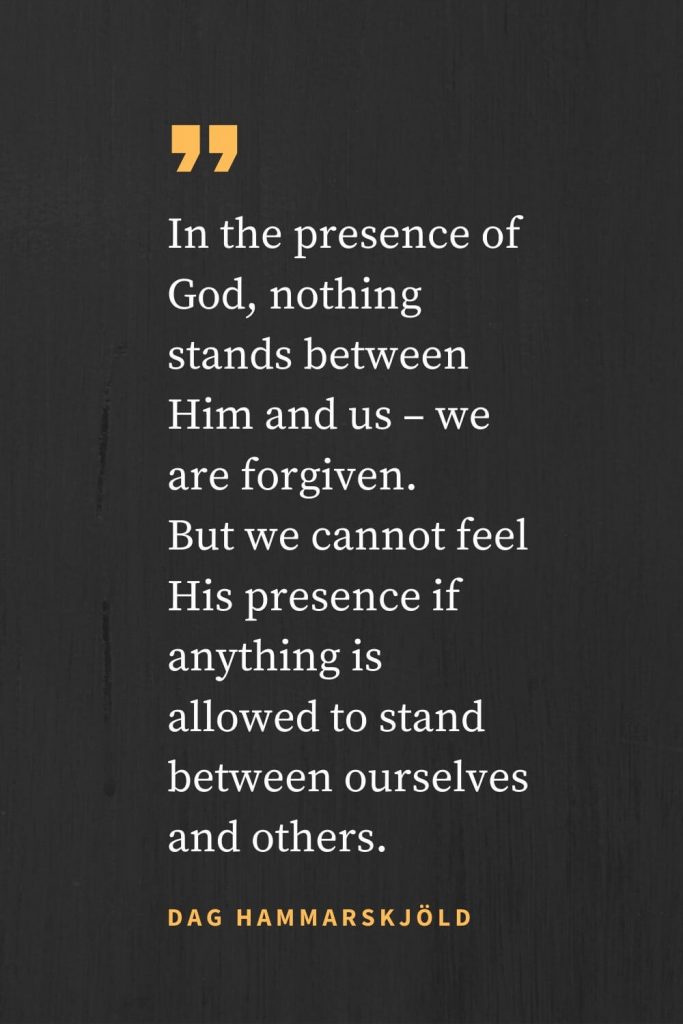 In the presence of God, nothing stands between Him and us – we are forgiven. But we cannot feel His presence if anything is allowed to stand between ourselves and others.
– Dag Hammarskjöld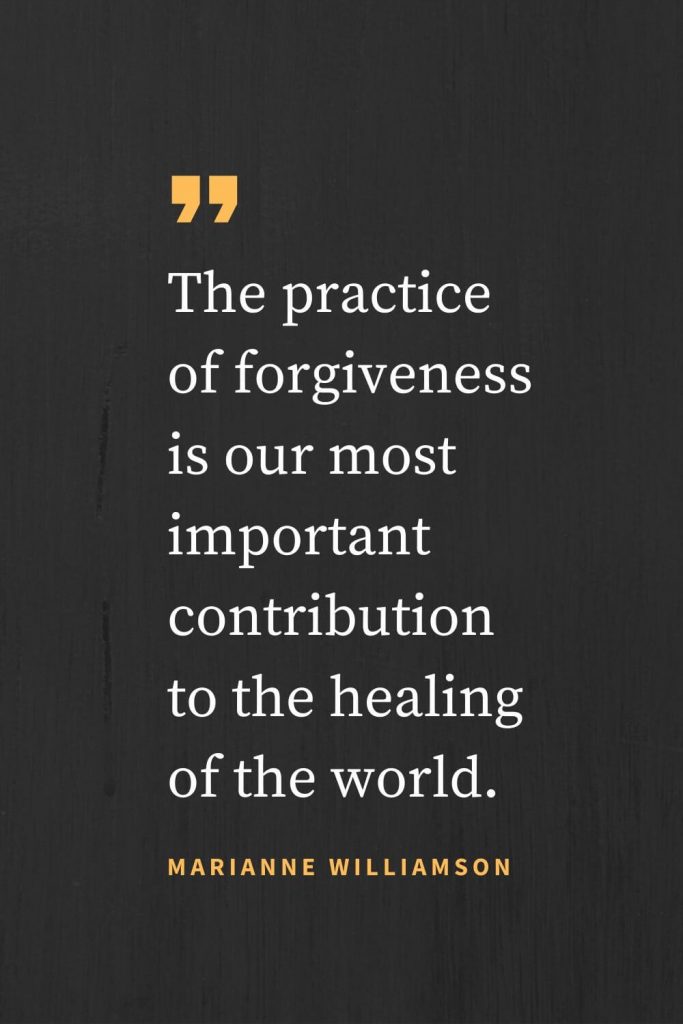 The practice of forgiveness is our most important contribution to the healing of the world.
– Marianne Williamson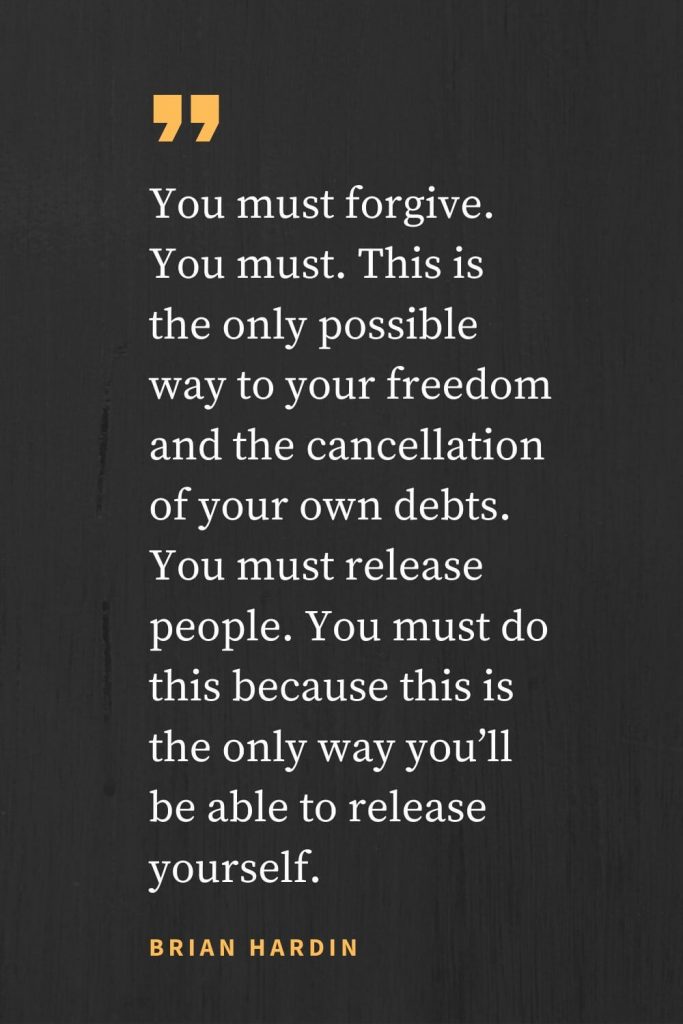 You must forgive. You must. This is the only possible way to your freedom and the cancellation of your own debts. You must release people. You must do this because this is the only way you'll be able to release yourself.
– Brian Hardin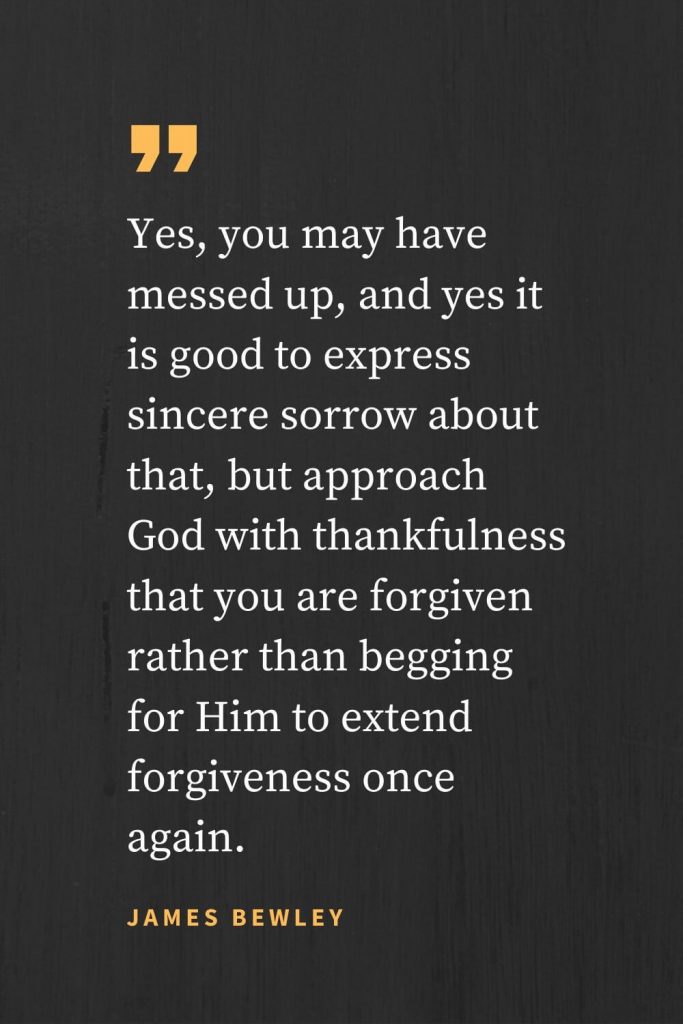 Yes, you may have messed up, and yes it is good to express sincere sorrow about that, but approach God with thankfulness that you are forgiven rather than begging for Him to extend forgiveness once again.
– James Bewley, How to Know God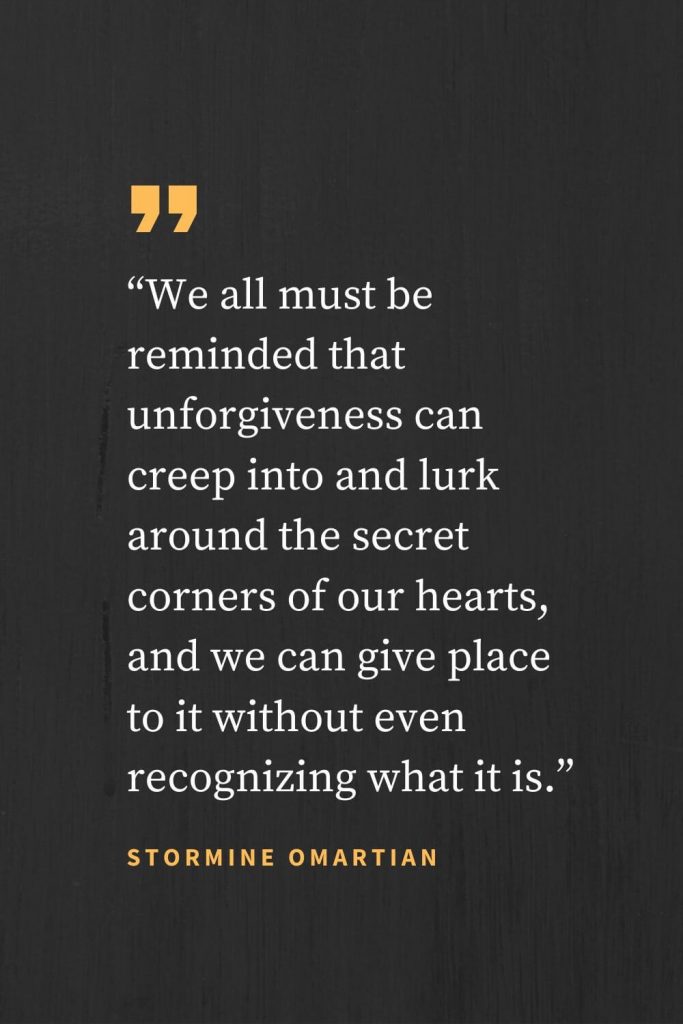 "We all must be reminded that unforgiveness can creep into and lurk around the secret corners of our hearts, and we can give place to it without even recognizing what it is."
– Stormine Omartian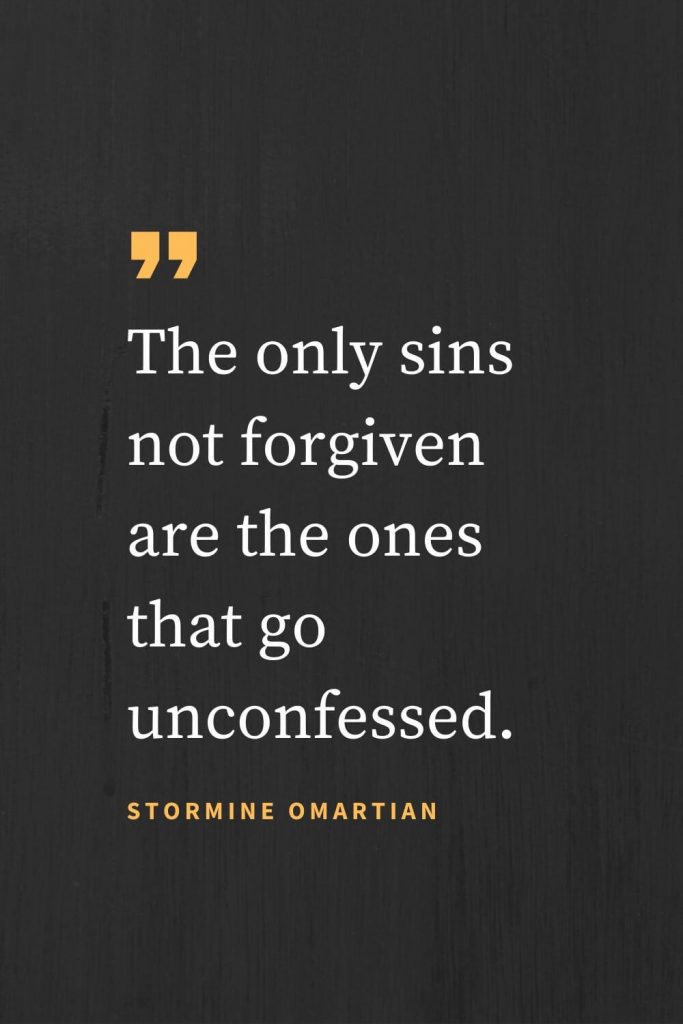 "The only sins not forgiven are the ones that go unconfessed."
– Dr. David Jeremiah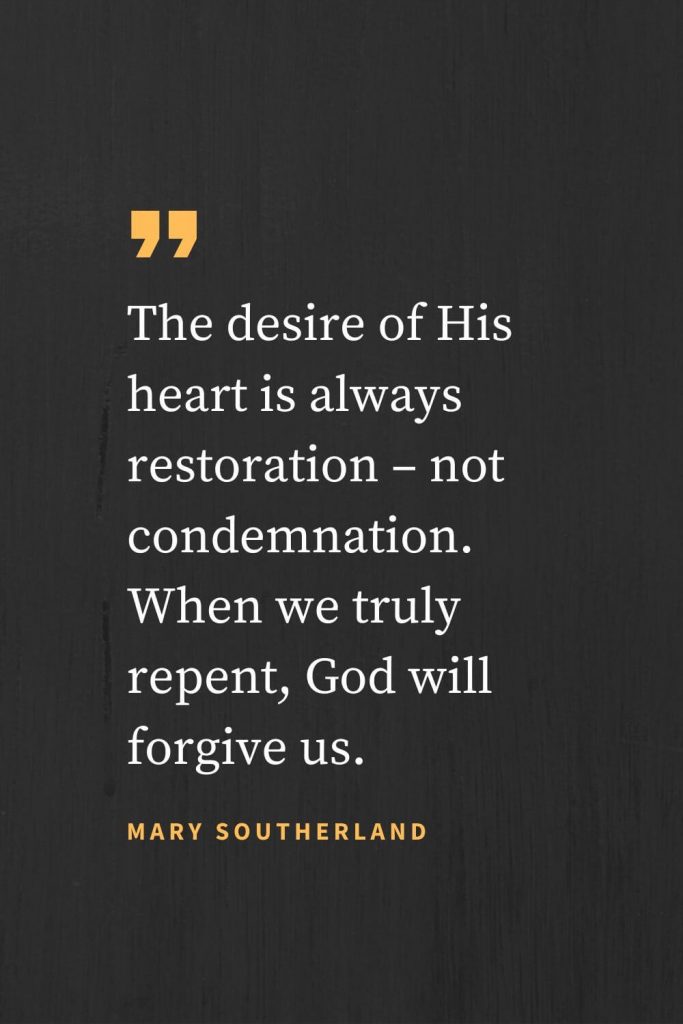 "The desire of His heart is always restoration – not condemnation. When we truly repent, God will forgive us."
–Mary Southerland
Other Famous Forgiveness Quotes
Always forgive your enemies – nothing annoys them so much. – Oscar Wilde
Never does the human soul appear so strong as when it forgoes revenge, and dares forgive an injury. – E.H. Chapin
One thing you will probably remember well is any time you forgive and forget. – Franklin P. Jones
Without forgiveness life is governed by an endless cycle of resentment and retaliation. – Roberto Assagioli
There is no revenge so complete as forgiveness. – Josh Billings
It's far easier to forgive an enemy after you've got even with him. – Olin Miller
The man who forgives is far stronger than the man who fights. – Nathan Croall
There's no point in burying a hatchet if you're going to put up a marker on the site. – Sydney Harris
He who cannot forgive breaks the bridge over which he himself must pass. – George Herbert
Forgive all who have offended you, not for them, but for yourself. – Harriet Nelson
Forgiveness is the sweetest revenge. – Isaac Friedmann
It is easier to forgive an enemy than to forgive a friend. – William Blake
Forgiveness does not change the past, but it does enlarge the future. – Paul Boese
Forgiveness is a funny thing. It warms the heart and cools the sting. – William Arthur Ward
To forgive is to set a prisoner free and discover that the prisoner was you. – Lewis B. Smedes
The weak can never forgive. Forgiveness is the attribute of the strong. – Mahatma Gandhi
Forgiveness is the fragrance the violet sheds on the heel that has crushed it. – Mark Twain
Forgiving is rediscovering the shining path of peace that at first you thought others took away when they betrayed you. – Dodinsky
I can forgive, but I cannot forget, is only another way of saying, I will not forgive. Forgiveness ought to be like a canceled note – torn in two, and burned up, so that it never can be shown against one. – Henry Ward Beecher